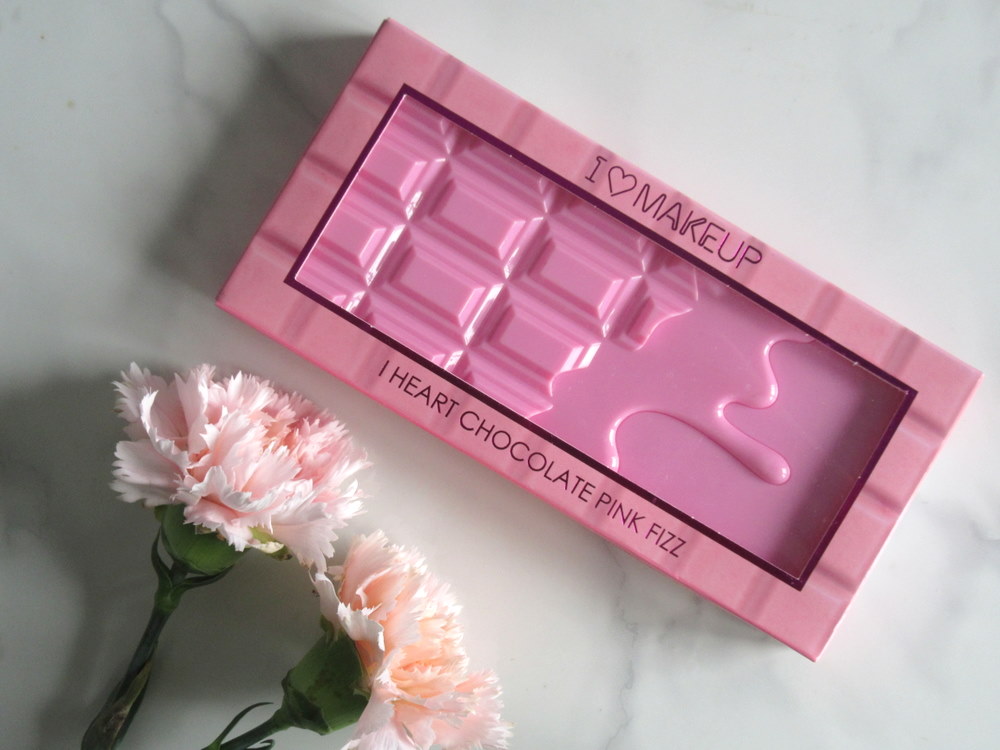 So, after nearly a month of missing my posting schedule, here I am. Here I am with some thoughts on this eyeshadow palette.
THE BACKSTORY: I occasionally get sucked into all the hype behind products. This is another instance. I kept seeing this palette pop up time and time again in all the Japanese blogs I follow. This is also another instance where I blindly bought something without considering its price-point or without doing any prior research on it. I can now tell you guys that I completely regret buying this palette.
If you've read my blog before, you're probably aware of the Pros and Cons list that's always at the very bottom of every review. If you have no time to read dozens of paragraphs, I definitely think it's better if you scroll down to the Pros and Cons list.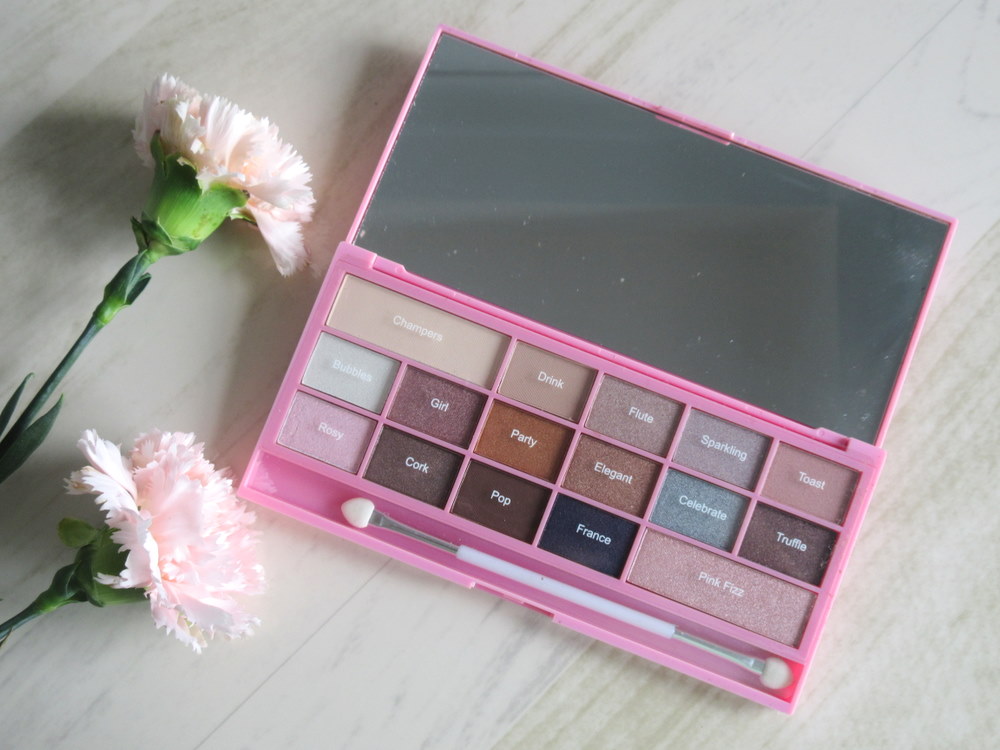 INGREDIENTS: Mica, Talc, Magnesium Stearate, Paraffinum Liquidum, Ethylhexyl Palmitate, Polybutene, Dimethicone, Methylparaben, Propylparaben, Parfum, [+/-: Calcium Sodium Borosilicate, CI 77891, CI 77491, CI 77492, CI 77499, CI 15850, CI 77742, CI 77510]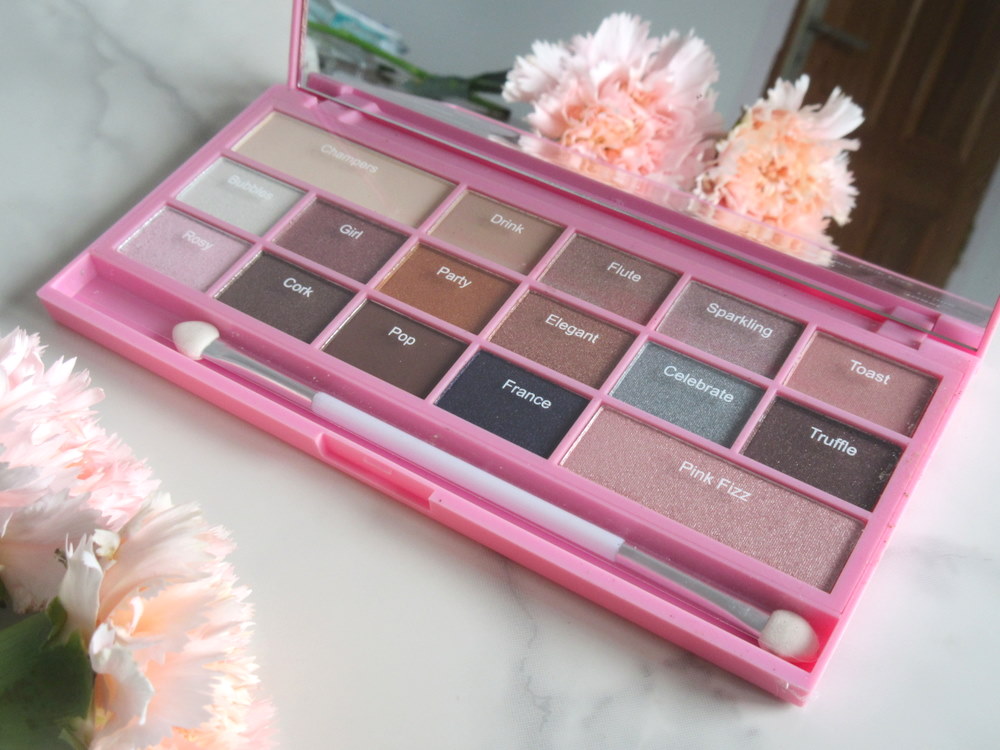 THE PRODUCT (The Positives):  Let's talk about the positive things first.
The packaging is adorable, to say the least. It looks like a chocolate bar and when you first open it, you get an (unexpected) whiff of artificial strawberries, à la the Too Faced palettes that are scented like chocolates/peaches.
You get 16 shades in the palette. While they all look and apply similar, you can calm the burning hole in your pocket by saying that at least you got 16 different eyeshadows.
Another positive is that this range of eyeshadow palettes from Makeup Revolution carries 5-6 different variants. If Pink Fizz isn't what you gravitate towards, you'll most likely be able to find a palette that caters to your tastes. However, most of the shadows throughout this particular range are painfully similar in texture, consistency, pigmentation and longevity.
Oh, and you get a huge mirror. The mirror is actually pretty awesome.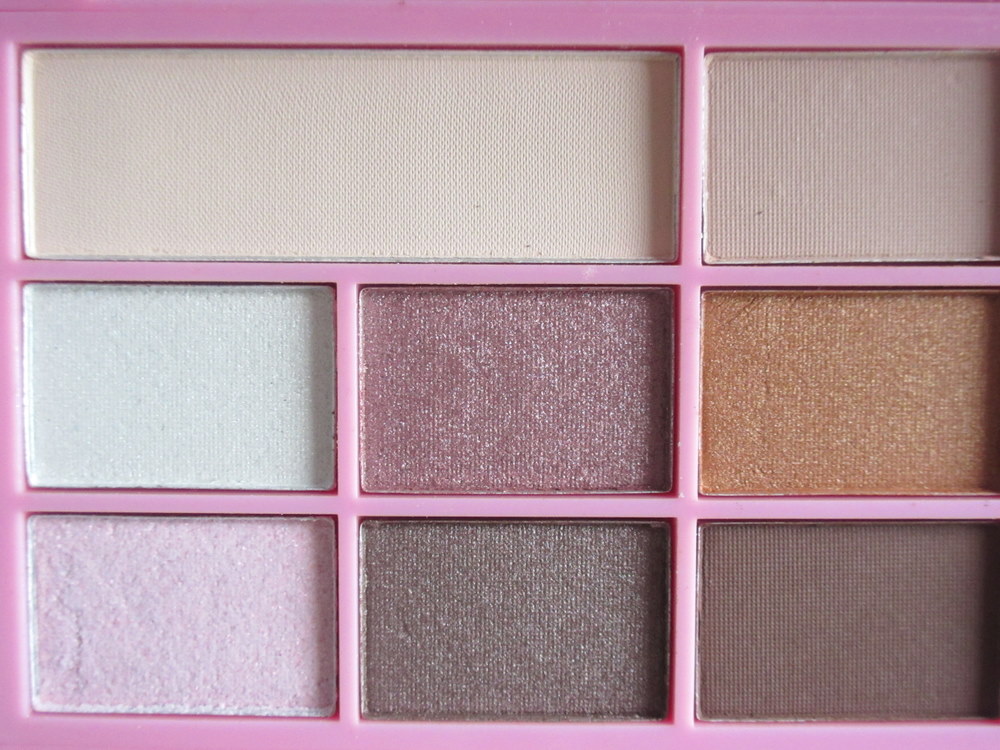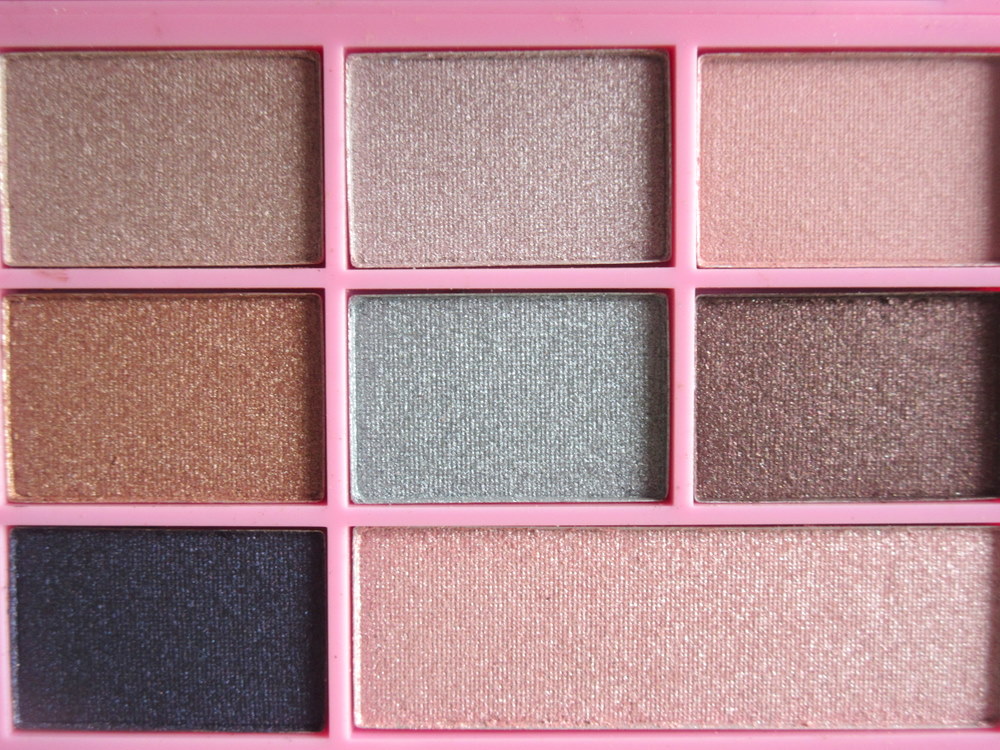 THE PRODUCT (The Negatives): Now, onto why I regret buying this palette.
First and foremost, nearly all the eyeshadows in this palette are chalky and difficult to work with. They are patchy and uneven.
Secondly, the colour pay-off is the strongest in the second row of eyeshadows. That's about it – almost all of the other eyeshadows are lacking pigment. Some even refuse to show up. Adding them over an eyeshadow base or primer won't yield better results, frankly. In the swatches you'll see down below, it took me multiple attempts to get the eyeshadows to show up.
Thirdly, the issue with longevity. The eyeshadows fade and crease like no other. Even if you use a good base or primer underneath to secure the shadows in place, they fade within an hour or two. If you live in a humid area like I do, they will most definitely fade. Using good brushes is another method I tried but it was in vain. Sponge tip applicators are better suited.
I bet you can tell I'm more than just disappointed…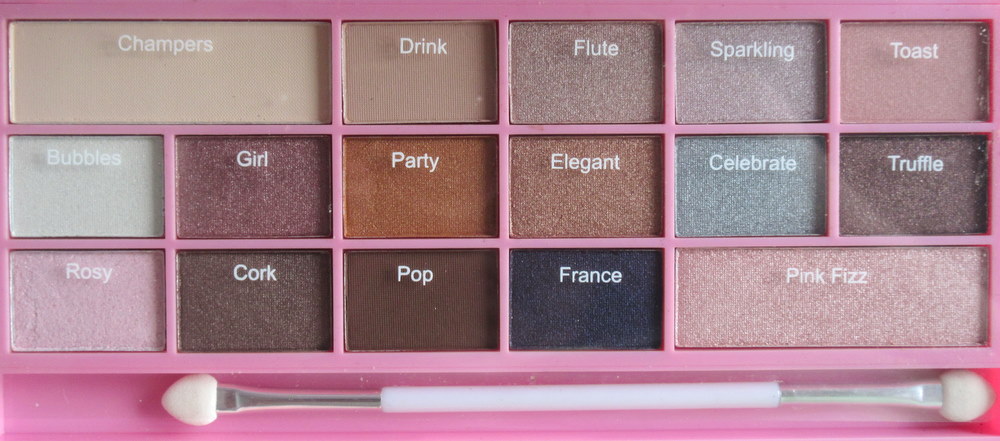 THE COLOURS: The diamond symbol denotes whether or not the shadow is any good.
Champers – A nude shade (matte).
Drink – A fawn shade (matte).
Flute – A barely-there rose gold shade. (shimmer).
Sparkling – A beige shade (shimmer).
Toast – A pinkish beige (shimmer).
Bubbles – A sparkly whitish silver (shimmer).
Girl – A gorgeous muted pink (shimmer).

♦

Party – A lovely copper shade (shimmer).

♦

Elegant – A darker bronze shade (shimmer).

♦

Celebrate – A bluish grey shade (shimmer).
Truffle – A brown leaning burgundy with pink glitter running through (glitter).

♦

Rosy – A duo-chrome pink/white shade with pink glitter running through (glitter).
Cork – A cool taupe (shimmer).

♦

Pop – A chocolate brown (matte).
France – A beautiful bluish purple (shimmer).

♦

Pink Fizz – A white-based pink (shimmer).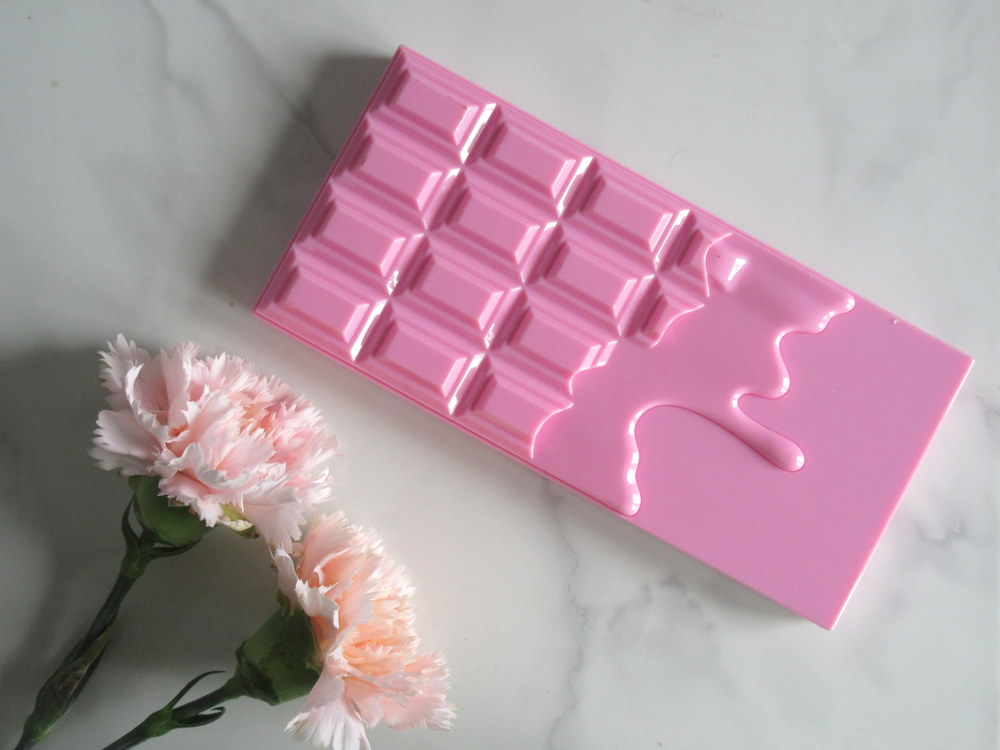 PRICE: 1550 INR for 22 grams of product (approx. 23 USD).
AVAILABILITY: Makeup Revolution, Nykaa etc.
♥ Overall, I am rather disappointed with this purchase. Spending THAT much on an eyeshadow palette that only has 5-6 decent shadows is just… wrong. I definitely think you should skip on this as well as all the other variants in this range. It's just not worth your money, trust me.
Makeup Revolution I Heart Chocolate Palette in 'Pink Fizz'.
Pros
The packaging is adorable.
The mirror inside is great.
Cons
Nearly all of the eyeshadows are chalky, patchy and apply unevenly.
Majority of the shadows are extremely weak in terms of pigmentation.
Some of the shadows end up looking ridiculously similar.
They fade and crease in a short amount of time, with or without primer.
IT IS EXPENSIVE. 1500 for such a poor palette? No, Ma'am, no. I've learned my lesson.