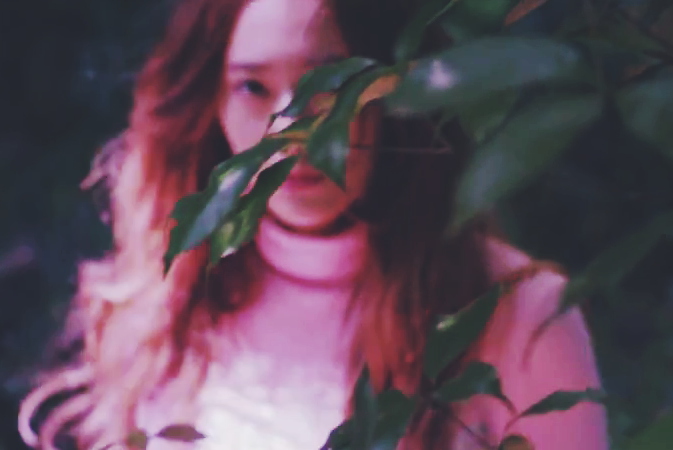 Hi, guys. I know I skipped out on the usual posting schedule this week but that was mainly due to work related to this post. I've rounded up a list of makeup looks from Kpop Girl Groups that made me pause the music video and swoon. Check out Part 1 of the post too.
CRITERIA: Before you begin, I'm going to go ahead and say these are just my opinions and preferences. Maybe some other look caught your attention (let me know which look was your favourite in the comments below!). Some heavyweight groups like SISTAR and others didn't make it onto the list because the makeup looks in the music video didn't catch my eyes. The ones featured in this list are looks of groups and soloists that were constantly on repeat on my phone and laptop. Check out Part 1 of the post! Let's get started!
10. 4Minute & HyunA in "Cold Rain", "Crazy", "Roll Deep" and "Run & Run".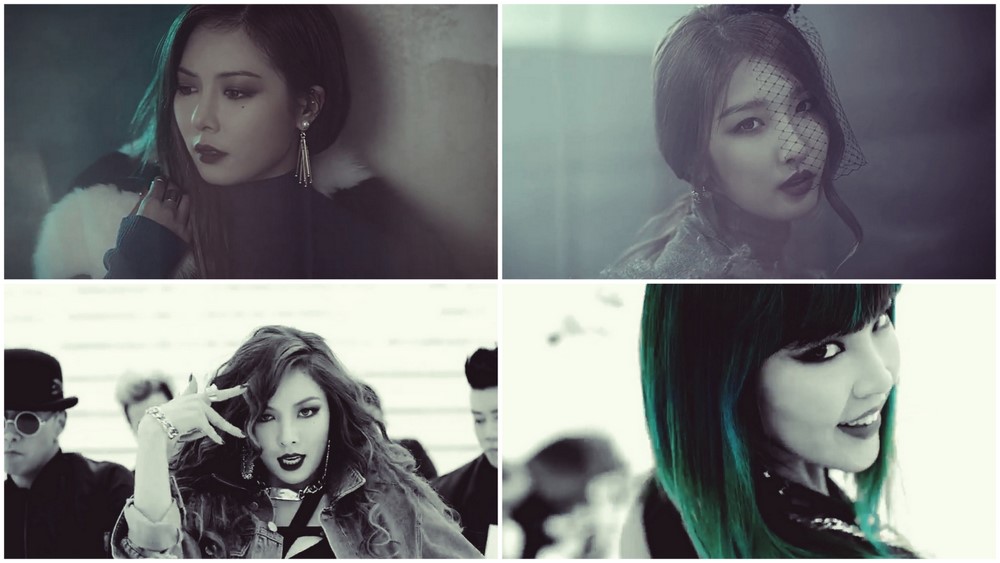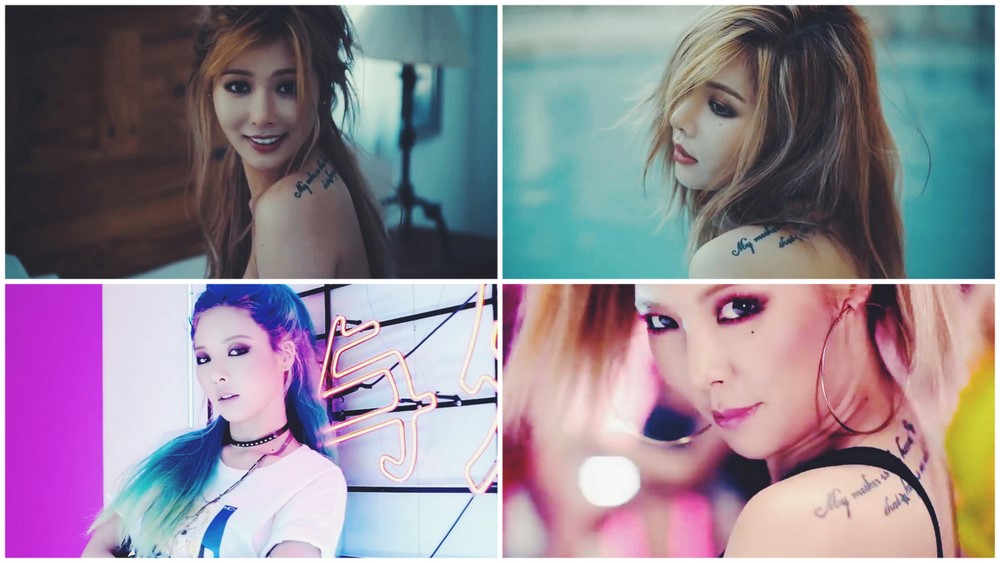 Yes, I'm combining the solo member with the group, if necessary. 4Minute's releases this year took on the darker shades of lipsticks – from berries to orchid-purples along with strong smokey eyes with lots of earthy browns and taupes and little to no highlighting. HyunA's solo comeback featured a similar colour palette – burgundies, dark pinks, chocolate browns, taupes on the eyes and red, burnt orange and nude lips. And just how cool was HyunA's blue and green ombre hair?
9. IU in "Twenty Three".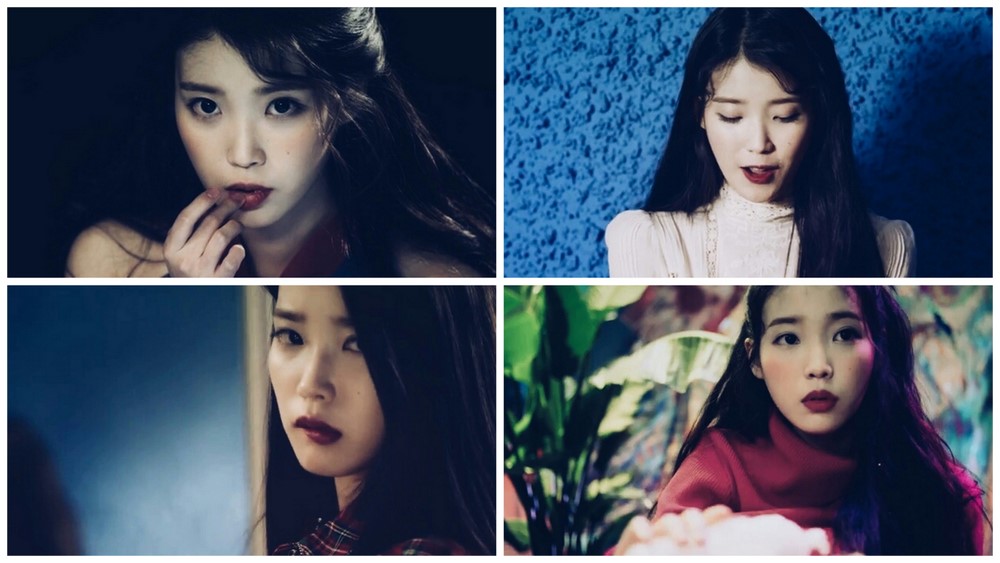 IU's makeup in the music video for "Twenty Three" was fairly simple – she had a deep berry stain on her lips and heavily concentrated orange blush on the apples of her cheeks. She also had her signature puppy eye makeup on as well. Her look was innocent and fresh and devoid of any bright or neon hues.
8. BoA in "Kiss My Lips".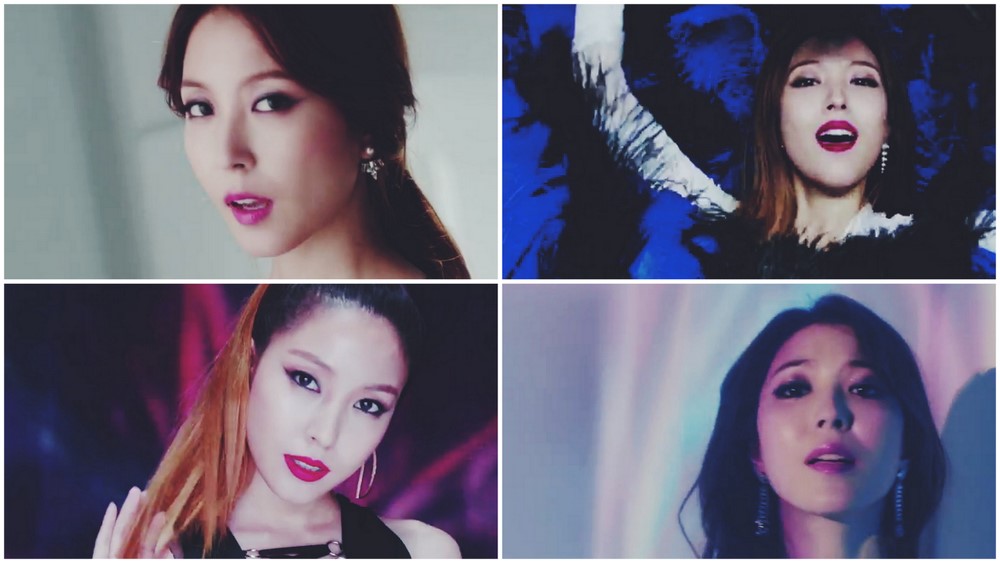 BoA had multiple looks in her captivating music video. You see mauves and purples along with silvers and blacks on her eyes, which was a much needed break from all the browns and predictable smokey eyes. Her lips were painted a beautiful true-blue red in some shots and in some other shots, she had a more glossy pink lip. Her skin was also kept very dewy and it looked extremely healthy and supple.
7. Red Velvet in "Automatic", "Ice Cream Cake" and "Dumb Dumb".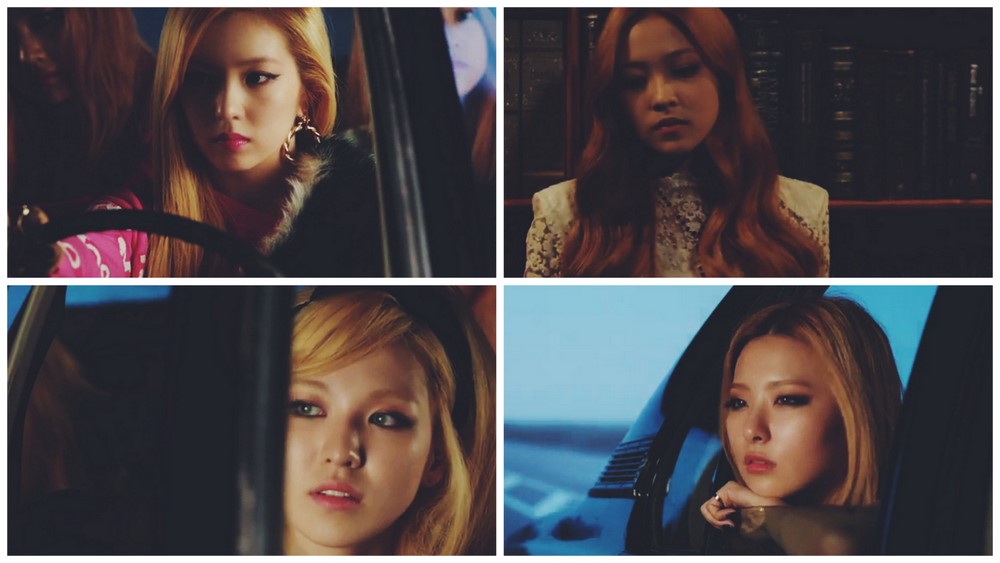 In "Automatic", the girls had more retro hair and makeup on. Cat flicks and warm browns were seen on the eyes along with peach lips and dewy skin. Some close-up shots of Yeri revealed beautiful glittery eyeshadows that somehow still remained subtle.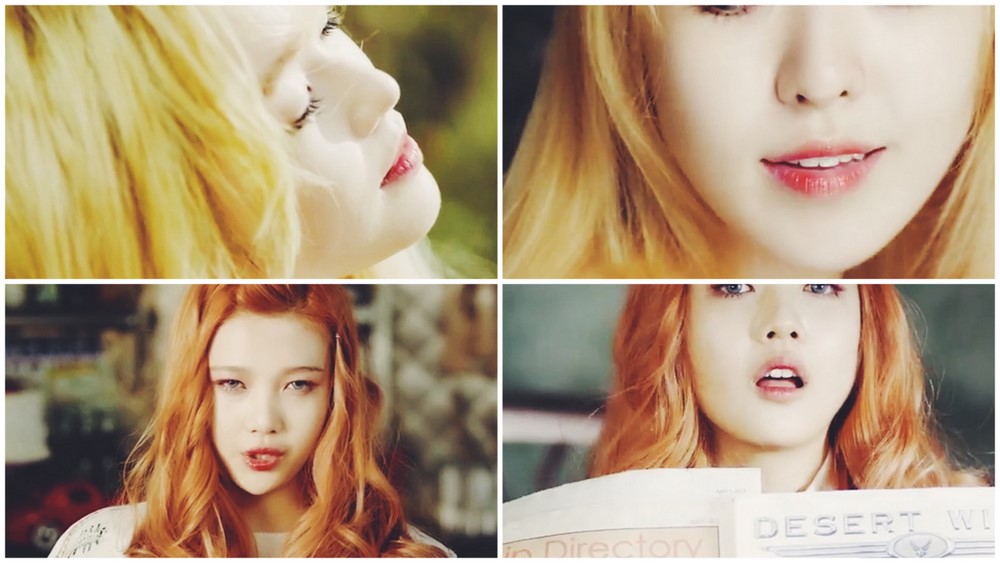 However, the looks in "Ice Cream Cake" were more fun. You see orange as the common colour here – it was on the eyes, lips, cheeks and it was present in various different tones right from true orange, red orange to light baby orange and burnt orange. The orange was brought down a few notches with browns, peaches and golds. The lips were inspired by popsicles, I feel, because they looked as if the girls just finished devouring orange ice pops.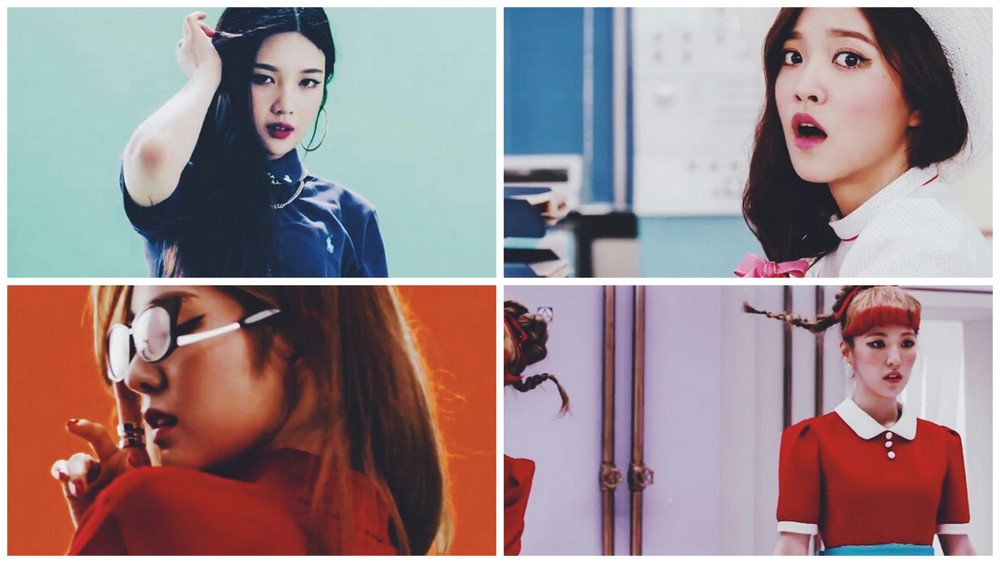 "Dumb Dumb" was another landmark for the group. The look was Pippi Longstocking meets pretty dolls in a popular doll factory. Pippi figures in as a major inspiration (yet again; read Part 1 to find out which other group was inspired by Pippi), the girls weren't solely inspired by her and a twist was added to the look. Again, orange is seen on the lips and cheeks and other warm tones are added to complement it. Sharp cat eyes are seen on almost every member at one point on another. You also see some cooler tones such as berry lips and pink cheeks, mostly on Irene and Joy.
6. Ga In and Brown Eyed Girls in "Apple", "Paradise Lost", "Brave New World" and "Warm Hole".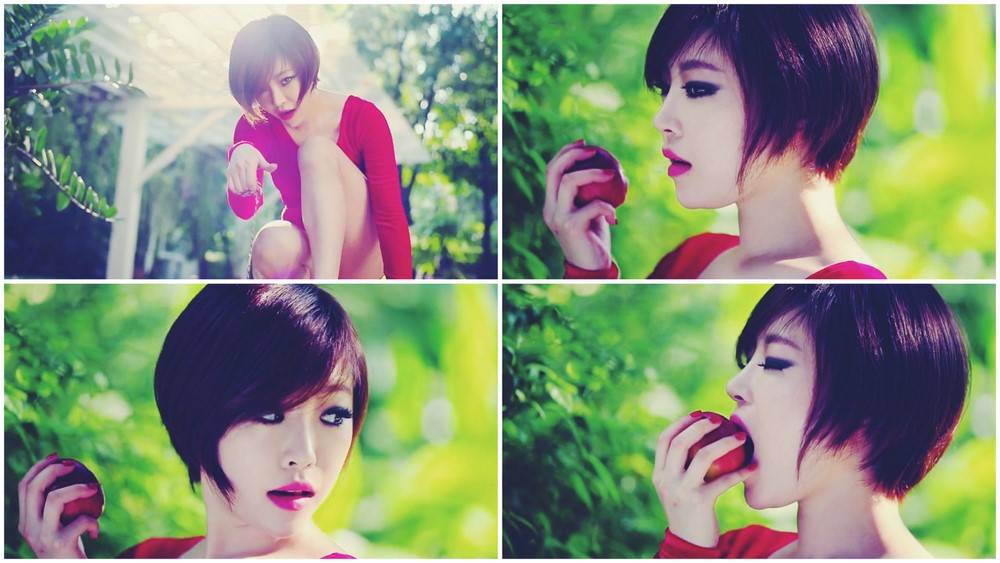 Ga In's breathy vocals were a perfect match for the makeup in "Apple". I don't know if that sentence made sense to you but it definitely makes sense to me. She sports her signature (strong) smokey eyes and a bright blue-toned red lip in the video. Only Ga In can pull off a smokey eye and a bold lip at the same time. Only Ga In.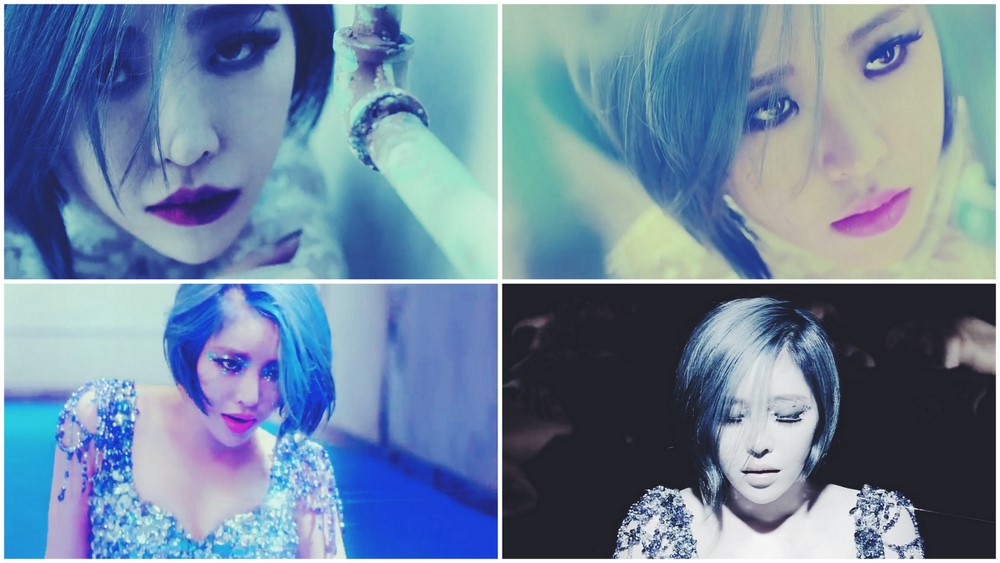 In "Paradise Lost", Ga In has multiple looks. The main look, as usual, consists of the heavy smokey eyes that Ga In is famous for along with gorgeous berry stained lips. In a shot where Ga In is running away from the snake, she has glossy, smudged smokey eyes. And my personal favourite look in the video is definitely the one where she's sporting blue diamentes on her eyes and a beautiful pink lip.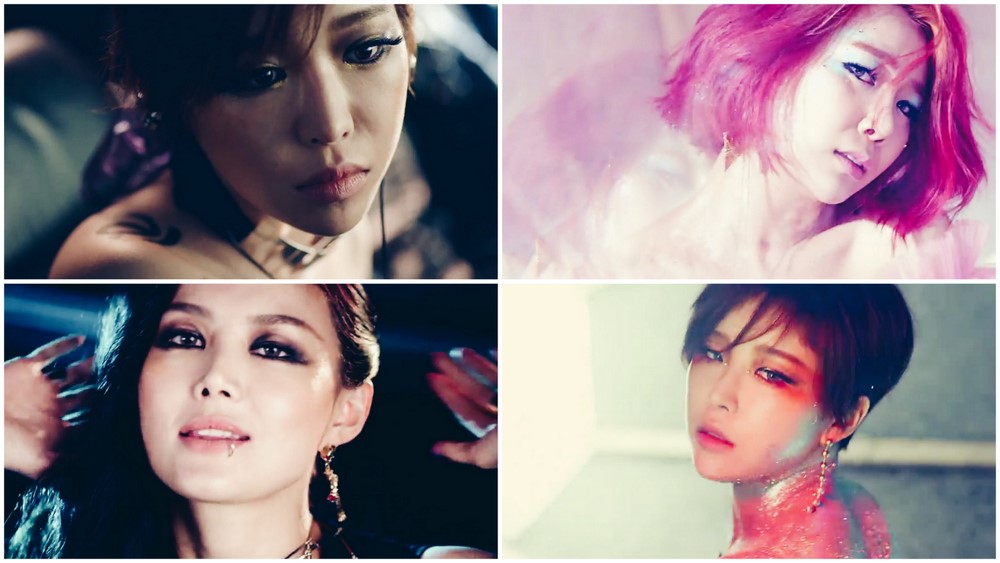 "Brave New World" was a majestic comeback from the Brown Eyed Girls. Smokey eyes were seen on all four of the members. Ga In's smokey eye featured some bright gold pigments while the other girls had very strong greyish taupe hues in theirs. During Miryo's rap part, her eyes had some distinct purple hues in it. Also, everybody had different hues in their solo shots – Ga In had red, Jea had blue and I can't tell what Narsha had on since her shots were mainly black and white.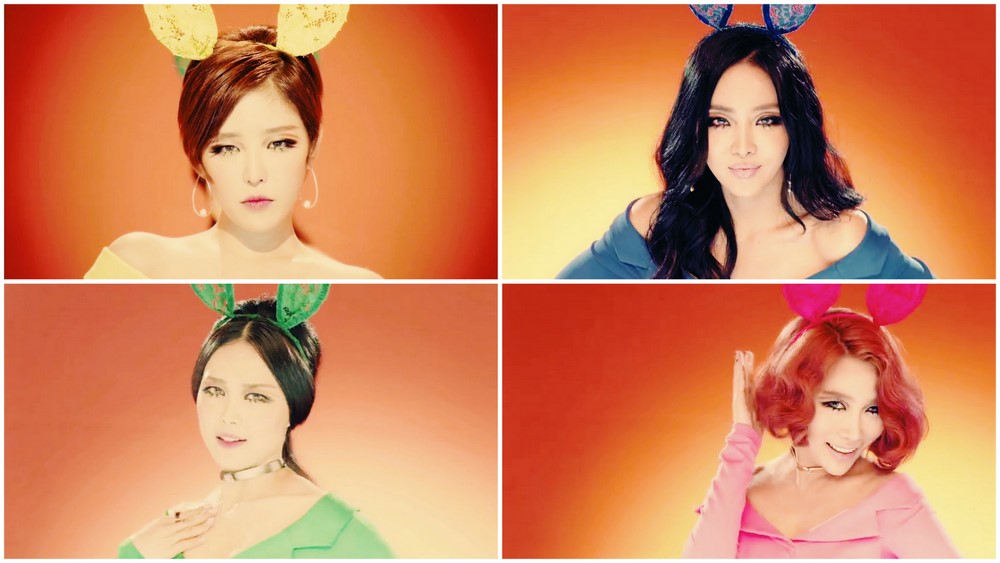 "Warm Hole" had makeup inspired by the 60's. Dollish eyes with faux lower lashes drawn with the help of eyeshadows, browns and blacks were used to add dimension to the eyes and the lips were kept simply pink.
5. Taeyeon in "I".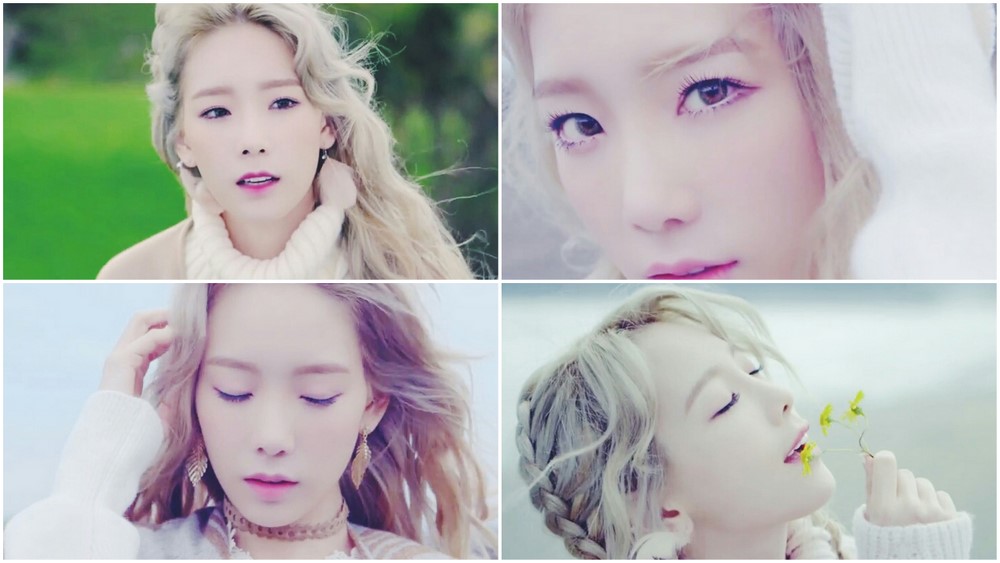 Taeyeon's solo debut music video featured her in two distinct looks; the first one being "daytime appropriate". One thing I noticed here is how Taeyeon's face lacked dimension here. Very doll-like, with no attention to her natural contours and shadows. In fact, even her nose is undefined and it looks like she only has nostrils. However, apart from that, her daytime look consisted of very peachy colours. She had peach on her lids along with her lips and cheeks. The look is devoid of any true browns, greys or blacks (with the exception of eyeliner and lashes) that may result in a muddy and untidy look.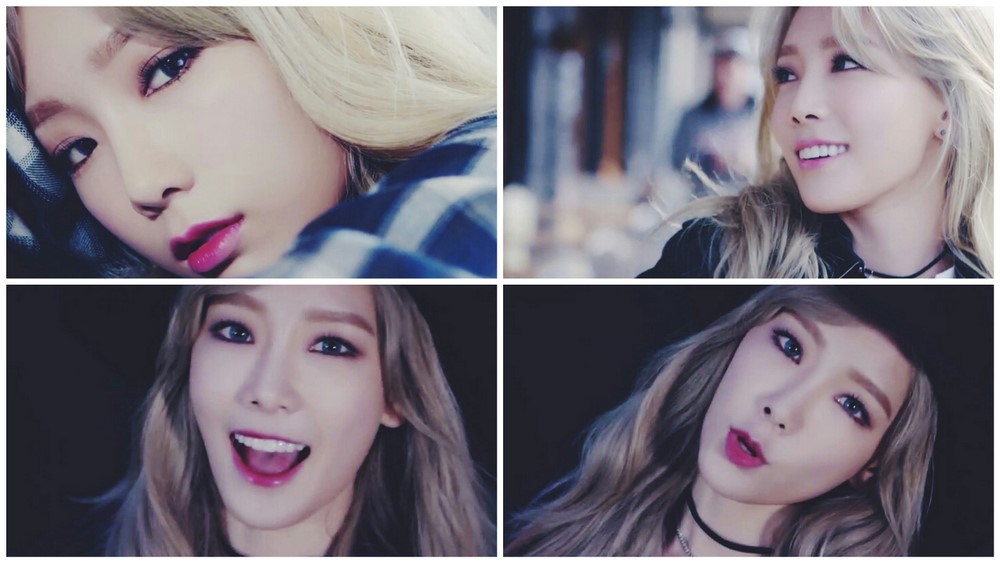 In the "night-time appropriate" look, Taeyeon plays with darker hues like mauve, purple, burgundy and taupe. Her eyes are more defined and so is her face. You can actually see the natural contours of her pretty face.
4. Amber and f(x) in "Shake That Brass" and "4 Walls".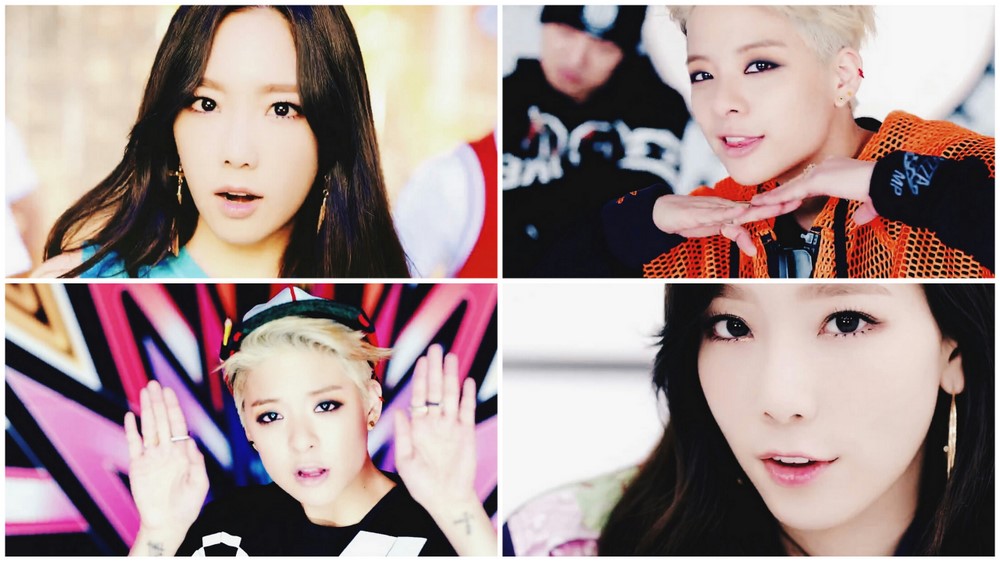 In Amber's solo debut, you see her sporting some serious eyeliner. Her lips were kept pink and natural to balance her smokey brown eyes and heavy eyeliners. In one of the shots, she sports some colourful blue, green and yellow eyeshadows as well. Taeyeon, who features in the song too, has simple makeup on. Shimmery eyeshadows, cute false eyelashes for the lower lashline and glossy nude lips.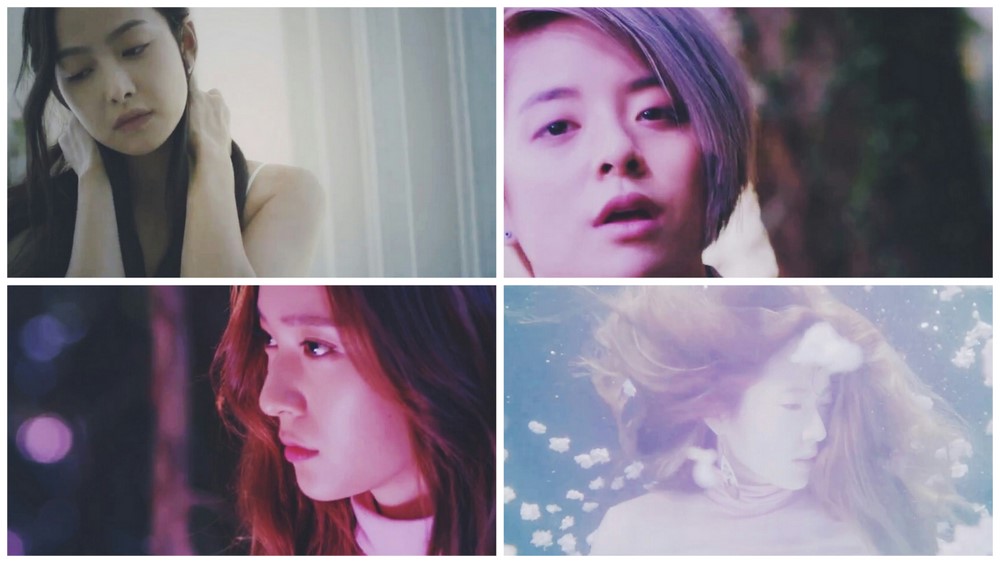 f(x)'s "4 Walls" has the girls in the most simple makeup ever. It looks like they have no makeup on at all, in fact. You do see some defined eyelashes and eyebrows along with picture perfect matte skin and extremely natural looking lips.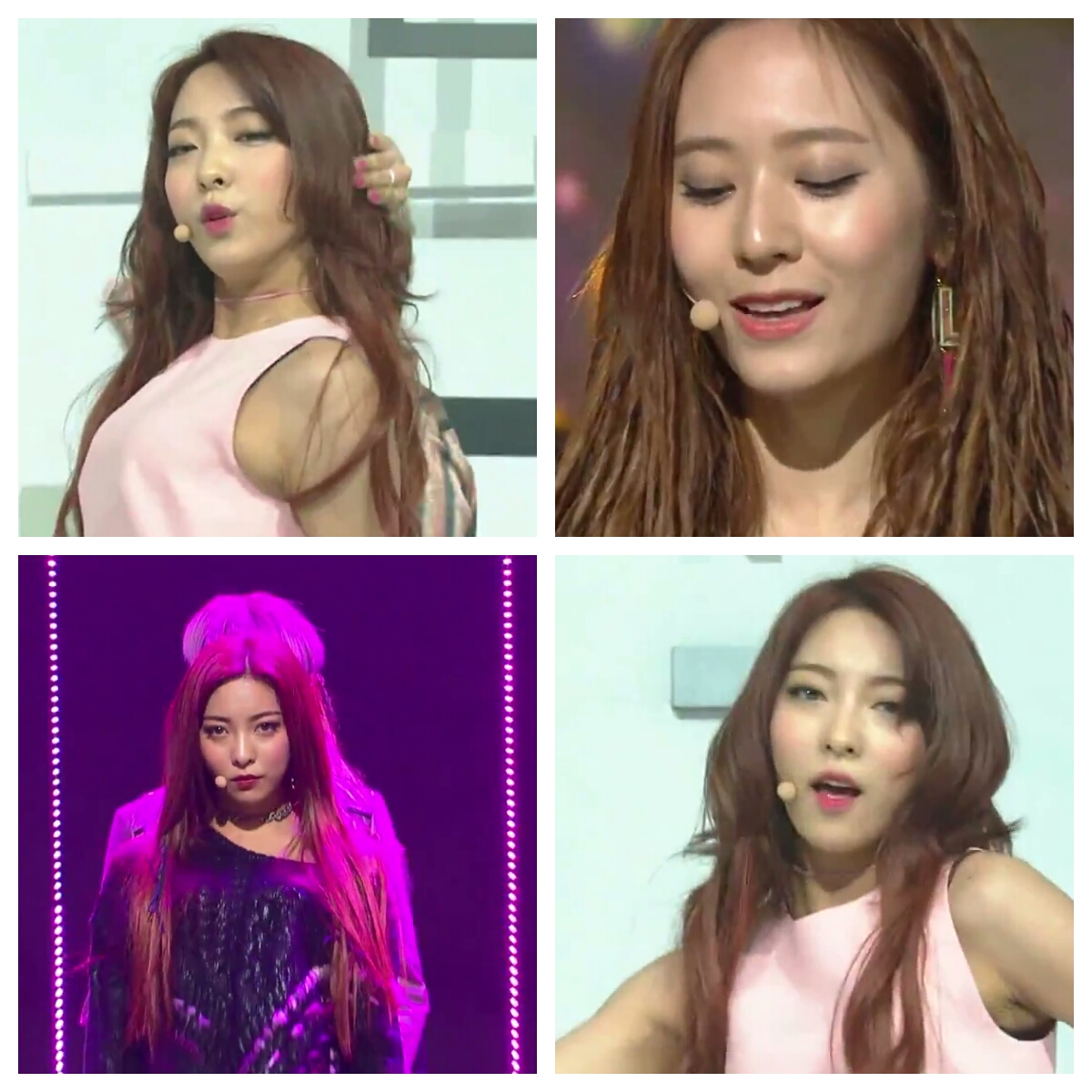 In the live performances for "4 Walls" (+ "Diamond"), you see more obvious-looking makeup, Luna's being my personal favourite. Her cheeks had pink blush packed on heavily, almost as if to give an illusion of a drunk/ill look. Krystal had mauve and brown on her lids and Amber and Victoria had various shades of browns and greys with the slightest hint of eyeliner.
3. EXID in "Ah Yeah" and "Hot Pink".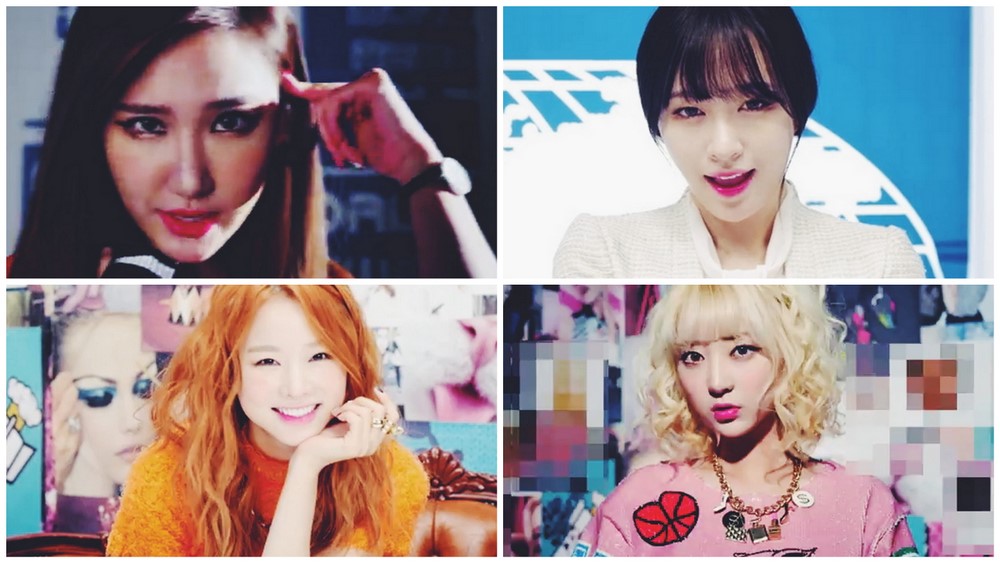 EXID's "Ah Yeah" featured a perfect balance of cool and warm tones, which was a welcome break from all the warm tone-heavy looks that we've been seeing so far. Orangey-peach eyes, berry-pink lips and sweet pink or apricot blush were some of the colour combinations that we see in the music video.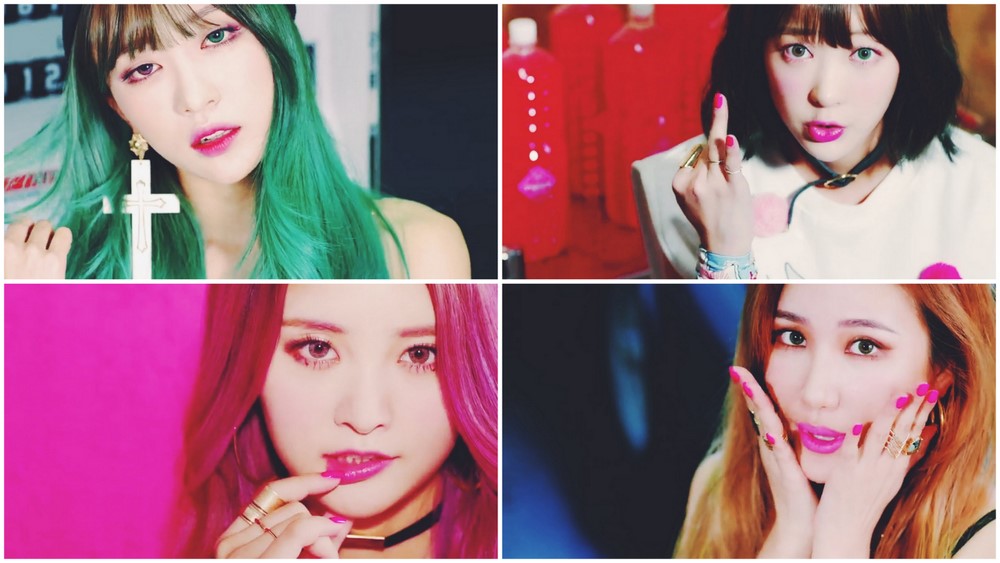 "Hot Pink" is easily one of my favourite music videos, makeup wise. Why? It features my signature colour – hot pink. Hani's eyes as well as eyelashes had pink on them along with her lips. The girls had pinks on their lips throughout the video. LE's blue-toned orchid pink was my favourite, by far. Since green complements pink very well, it was only natural for the girls to have green lenses on to go with their pink eyeshadow looks. With pink being the primary colour theme, you'd expect the looks to be very girly and soft but EXID managed to paint a complete different and strong image with the colour.
2. Girls' Generation-TTS in "Dear Santa".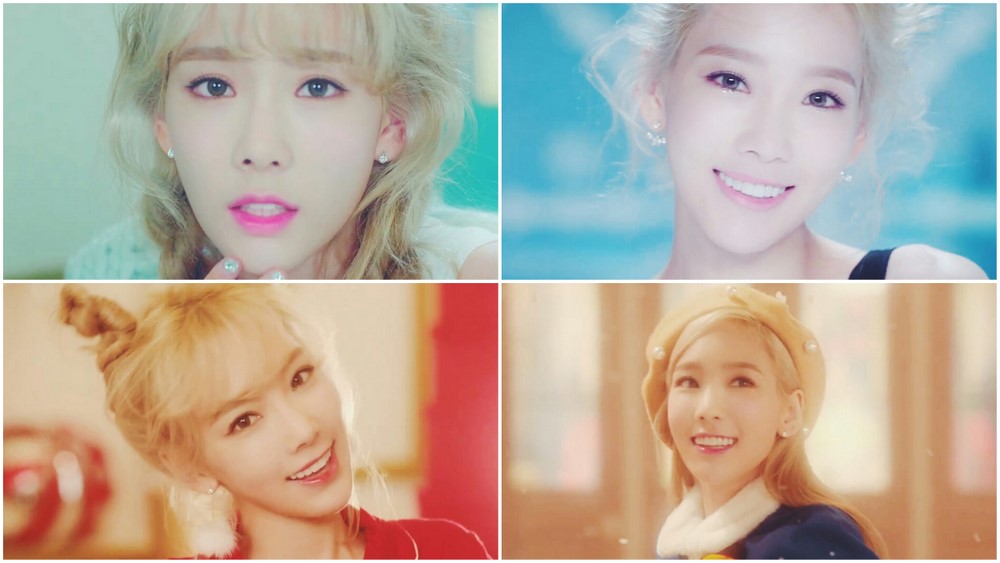 I cannot tell you how much of a treat this music video is. Each and every look on the girls is just perfection. Think perfect skin, beautifully highlighted eyes, glitter and petal-like soft lips. You won't see a lot of dark colours here, with the exception of eyelashes and liner. Just take a look at the girls and drown in their beauty.
1. Girls' Generation in "Party", "You Think" and "Lion Heart".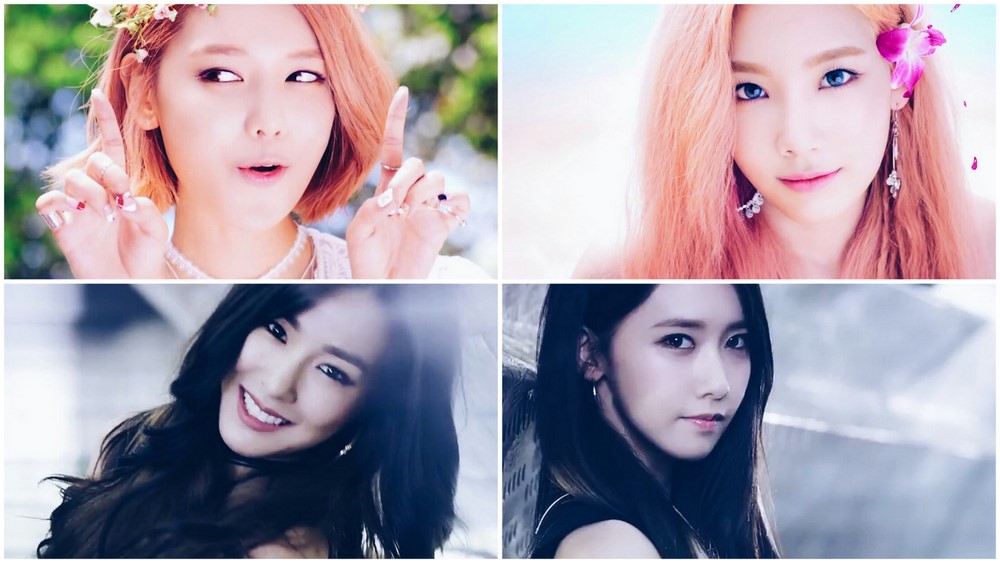 2015 was the year of Girls' Generation, undoubtedly. In "Party", the girls had fun, gold and brown eyeshadows on with summery coral, peach and pink lips. "You Think" saw them experimenting with darker shades; from greys, mauves and blacks on the eyes to wines and berries on the lips. The only thing that remained intact in both the videos were the signature SNSD sparkles or glitters on their eyes.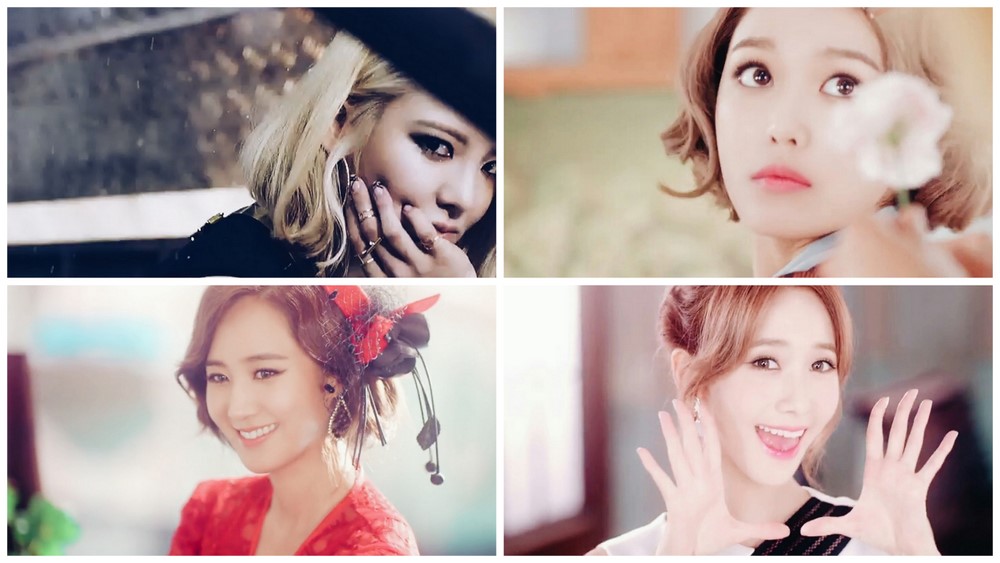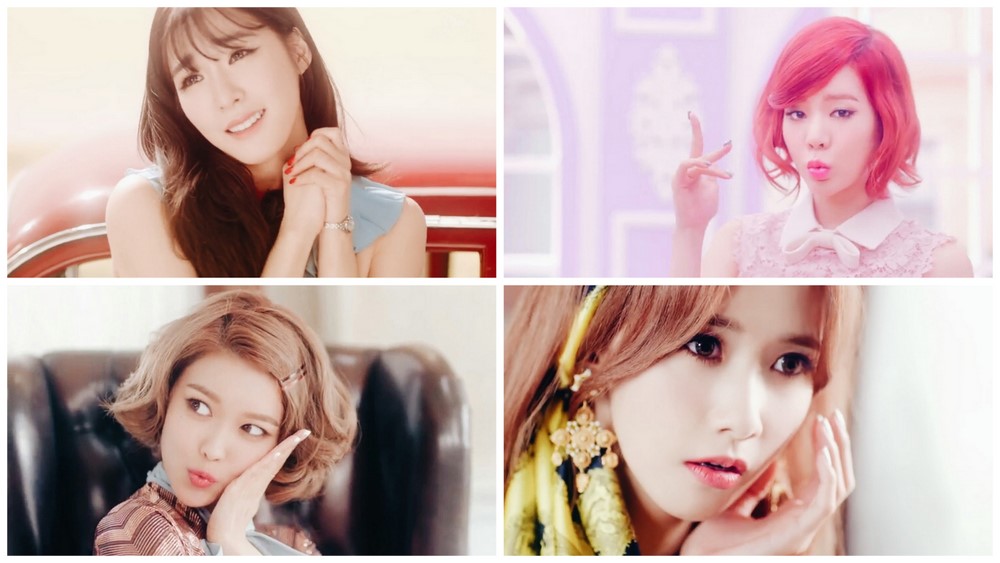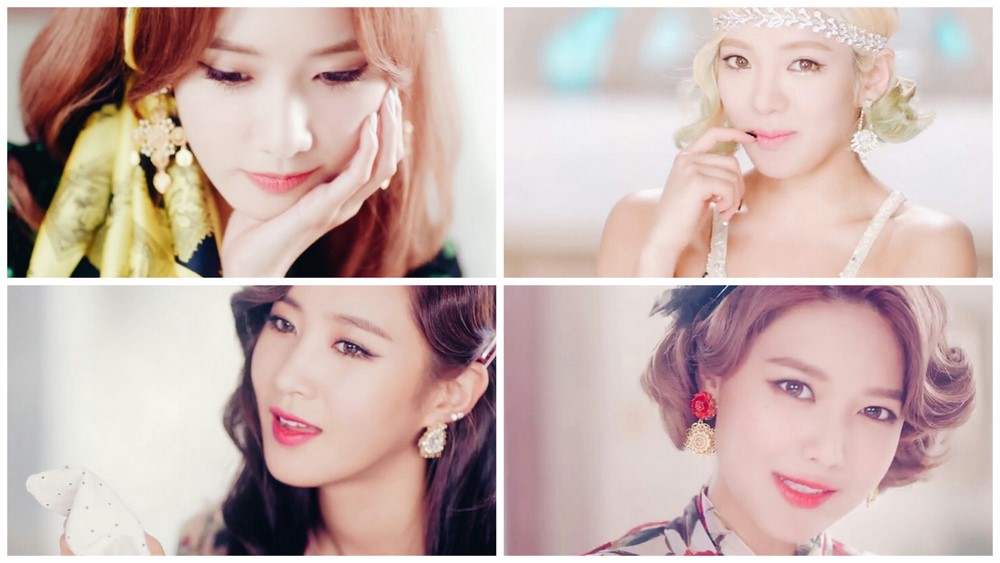 "Lion Heart" was such a visual feast. From the clothes, shoes, hair to the makeup – everything was perfection. The retro styling, hair and modern makeup balanced the overall look of the girls. Notice Sooyong's doe-eyed stare here. Ugh, such perfection.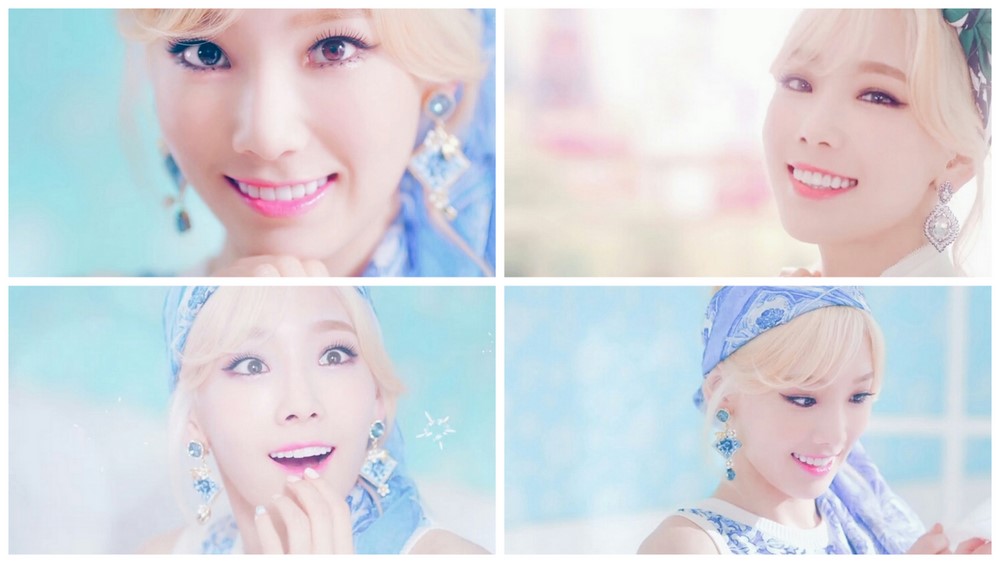 I especially loved Taeyeon in her blue and white dress and headband. I'm strangely fond of the combination of blue and white. It reminded me of ming dynasty vases,  Rodarte's Spring 2011 colour palette and beautiful china that you're served exquisite tea in.
That's it for the list, guys! What were some of your favourite makeup looks? ♥♥♥♥♥