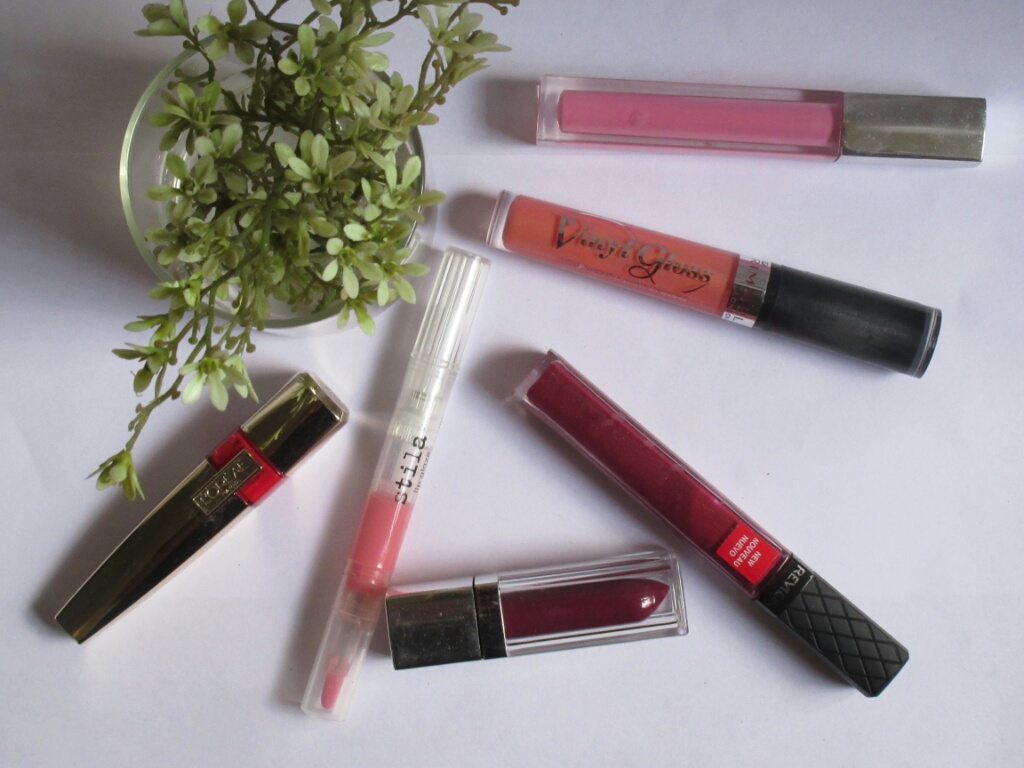 Hello, everyone. Lip glosses are often a hit-or-miss item. Some of us have even started our foray into the world of makeup with a lip gloss. So, the question is, are you someone who cannot imagine a life without lip glosses or are you someone who doesn't look twice at lip glosses? I'm more into lipsticks, but here are a few I've liked and some I haven't gotten along with.
Maybelline New York Color Sensational Lip Gloss: These cost 350 INR for 5 ml of product and are available in 8 shades, ranging from a vivid orchid to a subtle nude. The one in the photo is called 'Electric Shock' and it's a vibrant bubblegum pink. These are quite smooth and easy to work with. However, if you've got a sensitive nose, I would suggest you skip these. These smell very, very fruity and the scent doesn't fade whatsoever. It lingers on and on. If you're okay with that factor, then go for it. These are pigmented and come in a good range of colours.

Rimmel London Vinyl Gloss: These cost 290 INR for 5.5 ml of product and are available in 18 different shades. These are easily one of my absolute favourites. The one in the photo is called 'Hippy Spirit' and it is a subtle coral-y peach. Subtle because these aren't very pigmented; they are relatively sheer and they simply dispose a bit of colour onto the lips. I've also got another variant from this line called 'Crystal Clear', which is a transparent shade. These are very moisturising and they smell like a cupcake or confectionery shop. Thankfully, the scent doesn't last very long.

Revlon Color Burst Lip Gloss: These cost 500 INR for 5.9 ml of product and are available in 14 different shades. The one in the photo is called 'Bordeaux', a luxurious wine shade. These are extremely, extremely pigmented, have no particular fragrance and are very easy to work with due to their general smoothness. However, these aren't very long-lasting; mostly because they slide around a lot.

Maybelline New York Color Sensation Lip Polish: These cost 450 INR for 5 ml of product and are available in 15 different shades. These are richly pigmented too and from what I gather are quite popular due to their longevity and plush sensation. But, these leave my lips numb and I refrain from using these mostly because I do not enjoy the feeling. Or the lack of it, rather. The one in the photo is a gorgeous plum shade called 'GLAM6'.

Stila Lip Glaze: These are the most expensive ones in the bunch, usually priced at around $22 or so, for 2.4 ml of product and a variety of colours. Since I bought these in a set of 9, I managed to get a good deal for them; the ones in the set contained 1.5 ml of product. That's the thing with these lip glazes; since they come in a variety of stunning colours, keep your eyes peeled for them in sets mostly because buying them individually is a little bogus. These are extremely sticky, so if you've got slightly drier lips or if you live in a cold region, these would work out for you. These also have a strong scent to them that does linger on for a bit. Thankfully, it's not too overwhelming. The darker colours are a lot easier to work with and last longer. But the lighter ones are simply too pretty to pass up. Hence, always purchase these in sets for more variety and an overall good deal. The one in the photo is one of my favourites, 'Passion fruit', a shimmering bright pink.

L'Oreal Paris Shine Caress: These cost 499 INR for 6 ml of product and are available in 14 different shades. If I were to describe these in a word, it would be – heavenly. These are extremely lightweight, plush and watery in consistency. Yet, they somehow manage to coat your lips beautifully. Moreover, once they've dried, they will stain your lips in a rather pretty way. The one in the photo is called 'Juliette', a gorgeous orange-ish red.
I really hope this little list helped you out in some way, perhaps giving you an idea on what to try out or what to steer clear of?