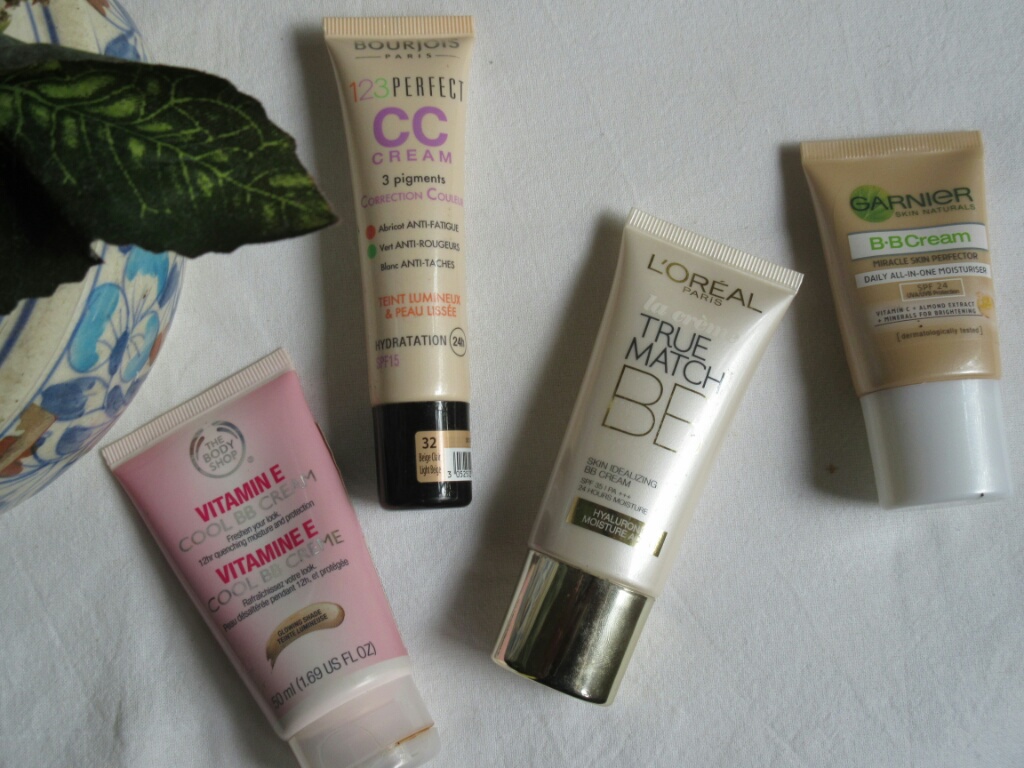 Hello, everyone. This post is dedicated to a variety of BB Creams that I've been liking and a CC Cream that I still can't seem to like. By now, you're probably knee-deep into the rave reviews about these particular products. Even so, I hope you'll stay put through this post.
A quick note on BB and CC Creams, before we start –
BB Creams: An all-in-one miracle product. It usually stands for Blemish Balm or Beauty Balm. These promise a variety of functions like covering blemishes, UVA protection, UVB protection, hydration that lasts for hours etc.
CC Creams: It usually means Colour Correcting Cream or Colour Control Cream. These have more skincare benefits thrown in and aren't necessarily a straight-up make-up product. Think of it as an extension to your skincare regime. You could even treat one of these as a primer. While these don't really cover blemishes or anything, they are often packed with UVA and UVB protection.
Note: I've tried out these products over a long period of time, so my opinions are completely honest and based on how they've functioned overtime. I've got combination skin and my skin is a little sensitive. Moreover, please keep in mind that this is just my personal experience; what works for you may not work for me and vice versa. Let's get on with it, shall we?
The Body Shop Vitamin E Cool BB Cream – This guy is very, very sheer. This works amazingly well if you've got fairly good skin already; it gives the face a nice, pretty glow. However, if you're looking for something that's got medium to high coverage, skip this. It doesn't do much for blemishes and it doesn't even contain any UVA or UVB protection. However, it's quite easy to work with and is extremely hydrating. It's technically meant for giving your face a fresh and dewy look, if anything. It costs 1095 INR ($18 approx.) for 50 ml of product.
Bourjois Paris 123 Perfect CC Cream – I feel like this product talks the talk, but doesn't walk the walk. This is a highly raved product and yet, it just didn't work for me. It has SPF 15 in it, which is rather basic nowadays but definitely handy nonetheless. It has colour correcting properties like your average CC Cream. However, it sits heavy on the face and does nothing for me. Instead, it leaves my face with a stinging sensation. Which is a pity too, really, since it costs about 710 INR ($11 approx.) for 30 ml of product.
L'Oreal Paris La Crème True Match BB – This BB Cream kind of does it all; it hydrates, covers, mattifies and has both UVA and UVB protection (read: SPF 50 and PA+++). Due to the high amount of SPF, do not freak out if you look like a ghost in photos since it leaves the normal white cast that most products having SPF leaves you with. So, wait for a good 10-20 minutes for the white cast to settle in, add blush and contour your face and you're good to go. You get 30 ml of product for 550 INR ($9 approx.).
Garnier BB Cream – If you're only starting your journey into the world of BB Creams, this is a good place to start. This little guy is amazing. It does a decent job at covering, freshens up the skin, provides moisutre and it even has brightening properties (it's got Vitamin C and almond extract in it). It's got SPF 24 which is a rather decent amount of UVA protection. For 99 INR ($1.6 for trial size) or 199 INR ($3 for full size), you can't really go wrong.
I sincerely hope this little list helped you out in some way, perhaps giving you an idea on what to try out or what to steer clear of?