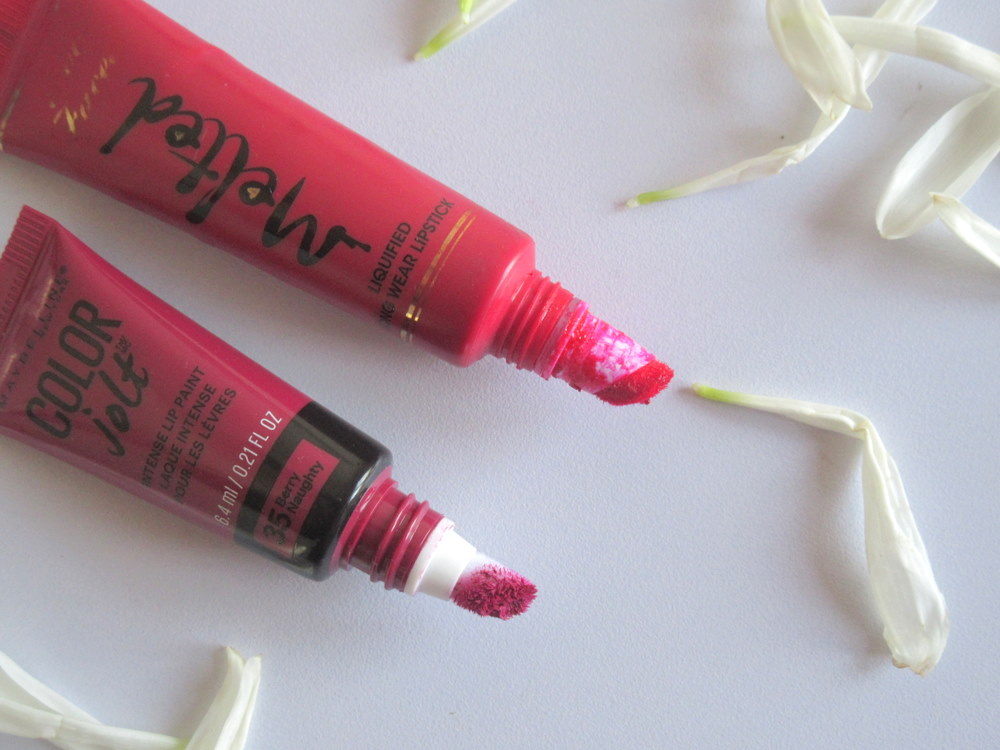 I should have posted this back in 2016 if I wanted this to be a relevant post. Unfortunately (or fortunately), I don't work that way. I bring to you a post on these two products with obvious similarities long after the hype has died down. I regret nothing.
'Double Trouble' posts are often meant to provide dupes in terms of formula, colour or performance. This time around, I'll be showing you a formula dupe and not a colour dupe. The packaging is quite similar too.
Both the Too Faced Melted Liquefied Long Wear Lipsticks and Maybelline LipStudio Color Jolt Intense Lip Paints come in squeezy-tubes that have a spongy slanted tip. A few years ago, I believed that the Etude House Rosy Tint Lips were similar to the Too Faced ones. They were also out in the market before the Too Faced ones. That line has sadly been discontinued (I used to love the last shade from the range, which was a purplish berry pink).
Anyway, moving right along.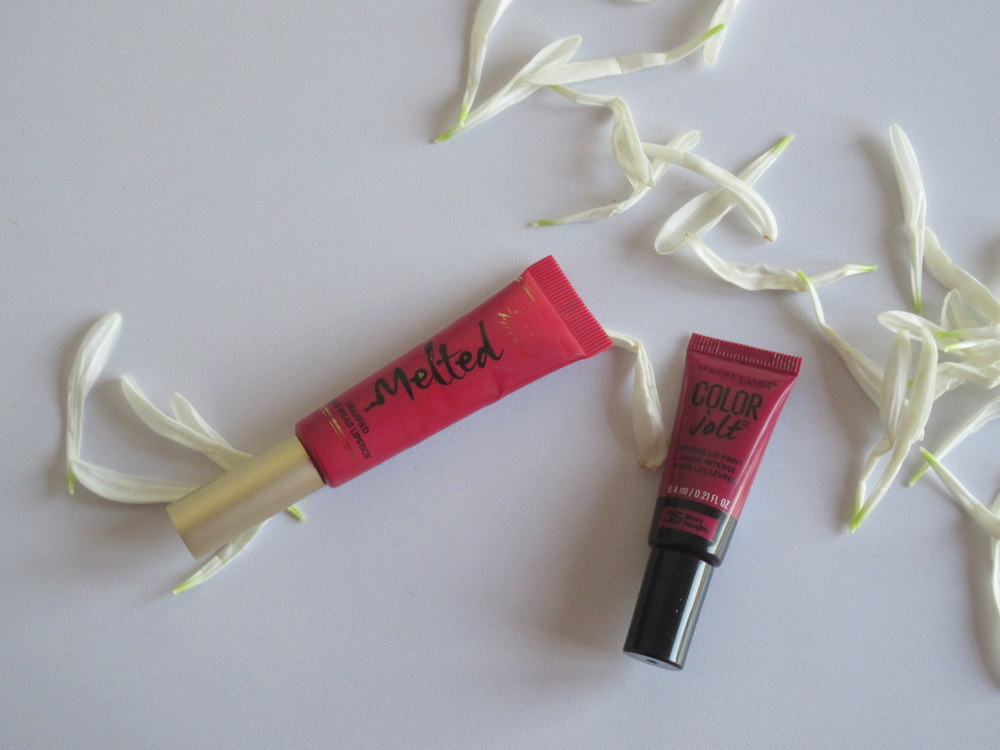 First up, we have the Too Faced Melted Liquified Long Wear Lipstick. Like the name suggests, it is just what you'd come up with if you were to think of a liquefied lipstick. It's creamy, very opaque and applies smoothly. It is richly pigmented and coats the lips in one simple go. It, as you'd expect, lasts quite well. When it does wear off, it leaves a nice stain behind.
Secondly, we have the Maybelline LipStudio Color Jolt Intense Lip Paint. The entire thing is like a repackaged version of the Too Faced one. It's pigmented, opaque, creamy and smooth on the lips. It also lasts quite well.
I do think that the Maybelline Color Jolt is much smoother and much creamier than the Too Faced one. It also smells more pleasant. However, the Too Faced Melted Liquified Lipstick has a trickier creamy formula that is a lot harder and slightly tackier in comparison, which in turn, makes it last much longer. At the end of the day, had this been a 'Battle' post, the winner would've been Maybelline. But it's not a Battle post, it's a 'Double Trouble' Post.
I don't seem to use them (at all) because I don't particularly like the applicator. Now that I've done this post, applied, tested both products out equally and enjoyed them, I might just put them in rotation with my other, more-frequently used lip products.
I do think they are pleasant lip products and both the shades are really pretty too.
LINKS FOR MAYBELLINE: Ulta etc.
LINKS FOR TOO FACED: Sephora etc.