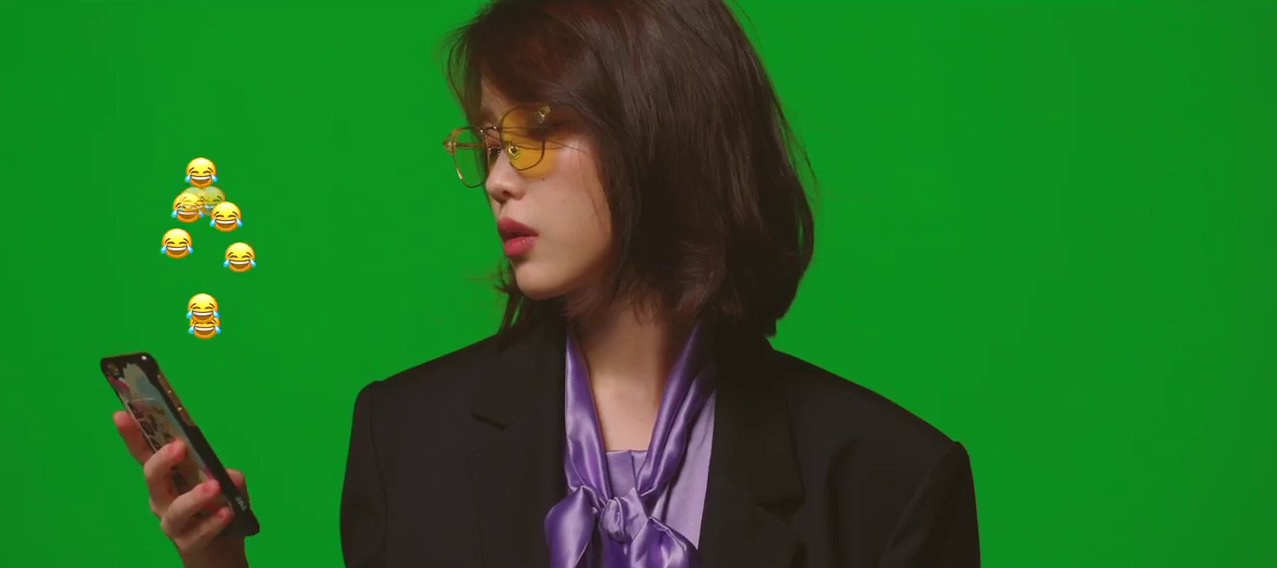 As per the tradition here at MKK, I've compiled a list of my favourite looks from the past year.
Before I begin, let me just state that these are my opinions and preferences. I had a really hard time picking and choosing and I feel like I'm still a little dissatisfied with my compilation. Some heavyweights didn't make it… Oh, well.
Do let me know which girl group member or solo artist's look captured your heart!
From Suzy's bold lips in 'Yes No Maybe', Whee In's baby pink blush in 'Yes I Am', Uhm Jung Hwa's electric blue eyeshadow in 'Ending Credit', Jisoo's overall pretty-pretty-sparkly-sparkly look in 'As If It's Your Last' to Yves's muted red lips in 'New', here are this year's bunch of Honourable Mentions.
20. April in 'May Day'.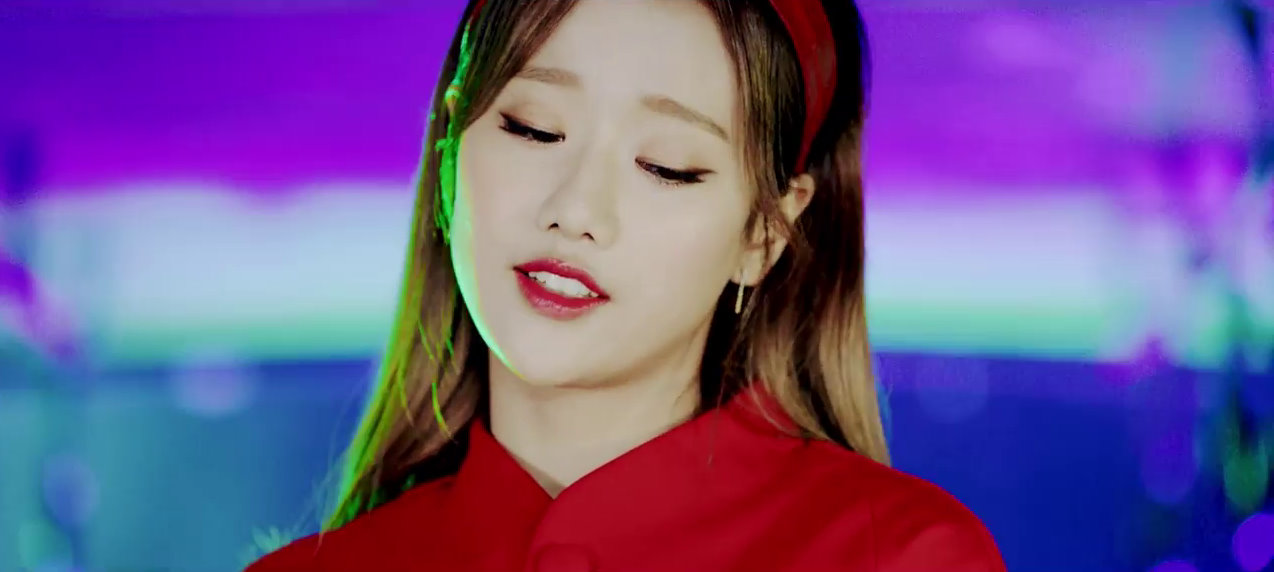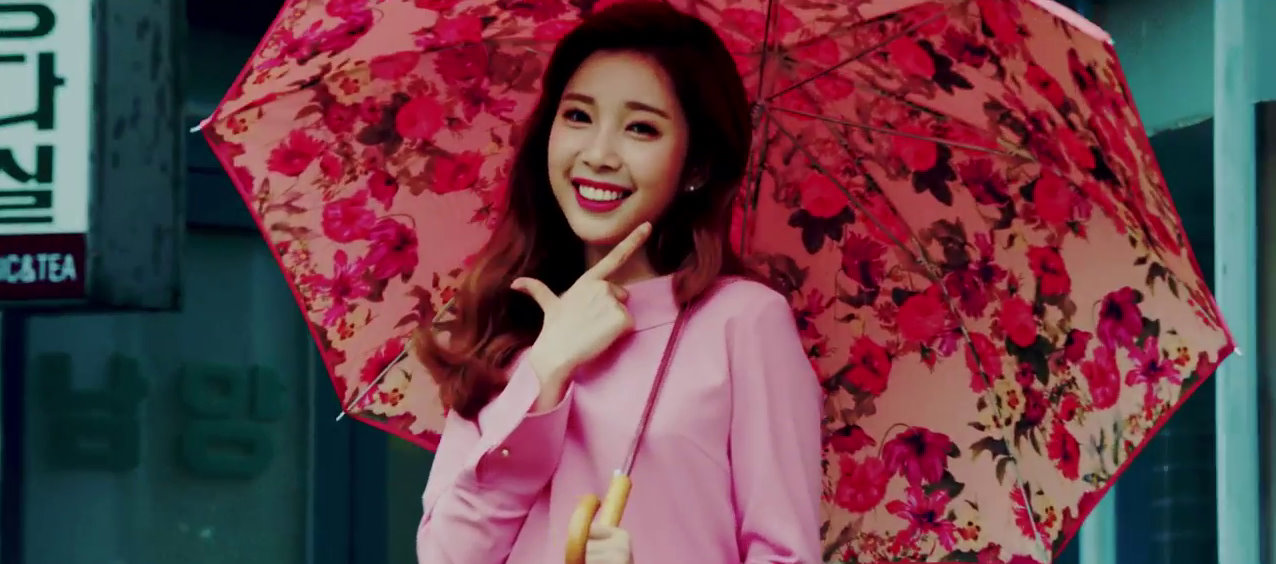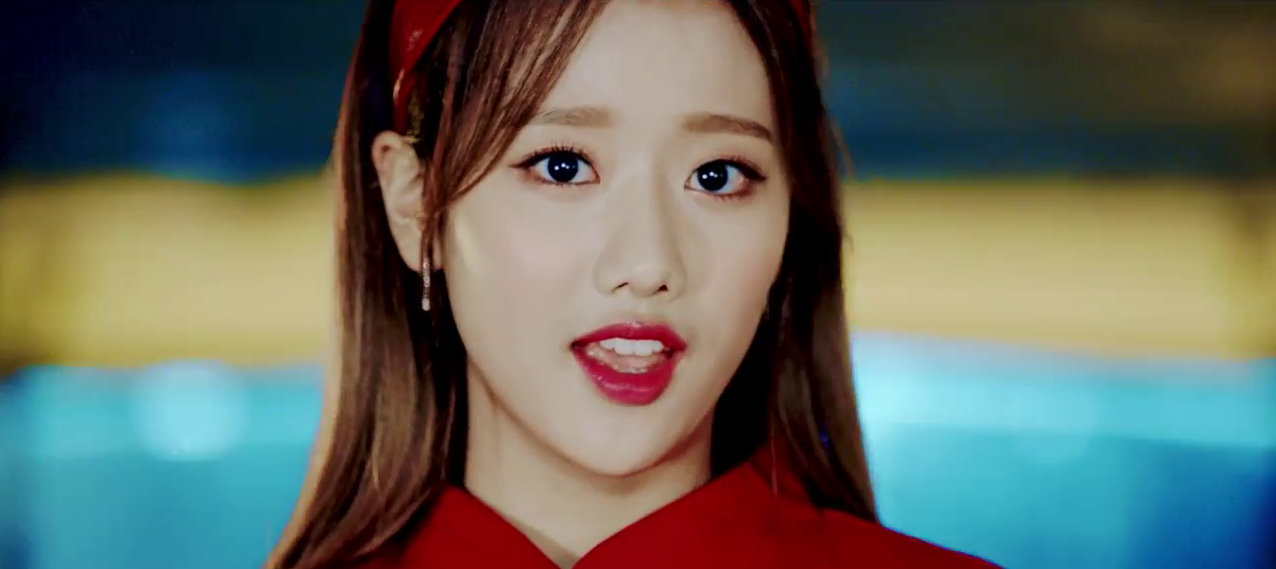 I just have a soft spot in my heart for Chaekyung (thanks to God of Music 2). But, more importantly, the girls looked extremely adorable in 'May Day'. I especially loved Naeun's makeup.
19. T-ARA in 'What's My Name'.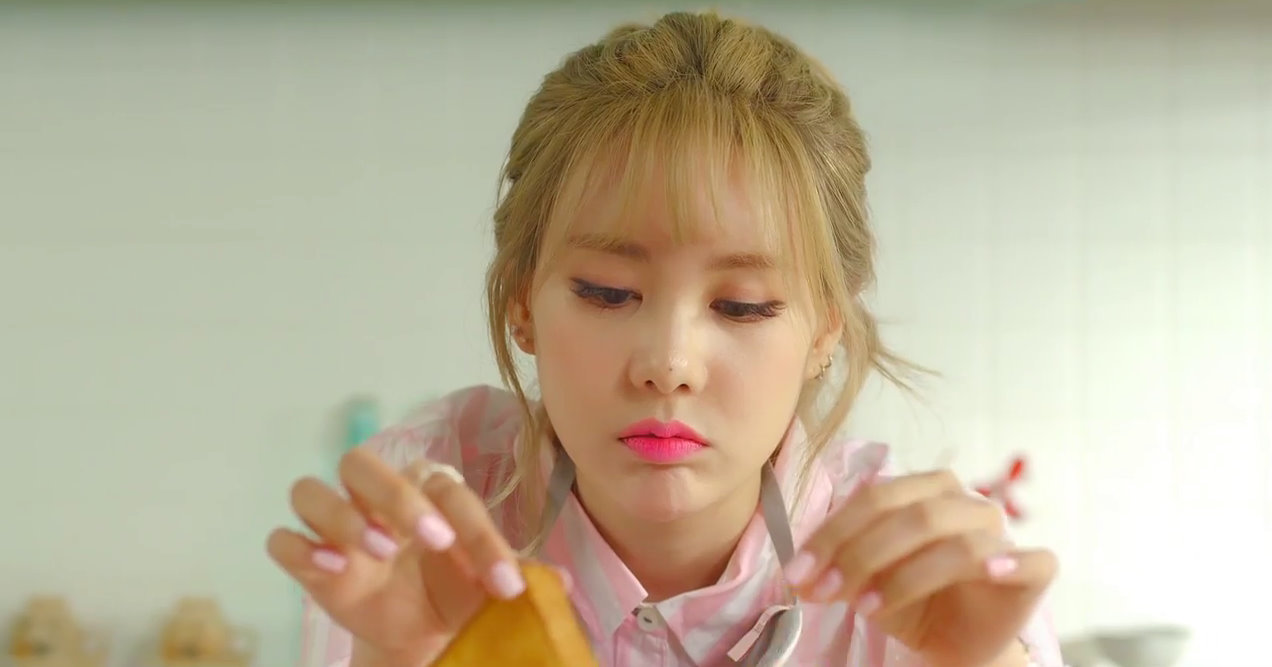 Ah, T-ARA. My heart hurts. To even think that we won't have T-ARA to bring us some gloriously addictive songs… It's such a shame. They were one of the first girl groups I ever fell in love with. The girls looked gorgeous in 'What's My Name'. I loved the bright pops of colours on their lips and their otherwise subtle looks.
Thank you for your amazing music. ;_; Watching this video made me tear up.
18. TWICE in 'Knock Knock', 'Signal' & 'Likey'.
TWICE continues their chart domination with their bubblegum pop songs but their makeup looks in their music videos aren't particularly exciting. They look fabulous, all the time, sure, but they seldom experiment with their looks. Also, I feel like this was Sana's year, somehow. She shone the brightest to me. Even when she stood next to Momo.
17. Girls' Generation in 'All Night' & 'Holiday'.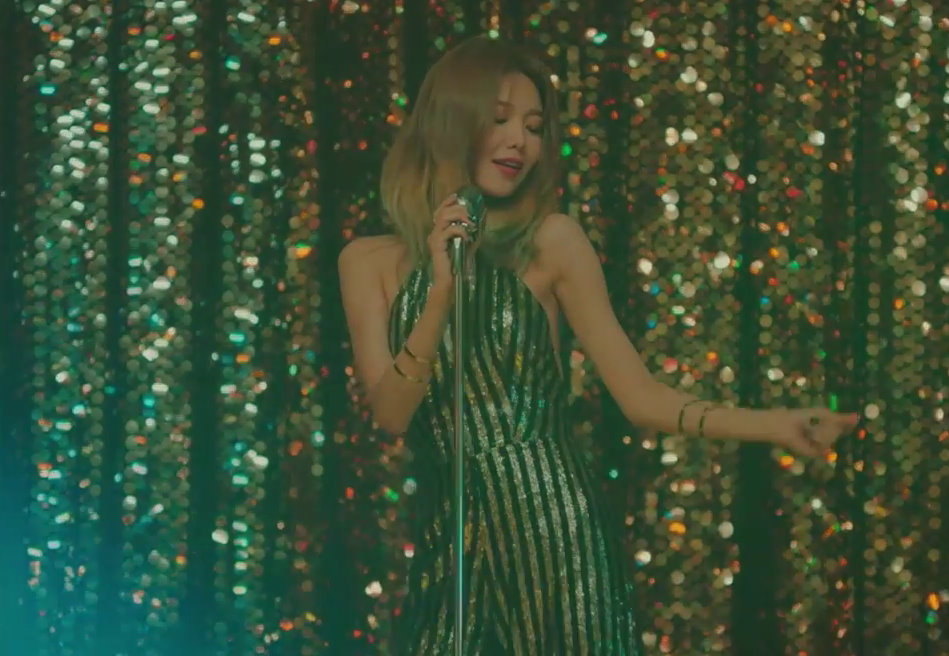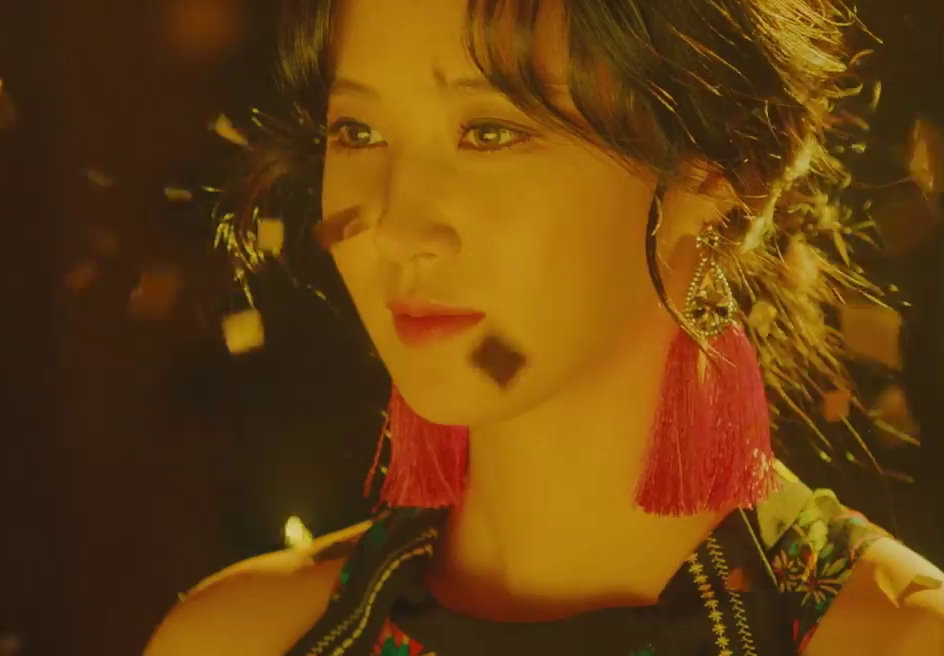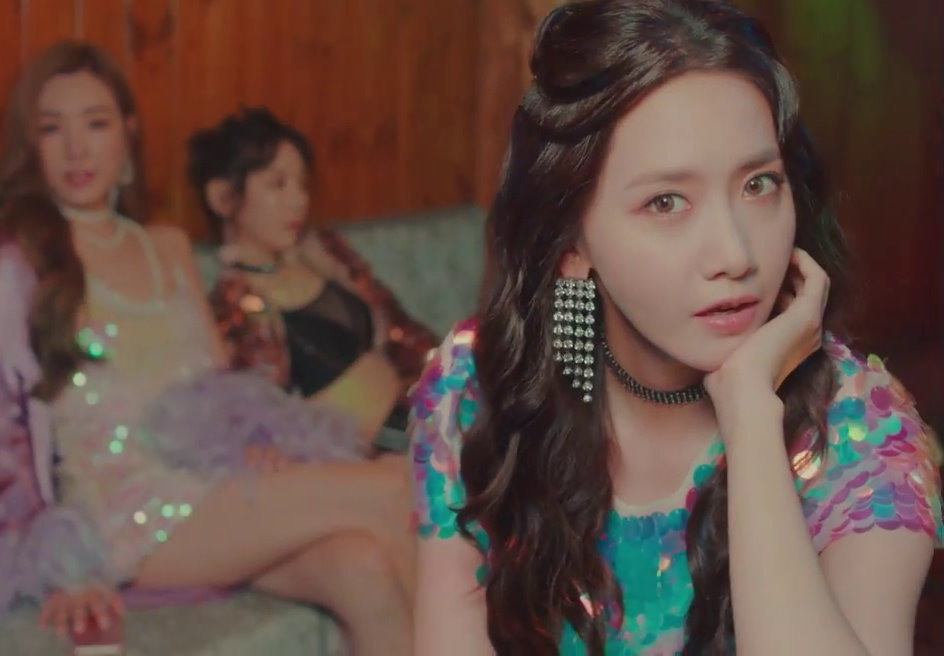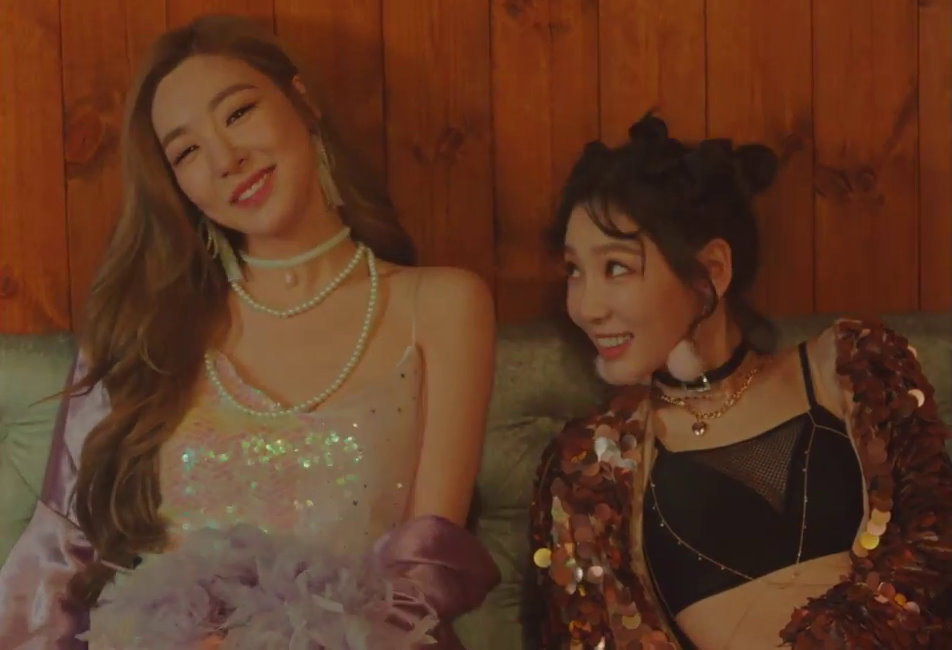 The one and the only. Girls' Generation. They all looked so beautiful in both the music videos. They explored multiple lip colours, hairstyles and looks through the videos.
Their future is in the dark at the moment but I'll remain hopeful. Never say never.
16. PRISTIN in 'Wee Woo'.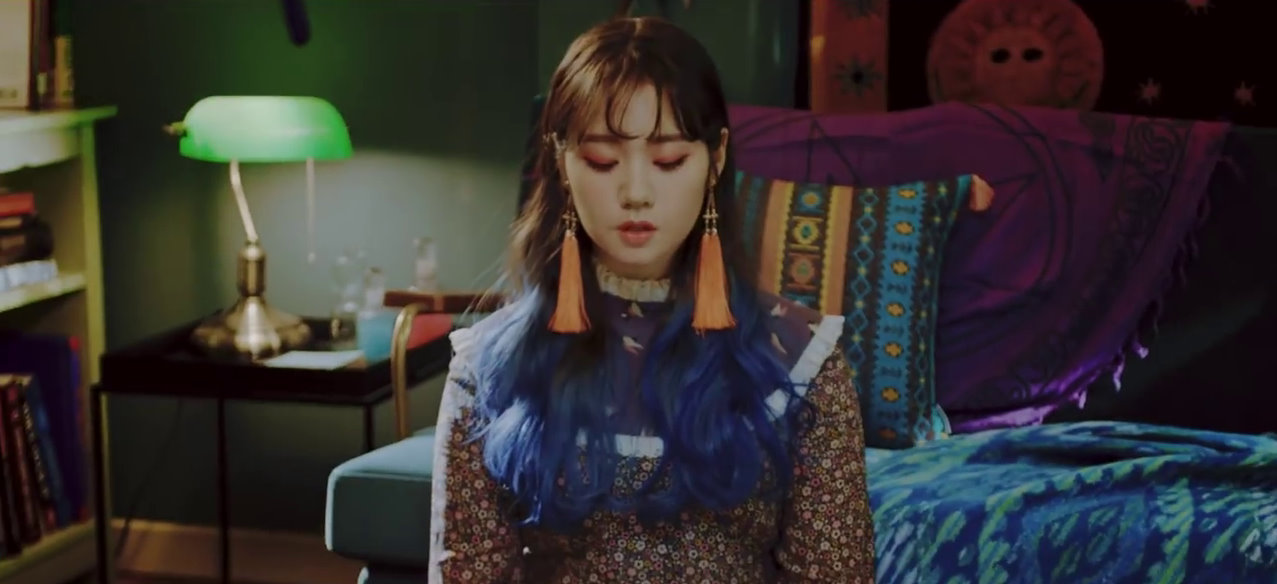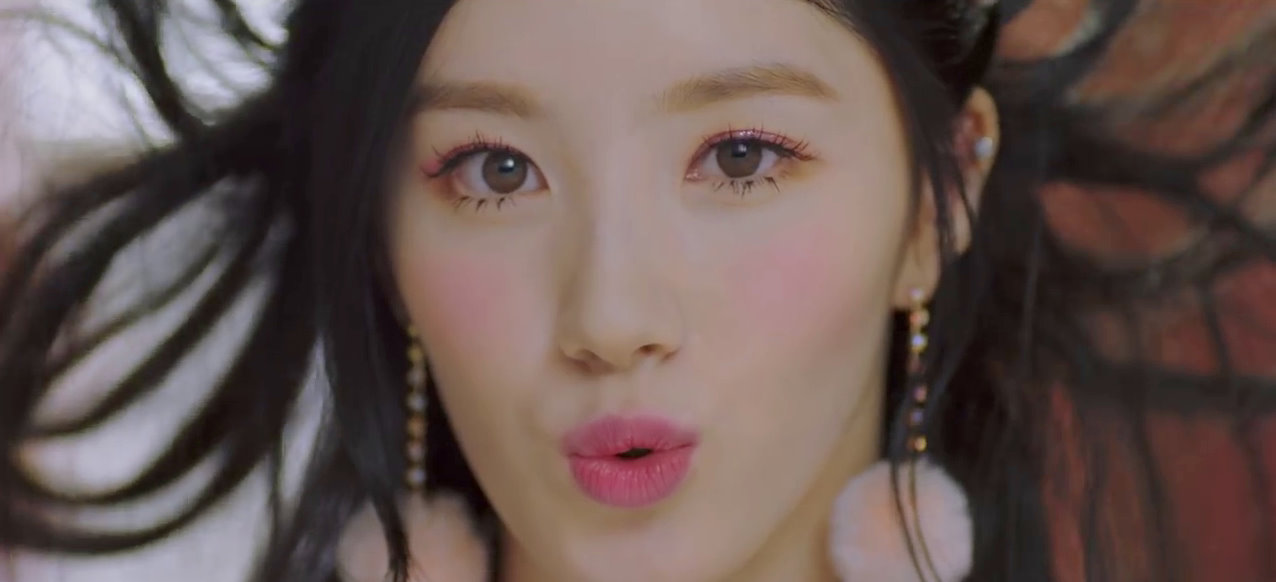 One of the best debuts this year, by far. I listened to 'Wee Woo' all through the year and didn't get tired of either the song or the music video. I especially loved Xiyeon's soft pink look in the music video – the glittery pink lids, the baby-pink blush, the pink lips, the pink pom-pom earrings. I also loved Kyla's orange-brown eye makeup that went along perfectly with her orange tassel earrings and floral dress.
15. Lee Hyori in 'Black'.

'Black' had the sweetest music video ever, all thanks to Mr. Doggo up there. Of course, Lee Hyori is still as charismatic as ever. Her makeup was much more stripped down in the actual music video. The makeup during her live stages was much bolder – the statement black smokey eye and the muted rose-nude lips were perfect for her entire aura during the performances.
14. Seohyun in 'Don't Say No'.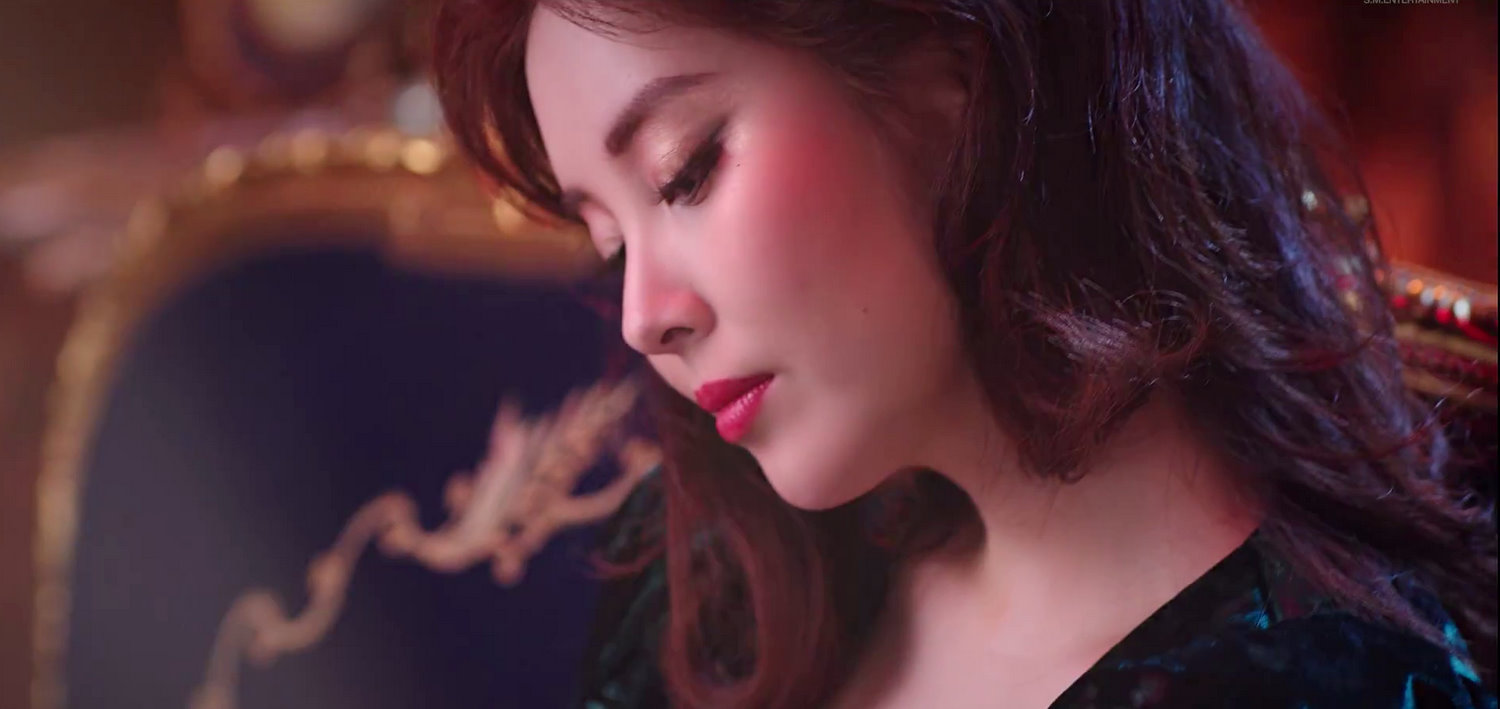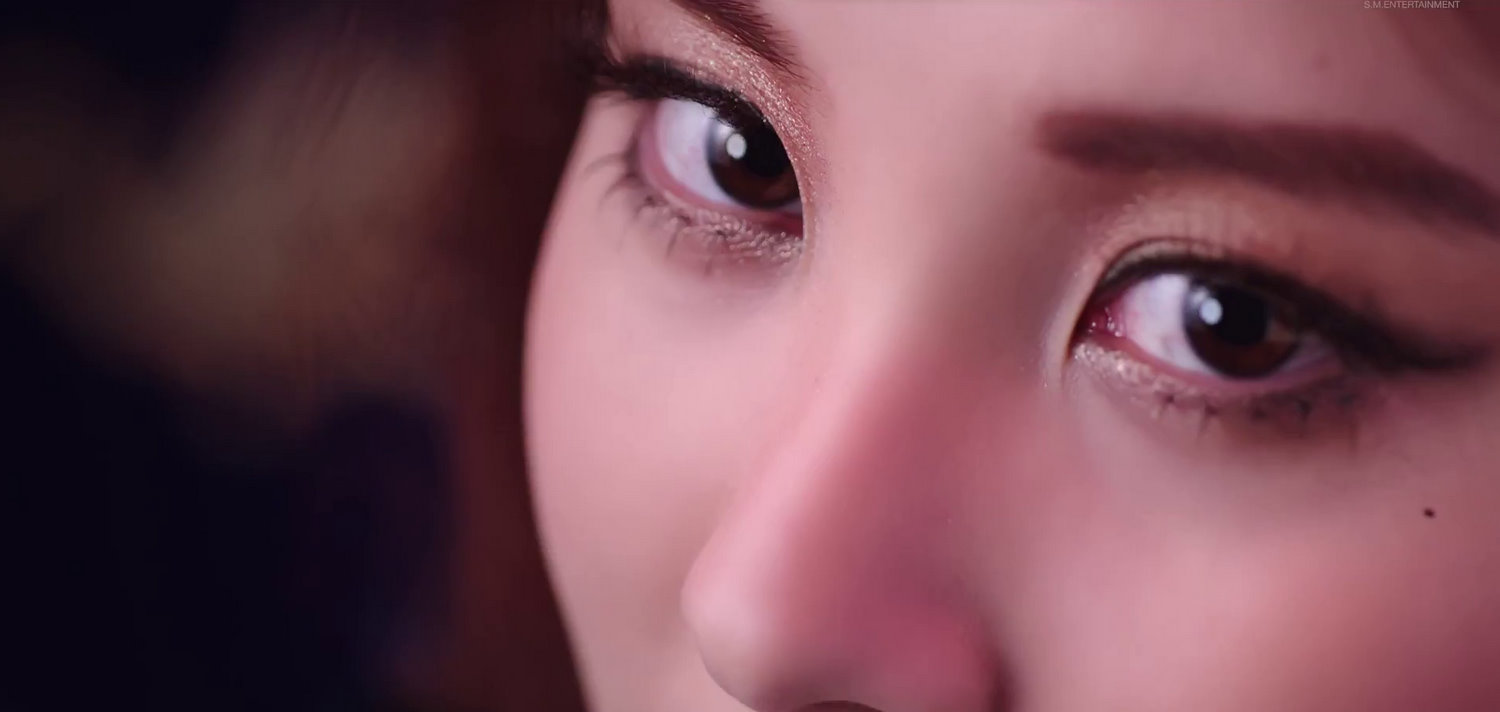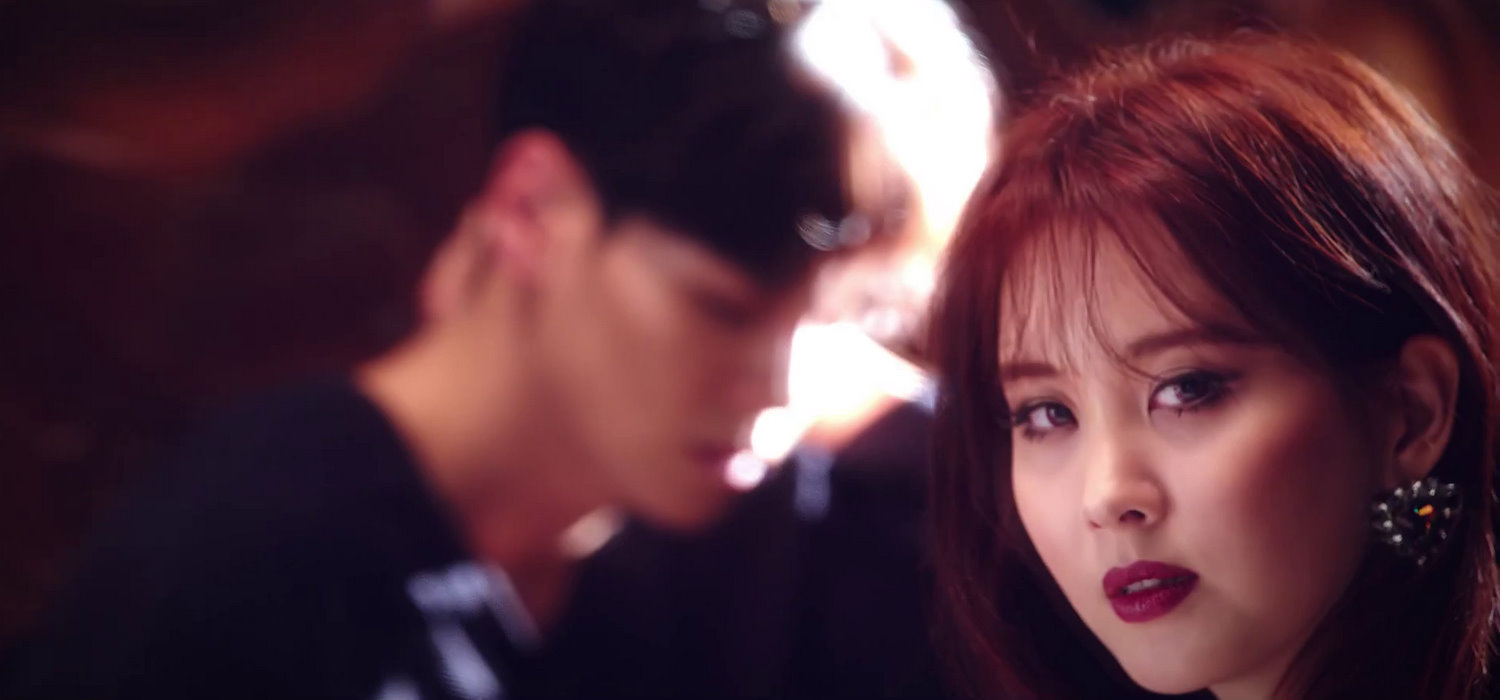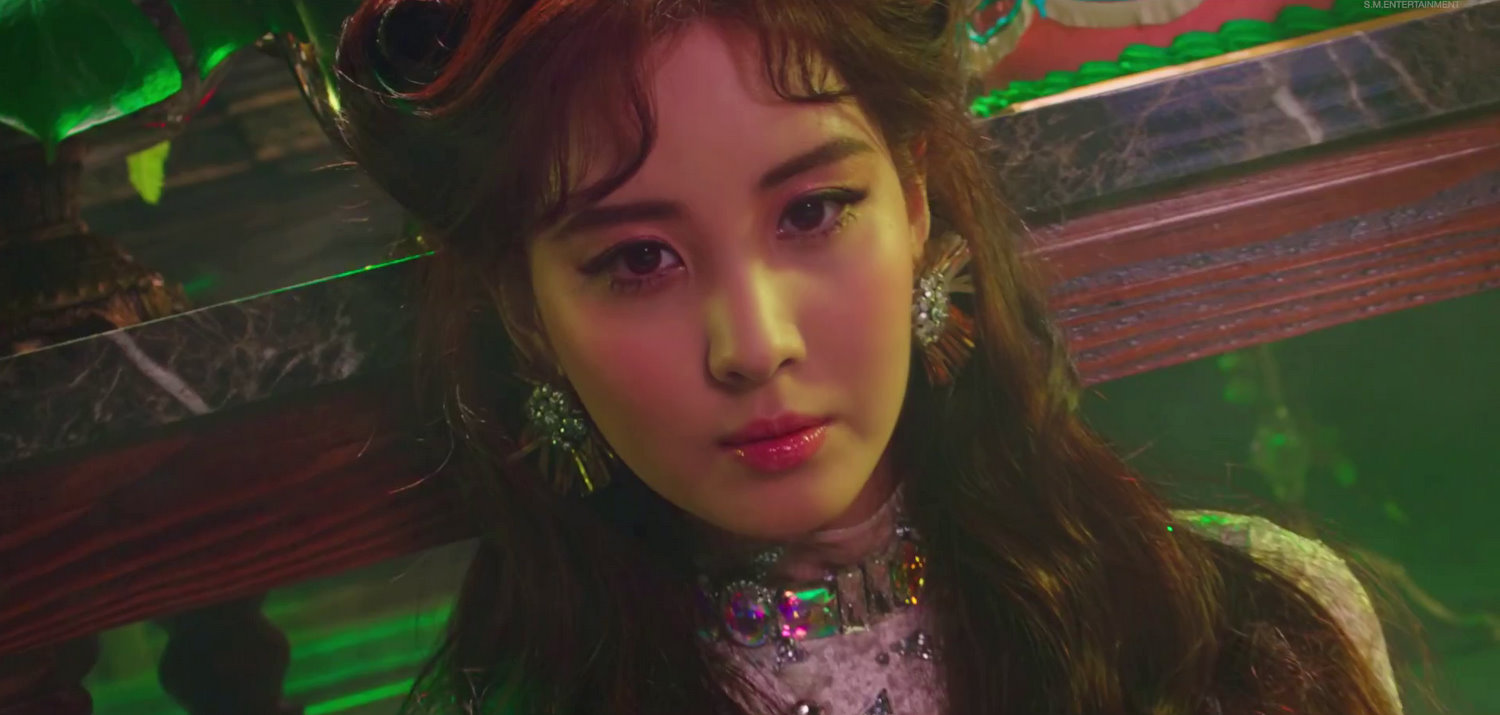 I loved Seohyun's extravagant clothes and her elegant makeup in her solo debut music video. Whether she was rocking a bronze eye look or a smokey one, she pulled them off so beautifully that she needed to be on this list, no matter what.
13. EXID in 'DDD' & 'Night Rather Than Day'.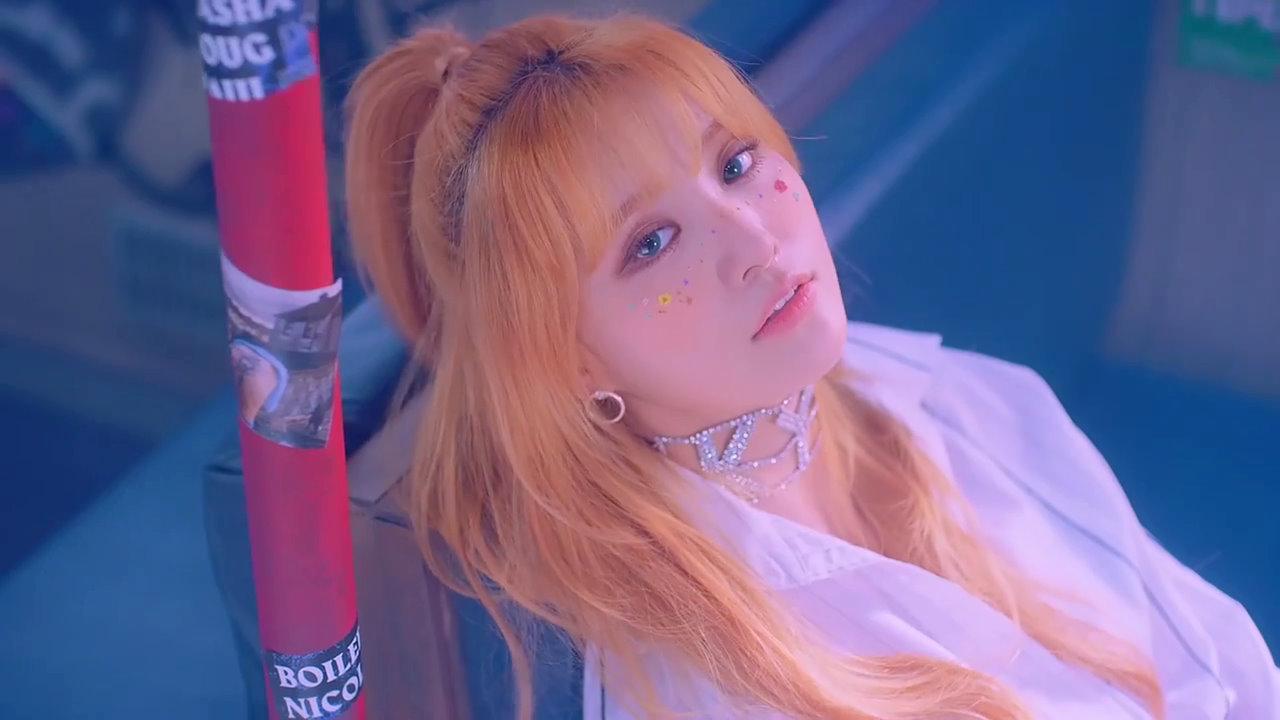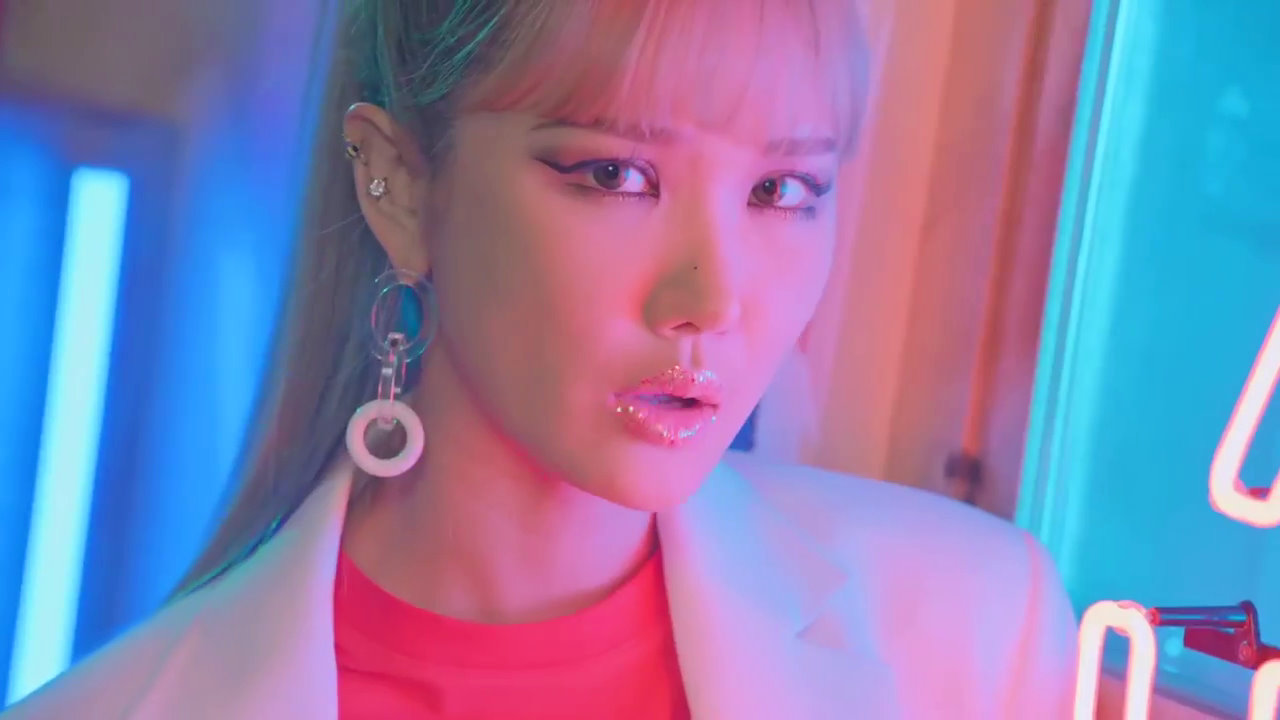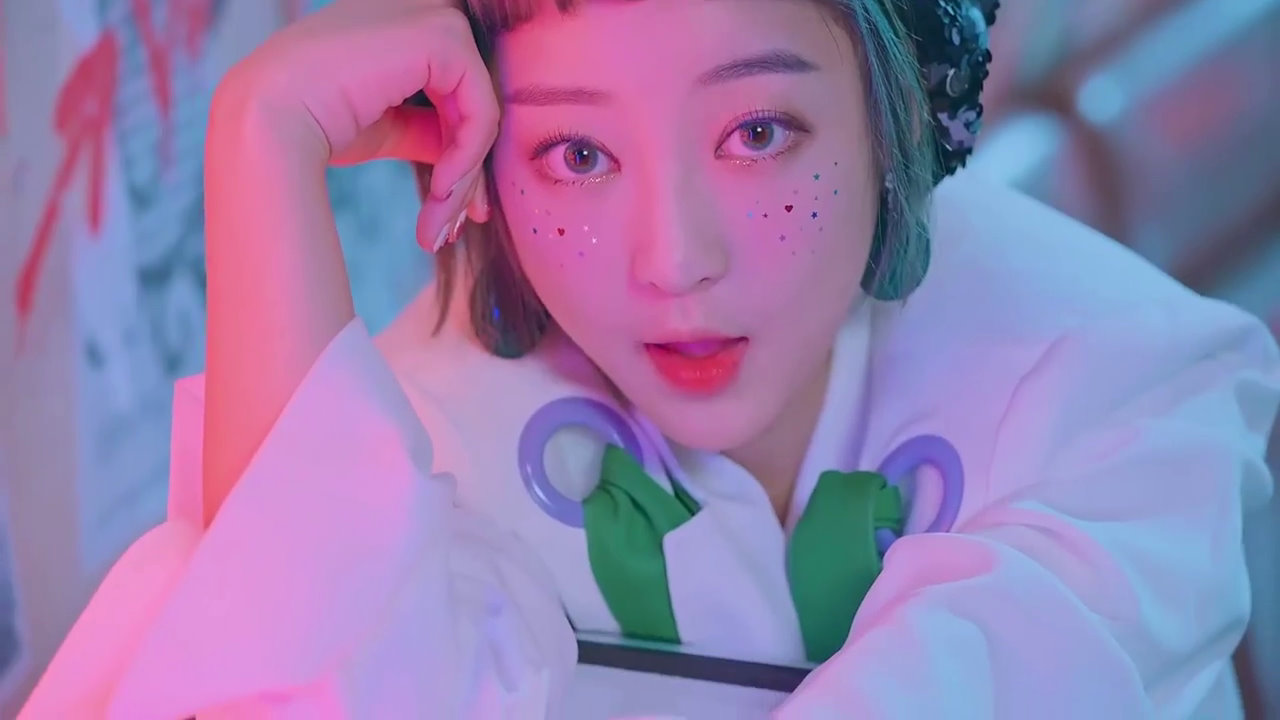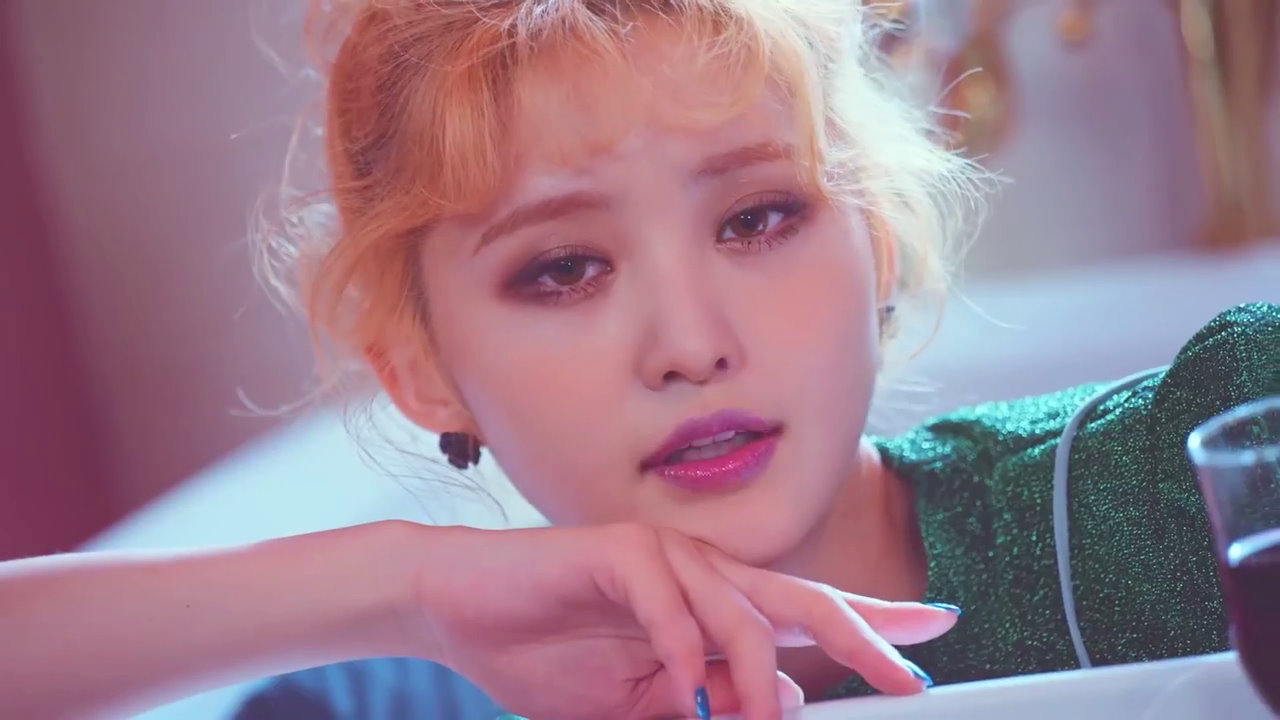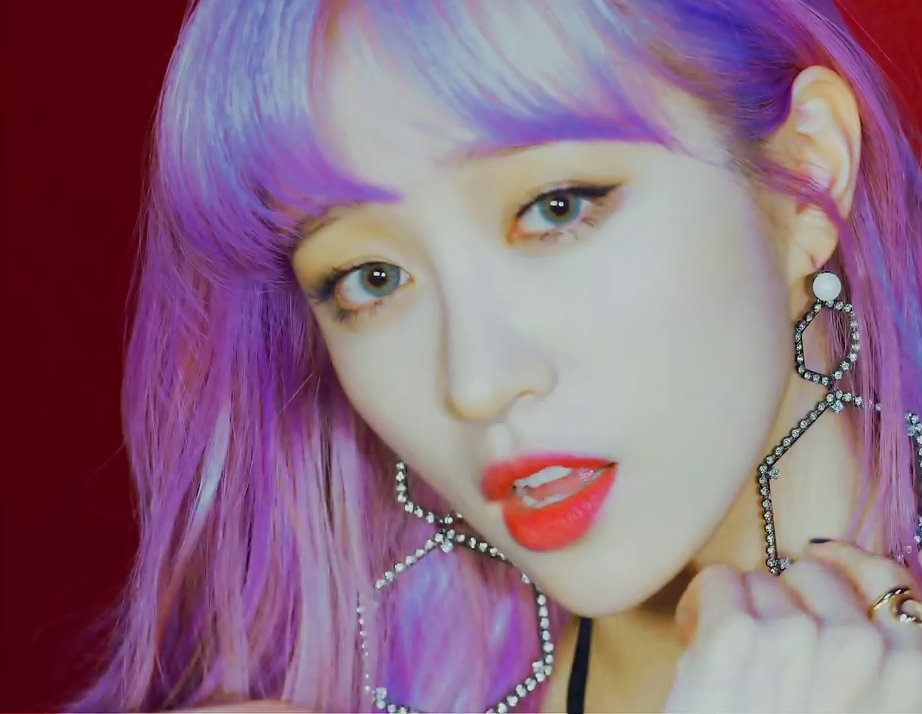 It was interesting to see so many girl groups borrow from Japanese makeup trends. This time around, it was the 'Kira Kira Makeup' trend. We see both Jeonghwa and Hyelin rock these looks in 'Night Rather Than Day'. I also loved Jeonghwa's darker, smokier look in the same music video. She paired it with a purple-berry lip and I was blown away!
Watch 'Night Rather Than Day' here.
12. AOA in 'Bing Bing' & 'Excuse Me'.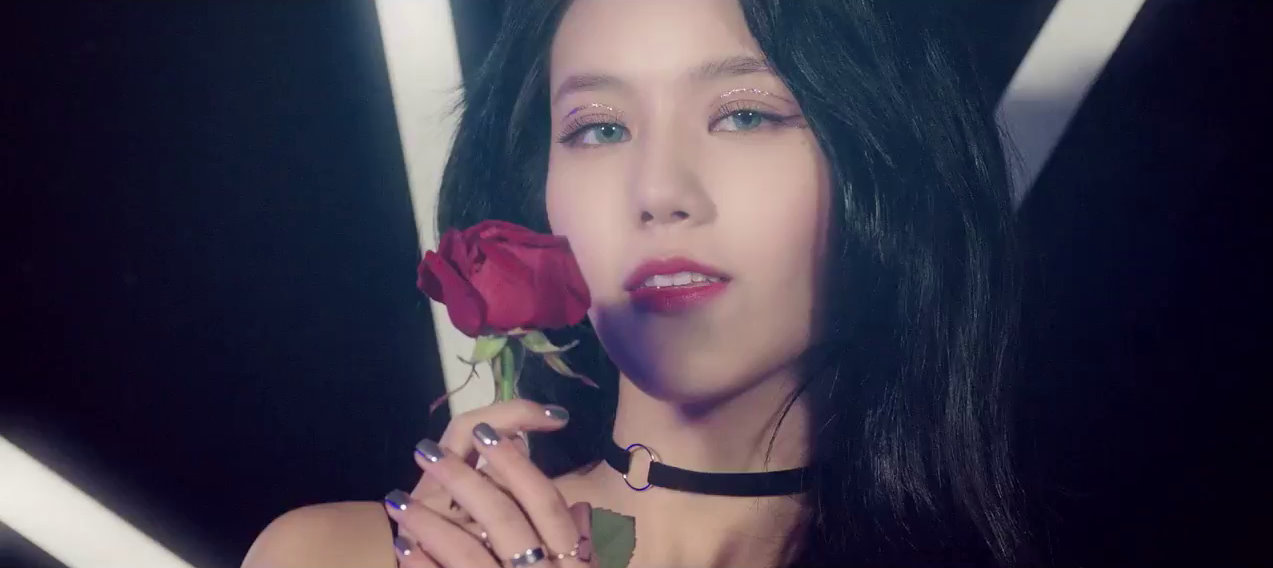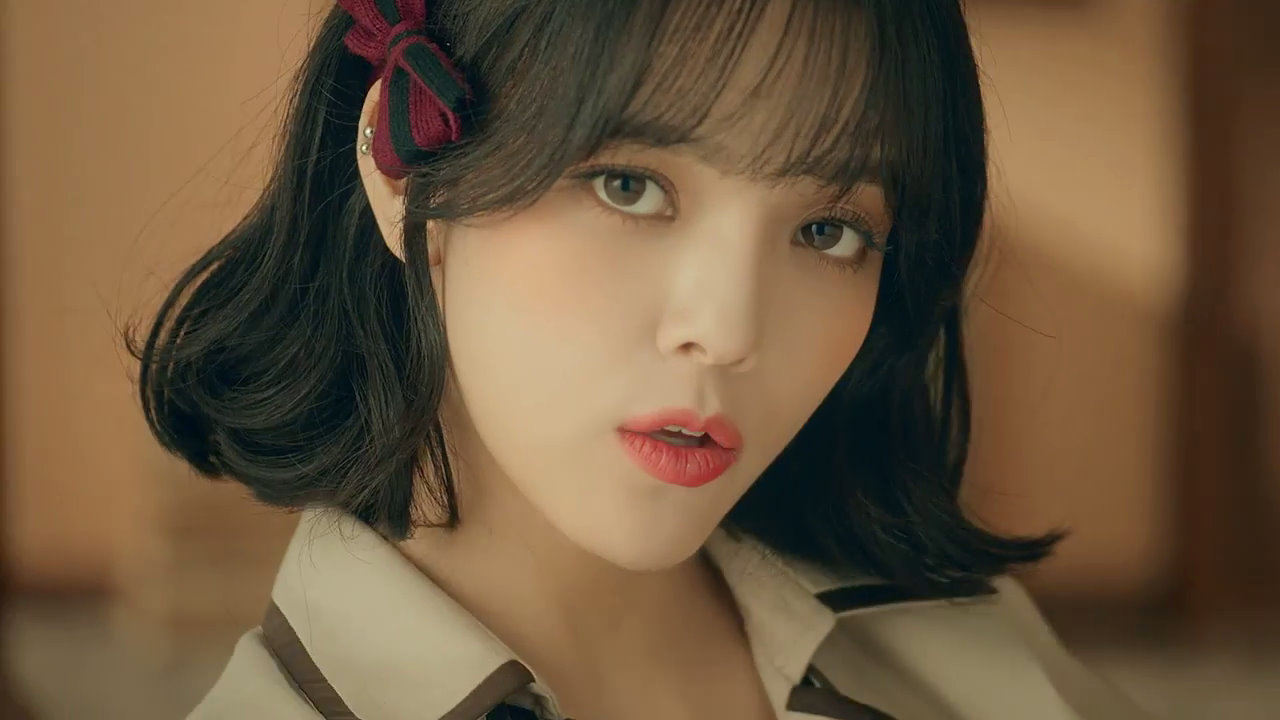 AOA didn't have a particularly good year but I did enjoy 'Excuse Me' to a fault. I loved, loved, loved Hyejong's floating glitter eyeliner in 'Bing Bing' and the warmer, more muted looks in 'Excuse Me'.
I'll miss having Choa in AOA. She was the heart and soul of the group, I think, and not to mention, she was my favourite. That being said, I think the rest of the girls will do just fine without her.
11. Lovelyz in 'Wow', 'Now, We' & 'Twinkle'.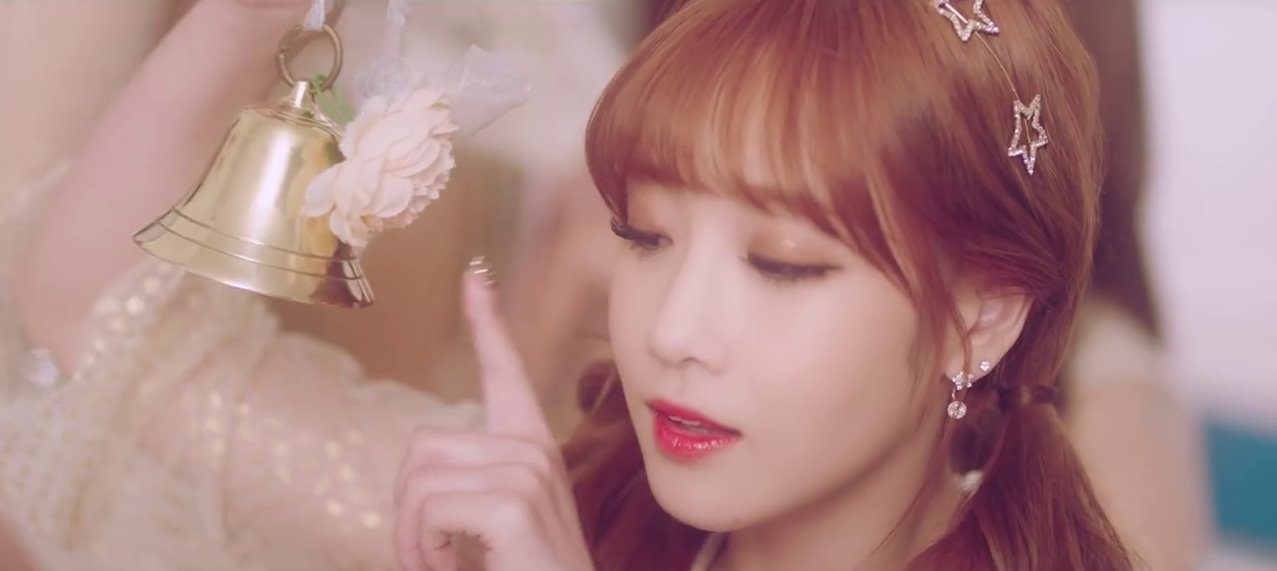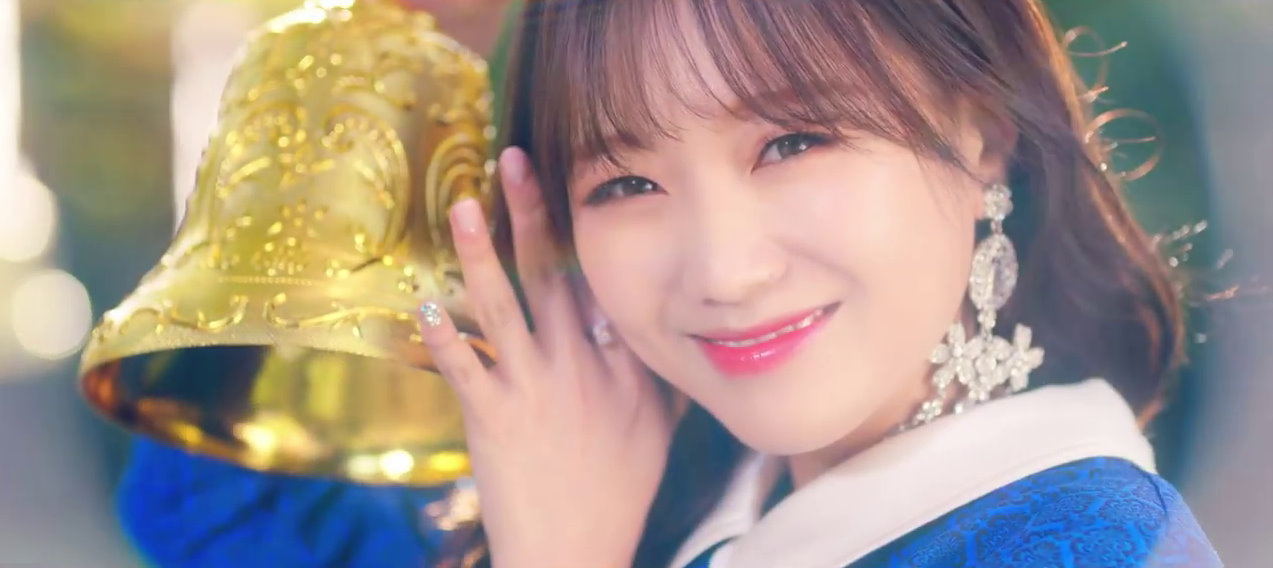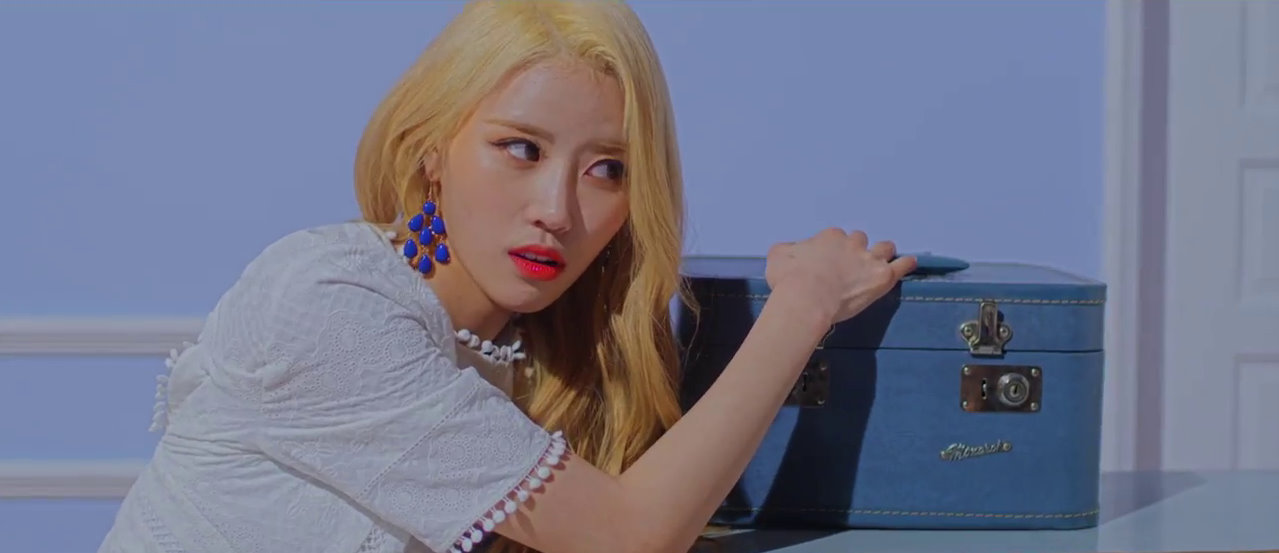 I fell head-first in love with Lovelyz this year. Ugh, I was obsessed with their songs for the first half of the year. They really are a… lovely… group.
They had some fun looks in 'Wow', with the stickers and decals. 'Now, We' was a festival of orange cheeks and red lips. 'Twinkle' was your average pretty, sparkly paradise. I found that the makeup didn't really go with their festive red and blue outfits but it looked flawless once they put on their beige-gold outfits.
10. Girls' Day in 'I'll Be Yours'.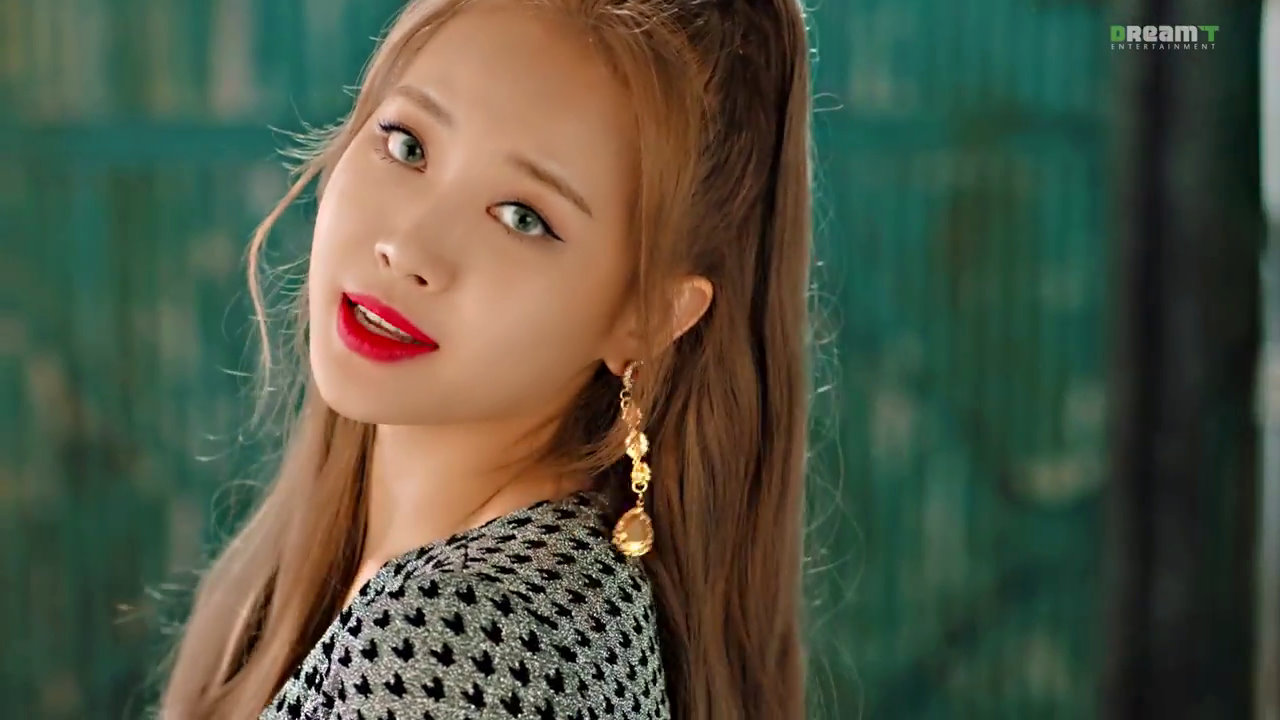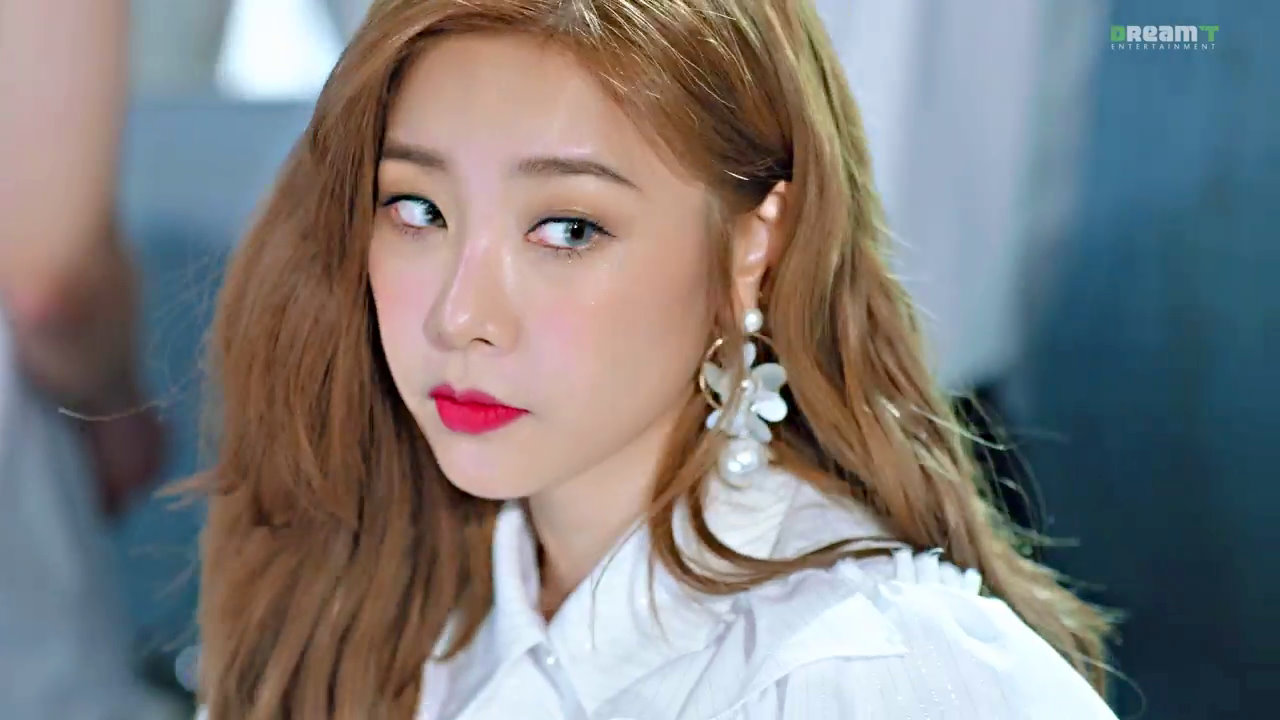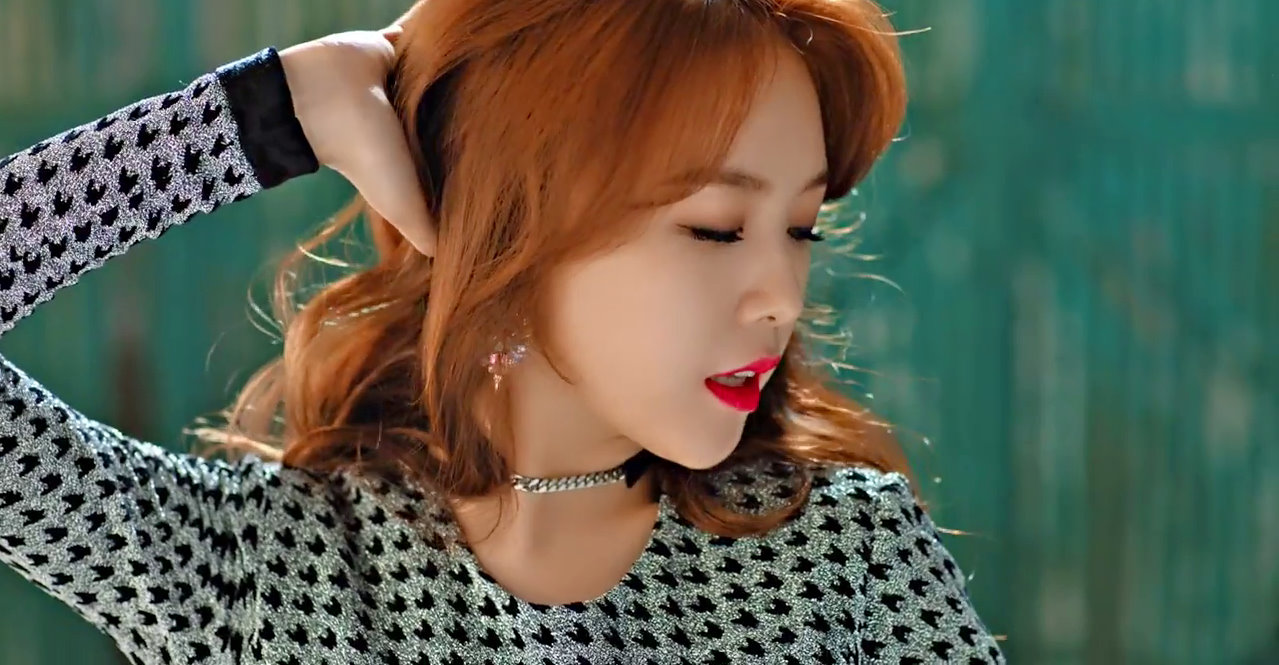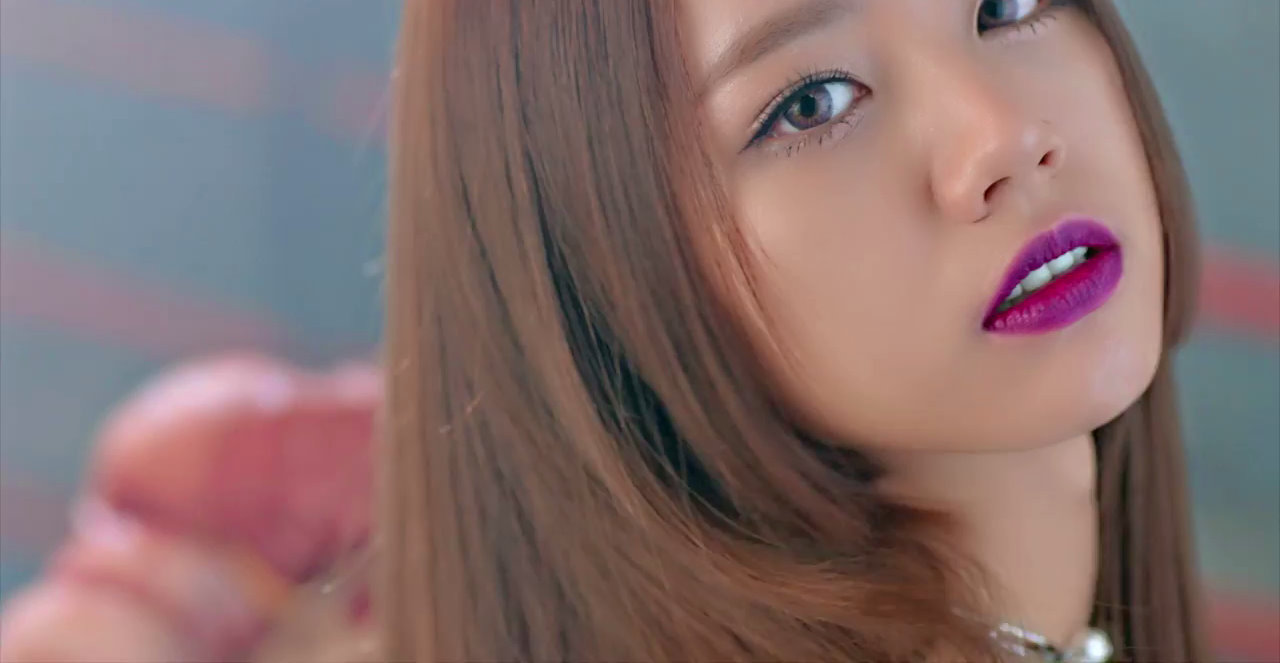 I quite enjoyed the music video for 'I'll be Yours'. The song… not so much. When it was time to compile this list, Hyeri's bold purple lip was at the top of the list. So was Sojin's poppy pink lip and gorgeous pearl-flower earrings.
9. Sonamoo in 'Friday Night' & 'I (Knew It)'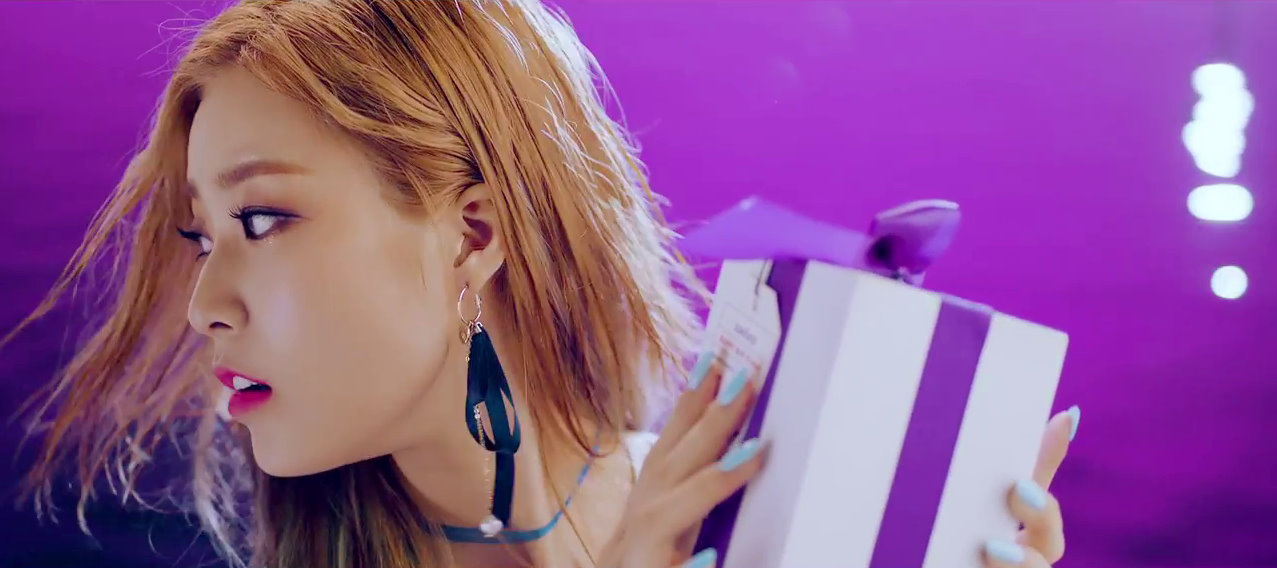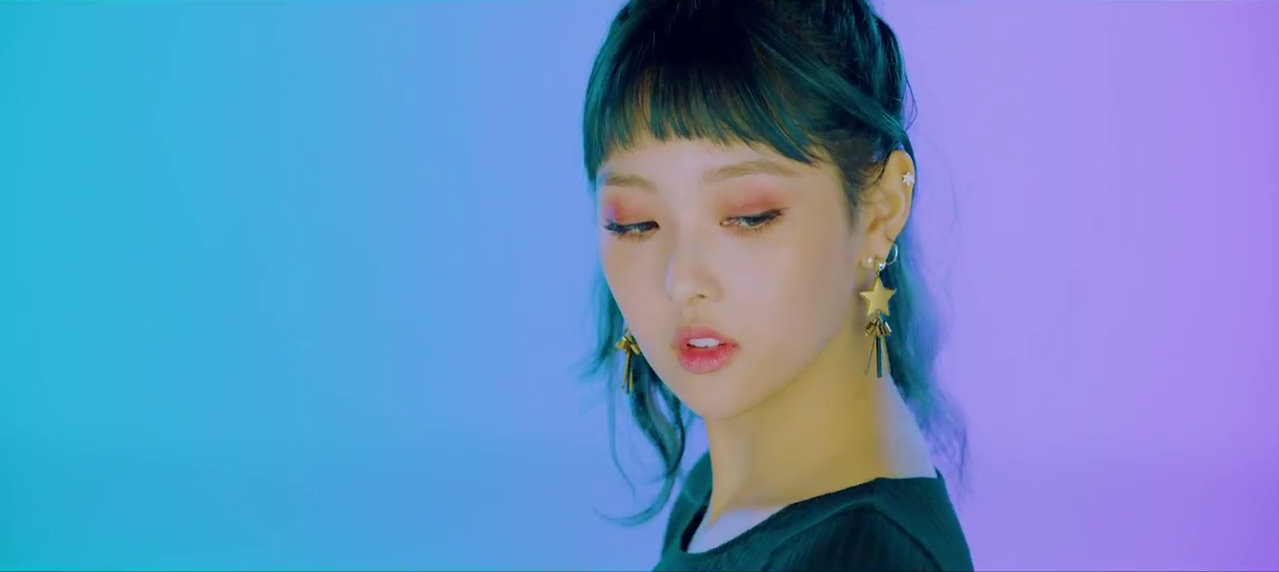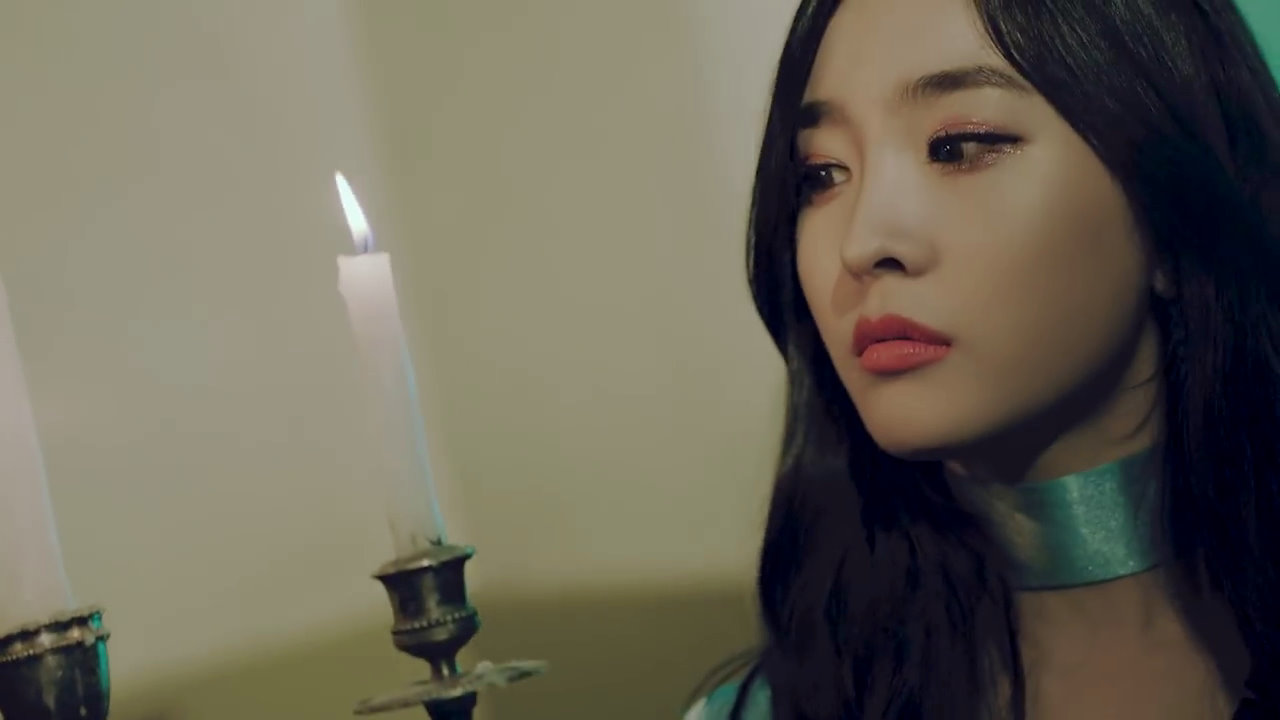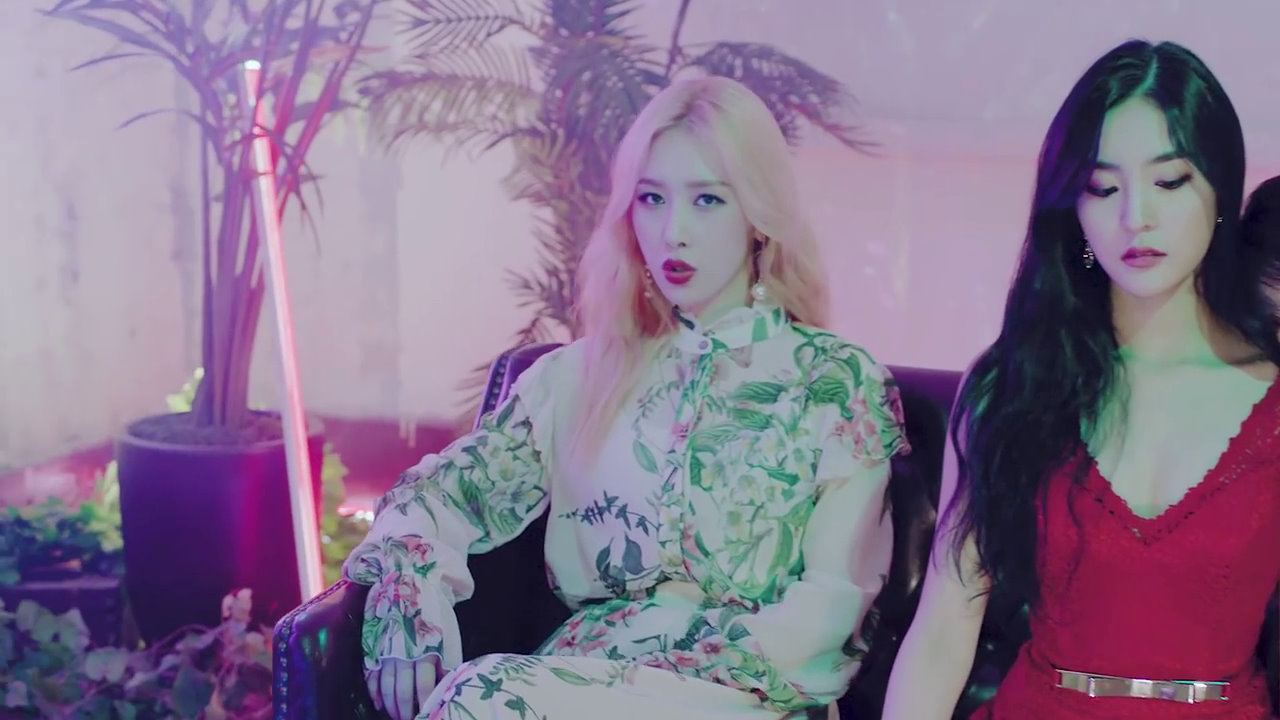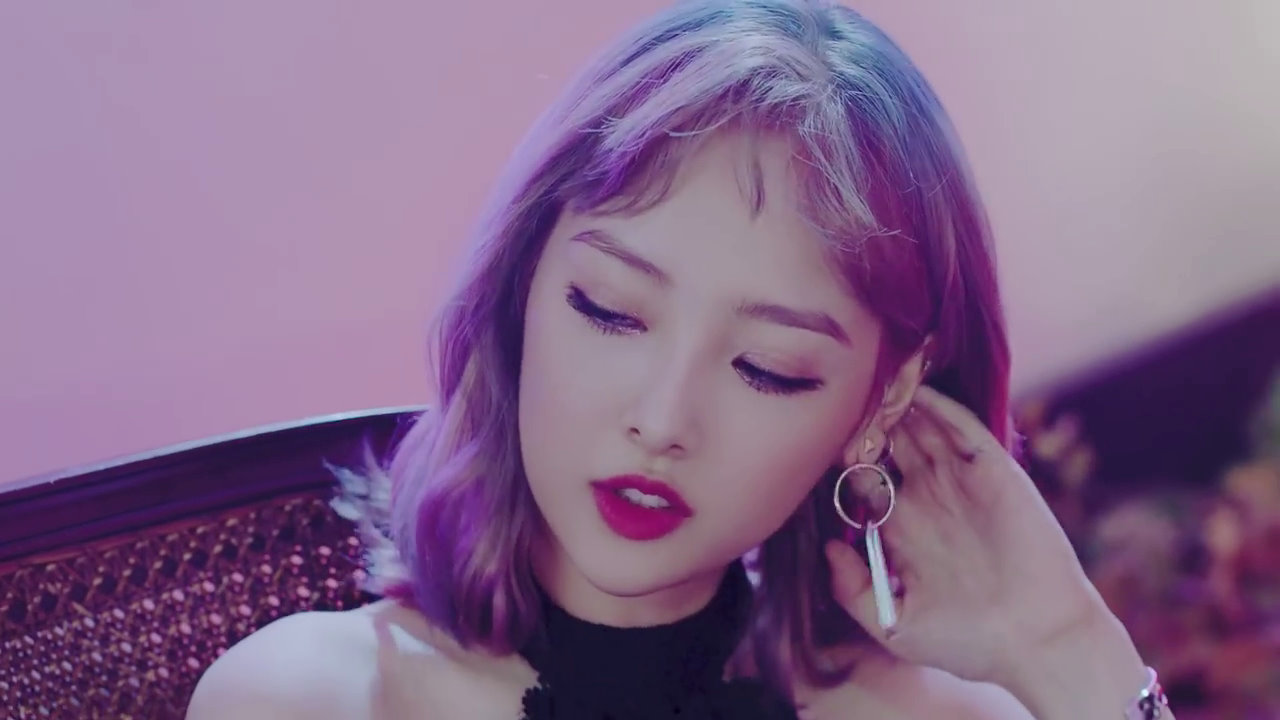 Sonamoo is a fairly new group to me. I only started listening to their music this year, starting with the impeccable 'Friday Night', which is one of my favourite songs of the year. As far as makeup goes, I found their looks quite interesting and pretty in 'I (Knew It)'. Their brown smokey eyes paired with nude/red lips in 'Friday Night' were interesting too. It's rare to see girl group idols rock a nude lip but I loved that quite a few girls wore the look with ease and confidence..
8. 9MUSES in 'Love City' and 'Remember'.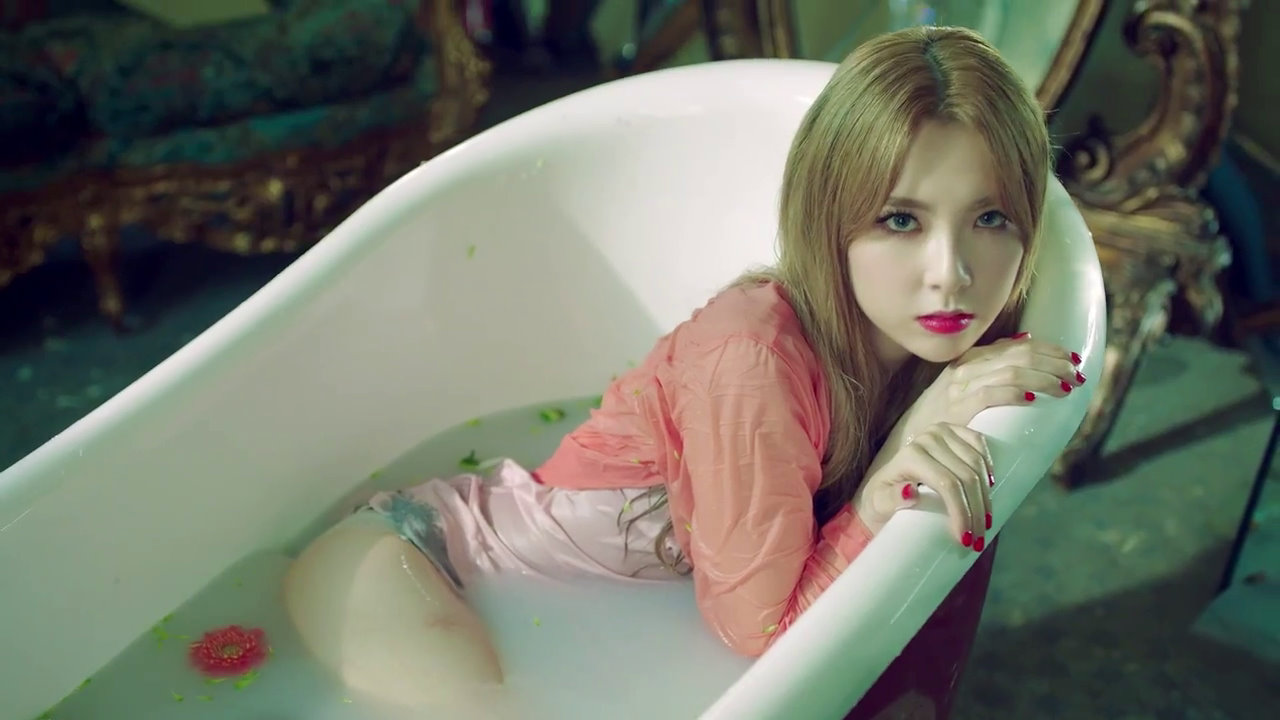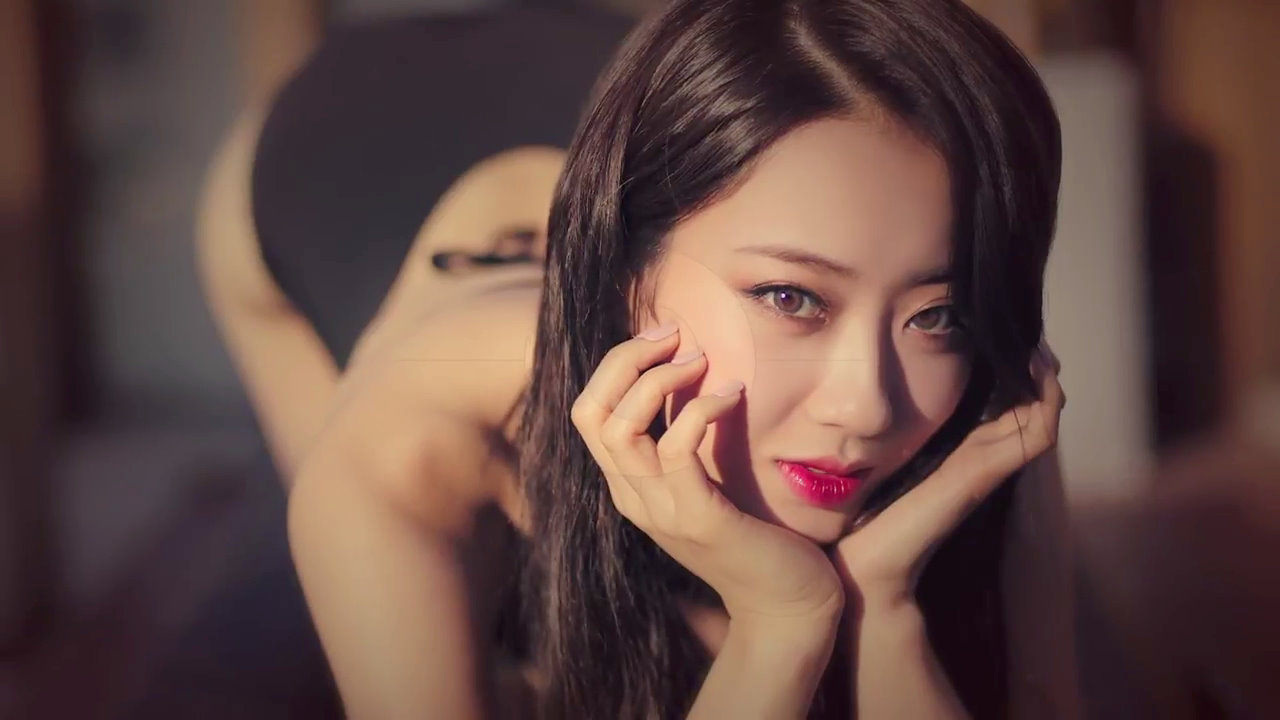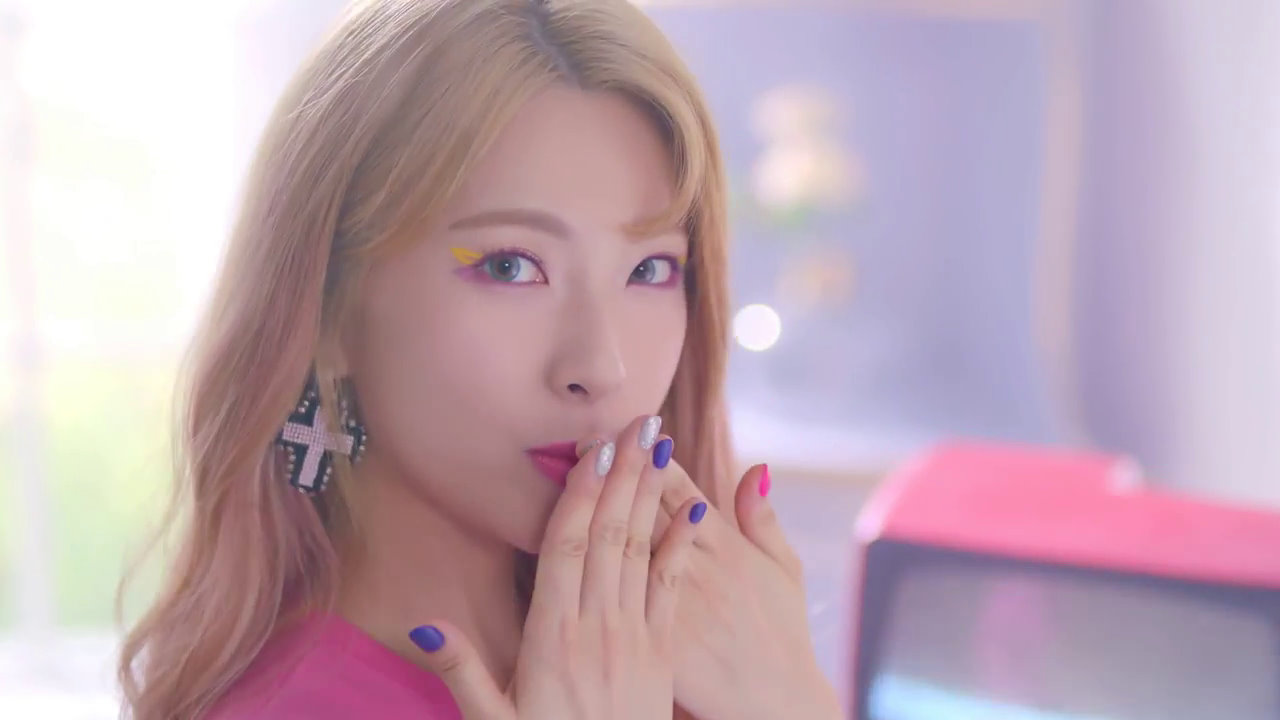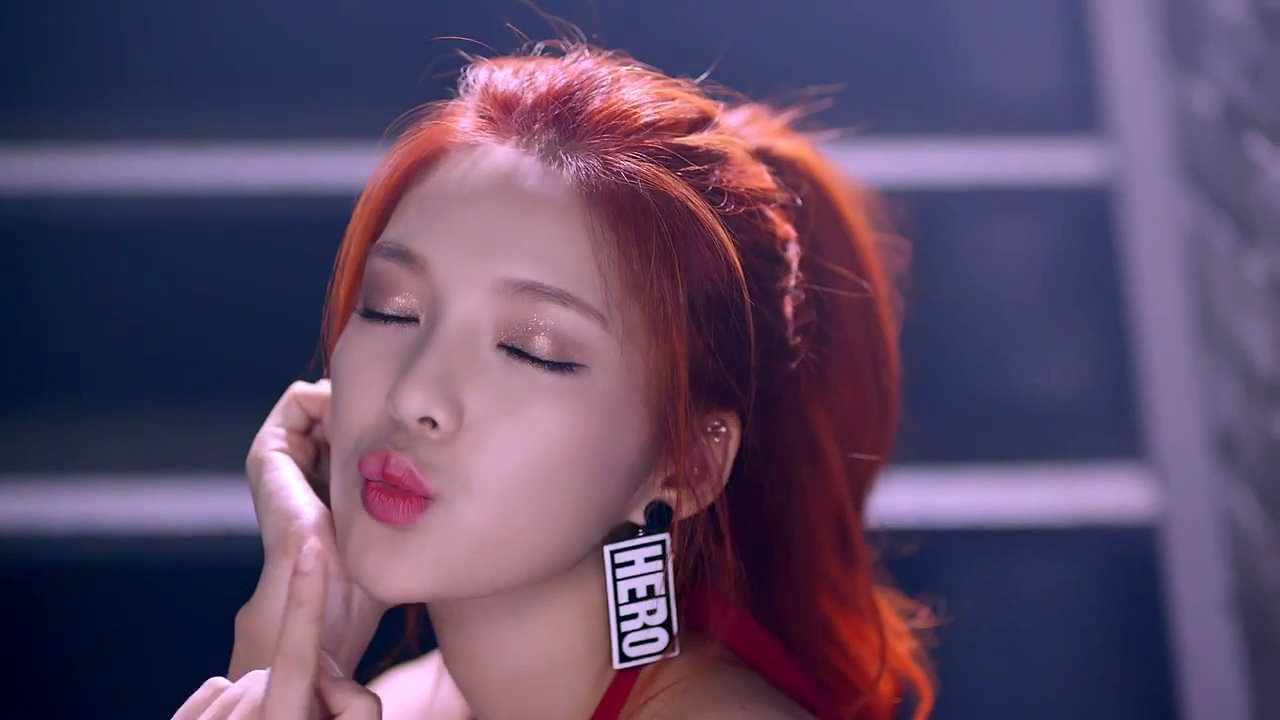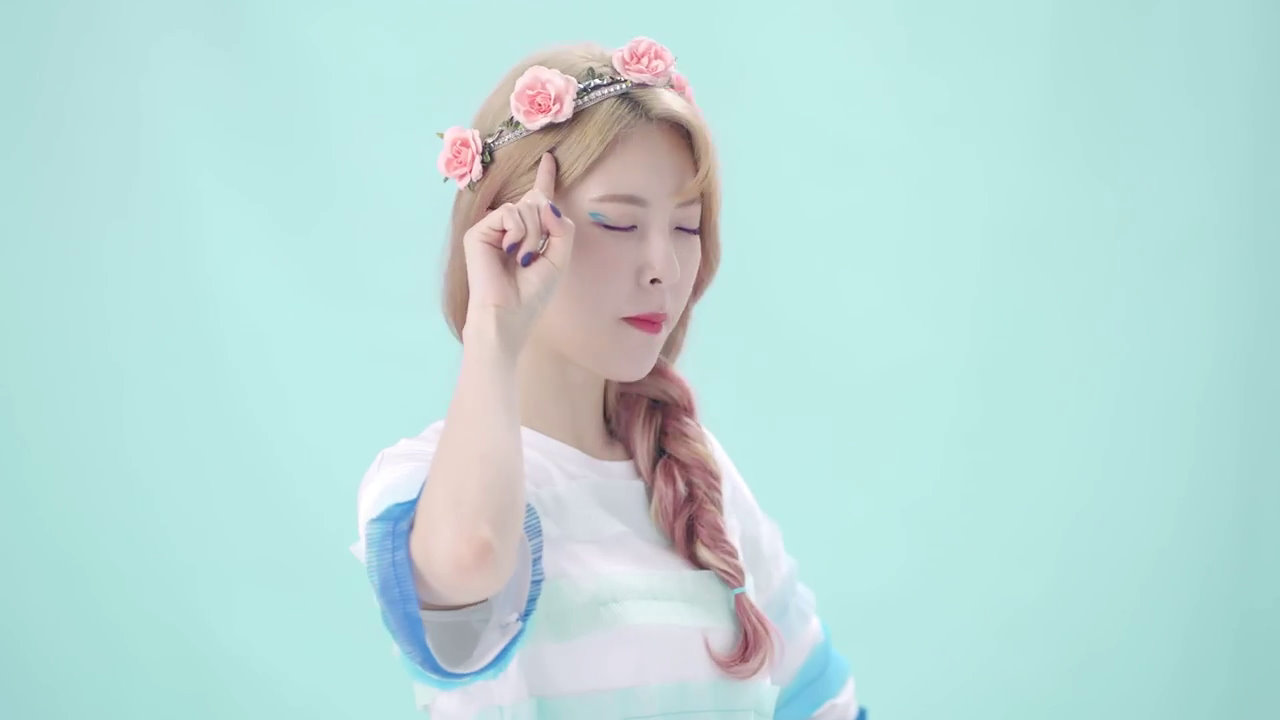 I've always loved Kyungri's cat-like, feline looks but I found she softened those features in both of these music videos.
Hyemi had some interesting eyeliner action going on in 'Love City', with sky-blue and yellow winged liner. I also adored Sojin's glittery bronze-gold eyeshadow.
7. IU in 'Palette' & 'Last Night Story'.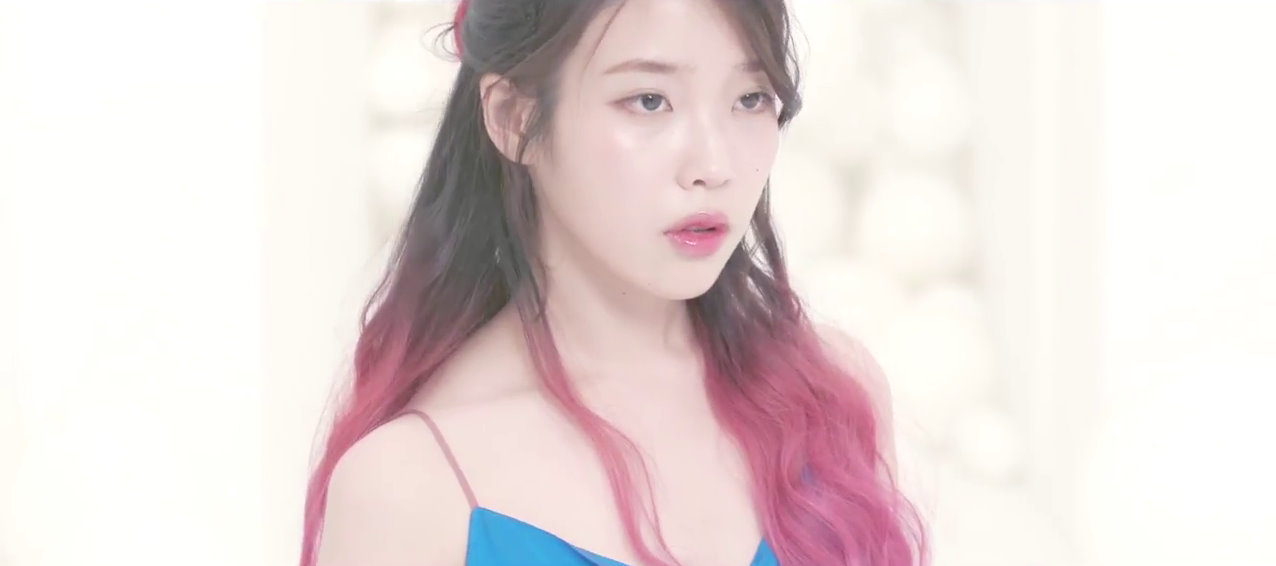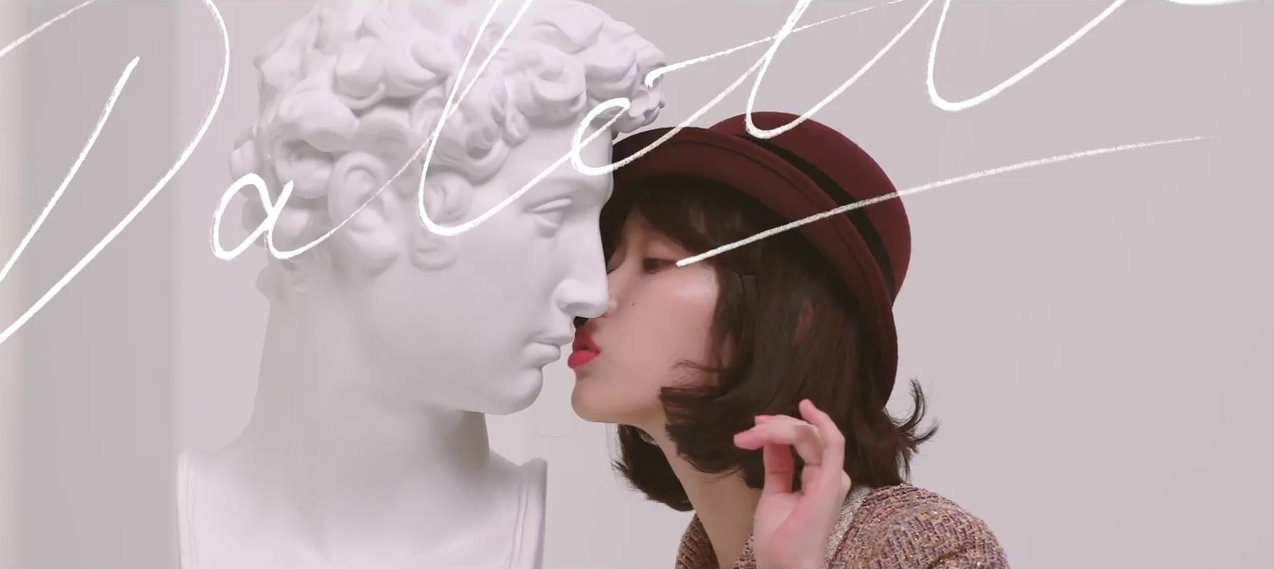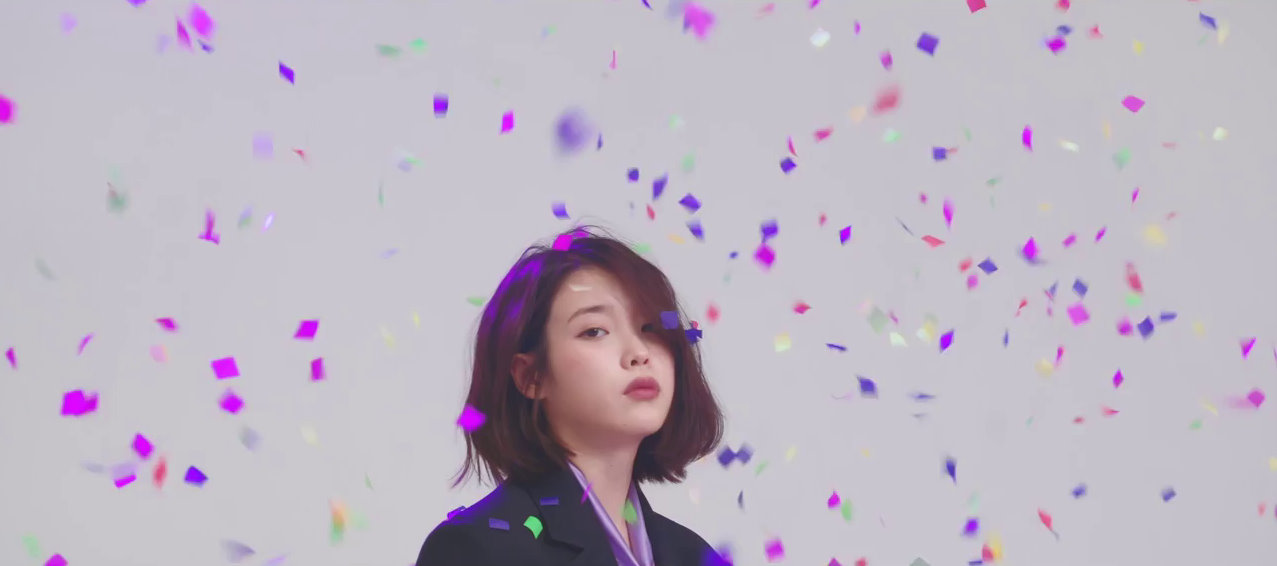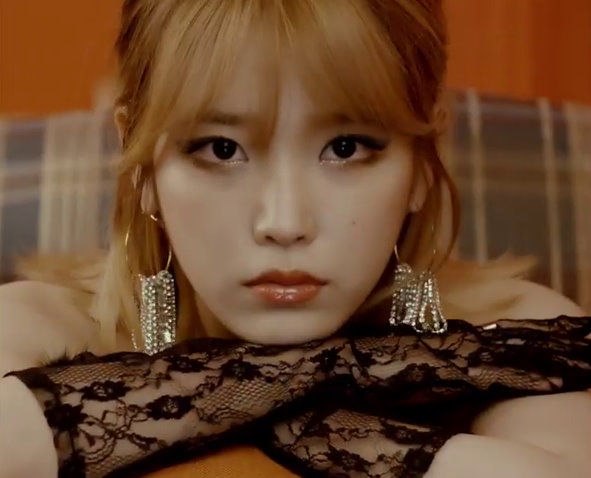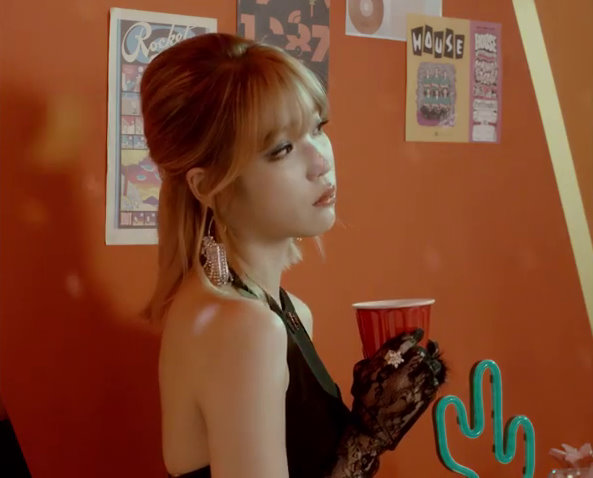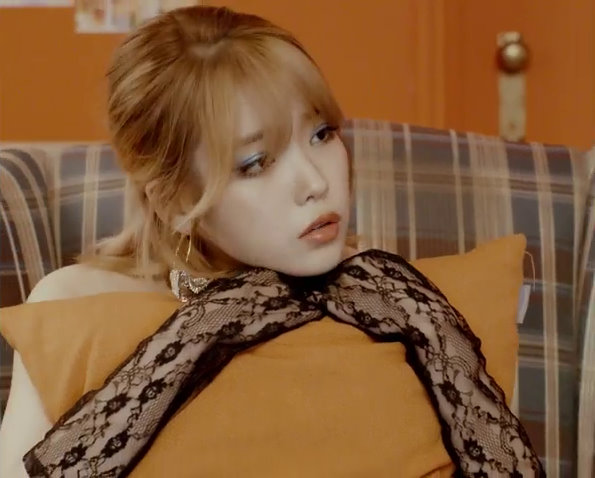 I loved IU's soft, translucent, dewy skin in 'Palette' that she had throughout the video, with different lip-colours and eye makeup.
I also loved her orange-ish brown lipstick that she paired with bluish-silver eyes in 'Last Night Story'. It was such an usual match but it worked so well together. Who woulda thunk it?
Watch 'Last Night Story' here.
6. Momoland in 'Freeze'.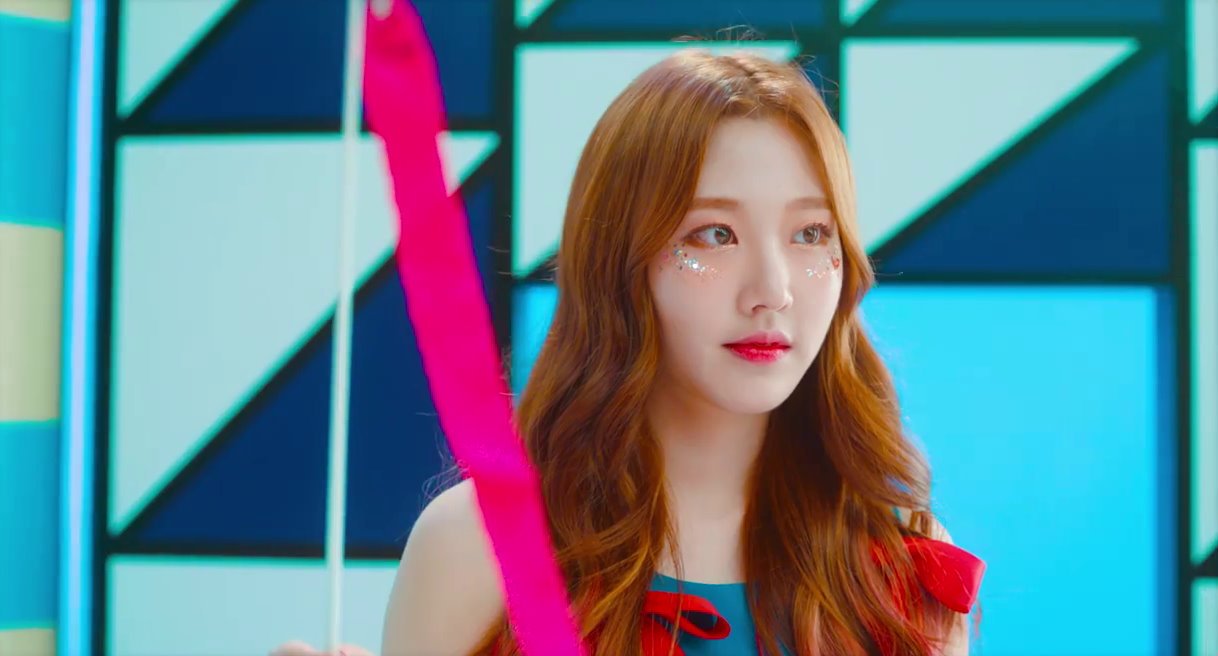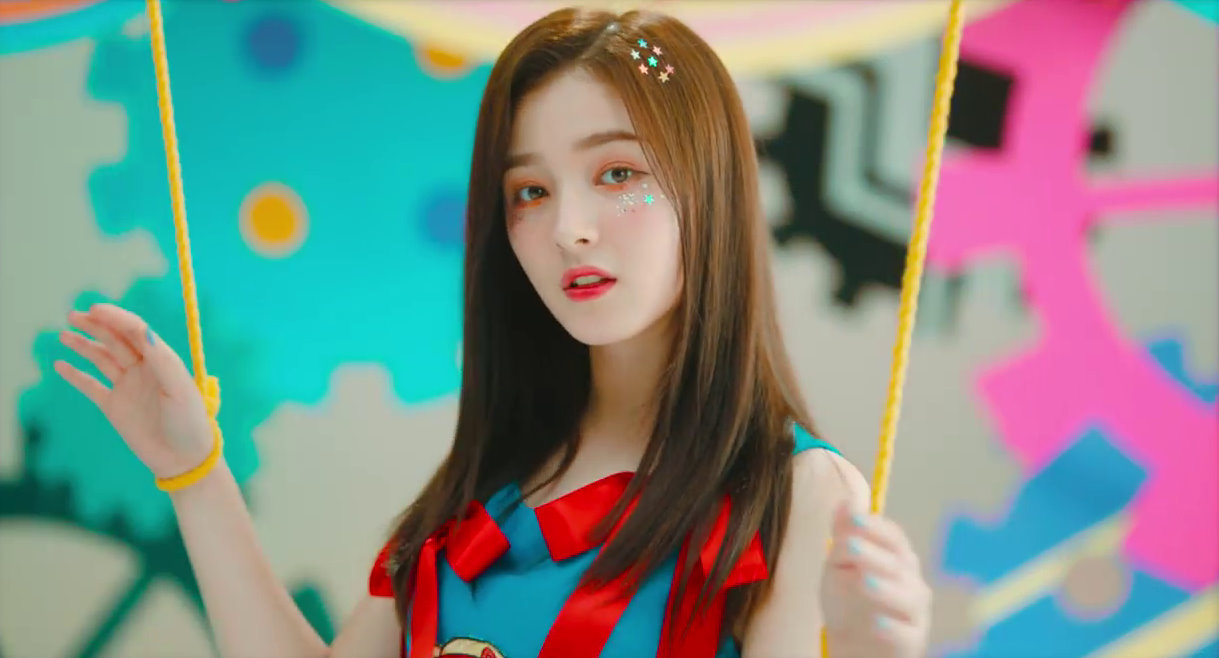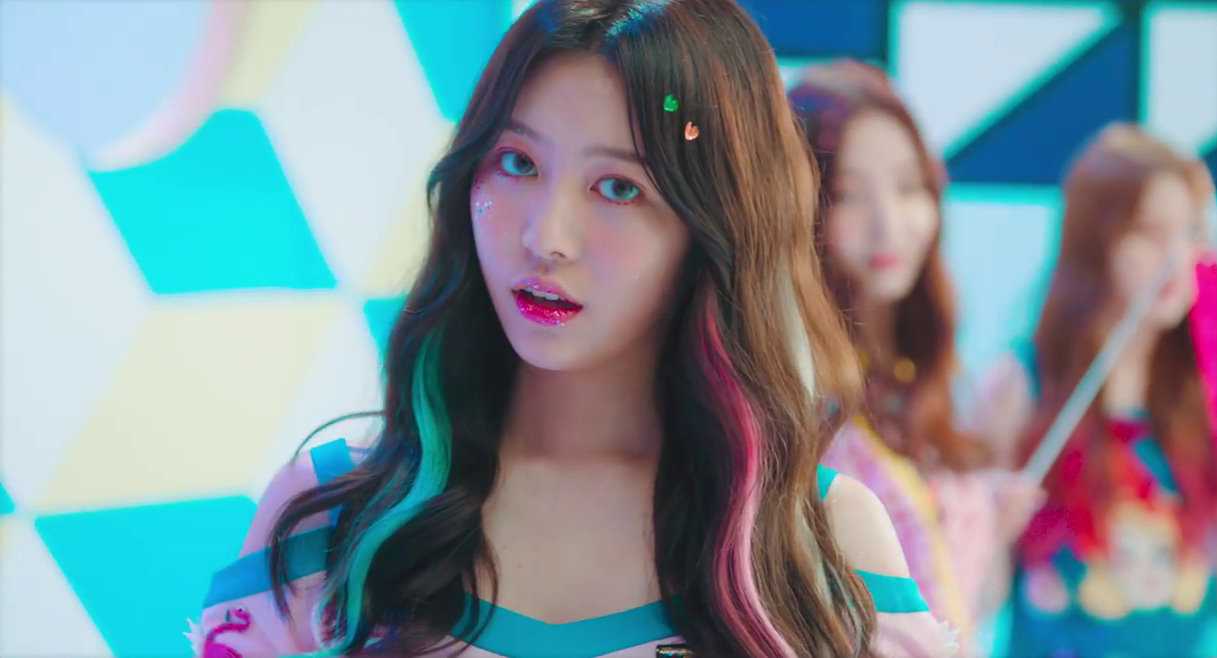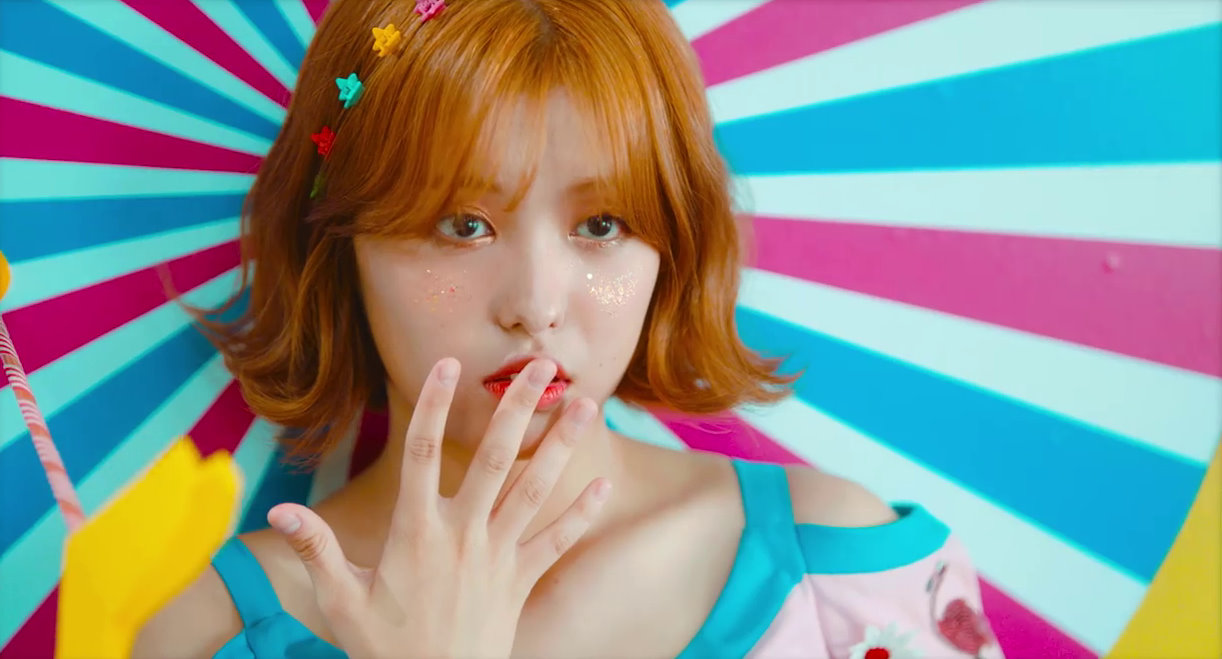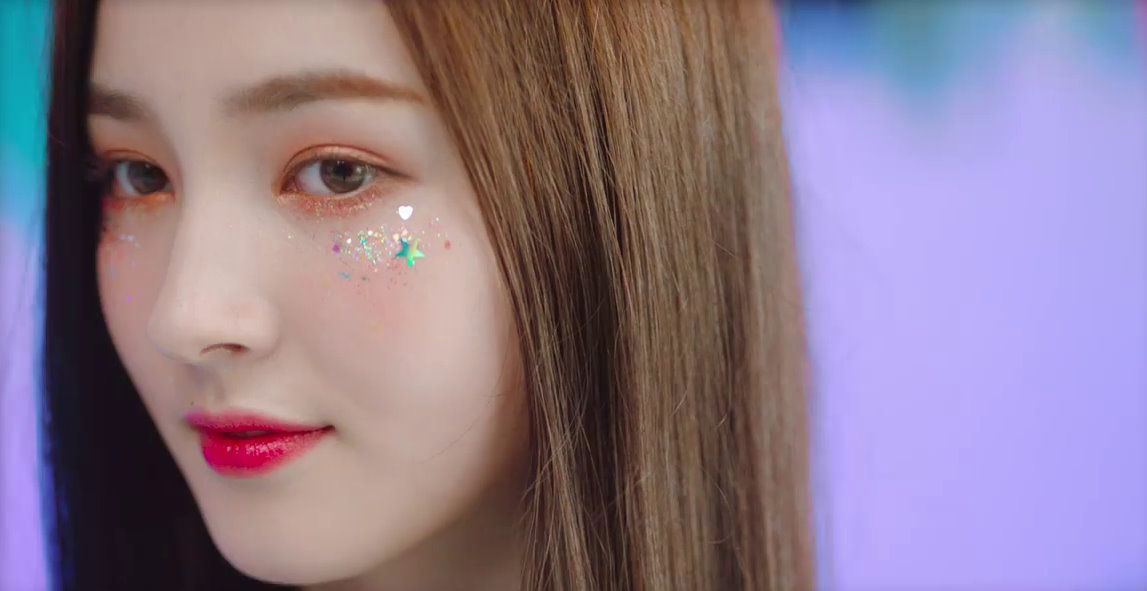 We have more of the 'Kira Kira' makeup trend in Momoland's 'Freeze' music video. I loved how they paired soft, gold, brown, copper eyeshadows with juicy lip tints and the sparkly stickers, chunky glitter particles and decorations on the cheeks. Everything blended so well together.
5. Taeyeon in 'I Got Love', 'Fine' & 'Make Me Love You'.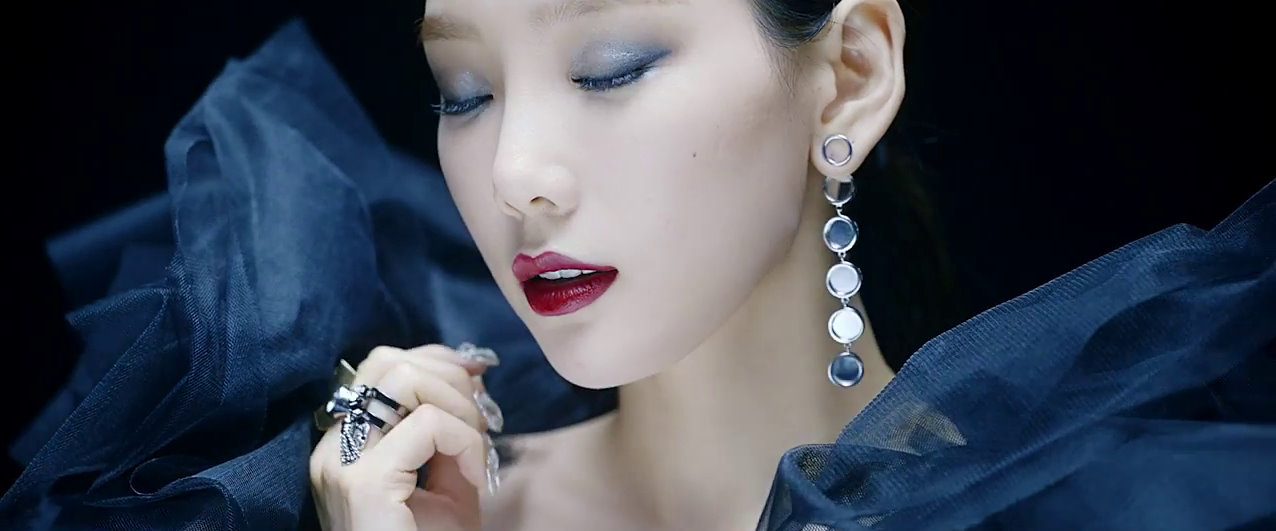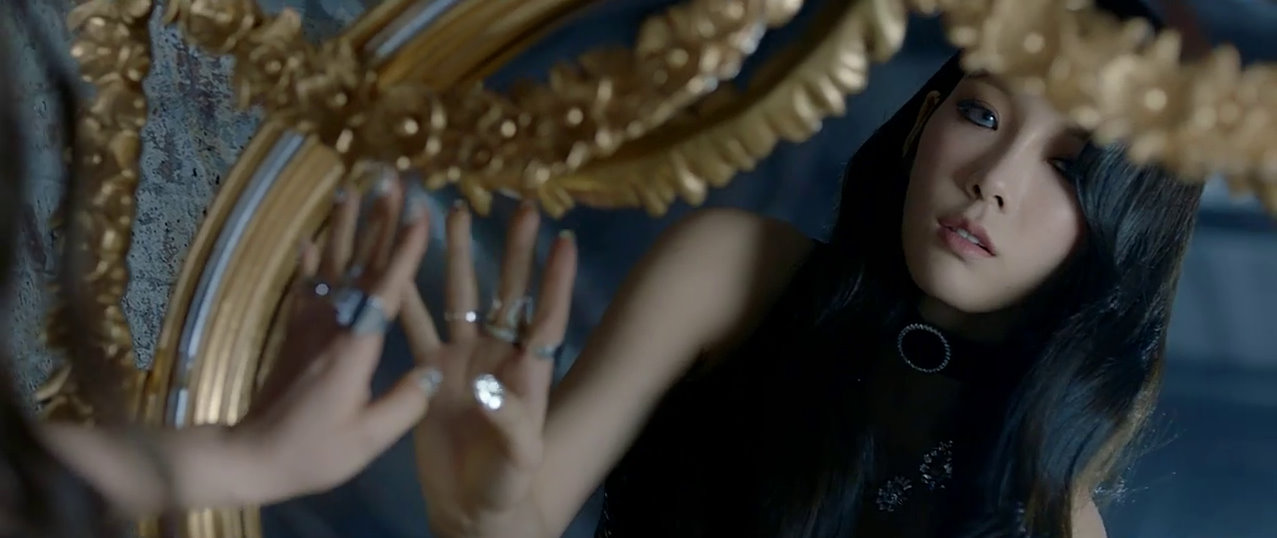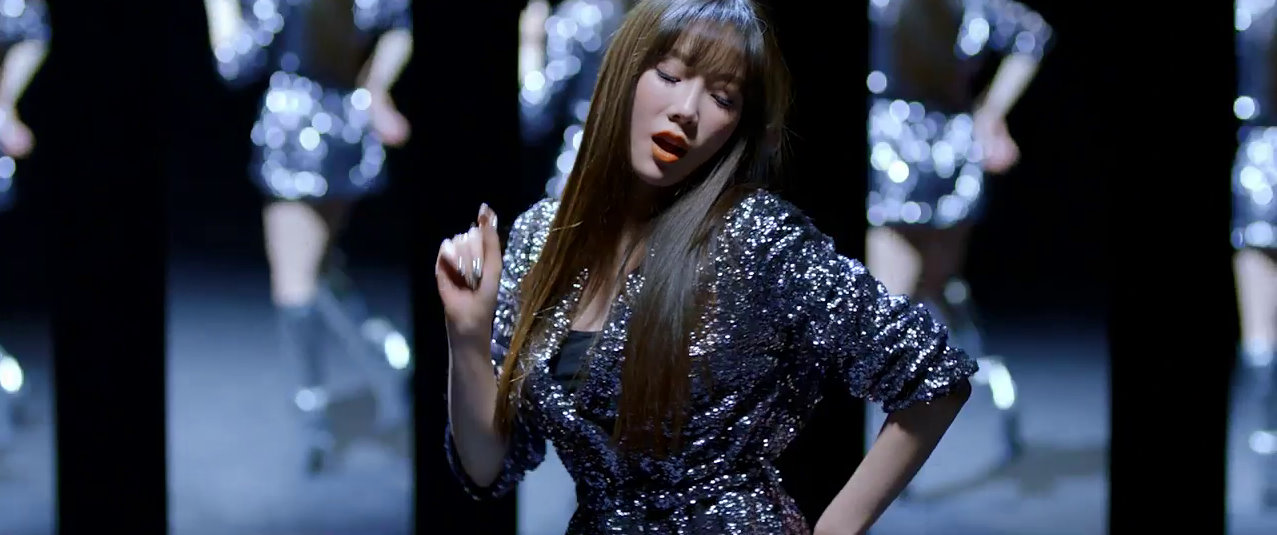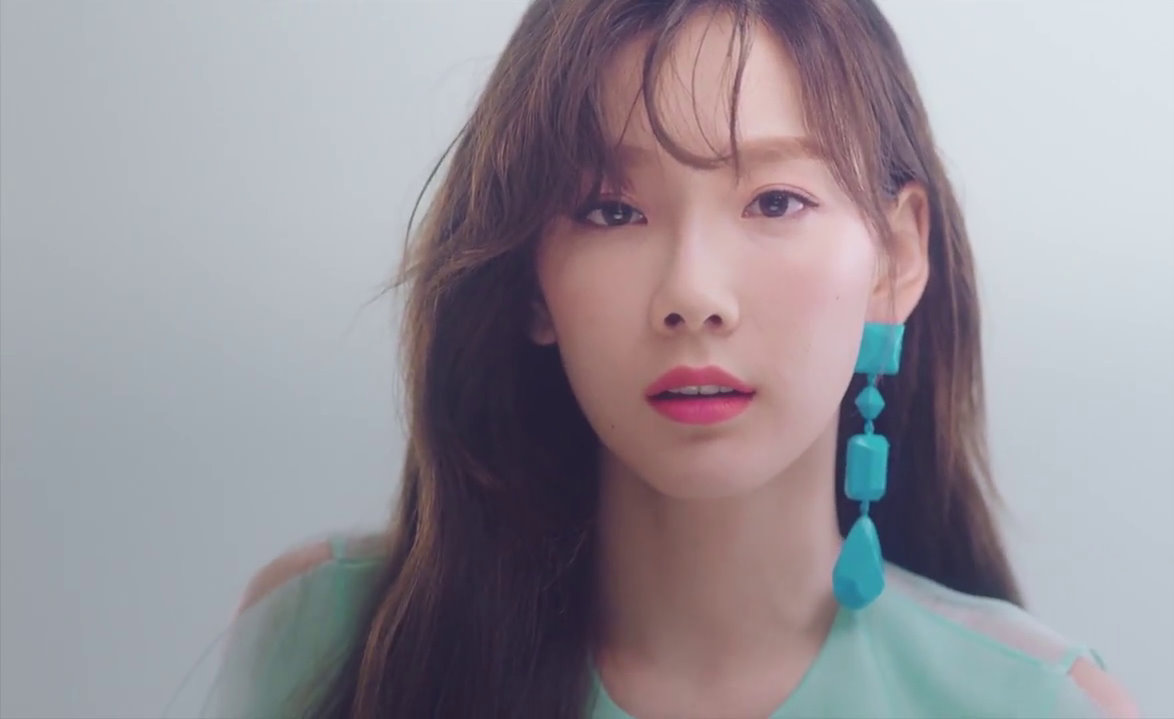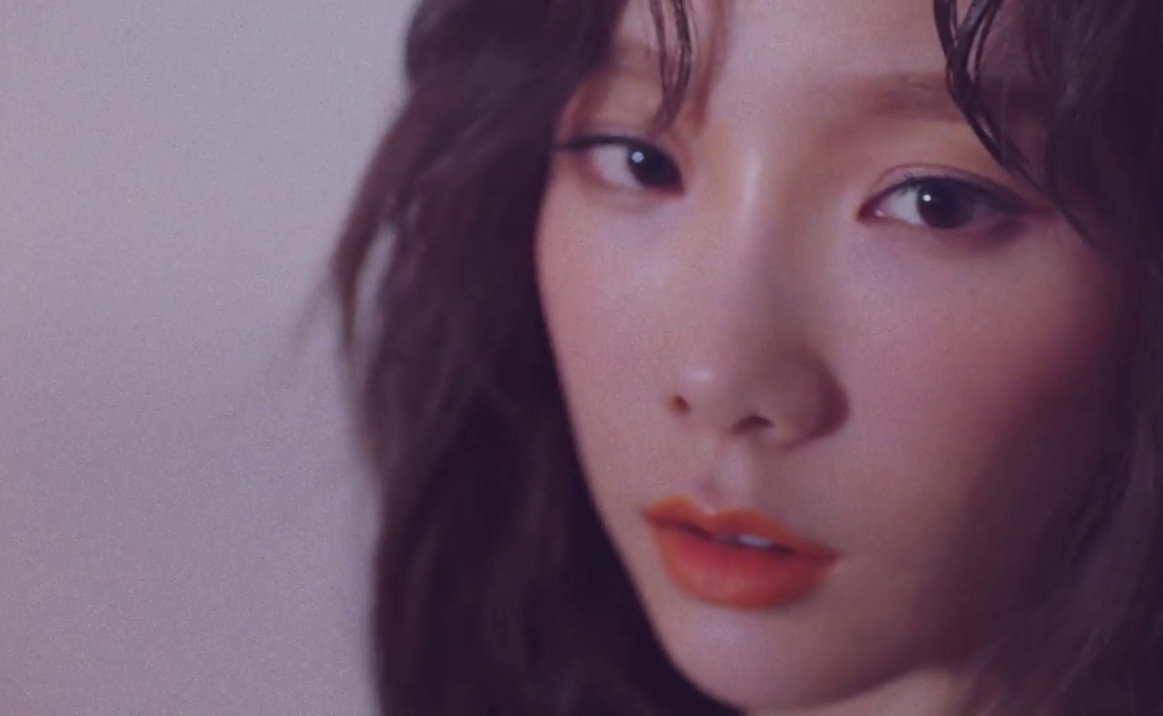 Taeyeon came out with so many music videos this year that after a point, honestly, I got a little tired of them. She looked her usual pretty self in all of them.
I loved her steel-grey smokey eyes paired with a deep wine lip and light eyebrows in 'I Got Love', I loved the pops of pink and orange lips she had in between her smokey looks in 'Fine' and most of all, I loved her glowy, dewy skin and the flower stickers on her flushed cheeks in 'Make Me Love You'. Interestingly, the orange lip she opted for in both 'Fine' and 'I Got Love' was a unique yellow-orange.
Watch 'Make Me Love You' here.
4. Red Velvet in 'Rookie', 'Would U?', 'Red Flavour' & 'Peek-A-Boo'.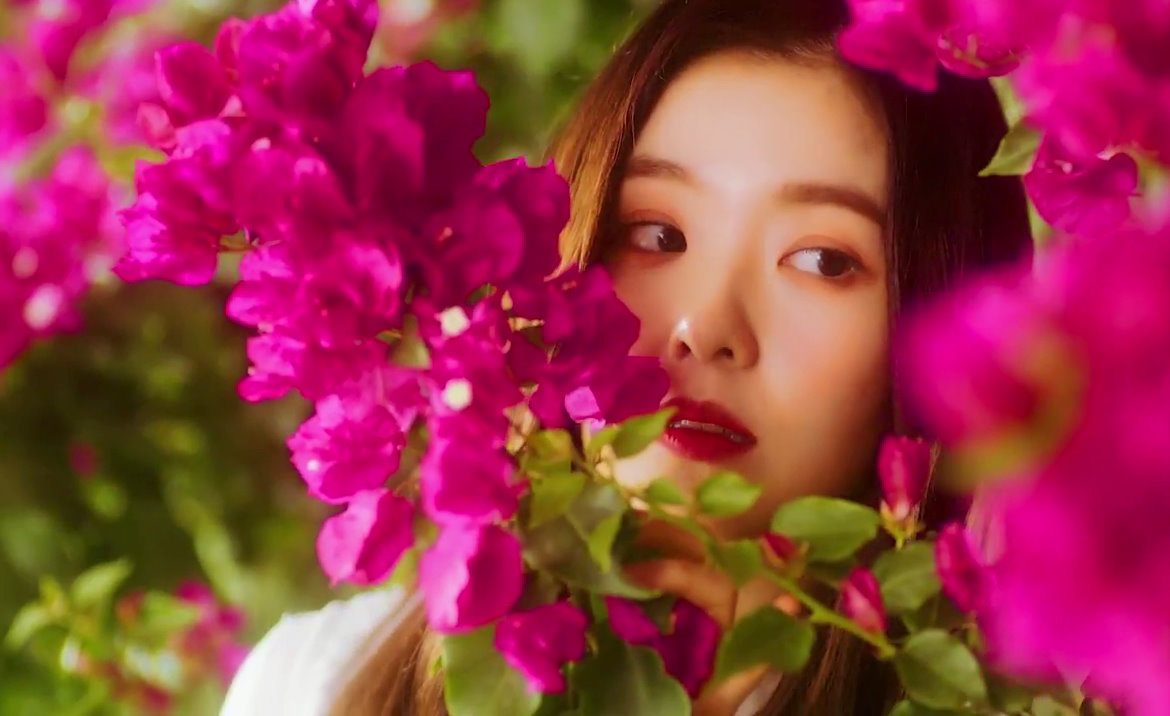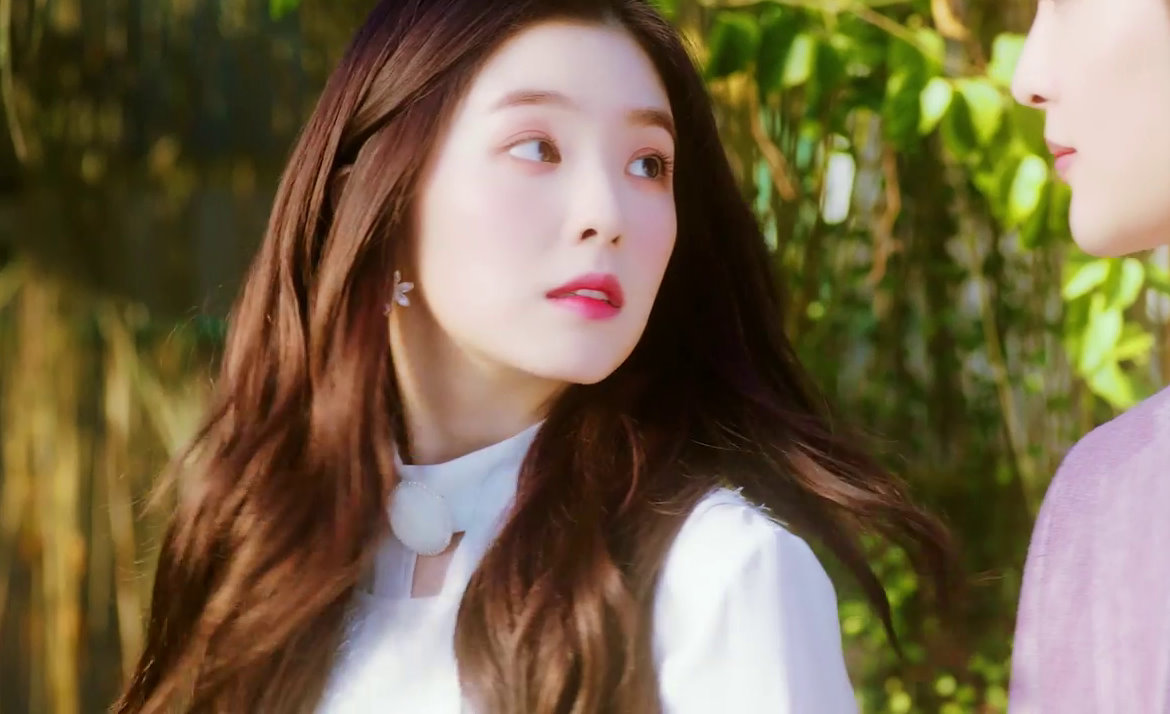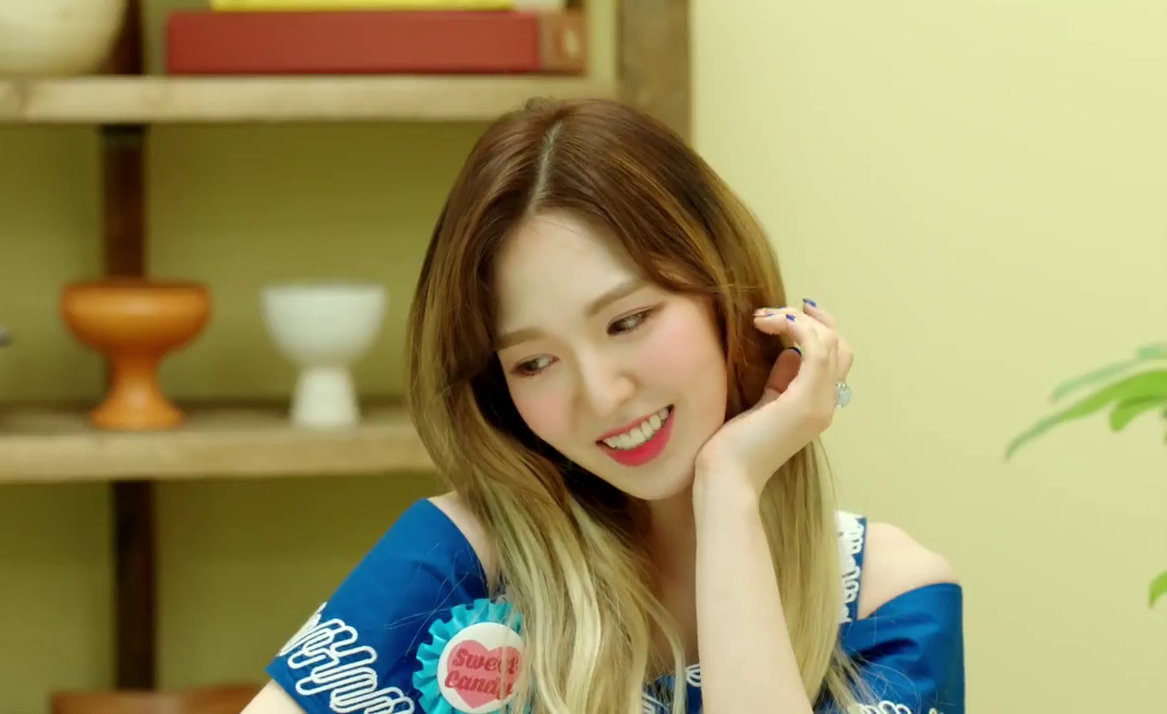 Where do I even begin with Red Velvet? They were such troopers this year, giving us one amazing song after another. I have to say, my favourite album of the year is 'Peek-A-Boo'.
That being said, I thought Wendy looked the most beautiful out of all the members the whole year around, especially during 'Red Flavour' promotions. Her flawless skin, her flushed cheeks, her coral-pink lips. Ah, perfection.
Irene was a close second this year around. She's such a beauty. It's almost ridiculous.
I loved Joy's styling the most in 'Peek-A-Boo'. I loved her muted, toned-down pink makeup that went perfectly with her velvet and sequinned dresses. Honestly, all the girls looked spectacular in 'Peek-A-Boo' and it's not often you get to see such rich tones in K-Pop music videos.
3. HyunA in 'Babe', '365 Fresh', 'Lip and Hip' & 'Dart'.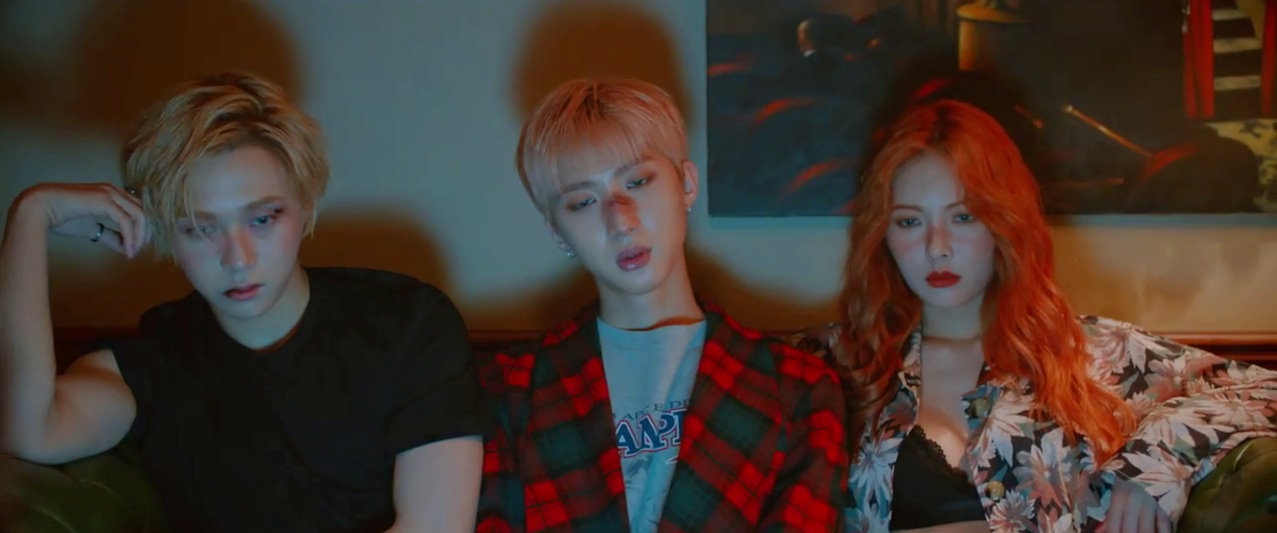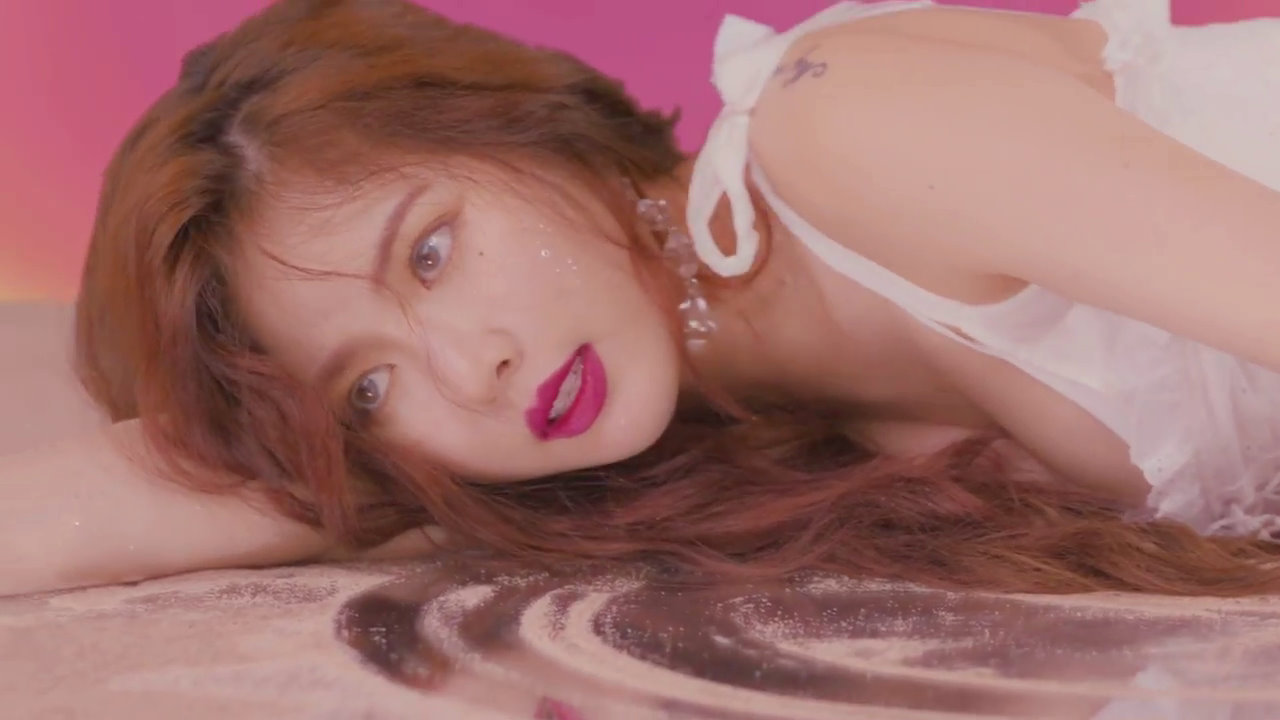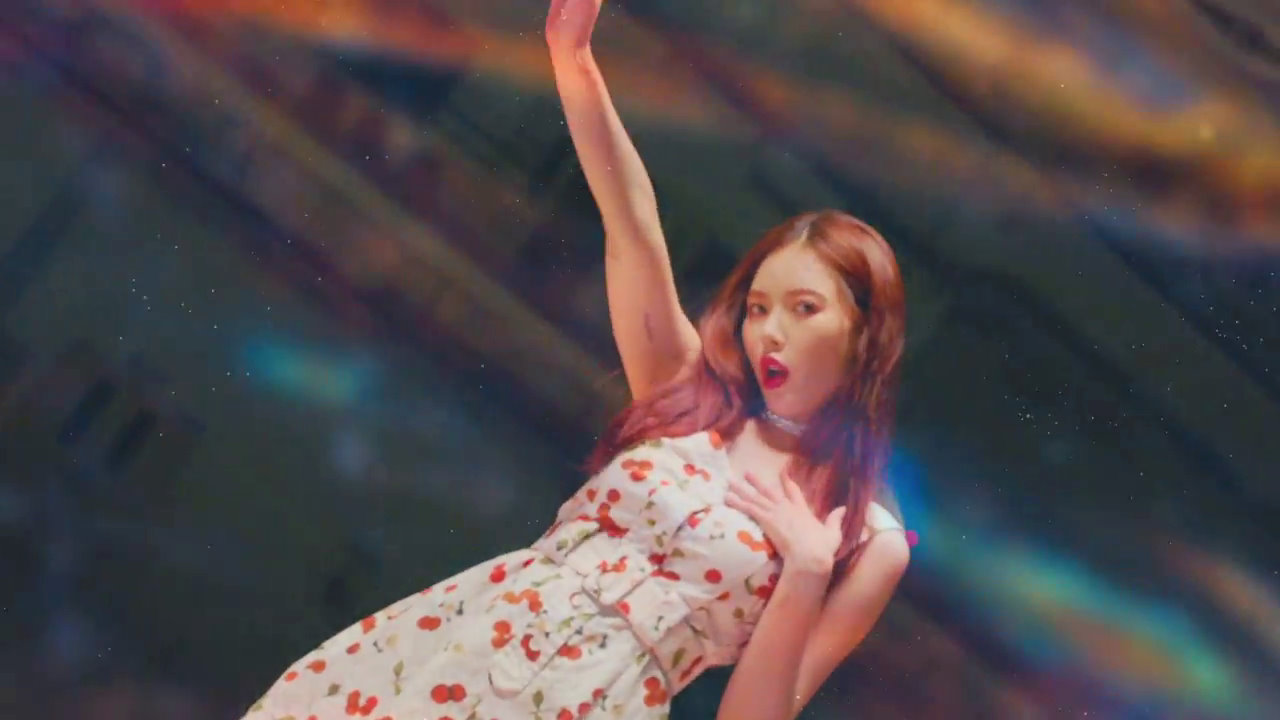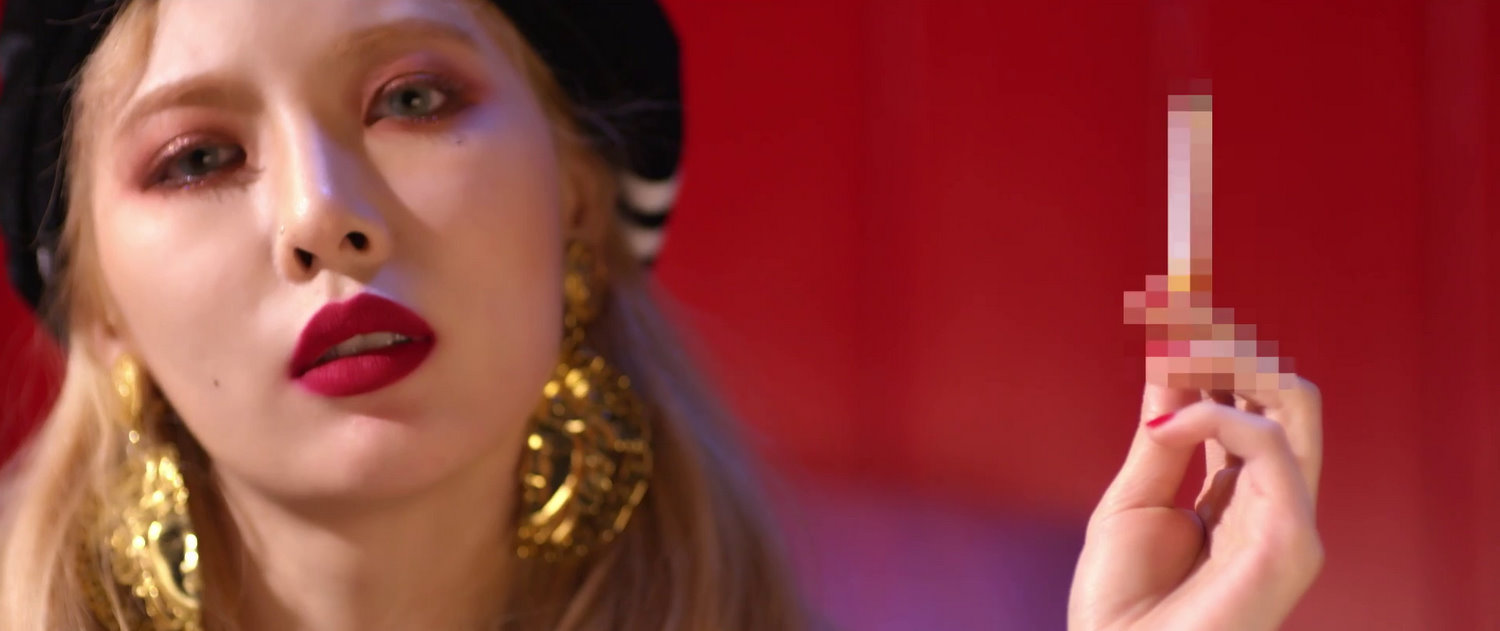 HyunA almost topped the list but… somehow, she's sitting on #3 now. We'll cross that bridge when we get there.
Anyway, I loved the orange blush she had on across her cheeks, as if she just came back from being out in the sun, during her promotions with Triple H, with '365 Fresh'.
In 'Lip & Hip', she had precise, bold lip-colours paired with bold red/pink eyeshadows. So my style.
But my favourite looks from HyunA came during 'Babe' promotions. She did have on bold lip-colours in the 'Babe' music video but because she paired it with softer eye looks, it didn't look overdone. HyunA looked her angelic best in 'Babe'. Don't even get me started on the makeup she had on while performing 'Dart'. The soft eyes, the soft cheeks, the blotted lips… Just… Perfection.
2. Sunmi in 'Gashina'.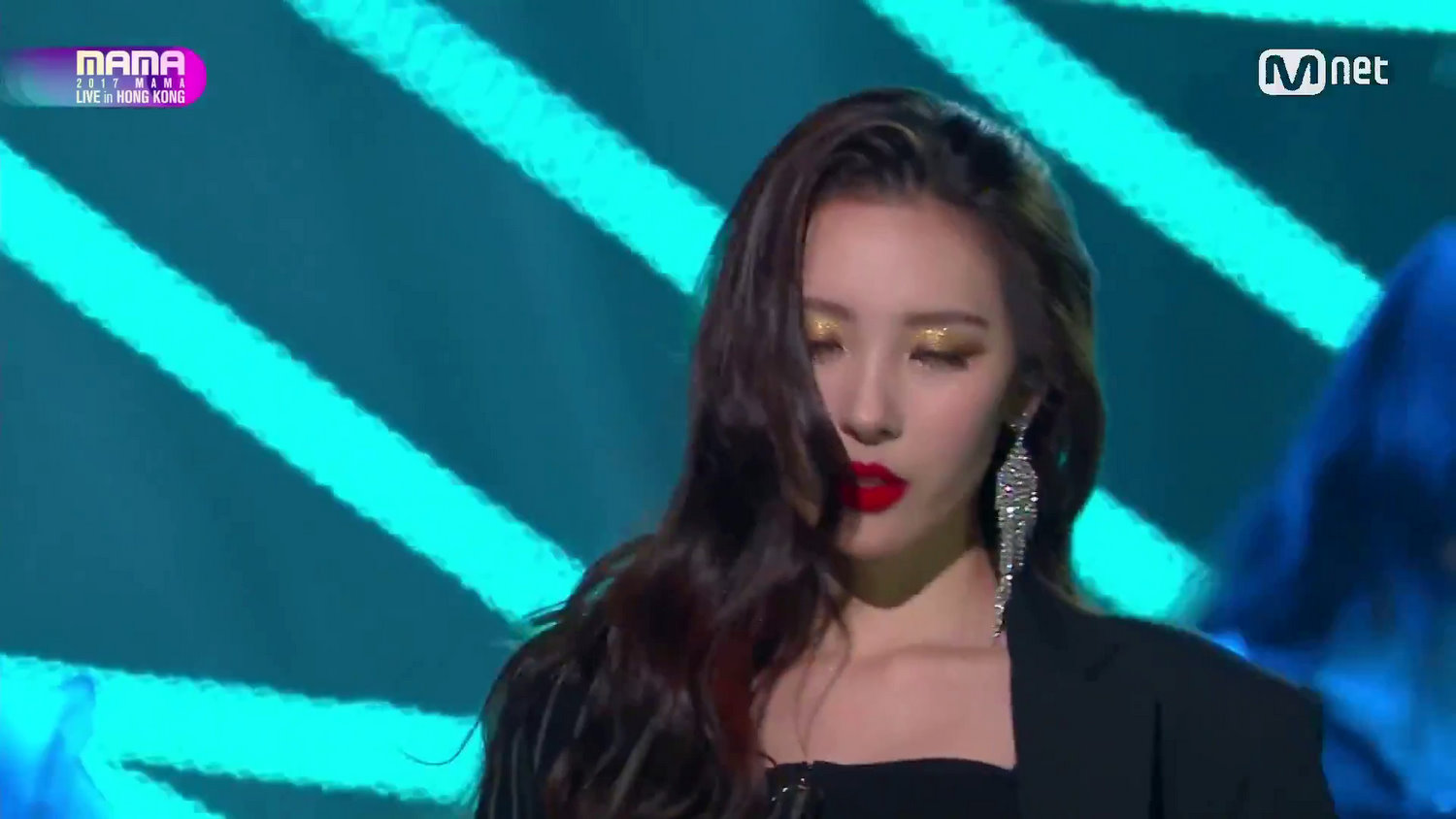 Sunmi wore various looks in 'Gashina', from glittery eyes paired with soft lips to lined eyes paired with full, bold, bright lips. The most exciting part while watching her perform 'Gashina' live was to see her makeup. She went all out during her live stages, with elaborate eyes and bold lips. Chunky glitter, precise lip-lines, clean skin. It was so over-the-top but Sunmi wore it with so much confidence that it may just give you hope to try wearing bold eyes and bold lips, just like her.
1. BoA in 'Camo'.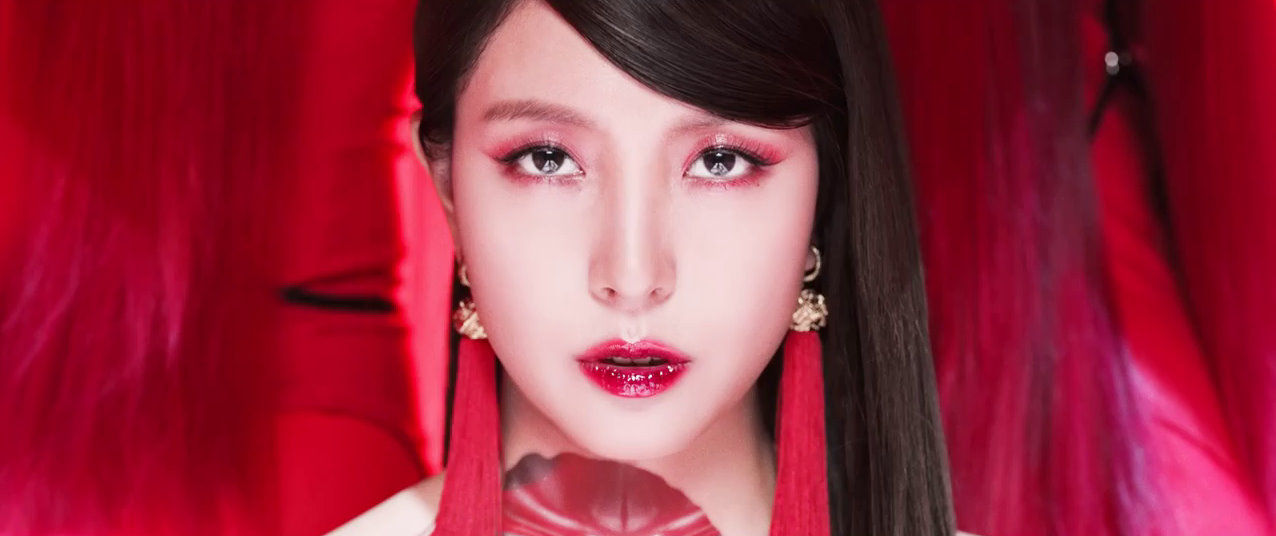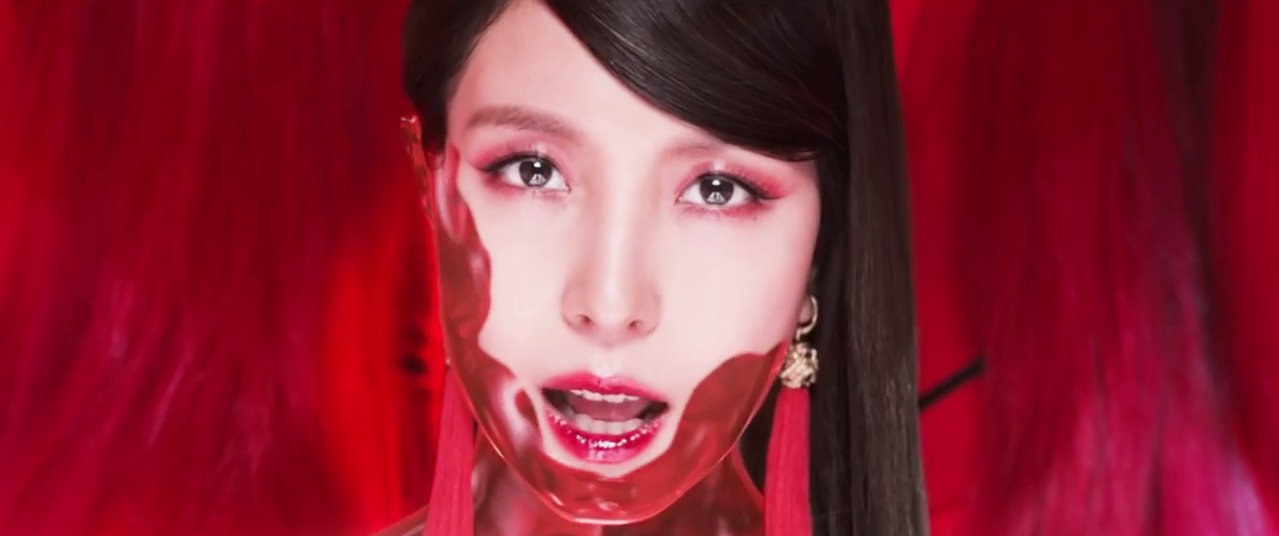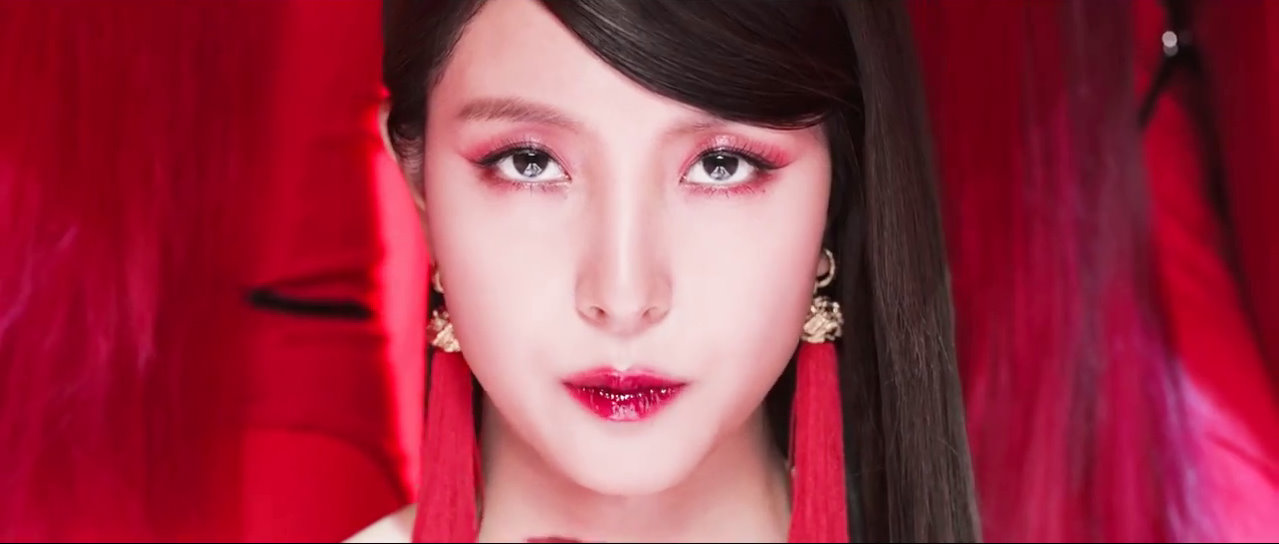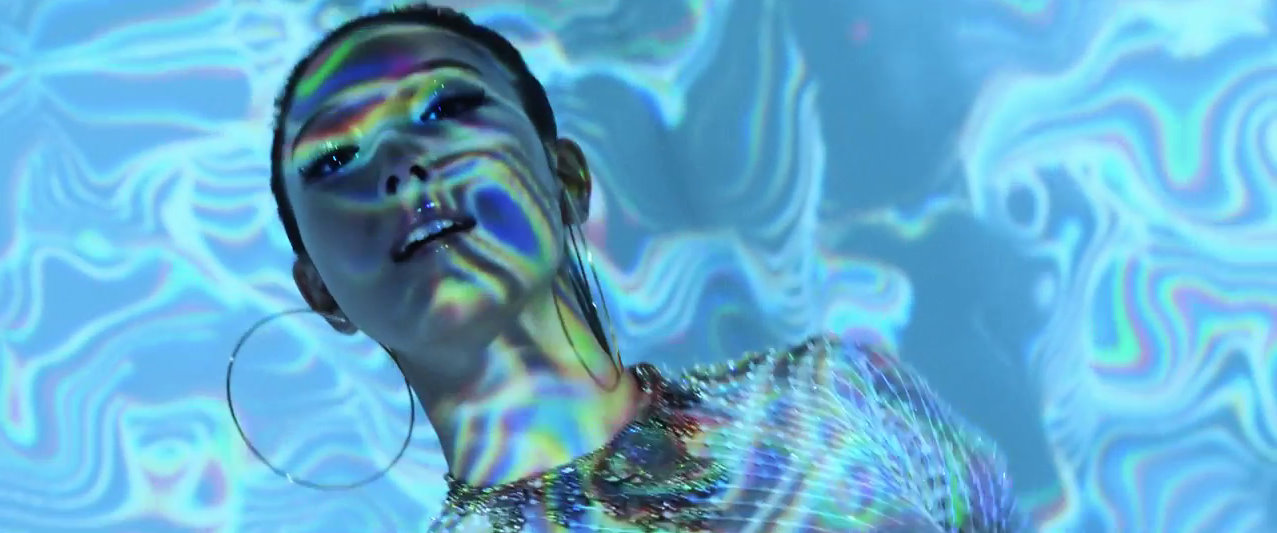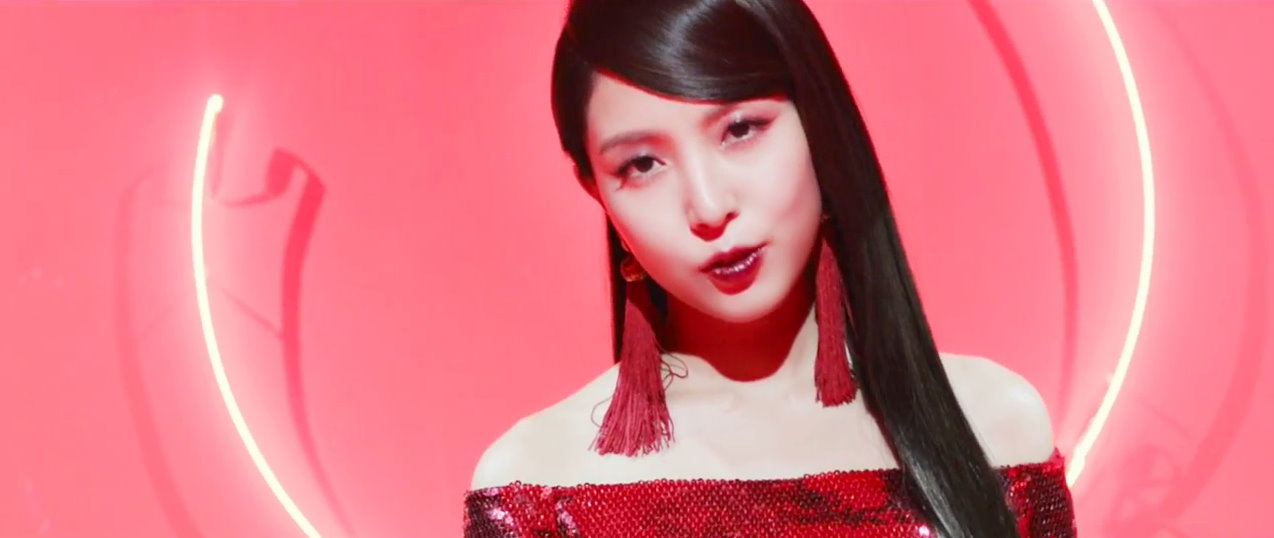 We're at the end of the list! And we have Queen BoA at #1!
The moment I saw her cranberry eye-lip combo in 'Camo', I knew I was done for. The glossy cranberry lips, the cranberry accents in her eye-makeup, her red tassel earrings, the red sequinned dress… Oh, my goodness. I can't. I just can't.
I also loved her smokey eye, her messy ponytail and dried-rose lips when she had the camo jacket on. It's such a cool look and she makes it seem so effortless.
That's it, guys. Who was your favourite? ♥