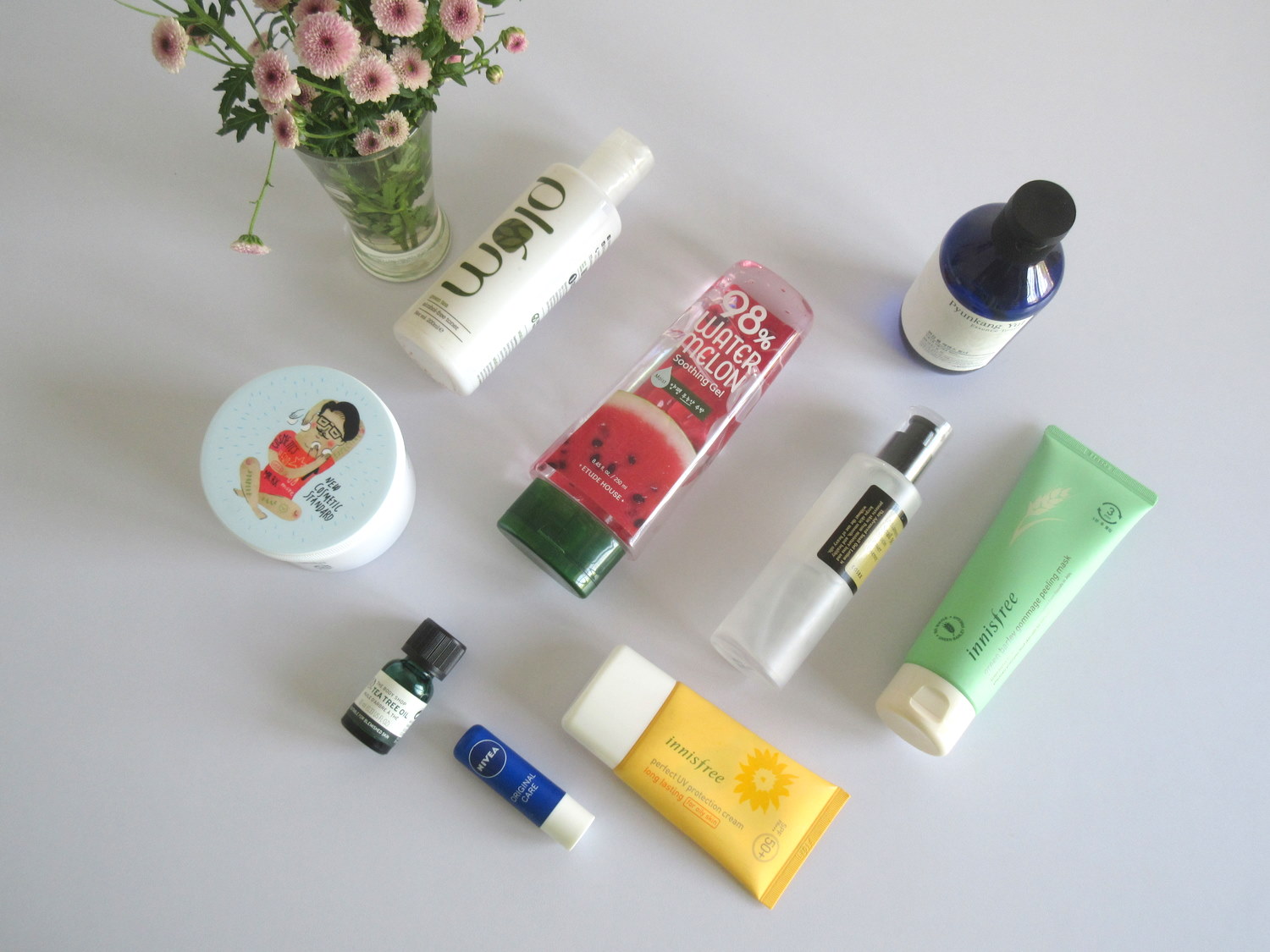 It's that time of the year again. Time for yearly favourites! Kicking it off with the Best of Skincare; my K-Pop Makeup Favourites and Beauty Favourites will soon follow suit.
*The products in Italics are items that have not been reviewed or have thoughts coming up in the future.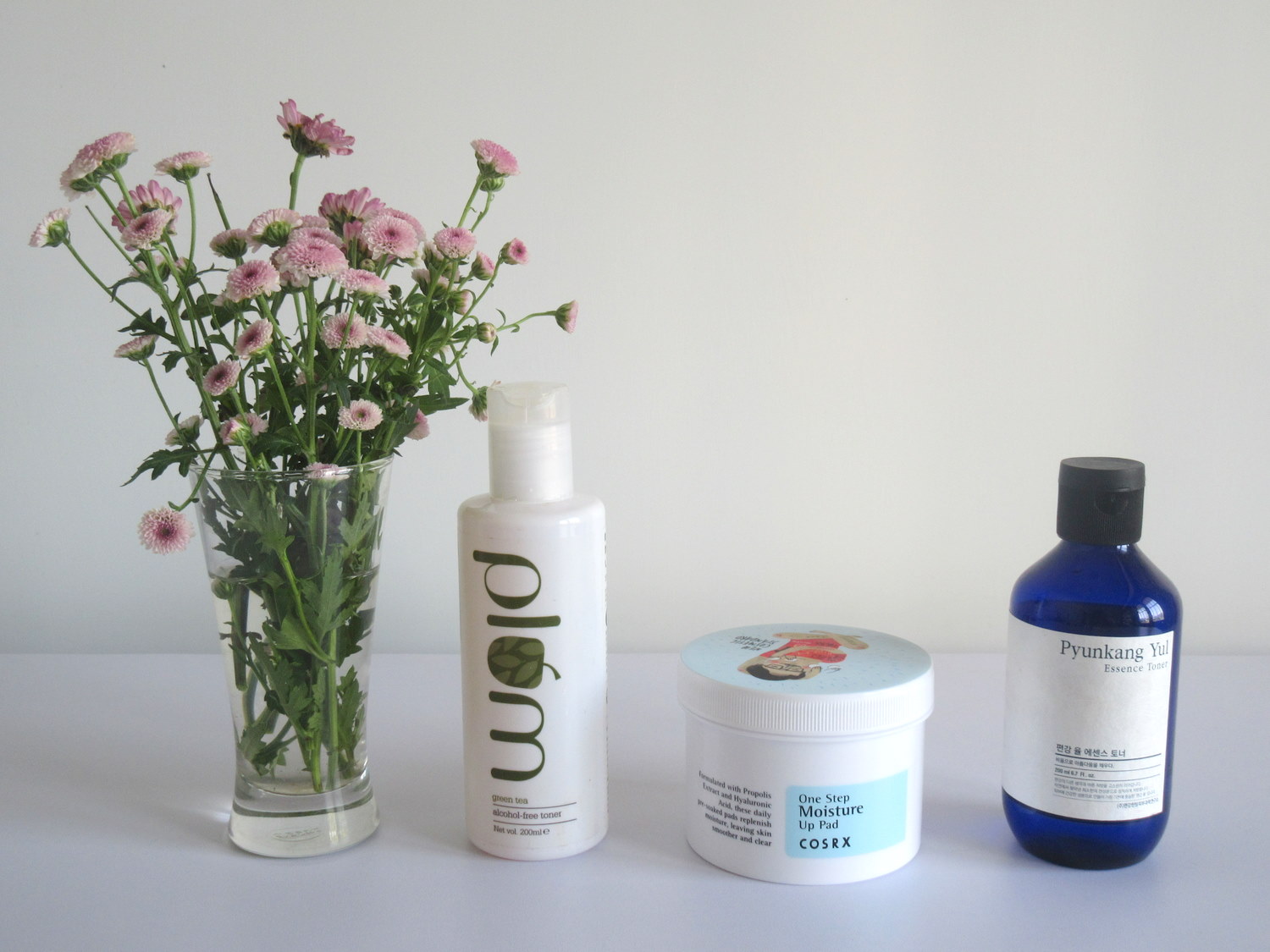 For me, it was the Year of the Toners! In 2017, I reintroduced toners into my routine and I fell in love with quite a few.
Starting off with Plum's Green Tea Alcohol-Free Toner. It has a watery consistency and a very sharp fragrance. I loved this AHA toner to bits. I'm on my third bottle, I think.
Then, we have my favourite skincare product of the entire year – the Pyunkang Yul Essence Toner. It's hydrating and moisturising, very gentle and leaves my skin feeling supple. It's an obvious repurchase for me!
The COSRX One Step Moisture Up Pads are also fabulous. Very hydrating and they help in moisture retention. I love that the first ingredient in it is Propolis Extract. I'll post its review soon.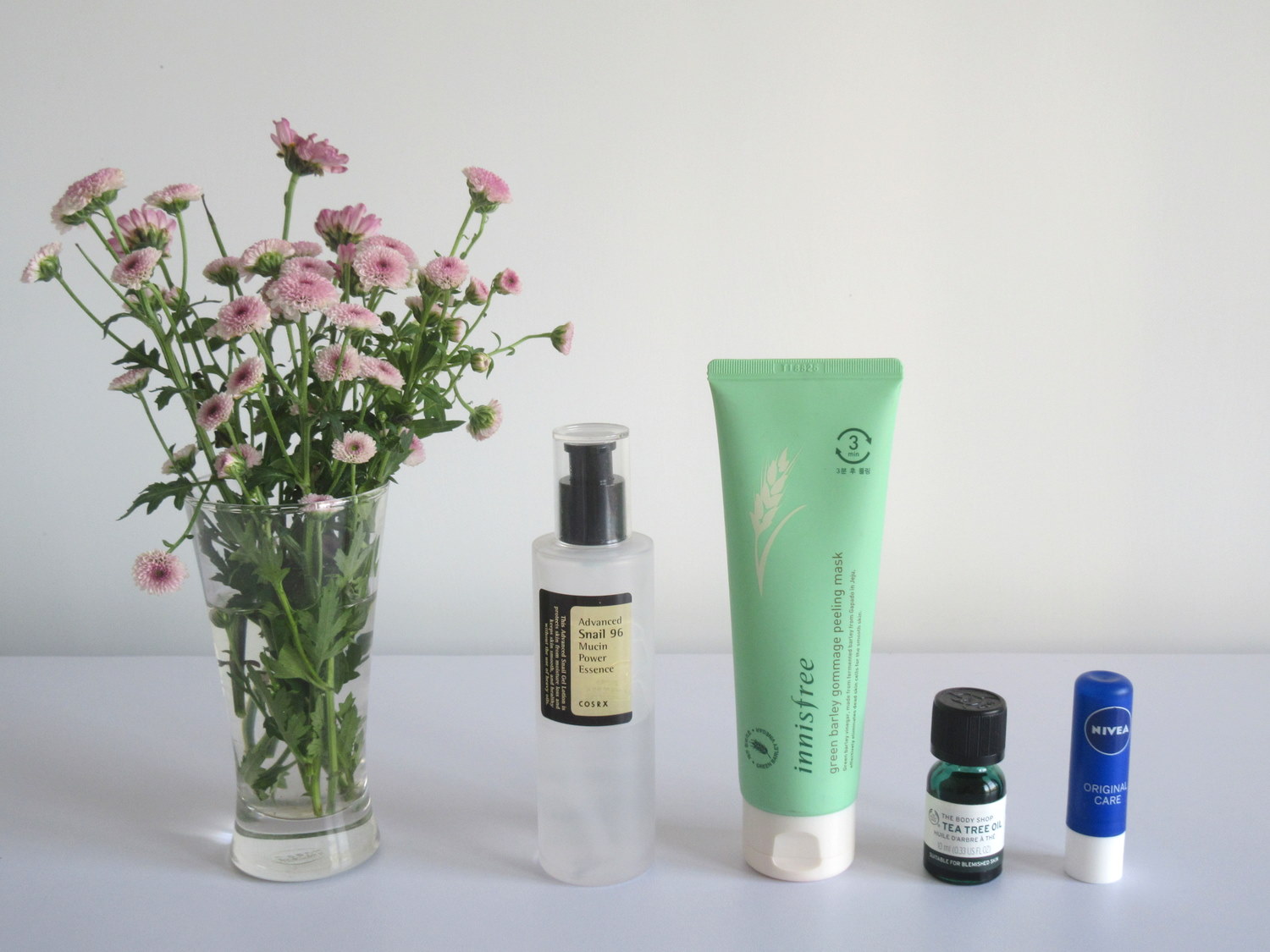 Two other absolute favourites from this year are the COSRX Advanced Snail 96 Mucin Power Essence and the Innisfree Green Barley Gommage Peeling Mask.
The COSRX Snail Essence was a God-send this year. It helped my skin heal faster whenever I had any breakouts. It's so soothing and moisturising. It's an amazing product and I'll be sure to publish its review soon.
The Innisfree Green Barley Gommage Peeling Mask is something I used once every week or, realistically, whenever I remembered to or felt like it. It's a peeling mask, so, that automatically makes it super fun to use. It's gross but strangely satisfying to know that all the dead skin on your face will peel off when you use it. After you wash it off, your skin will be left feeling baby-soft!
I also loved the COSRX Low pH Good Morning Gel Cleanser (not pictured) and used it throughout the year. I use it mostly as my second-step cleanser but there are times when I use it alone too.
I mixed The Body Shop's Tea Tree Oil in aloe-vera/watermelon gel to get a cooling mask in the summer. I would wash it off after 15 minutes or so. Tea Tree Oil is a multi-purpose product, so, it's always good to have it around the house.
Nivea's Original Care Lip Balm is affordable and just… amazing. I feel there's nothing else to say about it. Nothing I haven't already said before.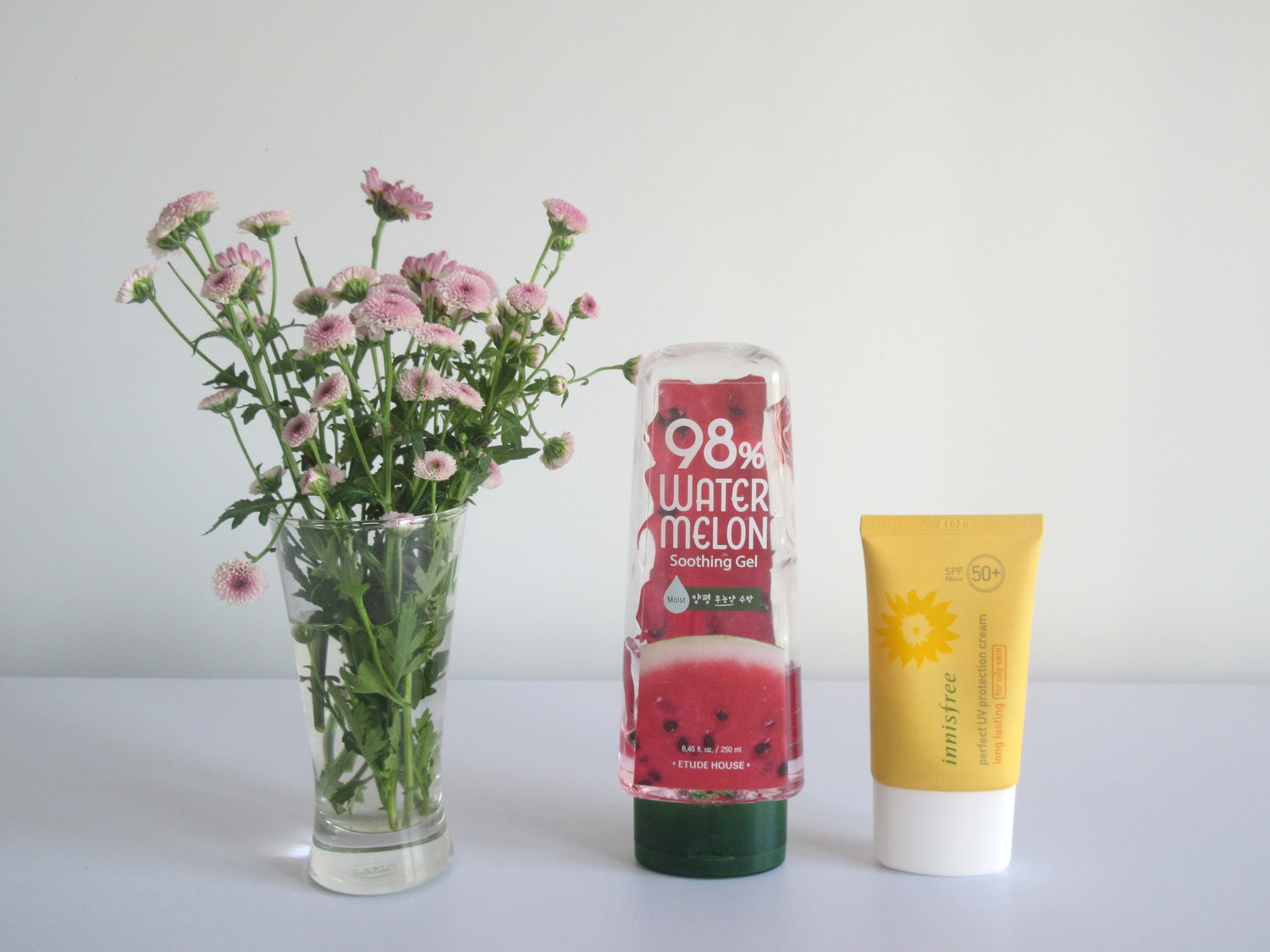 The Etude House 98% Watermelon Soothing Gel was my soothing gel of choice this year. It smells fresh and is supremely cooling on a hot summer day. I would highly recommend this.
The sunscreen I used throughout the year, not because I liked it but because it was way too expensive for me to throw out, was the Innisfree Perfect UV Protection Cream For Oily Skin. I didn't like the consistency (it was too heavy) and it leaves a horrible white-cast. I still have some left and I'm determined to finish it before I open a new sunscreen.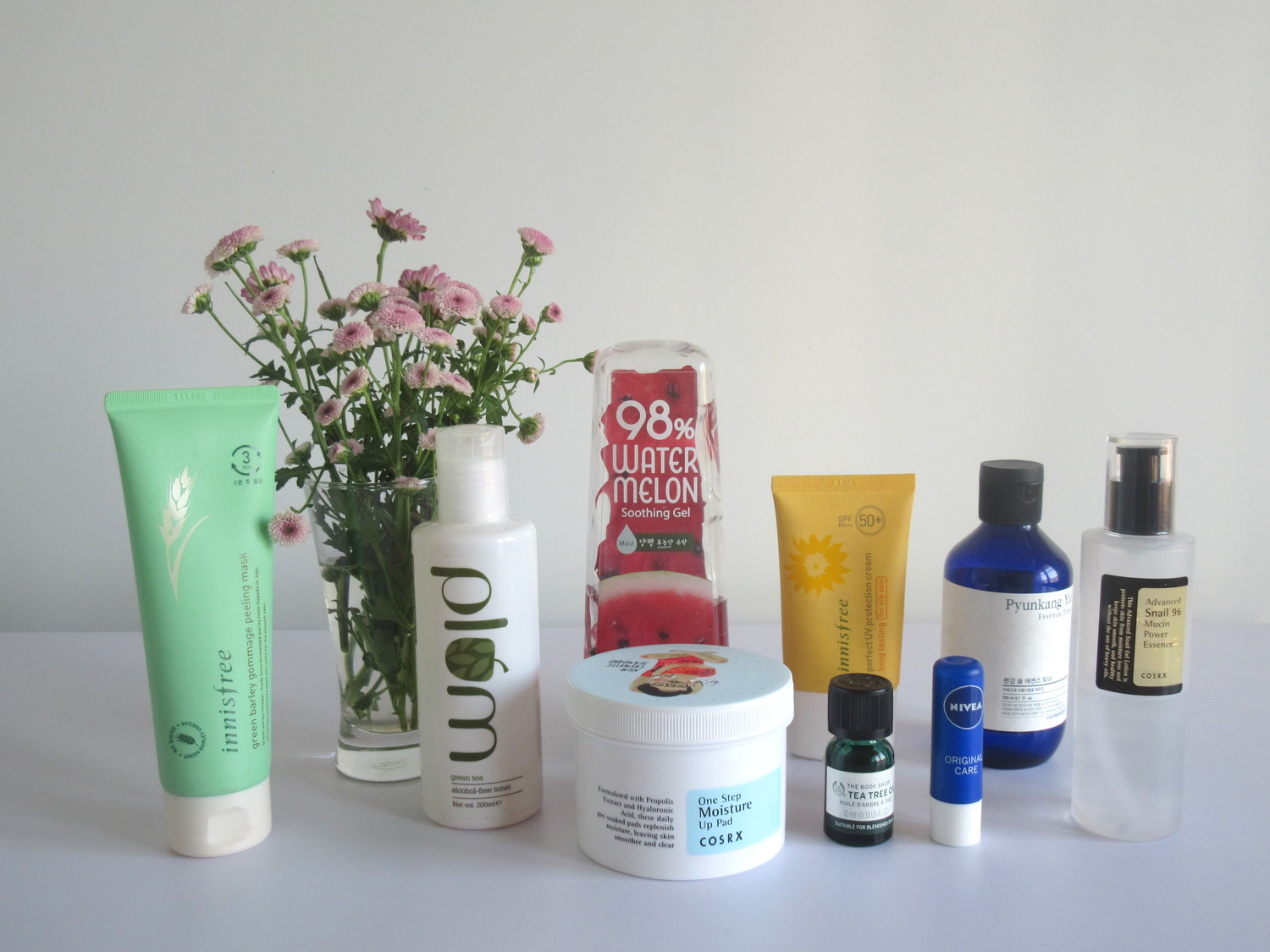 MOST EXCITING BRAND(S) OF THE YEAR: Definitely Pyunkang Yul and COSRX. I had one product that didn't work for me from COSRX but all the other products I've tried have been great.
MOST DISAPPOINTING BRAND: Oh, hands down, Klairs (or dear Klairs). Whichever products I used from them, I didn't fully get along with. I'll be posting those product reviews soon.
That's it for my Skincare Favourites of the 2017!
I still have quite a few of these to review. They'll be up soon. I'm hoping to work harder in 2018. Not hoping, I will work harder. Won't let the blues get the best of  me.
Please look forward to the K-Pop Looks and Beauty Favourites. ^^~♥