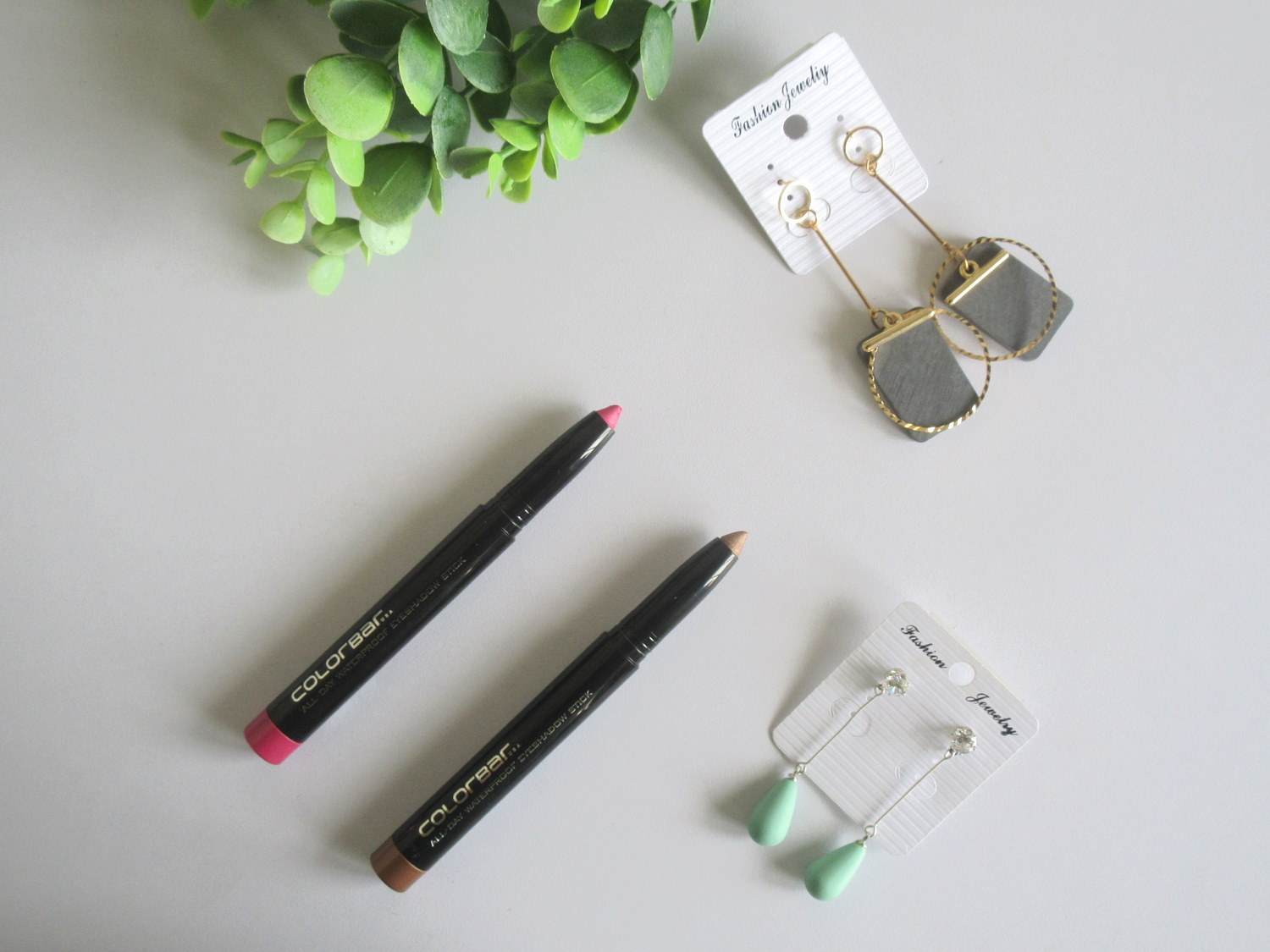 I like stick eyeshadows and I (tend to) like Colorbar. What could possibly go wrong? Spoiler alert: uh, a couple of things.
THE BACKSTORY: There was a sale, I was browsing the inter-webs and here we are with two eyeshadow crayons I absolutely didn't need. Oh, I was in desperate need of them back when I was making the purchase. Two months later, I occasionally see them in my 'Everyday Product' drawer (where I purposely kept them, just to get some use out of them) while taking out my sunscreen. Yeah, I'm terrible.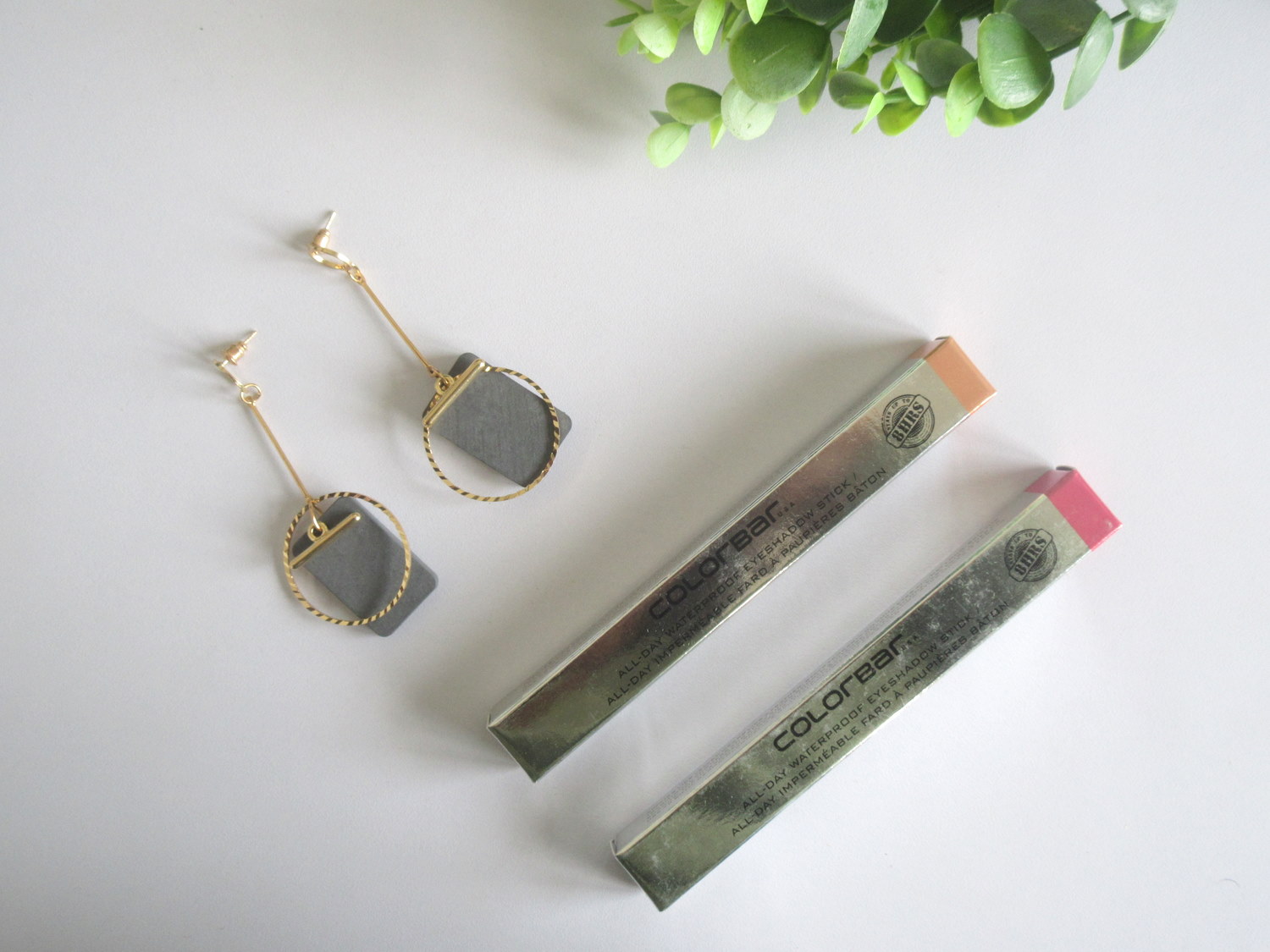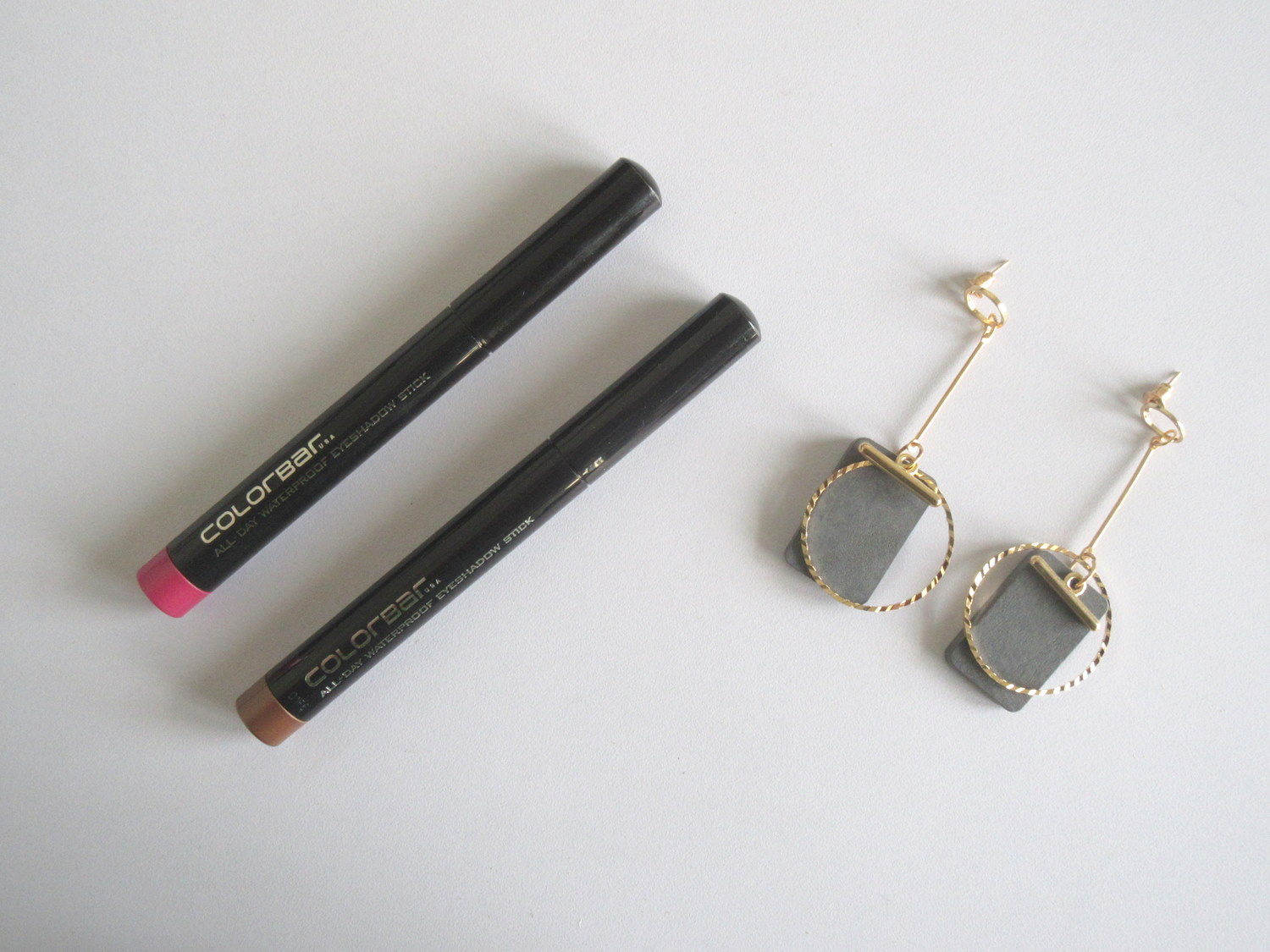 THE BACKSTORY: Now, there aren't any overt problems with these eyeshadow crayons. It's more of a personal problem, and there's a good chance that you might not even have those issues.
Let's deal with the positives first. Stick eyeshadows are generally easier to work with, especially if you're just starting out in the world of makeup. That being said, they need to be creamy and smooth in order for you to use them with ease. No worries there, these ones are creamy and smooth enough, even for beginners. Not the creamiest formula but creamy enough.
If you're using these as an eyeshadow base, to layer other shadows on top of or to create more intricate looks, I would suggest blending them out as soon as possible. If you want to layer the colour to reach the opacity you desire, you need to be quick. Things get difficult after this product sets.
Speaking of opacity, these have great colour pay-off and are, indeed, opaque. They are pigmented and look fantastic even with just one swipe.
Oh, yes, once they set, they tend to last quite well. They are smudge-proof too, for the most part. (If you rub your eyes hard, product will come off.)
I like the packaging too. The colour-coded bits at the end make it easier for you to spot them and differentiate among colours if you have multiple shades. The black, sleek packaging looks great and I love that it's a retractable product. That's always a plus.
I found out about this as I was typing but these do have a built-in sharpener. You just have to detach the colour-coded bit at the end of the eyeshadow stick. A sharper point will allow you to be more precise with your application. But… I will admit… The sharpener is a little difficult to use. You'll get the hang of it, eventually.
Now, let's talk about what I (personally) didn't like. Since I have hooded eyes, I can never go beyond my crease when I apply these. I have to stick to my mobile lid. These set so tightly that it greatly bothers me. I don't like it when cream/liquid eyeshadows feel tight on my eyes. That's a no-no.
Also, they tend to crease over time.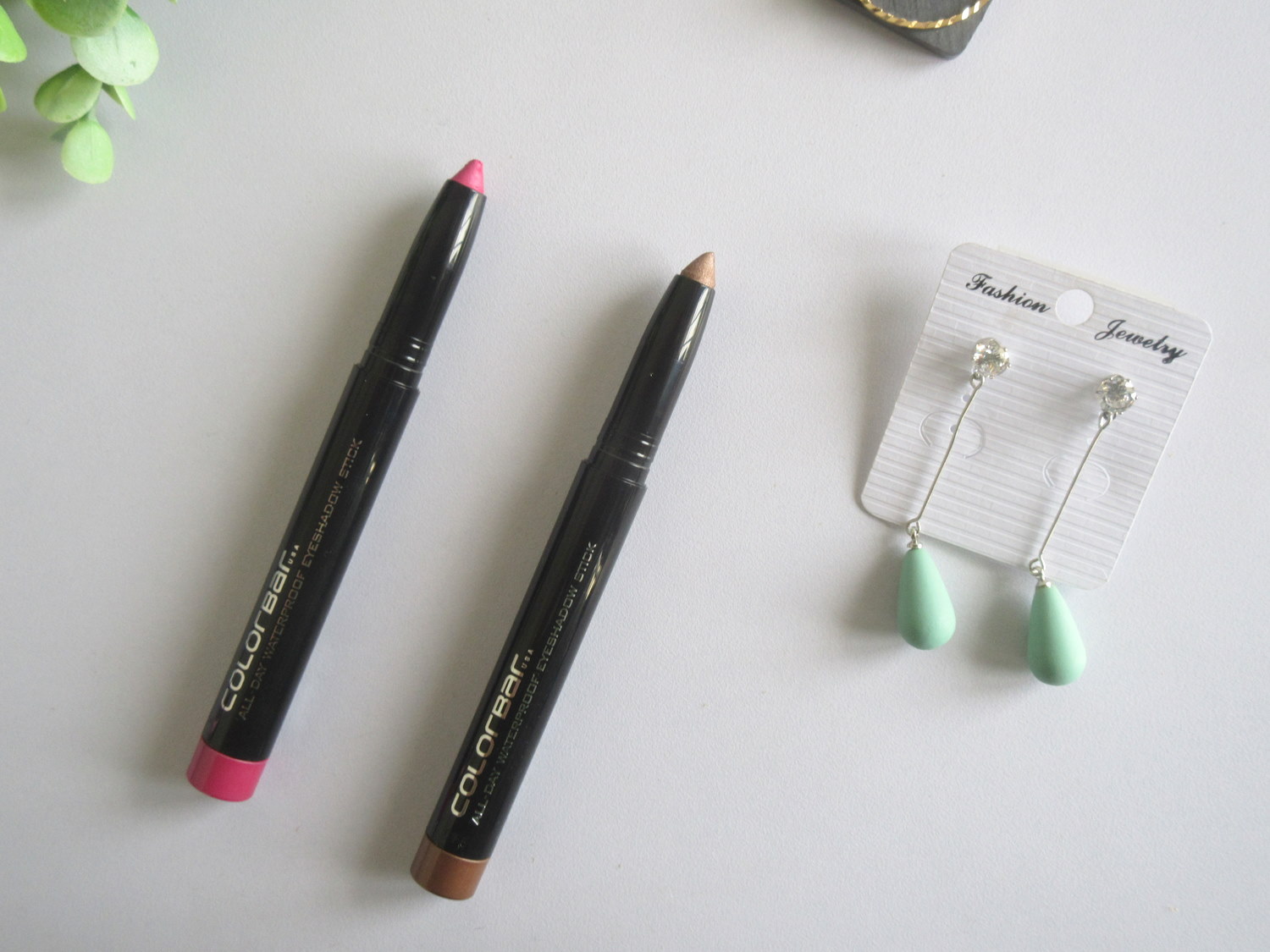 SWATCHES AND SHADES AVAILABLE: There are multiple shades available in this range. Here are the two I bought –
005 Ornament – A bro shimmery nze-taupe with peachy-brown undertones. Great everyday shade.
016 Rouge – A bright fuchsia with no shimmer. It could almost pass as a lip-colour. Looks great with Addiction's "99 Miss You More".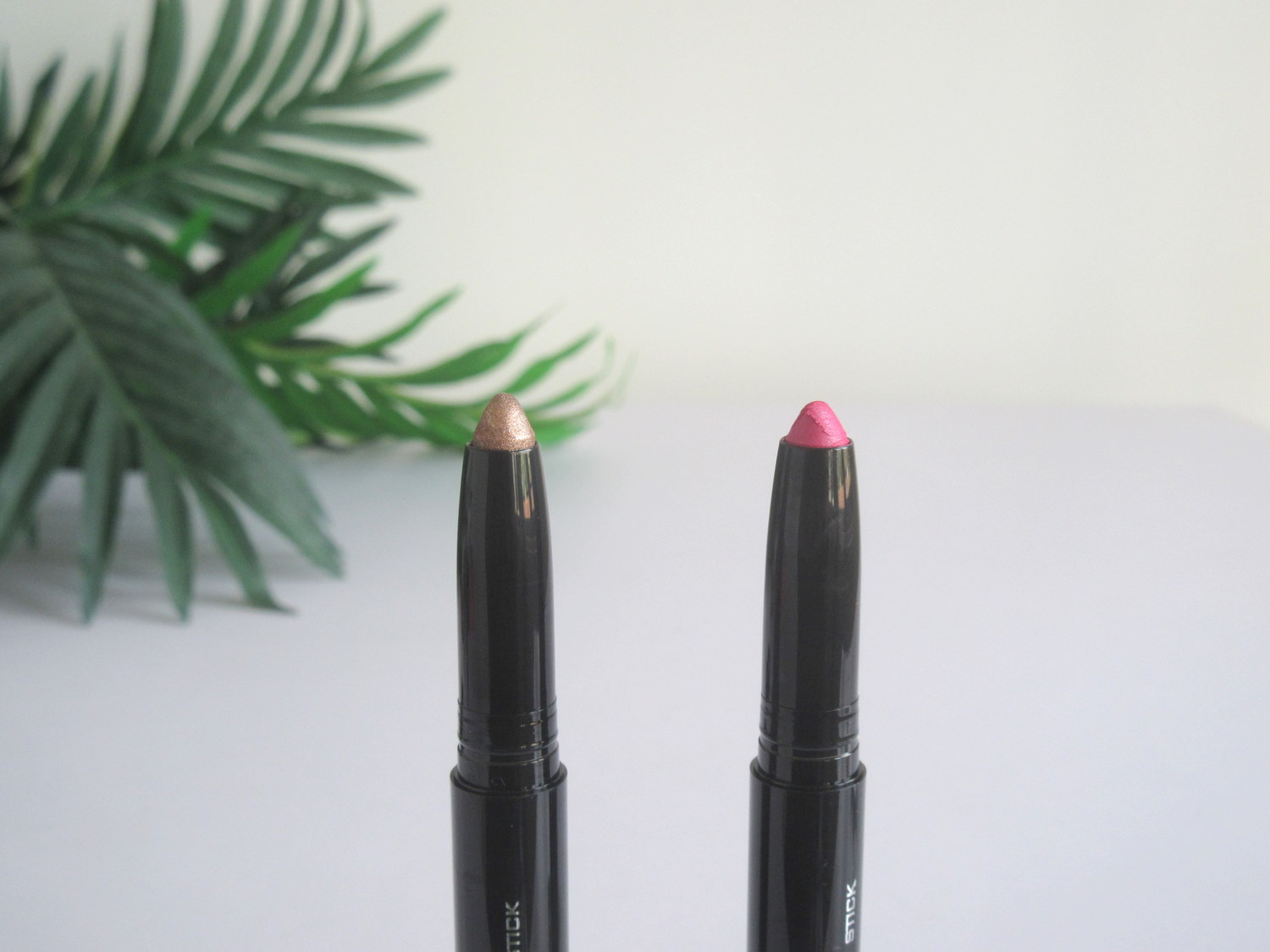 PRICE AND QUANTITY: 850 INR for 1.4 grams of product.
AVAILABILITY: Colorbar counters nationwide, Colorbar Cosmetics, Nykaa, Jabong, Purplle etc.
♥ OVERALL: The colours are pretty but… meh. I honestly believe there are better products out there – at much more affordable price-points.
Colorbar All Day Waterproof Eyeshadow Stick in '005 Ornament' and '016 Rouge'.
Pros
It's very pigmented and opaque.
Easy for beginners to use.
Decent amount of shades available.
It's smudge-proof. For the most part.
Handy, sleek packaging. Comes with a sharpener.
Cons
They feel a little tight on the eyes.
They're too expensive for a high-street item.