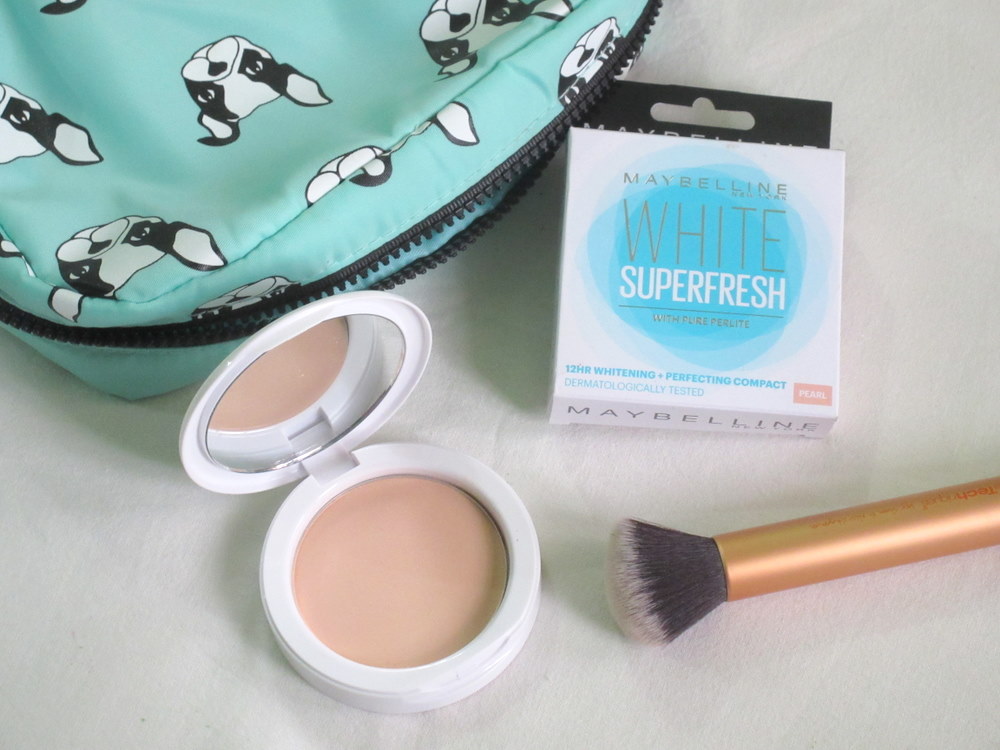 Hi, everybody. This is yet another post on a new launch from Maybelline. They've been flooding the market with some great launches of late. Apart from my wallet, nobody is really complaining.
THE BACKSTORY: There's a store near our college that Hani (the underpaid assistant) and I often visit, looking for water or iced tea. Or Hazelnut milkshakes. The store houses select amount of makeup, mostly brands like Elle 18, Maybelline, Lakme and so on. Basically brands that broke teenage students are able to afford. The store doesn't carry the products of the higher price range from those same brands, just items that are below 200 INR. I spotted this compact when I was in the store, looking around for some snacks. Needless to say, the snacks took a back-seat and I immediately purchased this little guy.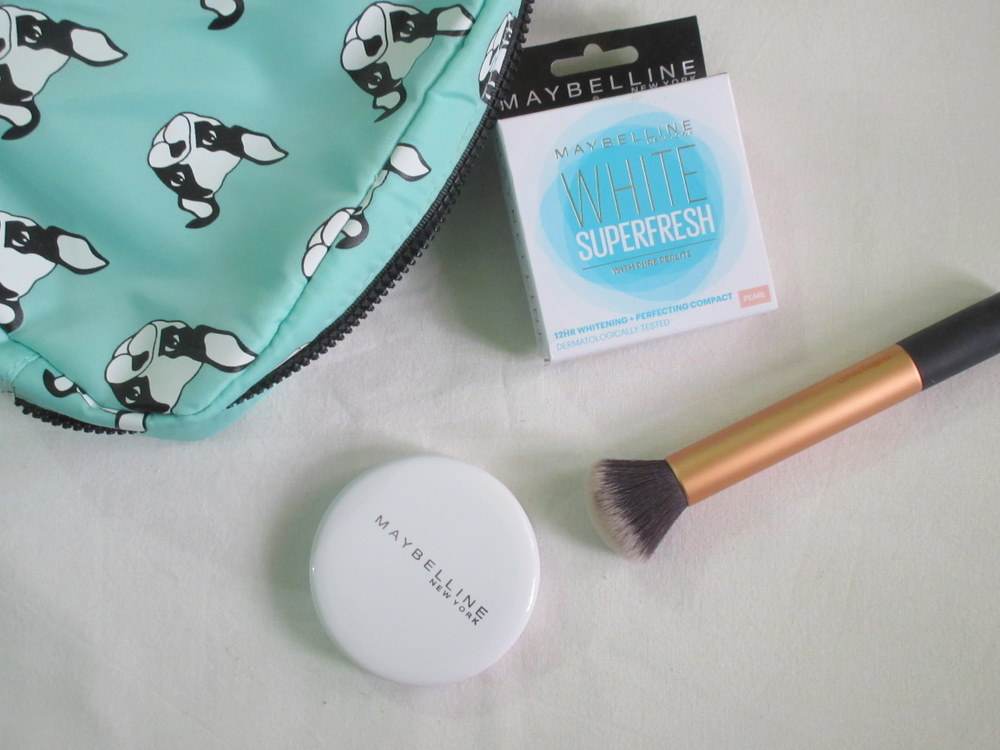 THE PRODUCT: This powder is a wonderful little product, I'll tell you that. It is soft and finely milled enough to not gunk up on your face all at once. The finish is smooth and quite beautiful. There's nothing to complain about, really. The powder mattifies and keeps whatever you put underneath intact. I've worn this by itself and it has fared quite well. It does have a distinctively sweet scent, though. Nothing too overwhelming or long-lasting. I think it smells a lot like the Etude House cushion. It doesn't stay fresh for 12+ hours like it claims to, obviously. But it holds its own even in the humid weather, which I've come to appreciate.
The packaging is great, considering its price point. It comes in a sturdy all-white plastic compact, with a handy mirror and a puff for touch-ups. I don't really carry the puff around – or use it all – because I like the finish it gives with a complexion brush instead. The brush pictured is the Real Techniques Buffing Brush, that comes in the Core Collection set.
The only drawback is the shade range. It is limited to 3 shades; Pearl, Shell and Coral, with Pearl being the lightest of the three.
+ I haven't ever strayed from my Innisfree No Sebum Mineral Powder. If you've tried it, you'll know why. However, I suppose this powder is a close second. Even more so because of its affordable price tag and availability.
PRICE: 150 INR for 8 gm of product.
AVAILABILITY: Maybelline counters, Amazon.in etc
NON- BEAUTY TITBIT: In the backstory, I mentioned iced tea and hazelnut milkshakes, both of which are delicious and great after a long, hard day. The iced tea in lemon is my personal favourite, while the peach variant is a little too synthetic in flavour. The hazelnut milkshake, however, has my full loyalty. I've not strayed away from it to try out other existing flavours. Maybe one day I'll take the plunge and buy the strawberry one. If only they made orange iced tea. *cries in a corner* o(╥﹏╥)o
P.S. The comeback scene in the K-Pop world is pretty strong right now, isn't it? VIXX came back with Chained Up a week or so again (lovin' it), B.A.P came back yesterday with Young, Wild & Free (bless their souls) and iKON made a comeback too (I'm lovin' Apology at the moment). EXID is slated for a comeback soon (Hani's teaser here). Have you seen Hani's green hair yet? ヾ(๑╹◡╹)ノ"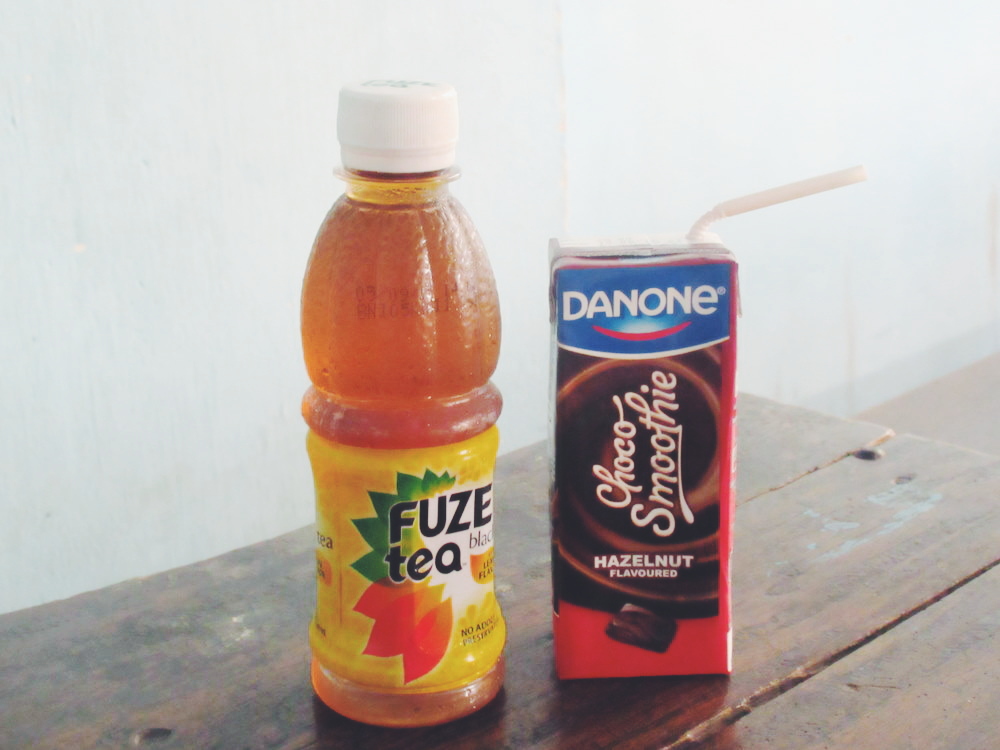 Maybelline White Super Fresh Compact in 'Pearl'.
150
Pros
It feels weightless on the skin.
It absords sweat and it mattifies the skin for a long stretch of time.
The texture is blend-able and easy to work with.
The packaging is great; it comes with a mirror too.
For the price, it's an amazing product.
Cons
The awful shade range.
It has a sweet scent, which may or may not put off sensitive noses. It disappears seconds after application, though.