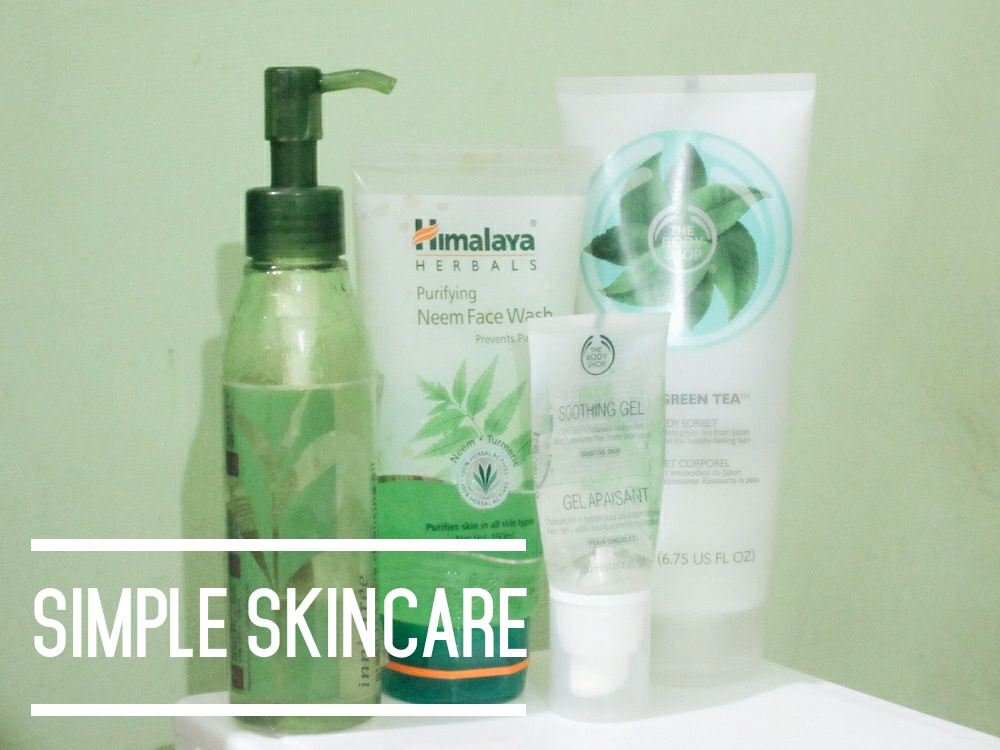 Hi, everybody. What happens when you run out of your favourite skincare products? All Hell breaks loose. Mhmm.
My skin has been extremely insane lately. I'm all out of my two favourite products; the Laneige emulsion and Nature Republic Aloe Vera Gel. While the Laneige emulsion was my regular moisturiser, the Nature Republic Aloe Vera Gel was my go-to on not-so-great days. Now I have neither. I did order a couple of Japanese skincare products to try out moments ago, but until they arrive, I'll have to make do with what I have right now. And it's not looking pretty… (*ToT)人(T-T*)
*CLEANSING – I always double cleanse on days I wear makeup. I use the Innisfree Green Tea Cleansing Oil first. I take about two pumps, massage it on my face, wait for it to melt away the makeup and then I add a little bit of water to emulsify it and break down the makeup further. After massaging it in for a little longer, I rinse it off. Then, I follow up with the Himalaya Neem Face Wash, which is a foaming gel cleanser. It works well enough even if it is a little drying. I've been using this for a couple of years now and while I'd like to switch to something else, I don't know if I'm willing to commit to any other product.
On that note, I did try the La Roche-Posay Effaclar foaming gel for a few weeks and I did like it. The thing is, that particular tube had a hole in it and it leaked out most of the crazy expensive cleanser. I did not bother buying another tube because it felt like a complete and utter waste of money.
*GREEN TEA?
Yes, on some days I do use the green tea method I wrote about. It works wonders; it's just that, with college and everything, I hardly get time to make a separate batch of green tea for my face. And lately, I've been drinking more iced tea than green tea, which, for your body, is not the joyride it seems to be.
*MOISTURISER – Now, here's the headache. I've been using The Body Shop's Aloe Vera Gel since the last week of October. I was hoping it'd do the same thing the Nature Republic one did. Sadly, it does nothing. Nothing. Zilch. At least I don't think it is doing anything special. It's neither making my skin look great nor is it making it deteriorate. I'm plain confused with this product, since it was marketed for sensitive skin and was supposed to work wonders.
*BODY CARE – The Body Shop probably made their body sorbets for people who want things to happen faster. That'd be me and I love the texture and overall effects of their Green Tea Body Sorbet. It sinks into the skin in seconds and leaves it hydrated for the whole day.
This is just a quick update on what I've been using lately. Honestly, I cannot wait for those products from Japan to come in. I'm praying that the post office doesn't do anything fishy.
Until next time, take care.