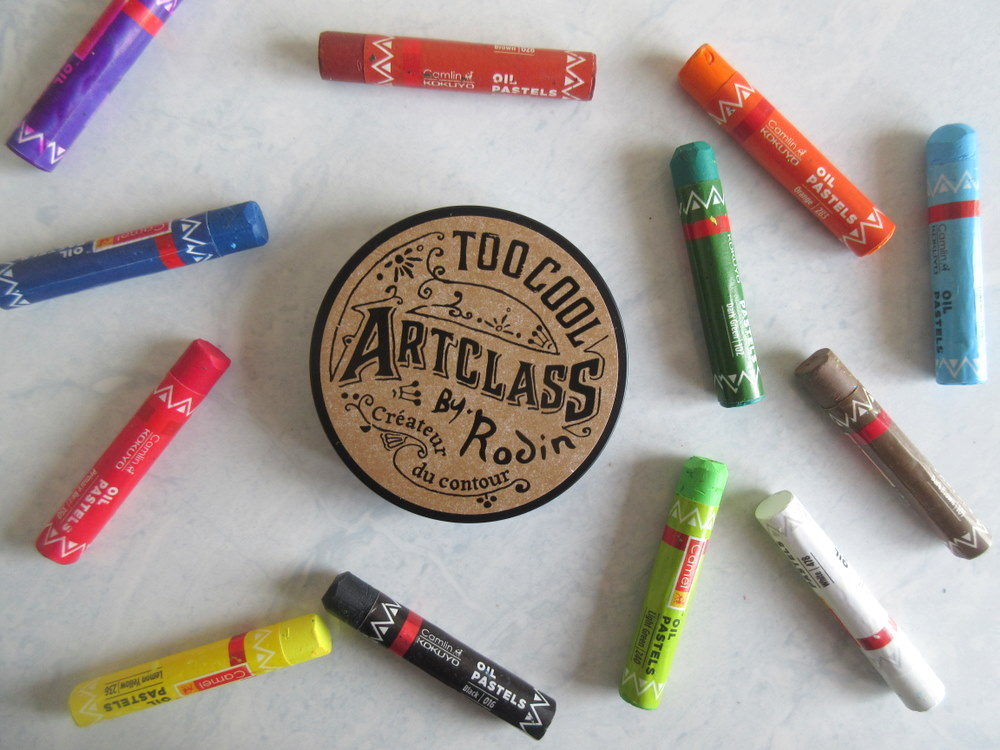 Hi, guys. I skipped posting on Wednesday simply because I was not ready to talk about the product in question… Which brings us all here today. It's my first time talking about a contouring product on the blog (primarily because it's my first time buying and using one).
THE BACKSTORY: I've been meaning to venture into the world of shading/contouring for a while… I've been typing and erasing the backstory for a good half an hour now… That's how sensitive the topic is and I'm the type who believes in live and let live. So, let's just get on with talking about the product.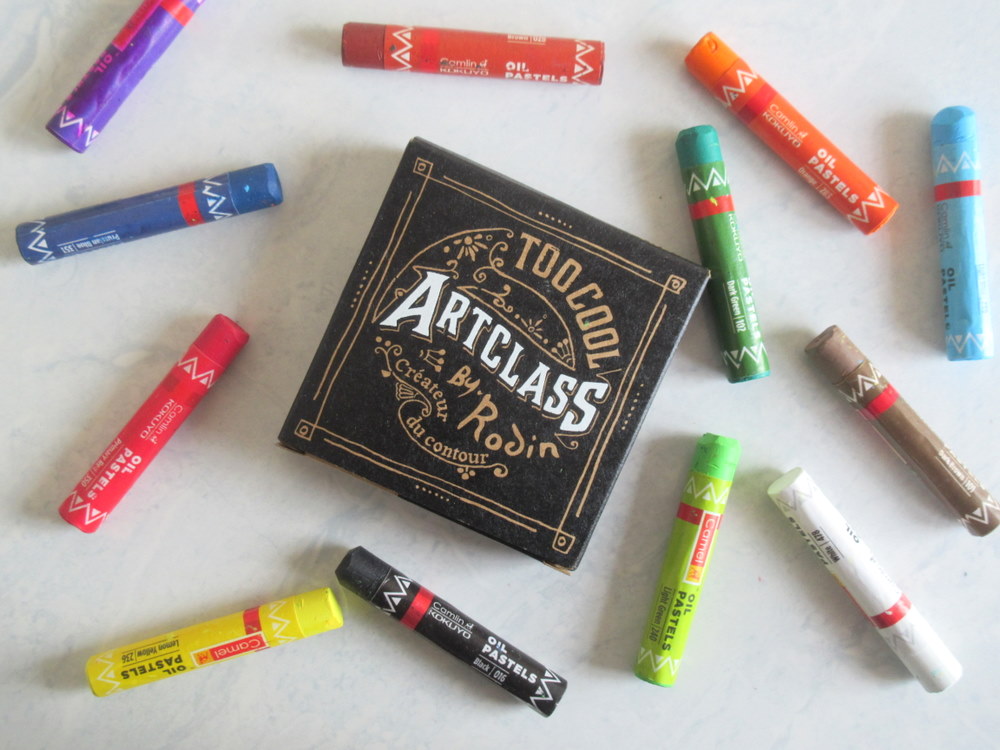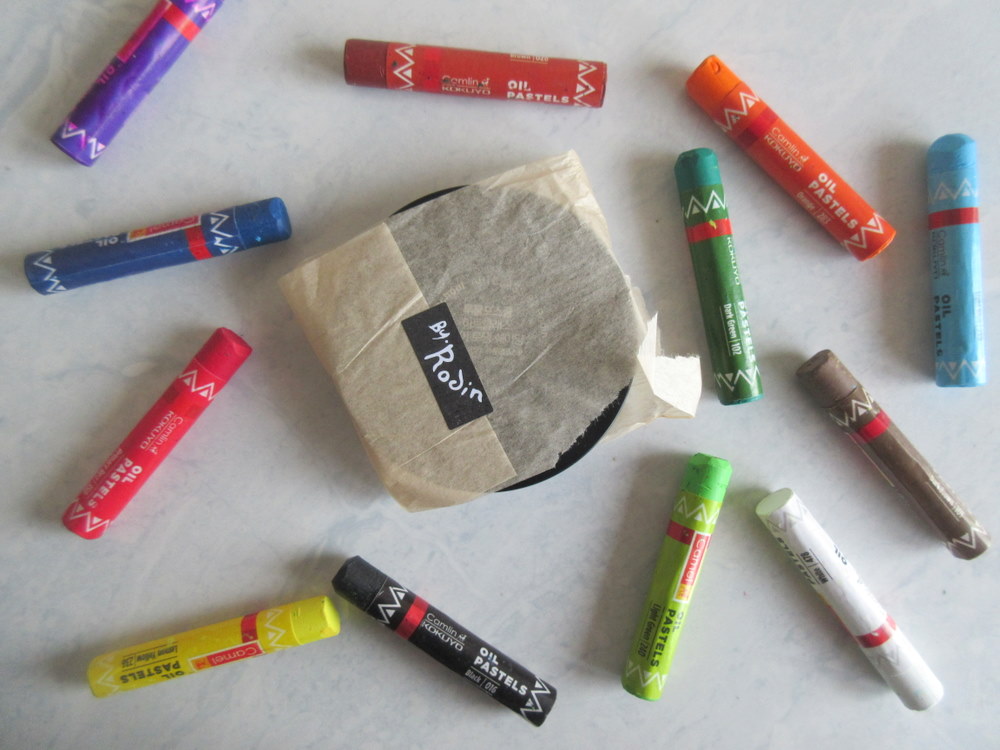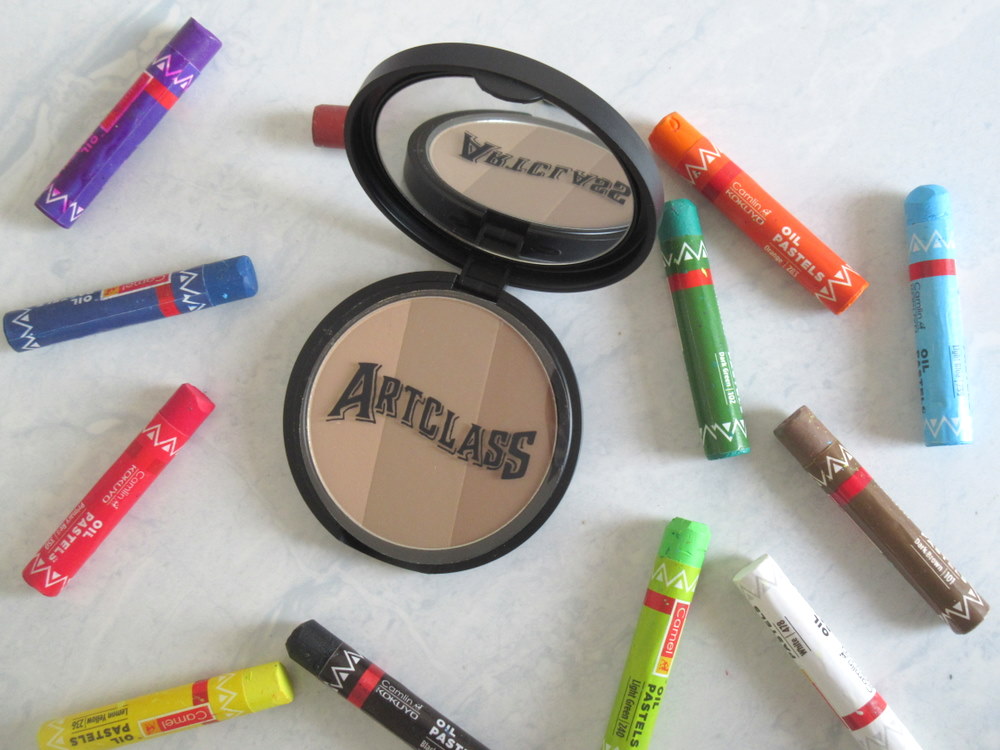 THE PRODUCT: This contour powder is highly raved about in the Asian Beauty community – and with good reason.
The powder itself is incredibly soft. You swirl your brush into the pan a little too much and you get an excessive amount of product fall-out. Then again, since it is so darn soft, it is a dream to blend.
The colours within the pan (both individually as well as when mixed together) have decent colour pay-off. Nothing too strong or overwhelming. Of course, swirling all the colours together will result in higher colour pay-off. It's not going to leave stark lines across the places you shaded simply because the shades are light and subtle. It also helps that the powder blends effortlessly just at the touch of a makeup brush.
The shades within the pan are also beautiful – they aren't too warm, they aren't ashy-cool.
You could definitely use the shades individually to shade different areas of your face. It lasts for a good amount of time too. Since it is a beautiful, soft powder, it lasts fairly well in humid weather. That being said, you may need to touch up after 6 hours or so to get the powder to look the way it initially did.
The packaging is gorgeous. It comes packaged in a sturdy black plastic case. It even has a mirror inside. TCFS is one of those brands whose designs are always worth the extra buck or two.
That's all there is to talk about the product, honestly. Shoddy swatches, anyone?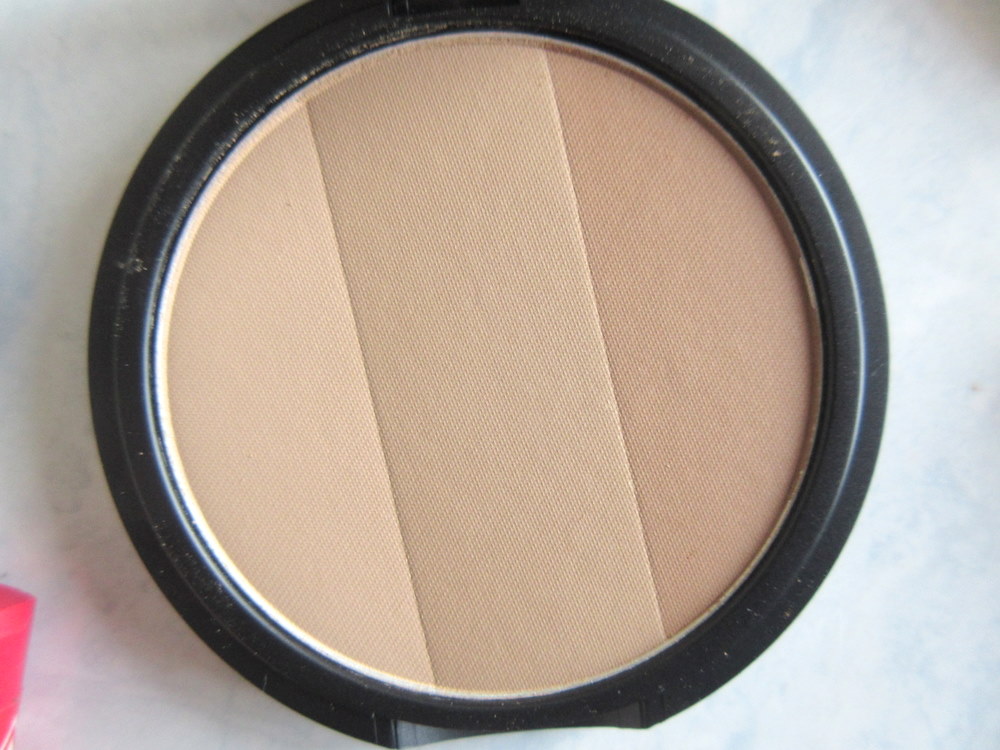 SHADES WITHIN THE PAN: Like I mentioned before, there are three shades within the pan.
The darkest shade is the warmest among the three.
The middle shade is the coolest among the three.
The lightest shade almost matches my skin-tone.
They can be used individually. Or you could mix and match as you prefer.
TCFS has ever so kindly provided a face chart with the product information. It's a how-to regarding which shades to use where. Follow the chart – as I do – and you should be fine.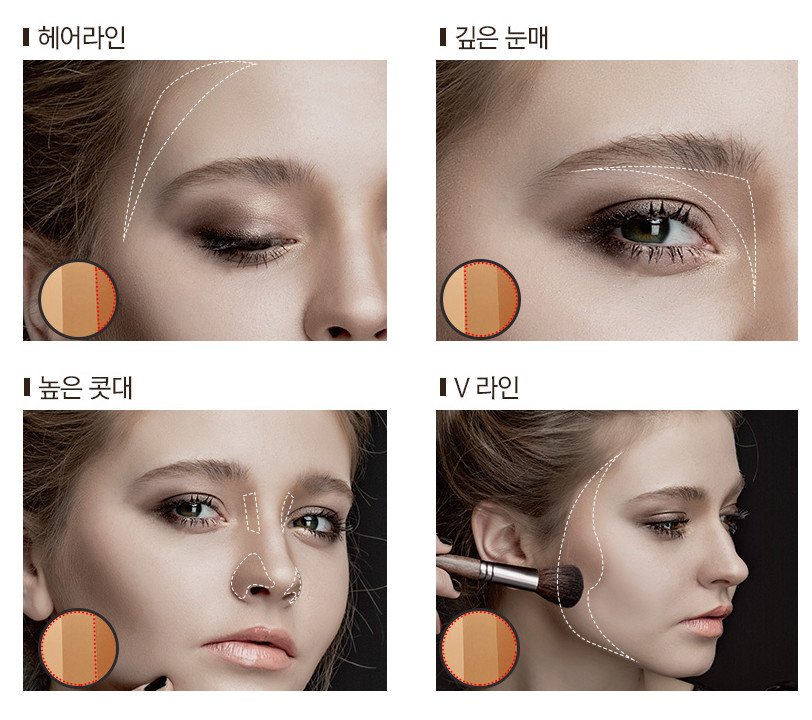 WHAT IS CONTOURING? I'm sure you all know what contouring is by now. I'm probably the last person who's giving this a go. But here's some information regardless – contouring is a makeup technique that is used to enhance facial structure. Placing cool/ashy/bronze tones in the hollows of the face enhances the shadows and usually gives the illusion of a slimmer, more defined face. This technique can be applied to other parts of the body as well – neck, back, you name it.
This technique has been employed by stage actors since the 1500-1600's. The Kardashians did not invent contouring, trust me. Decades ago, this technique was used by makeup artists so that the actors' faces won't appear flat on camera. Contouring would add dimension to their faces.
We are all aware of the shape and form this trend has accumulated into now. Let's not go there.
… So, yes, if it is done right – it can actually make your face look more defined in photos (from a certain angle, of course). If you overdo it, however, the technique may just look like you've got some harsh brown stripes on your face.
Moderation, my friends, is key.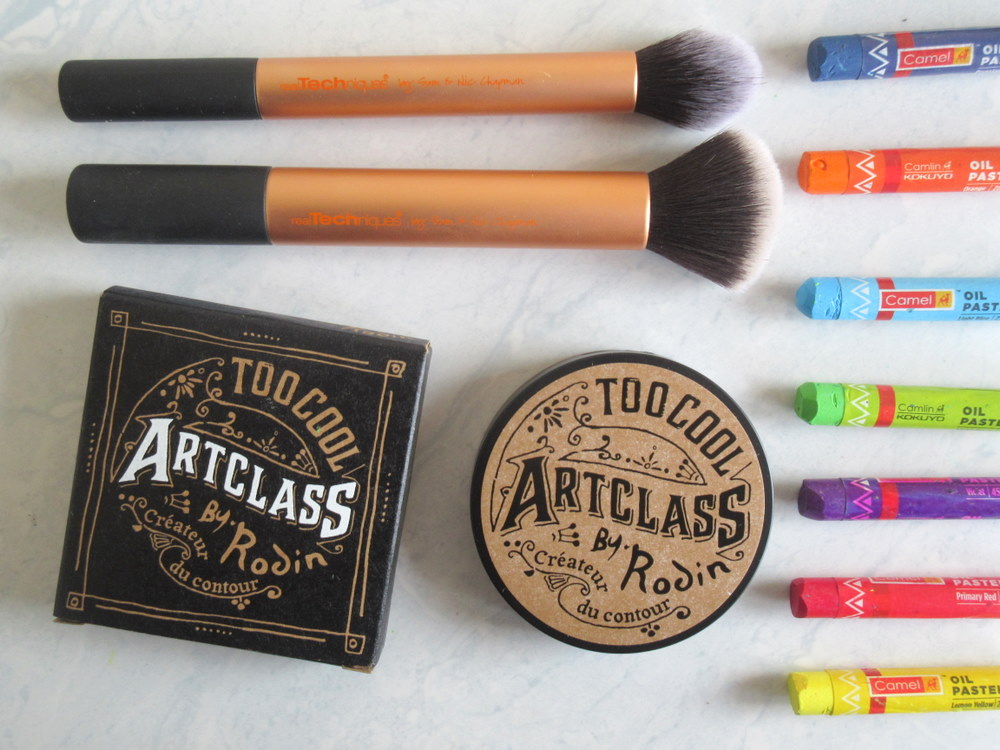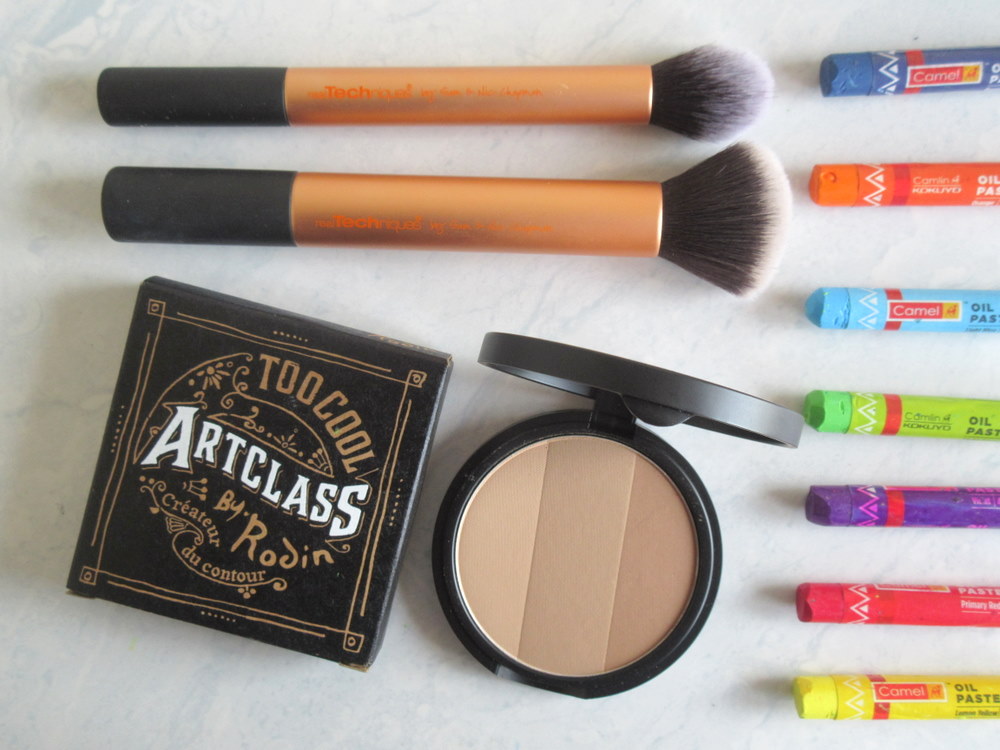 QUANTITY AND PRICE: $12 – $21 for 9.5 grams of product (depending on where you purchase it).
AVAILABILITY: RoseRoseShop, tester-korea, w2beauty, jolse etc.
♥ Overall, I love the powder and the effect it gives me. But I am not entirely onboard the contouring bandwagon. Slight shading is where it's at, for me. What about you? What's your take on the contouring madness? Or will you be like me and just call it shading?
Too Cool For School Art Class by Rodin Contour Powder
Pros
The pan has 3 shades - use them individually or mix and match as you desire.
The shades are a good mix of warms and cools while not overtly so. Mixing them all together produces a beautiful neutral shade, ideal for shading.
The powder is soft and blends like a dream.
You can even contour your eyelids and give them more definition with this product.
The packaging, though plastic, is sturdy.
Cons
Availability is an issue.