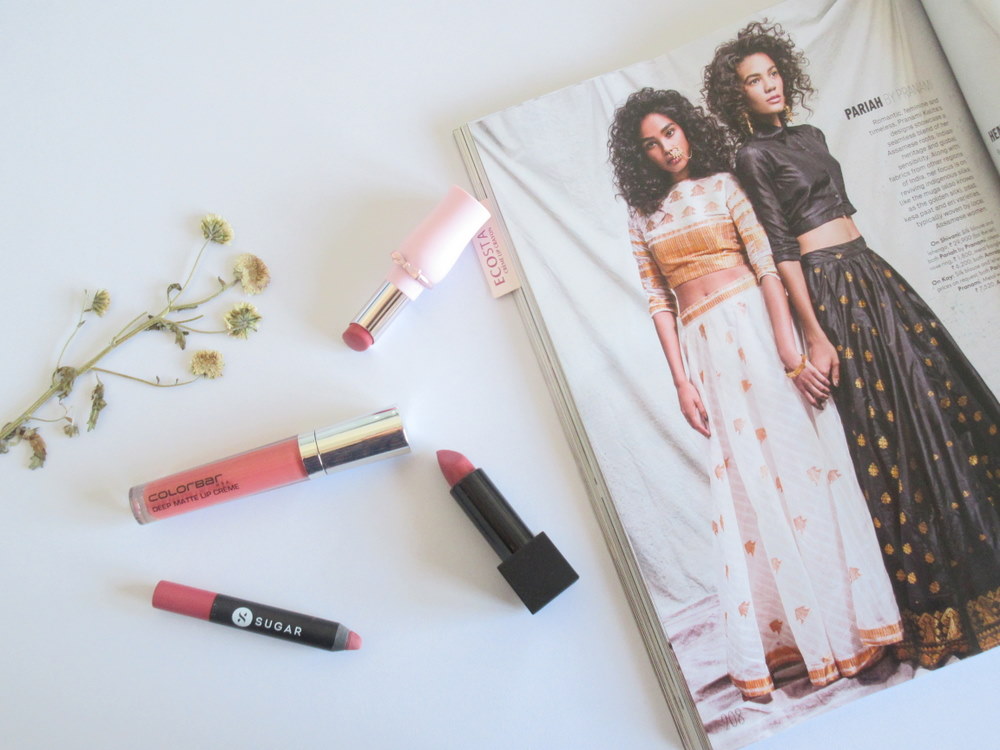 I've been wearing a lot of earthy, dusty pinks lately. They are a departure from my apple reds and blue-pinks but I've been really loving how they look!
I find that these shades go with any kind of look.  Moreover, when I'm in a rush, I find myself just dabbing one of these shades onto the lips and calling it a day.
The one I reach for the most is Sugar's Lip Crayon in 'Holly Golightly'. It's an earthy peach. It's not exactly a nude shade for me but it's still muted enough for me to wear without over-thinking things. Colorbar's 'Deep Peach' falls in the same colour family but has a more slippery and mousse-y consistency, which I'm not particularly a fan of. I tend to only dab a little on my lips – I find that it looks more flattering that way.
My favourite, though, has to be Etude House's Dear My Wish Lips Talk in 'BE102'. I love the formula, the colour and, well, the packaging too. It's very opaque, creamy, non-drying and just easy to wear. I do fear this line has been discontinued, sadly. Nykaa's 'Naughty Nude' is a newer acquisition and I've been enjoying it quite a bit. The colour is quite flattering but is too dark for me to pull off as an everyday-nude lip shade.
What's been your lip colour of choice lately?