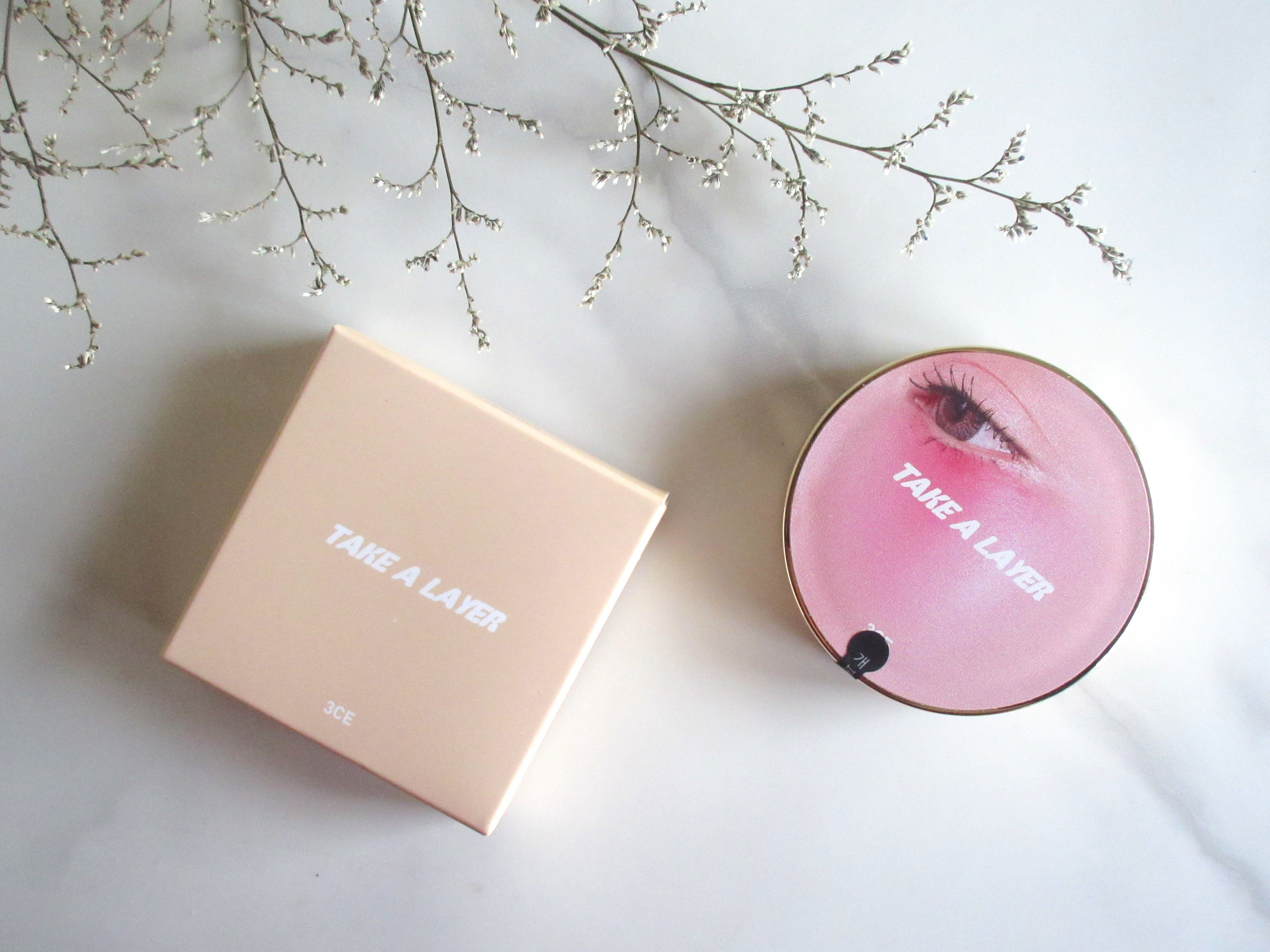 This post has been in the Drafts section for far too long. You finally get to see the light of day today, my friend.
THE BACKSTORY: I've made no secrets about my love for 3CE products on the blog. Every time I try something new from them, I'm instantly blown away. This product is no exception.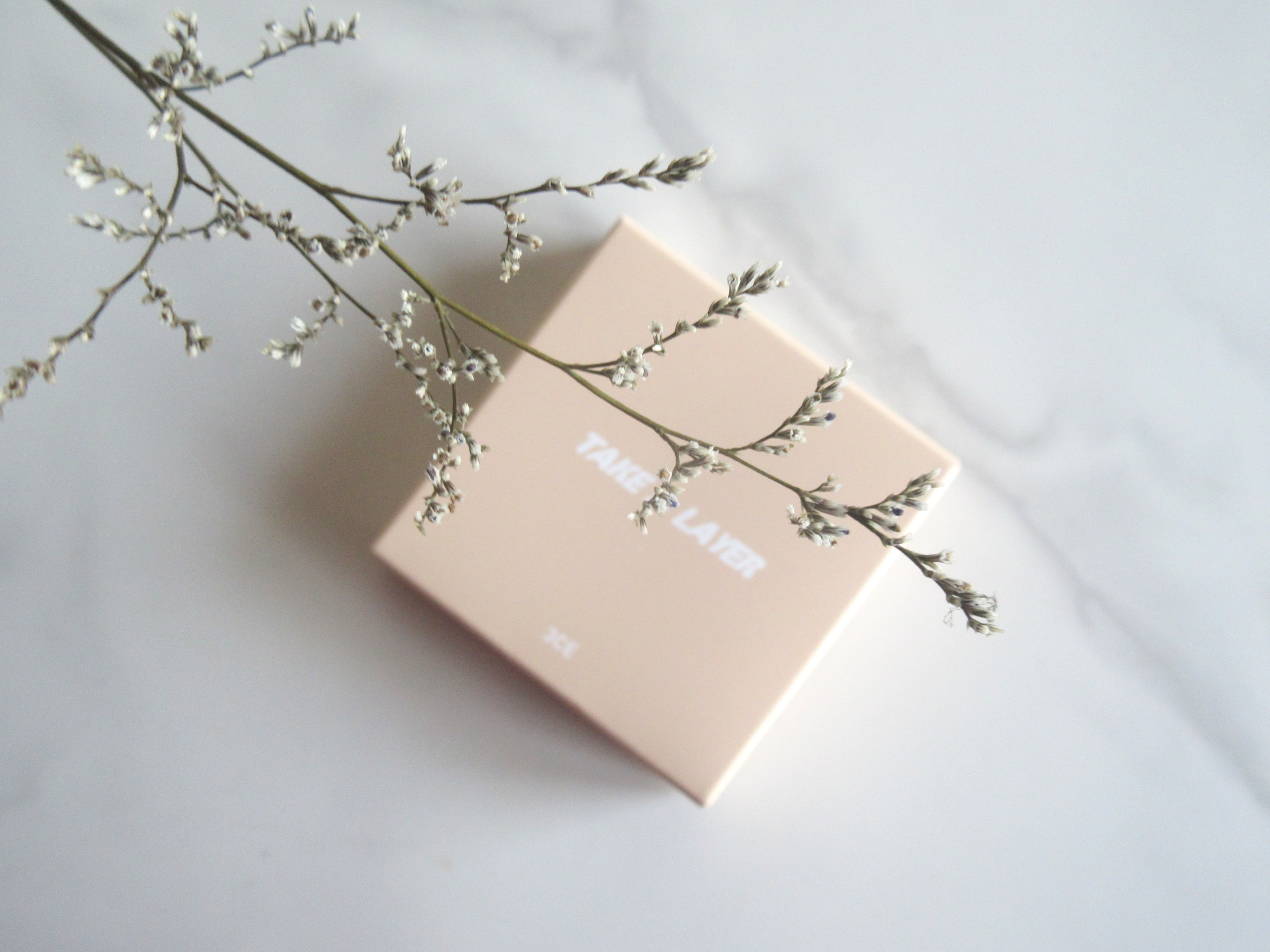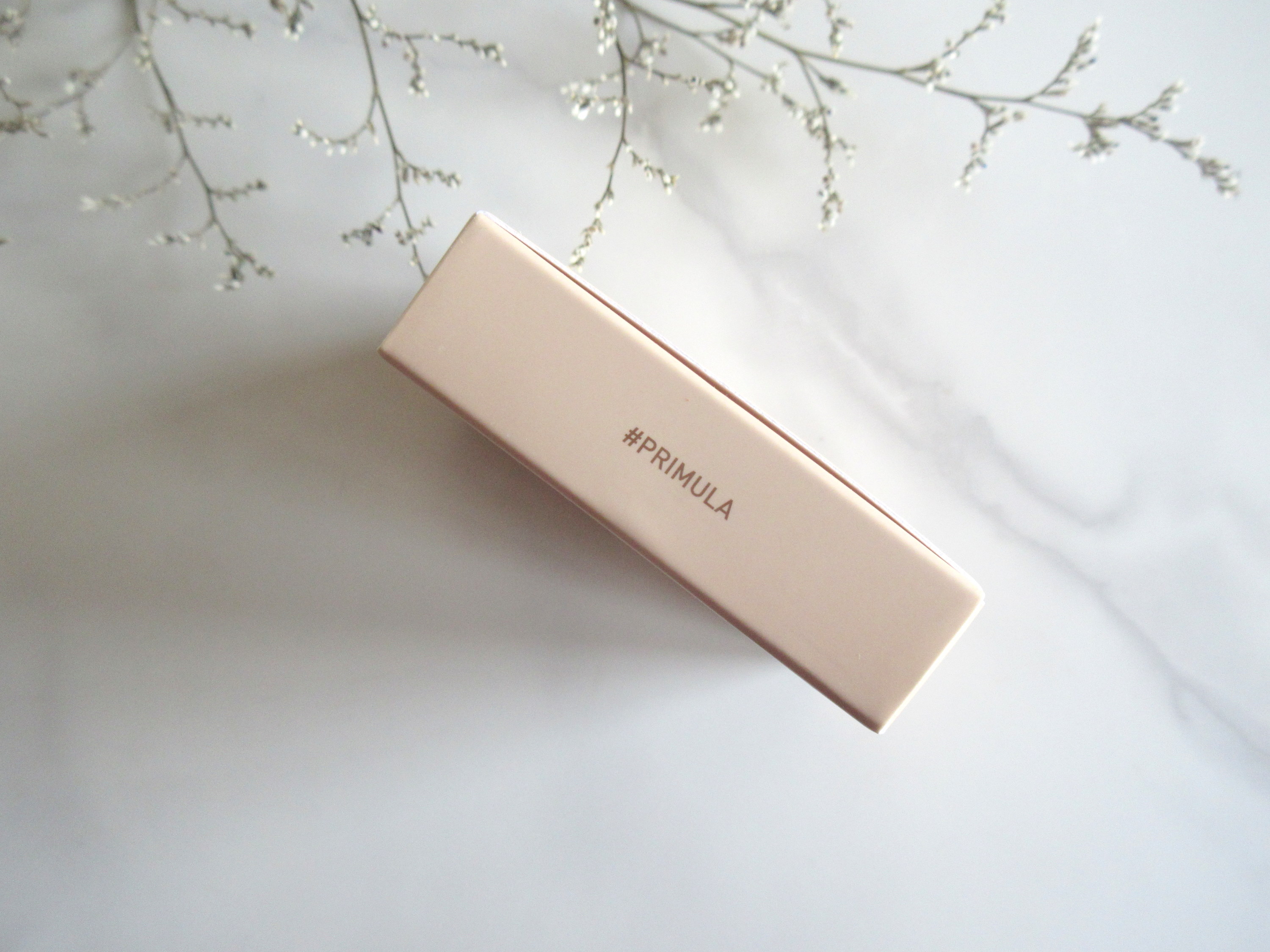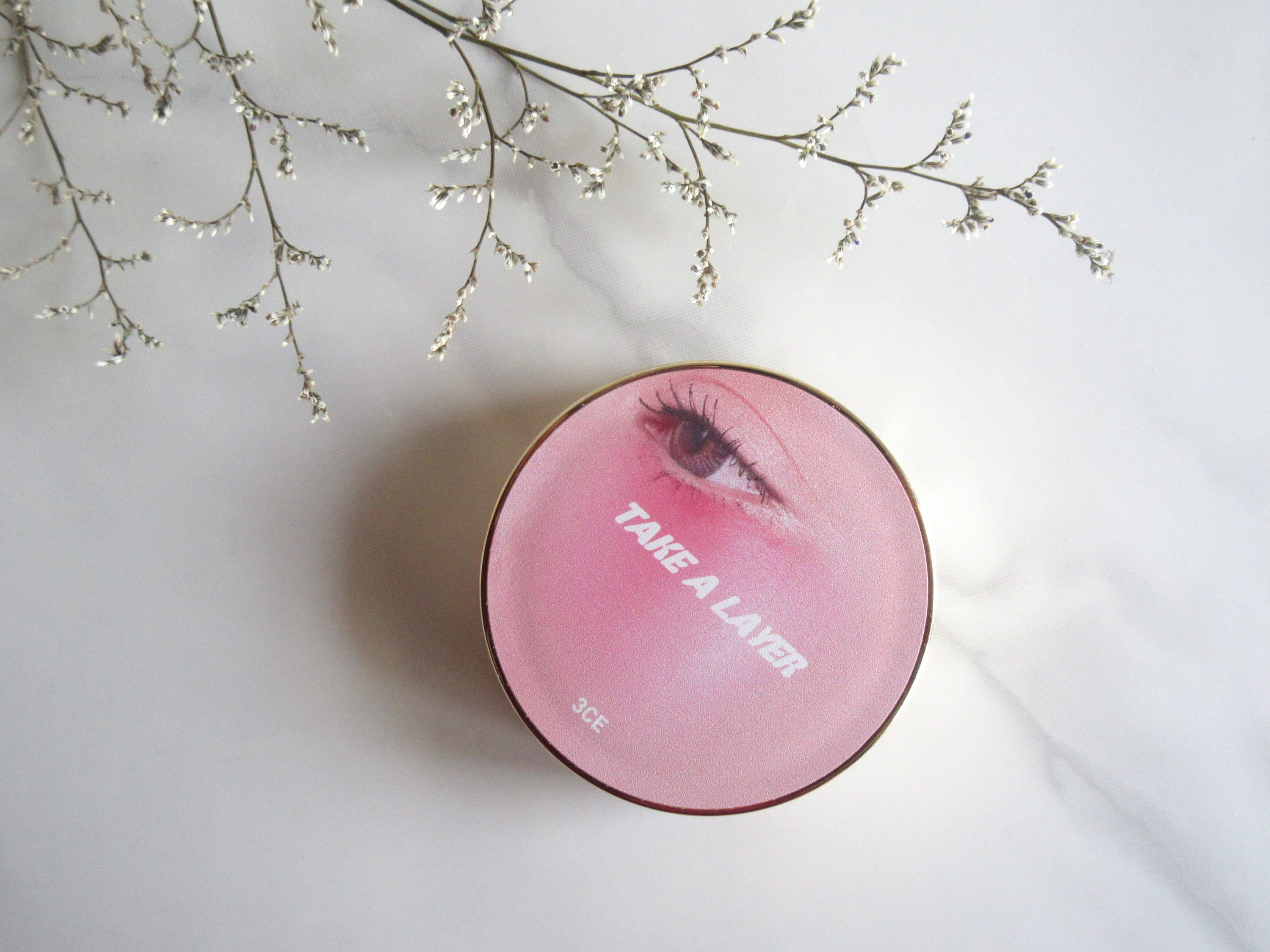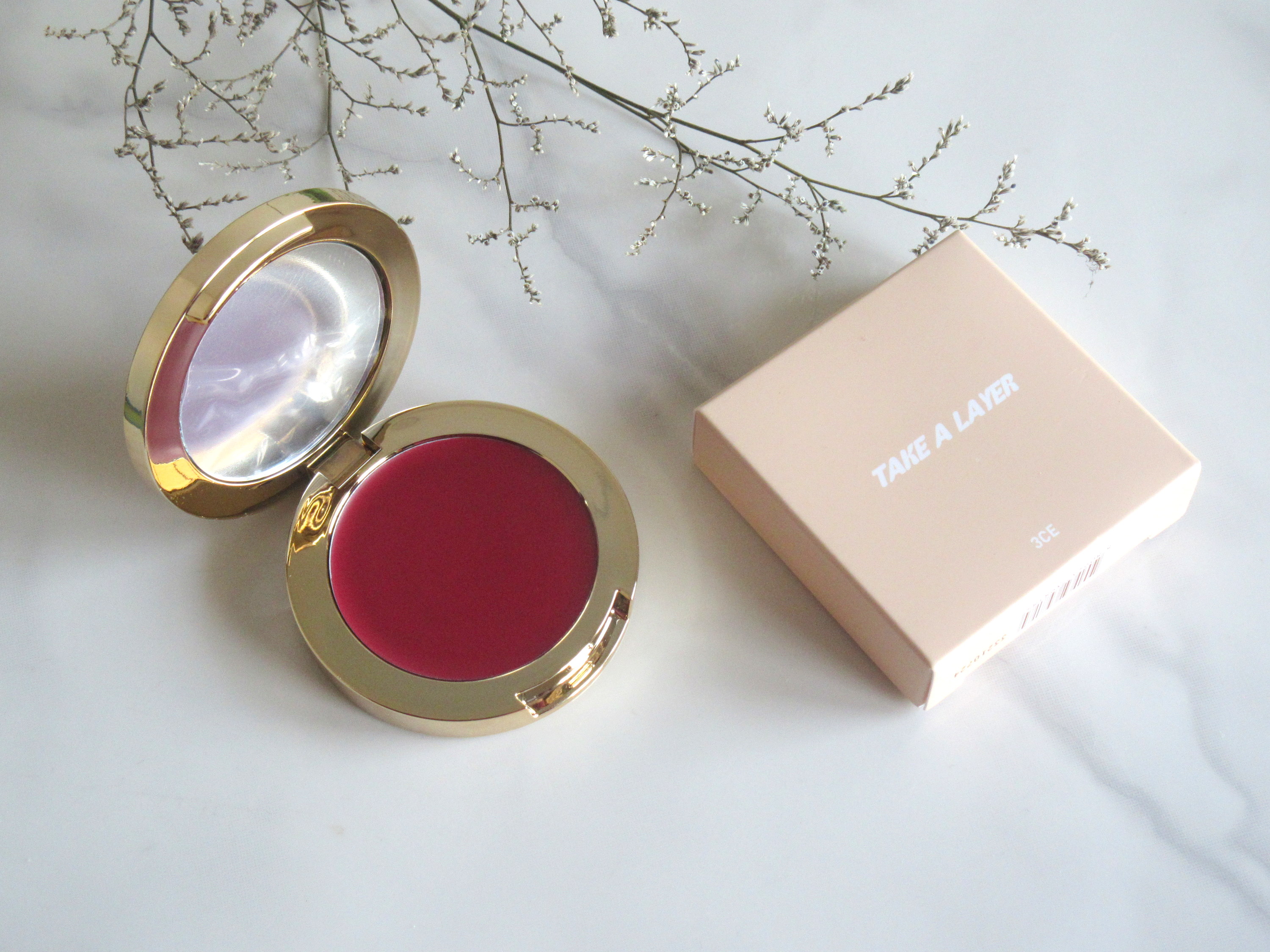 THE PRODUCT: I truly do enjoy how 3CE products are packaged. This little pot of rouge comes housed in a reflective antique-gold hued compact with a matte, textured sticker displaying the shade contained inside pasted on top. While it isn't particularly hefty, it most definitely is well-made. There's a nice little mirror inside, too.
Now, onto the product itself… The cream is rather stiff and hard-to-the-touch. However, because of how saturated it is, even the slightest touch will result in intense pigment getting dispensed on to your finger. Or brush. Or whatever you dipped onto it. Work in smaller sections and build the colour up.
It performs deliciously well as a blush colour. I say "deliciously" because I enjoy a flush of colour on my cheeks. It's mostly because my pallor strips me off the tiniest natural perks. Anyway, this gives me a combination of the oh-I'm-naturally-flushed and the oh-I-have-been-out-playing-in-the-cold look. Long story short, it gives me red cheeks.
It's long-lasting as a cheek product, perhaps due to its stiff cream-to-powder formula. It adheres well to the skin and doesn't move around like other lesser creamy cheek products. It's also very lightweight and it feels like you have nothing on.
It also makes an astoundingly well-performing lip colour. Again, because of how pigmented it is, you can build up the opacity with ease. It can go from lovely stain to a full-blown bold lip-colour at the snap of a finger. I will admit that it can get a little drying on the lips over a longer stretch of time. In any case, it's nothing a little lip-balm cannot solve.
Since it is a multi-pot, you can also use this on the eyes. Now, again, I enjoy a good red eyeshadow. And because of how easily it can blend out and can be layered, I tend to occasionally dab some on my lids whenever I use this product on my cheeks/lips. It ties the whole look together.
What else? I think I've covered it all, more or less. It's pigmented, stiff but smooth and easy to blend, has a semi-matte finish, long-wearing and beautifully packaged.
I don't have anything bad to say about this. It's just lovely. And I'm glad I picked this colour. It's the most "me" colour I could think of. I also like the looks of 'Cabbage Rose' and 'Diotima'. Perhaps some day.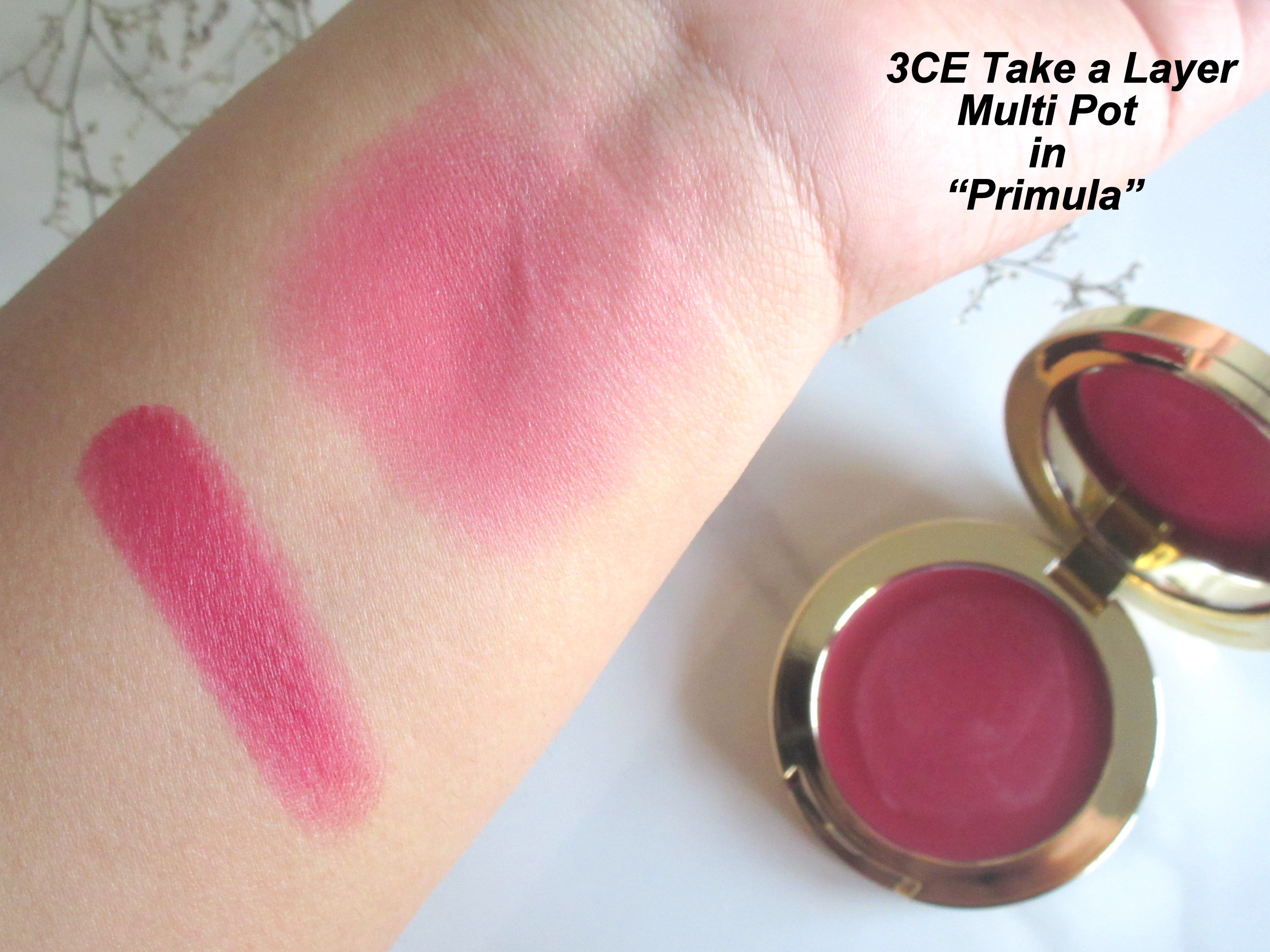 SWATCHES AND SHADES AVAILABLE: There are 7 shades available, at the moment. I do see a shade-extension in the future, whether they be permanent or parts of different collections.
Primula – a gorgeous blue-toned red-violet.
Cabbage Rose
Diotima
Holly Hock
Scarlet Red
Common Time
Morning Skinny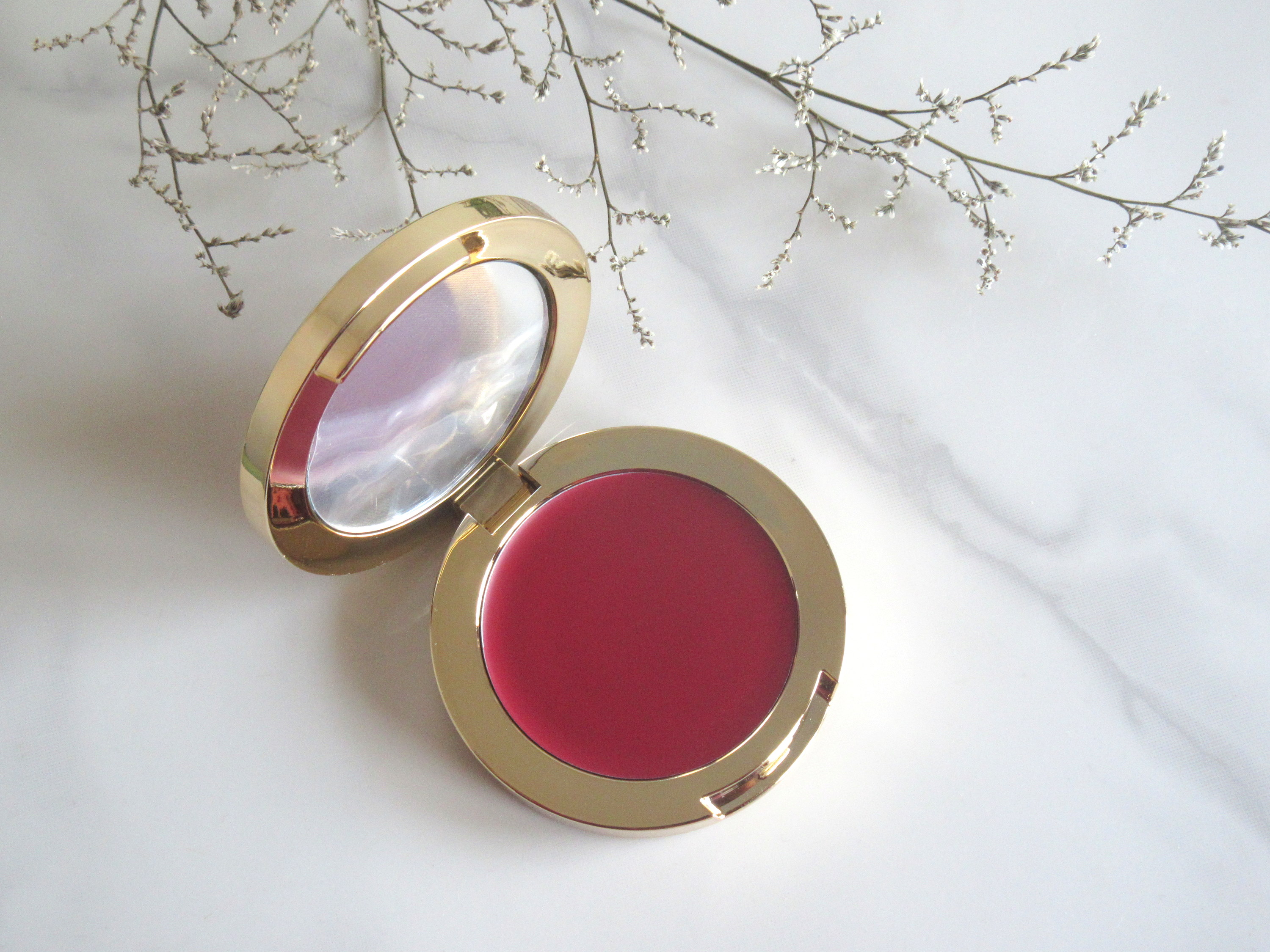 PRICE AND QUANTITY: 22 USD for 4.2 grams of product.
AVAILABILITY: Global Stylenanda, Stylekorean, TesterKorea etc.
♥ OVERALL: If you're wise about when to purchase them (obviously during sales), I think you don't stand a chance to be disappointed or to be overwhelmed with buyer's remorse.
3CE Take A Layer Multi Pot in 'Primula'.
0.00
Pros
Very pigmented and build-able opacity.
Soft, matte finish.
Weightless.
Beautifully packaged.
Interesting colour stories to choose from.
Cons
Can be a little dry on the lips. Use lip-balm liberally.
Availability is an issue.