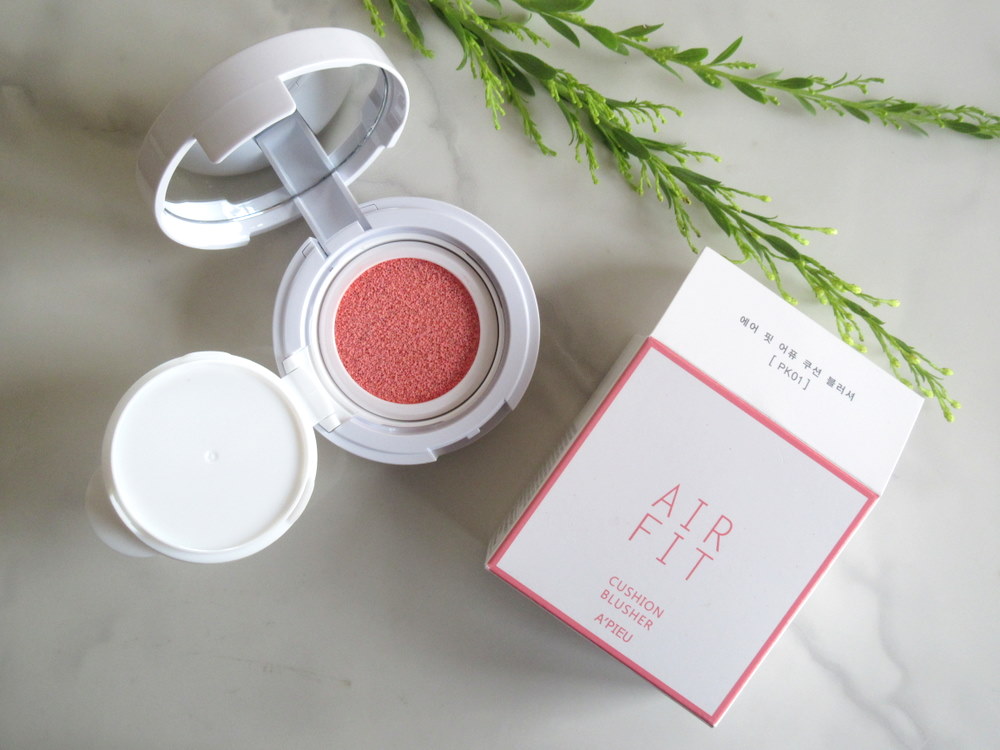 Like I mentioned in my previous post, July was such a great month. It was cool enough for me to wear a creamy cushion blush without ever worrying about it melting off. Now, even my most trust-worthy blushes are failing me. Anyway, let's get talking about this product.
I've previously written about two other shades in this line here.  This review is basically going to be an encore of that post.
THE BACKSTORY: A'Pieu is a Korean cosmetic brand that offers a wide variety of makeup products at a very affordable price. They have some skincare products as well but their makeup line is more extensive and popular.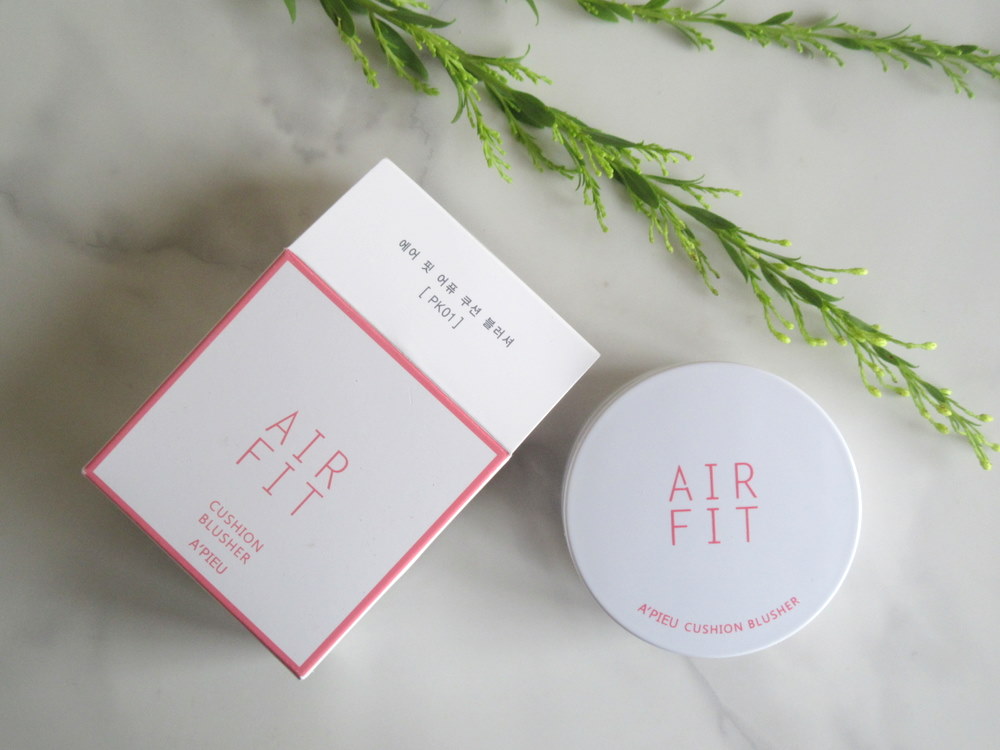 WHAT IS A CUSHION? : If you're unfamiliar with the whole concept of cushions and how they work, let me explain it to you. Cushions come with the product, be it your BB Cream or blush, soaked in a sponge-like thing. For base products or blushes, you get a state-of-the-art air puff for application, making it a sponge-on-sponge application. What you essentially do is pat the air puff on your face. You must not drag it. They are meant to be travel friendly (most include a mirror)  and extremely handy for touch-ups.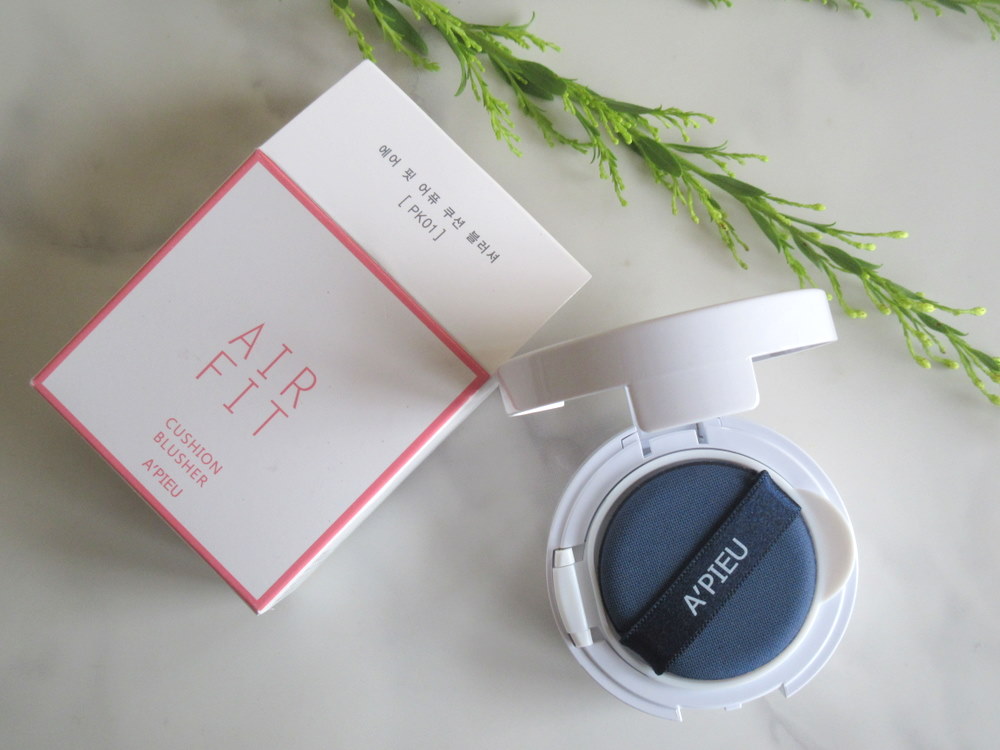 THE PRODUCT: By now, I'm sure you are all aware of how cushion products work and that explanation was unnecessary.
These, essentially, are liquid blushes. I say liquid because these are a lot wetter than the other cushion blushers I've tried to date. Depending on your how bright you like your blush to be, you may find them to be quite sheer. They may look pigmented and opaque in their swatches but once you start blending them out, they settle into a barely-there flush of colour. Even if they are on the sheerer side, they can be built up to your preference. They are extremely glowy and dewy looking; imparting a very healthy gloss to the cheeks the moment you dab the air-puff.
One thing you'll notice right away is how lightweight they are. Even if you build them up to suit your taste, you won't be burdened by a huge layer of liquid blush, sitting on top of the cheeks. They are very airy and feel weightless.
They do have a tendency to slip and slide if you don't set them. If you want to ensure they last a good amount of time, you can set them with a powder blush of a similar hue or with a translucent powder. If you have dry skin, you can skip this step.
Anyway, this cushion product is your usual soaked-sponge type (unlike the Missha cushion blush, that disposed product through a net). The packaging is like your usual cushion compact; it is made of a very sturdy plastic and it even contains a nice mirror inside. The air-puff they provide with it is a lot stiffer than the ones you get with BB cushions. And, of course, it's a lot smaller in size too.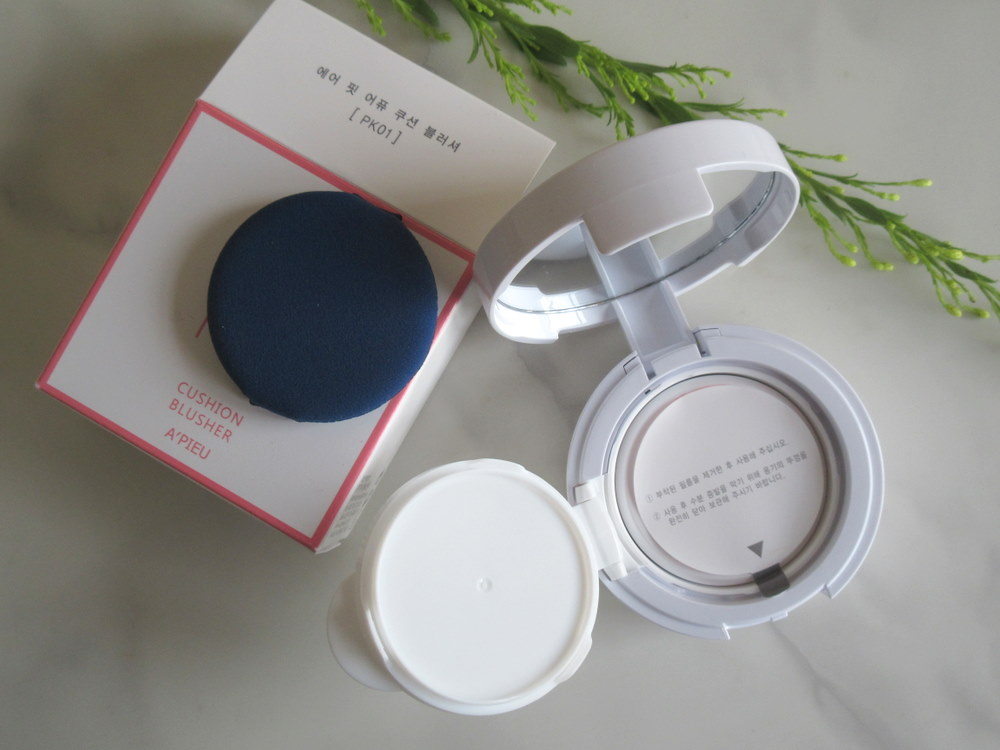 SHADES AVAILABLE: There are 5 shades of this cushion blusher available.
PK01 – A warm toned pink.

♥

CR01 – An peachy coral.
CR02 (shown here) – A true bright coral.
VL01 (shown here) – A soft pinkish-lilac.
BR01 – A muted brown shade, meant for bronzing/shading.
SWATCHES: Like I mentioned before, if you swatch them the traditional way, you'll be blown away by how opaque and pigmented they look. However, once you blend them out, they will appear more toned-down and look like a natural flush.
PRICE AND QUANTITY: $5 – $11 (depending on where you buy it from) for 10 grams of product.
AVAILABILITY: (Currently, due to LE collabortions, the regular version was increasingly difficult to find online but here are a couple of sites I found) testerkorea.com, RoseRoseShop etc
♥ Overall, I still do enjoy cushion blushes. They are just not made for hot and humid summers. Also, forgive me for just copy-pasting my previous review on the A'Pieu cushion blushes. They're the same thing. They are only packaged differently. I'm just tired these days, you guys. I apologise.
A'Pieu Air Fit Cushion Blusher in 'PK01'.
Pros
The blush gives an extremely dewy flush to the cheeks.
It is portable/travel-friendly. The adorable packaging is a bonus.
Usually, blush isn't the easiest the touch up but this particular product being in a cushion form makes it ideal for touch ups. It has a nice little mirror too.
The pigmentation is good and the lasting power is decent.
The texture is very airy, light and soft.
Cons
Availability is an issue.
Sadly, the sheer hues may not show up on darker skintones.
Some people might have issues with the hygiene factor of the sponge.
It doesn't last well in humid weather.