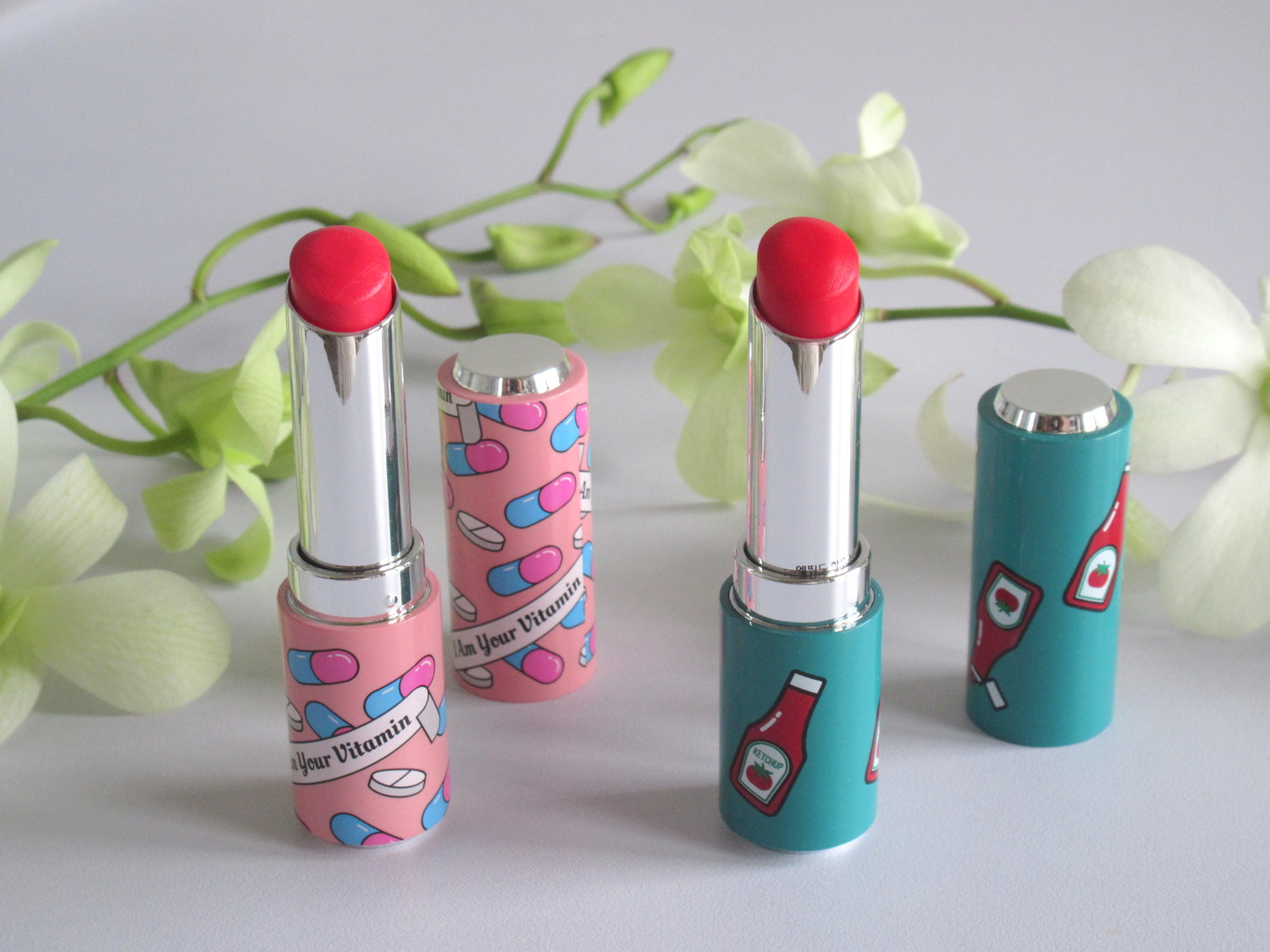 Let me address the elephant in the room: the only reason the girlfriend and I even bought these lipsticks were because of the adorable cases.
THE BACKSTORY: The concept of choosing both your own lipstick colour and case is new to the Korean market, from what I could understand when this line first launched. However, I've been familiar with this concept for a long time. Off the top of my head, I know Paul & Joe has been doing this for years, so has Anna Sui… I think there are a handful of Japanese brands that allow you to choose different shades of lipsticks to put in different cases. Not just lipsticks, either. Blushes, highlighters, pressed powders, eyeshadows – you name it. I believe the K-Beauty world has only recently started to do the same. Imagine the damage it'll cause once they fully catch wind of the practice.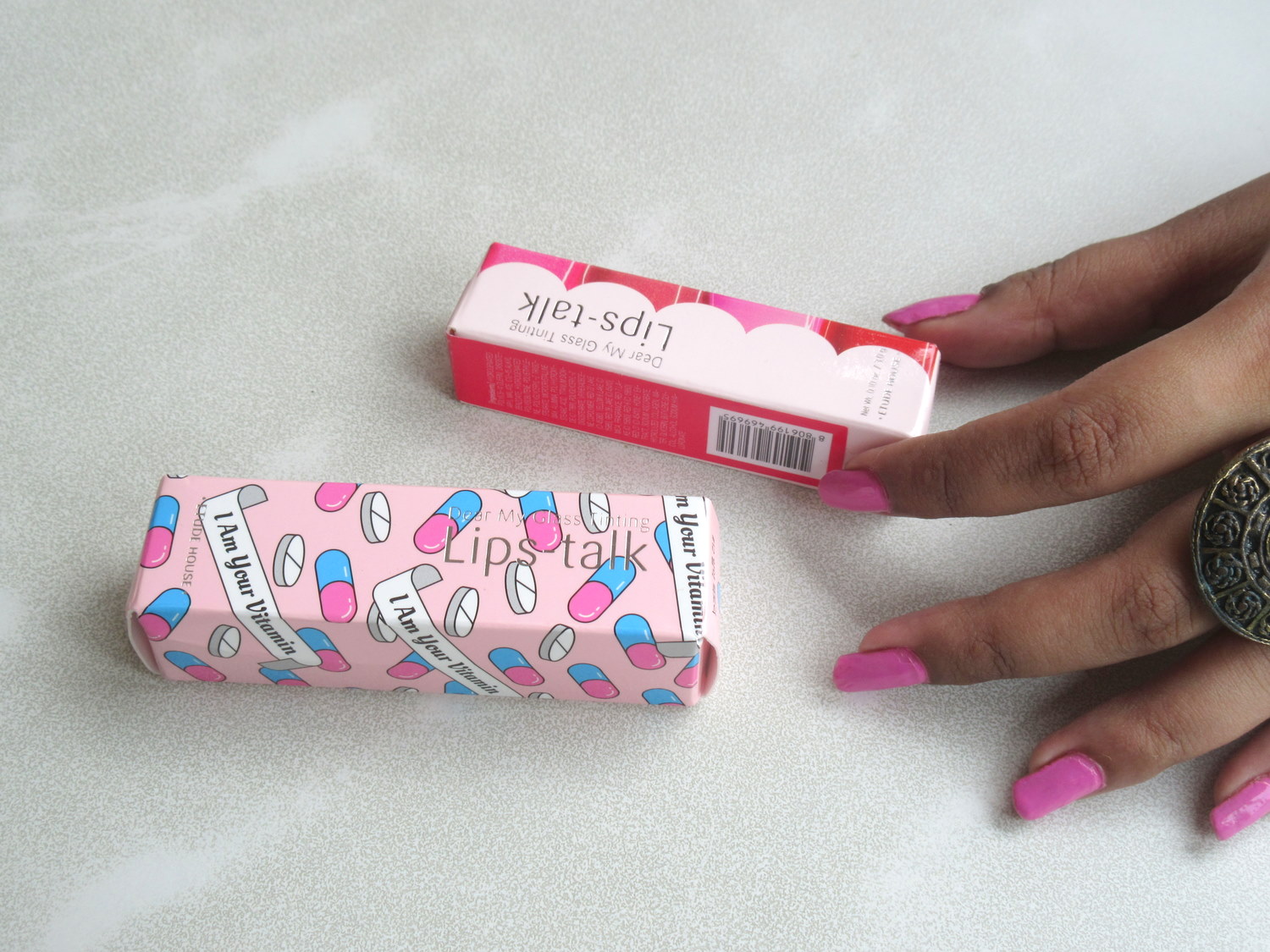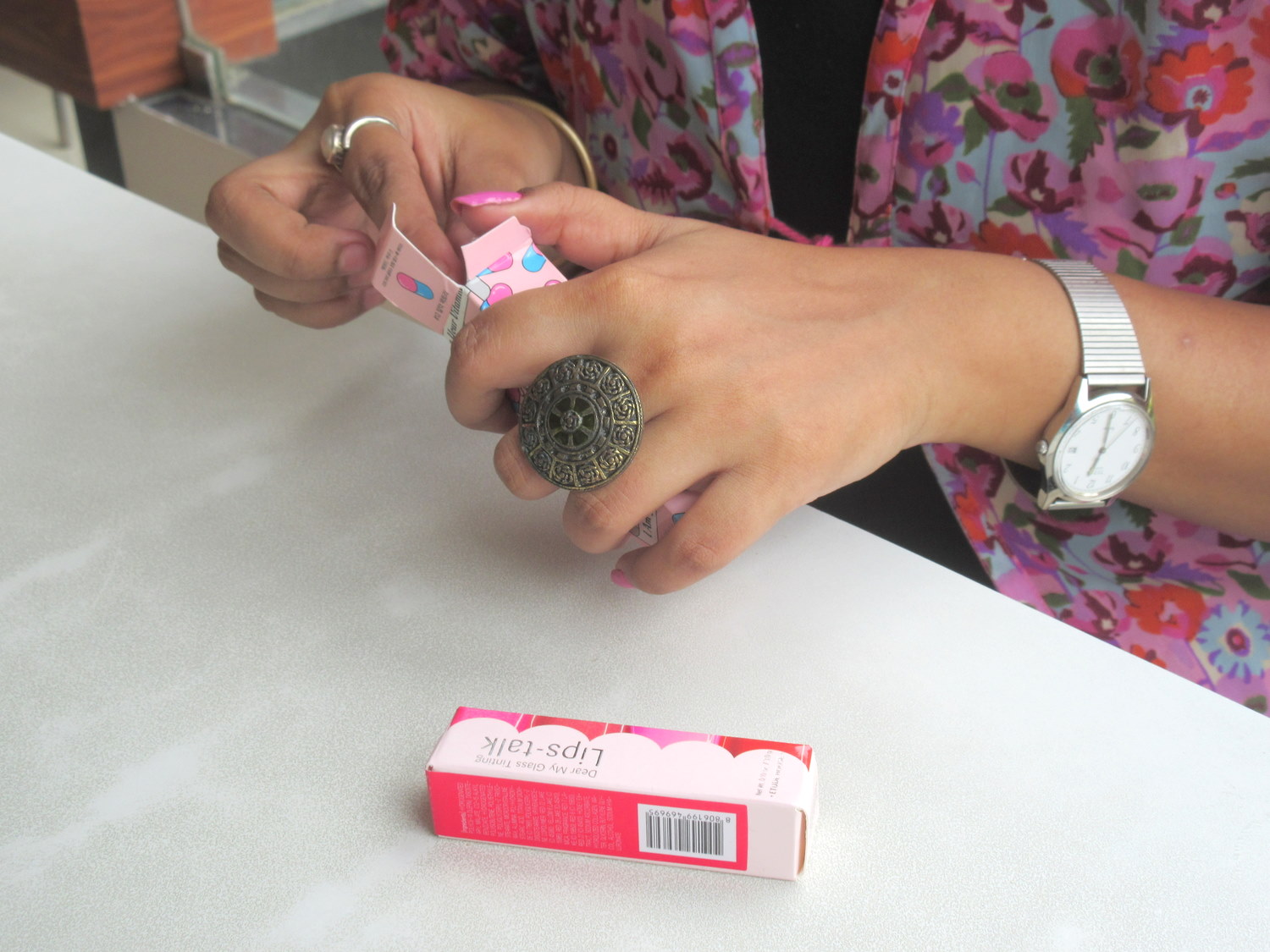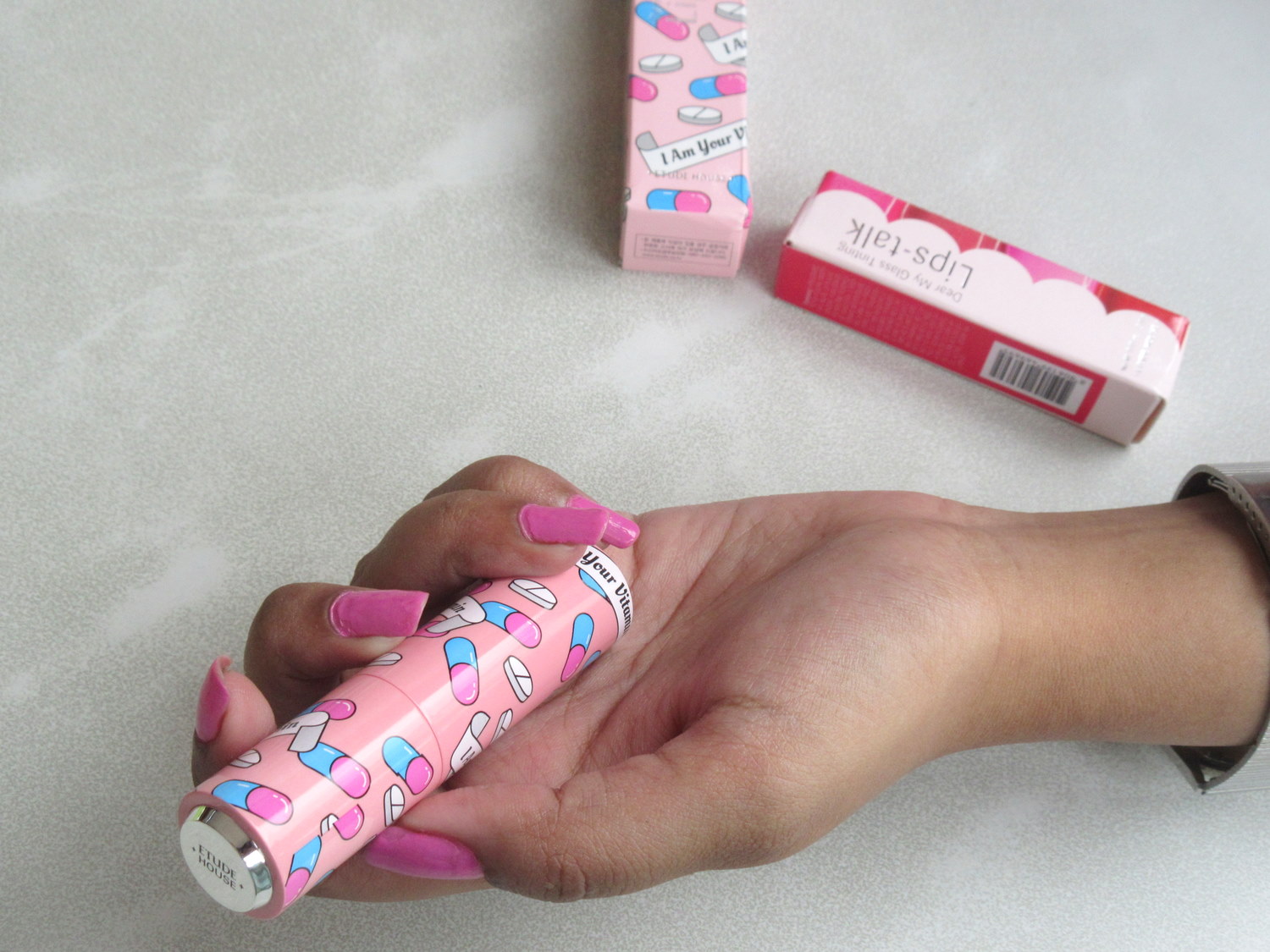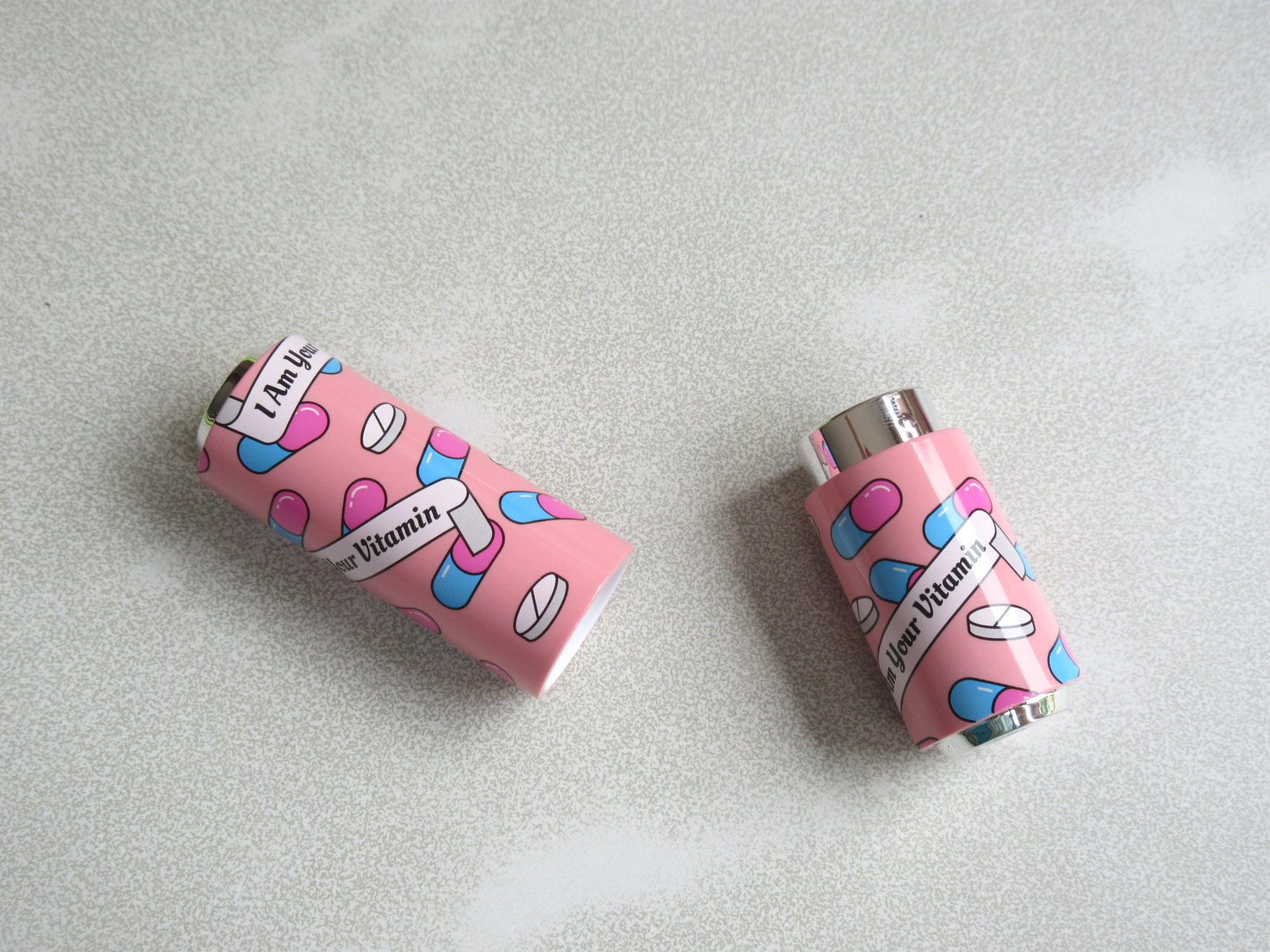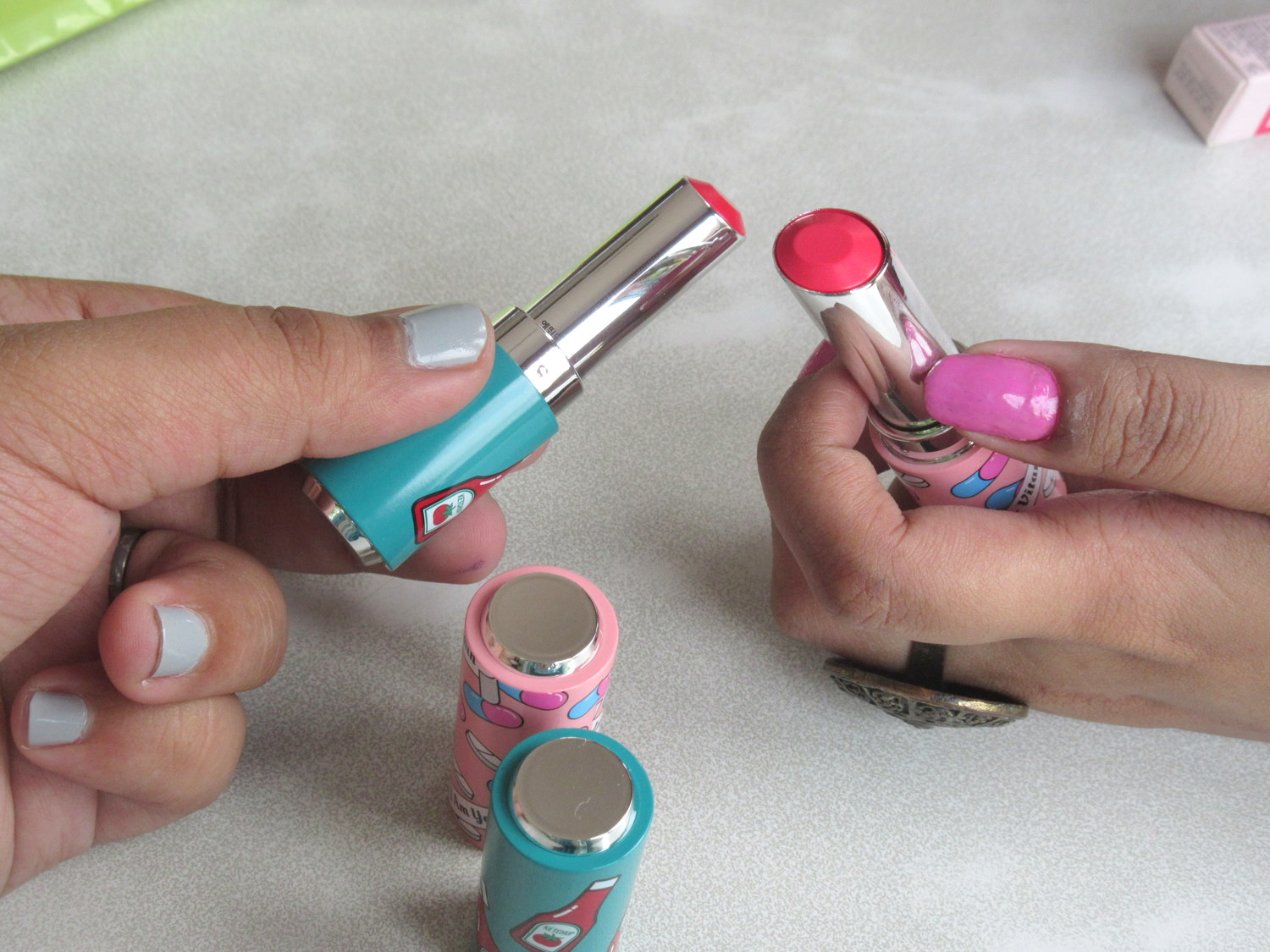 ASSEMBLY: If I remember correctly, the girlfriend and I excitedly assembled these lipsticks after an exam. As you can see, the case and the lipstick bullet come separately. All you have to do to assemble the lipstick is to push the part containing the bullet into the case. If you hear a click, you'll know it's secure.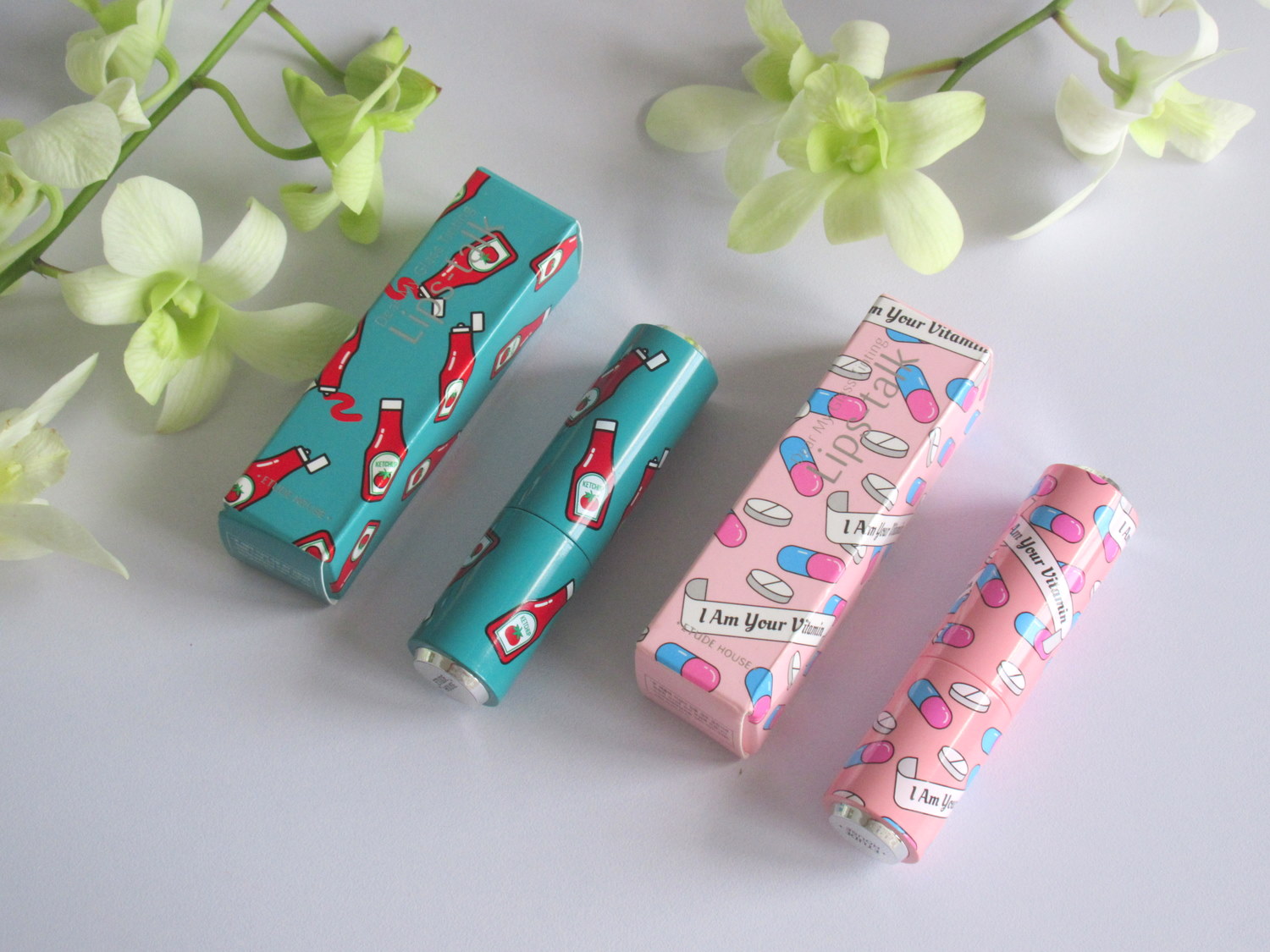 THE PRODUCT: Honestly, there's not much to write about… These are your average glossy, sheer lipsticks.
If you're new to lipsticks in general, you will really enjoy this formula. They are easy to wear, comfortable on the lips and there's no question of dehydrated, chapped lips when you put these on. If you're wary of brighter colours, this line is the perfect way for you to break into them. Also, whenever you're in a rush, you can just pop them on the lips and call it a day. It also has the faintest fruity scent.
I must add – these are really sheer. Rather than a sheer lipstick, these seem more like a nice tinted lip-balm. There's a fine line between those two. However, the good thing is, these layer very nicely. You can build up the opacity of the lipstick to your liking. They go on easily and give the lips a smooth look, filling in lip-lines and the like.
Since these are very glossy, they don't last on the lips. You'll need to re-apply the product frequently and after a certain amount of re-application, your lips will be tinted slightly. These also tend to move around a lot, so you might want to be careful.
I do have a few complaints about this line. Firstly, the colours in this line are ridiculously similar. Unless there's a complete change in the colour itself, the tonal differences are barely notice-able. Especially once they're on the lips. Secondly, I find the case containing the lipstick itself a little flimsy. Fair warning, just be careful with the lipsticks.
Another observation of mine is how similar this is, in terms of formula, to the Yves Saint Laurent Sheer Candy lipsticks. I'll do a Battle post, perhaps?
SWATCHES AND SHADES: Like I mentioned before, these swatch very nicely. You can also build these up to the opacity you desire. Personally, I love a sheer wash of colour. But I built up the opacity in the swatch photo by going over it multiple times.
There are 20 different shades and 20 different cases for you to choose from.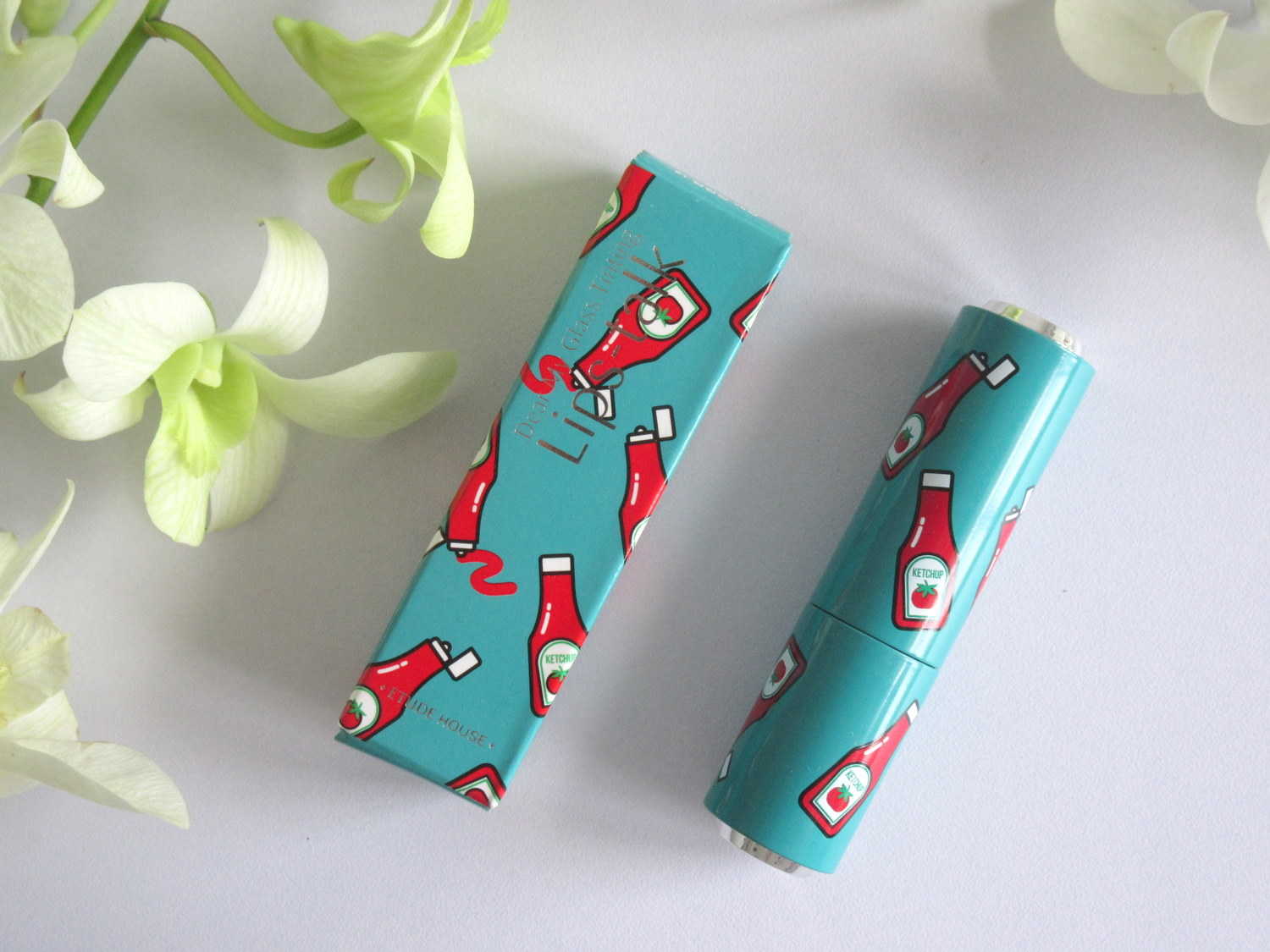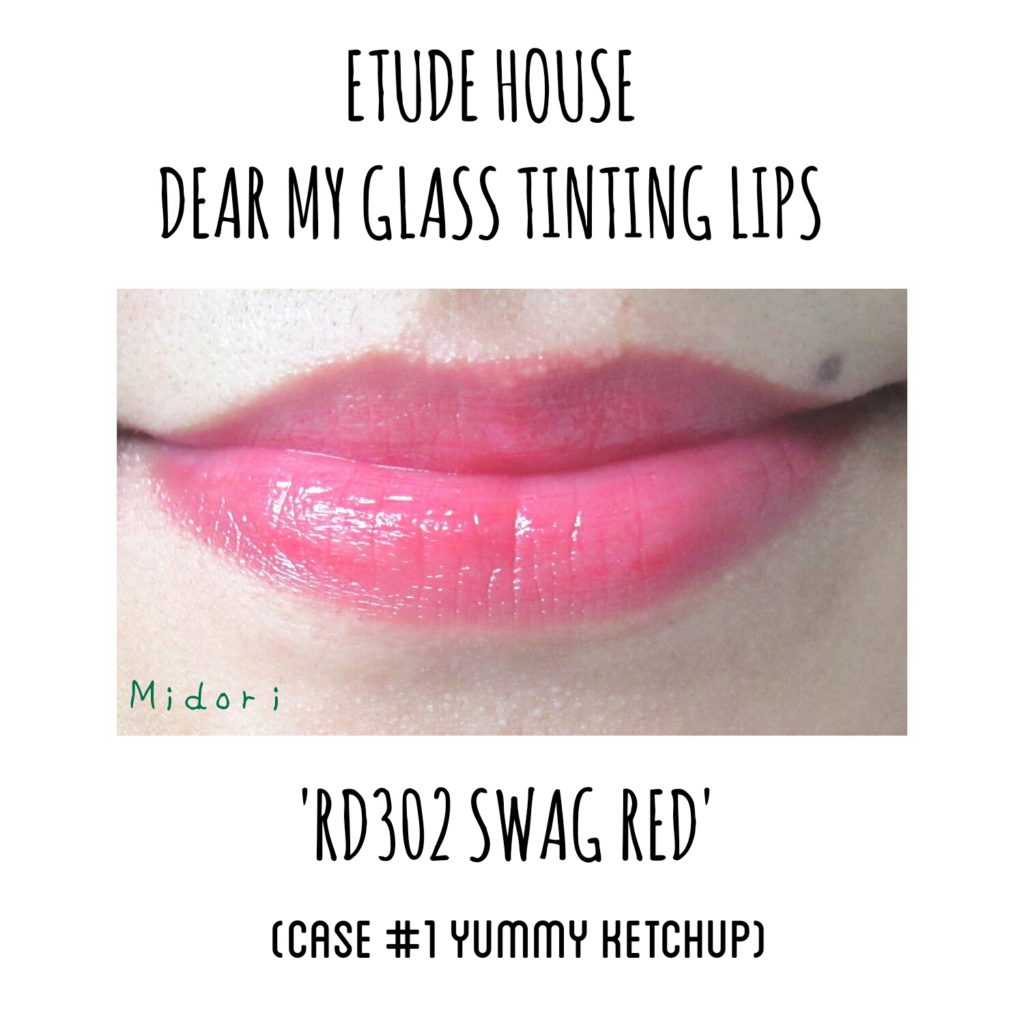 'RD302 Swag Red' is a vibrant, watermelon red. It's one of those colours that can completely pull a look together once you put it on. I really like this shade. There are plenty of other similarly pretty reds in this line, so you're bound to find something you like. I put this in Case #1, 'Yummy Ketchup'.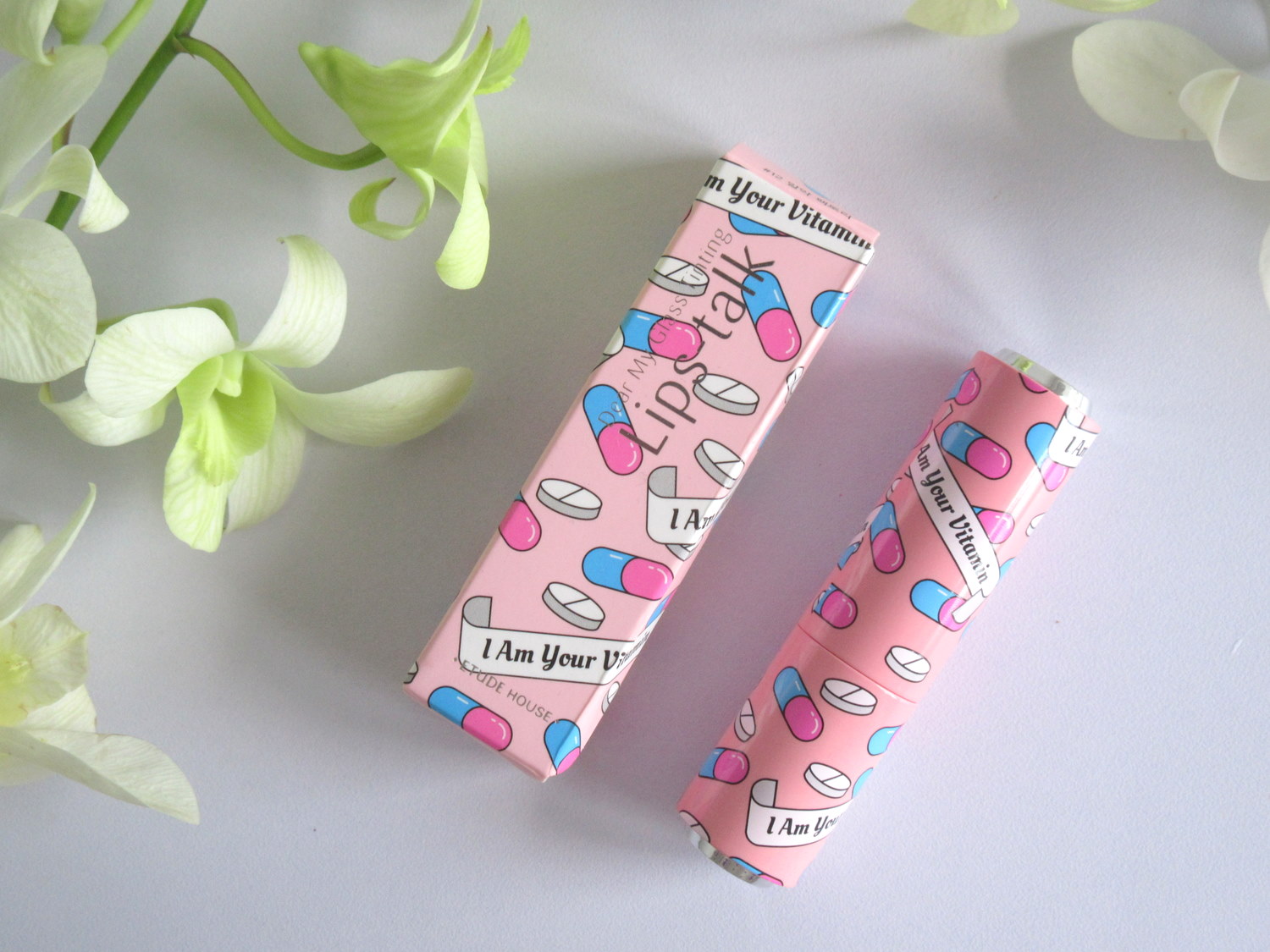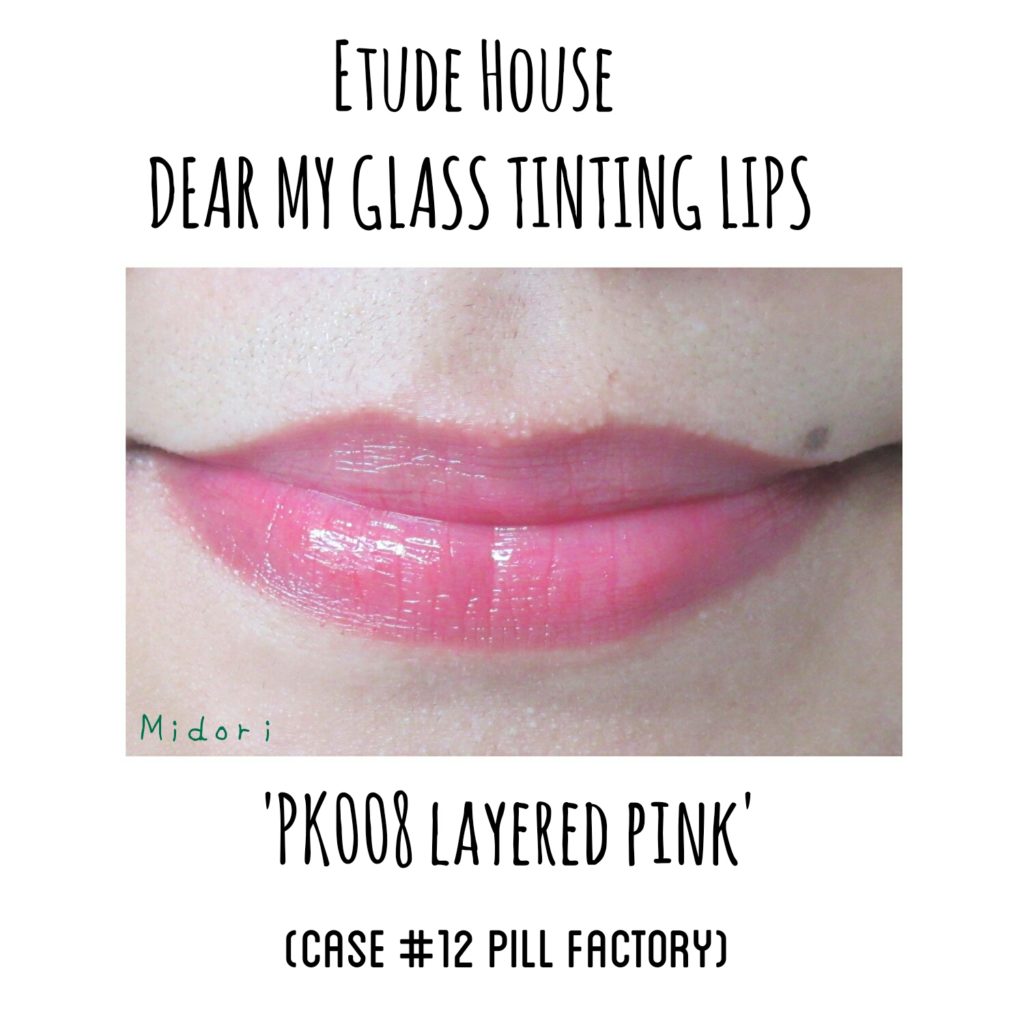 'PK008 Layered Pink' is a loud coral pink. It's a very warm colour and those with warm or neutral undertones will be able to wear this shade with ease. Again, like I said, you're bound to find a pink you like since there are several other pinks in this collection. This one belongs to the girlfriend. She picked Case #12 'Pill Factory' for her lipstick.
GIRLFRIEND'S TWO CENTS: The girlfriend was on the lookout for a sheer lipstick. She likes it for everyday wear. She likes the colour and she thinks the packaging is adorable. She also notes that you have to re-apply it ever so often.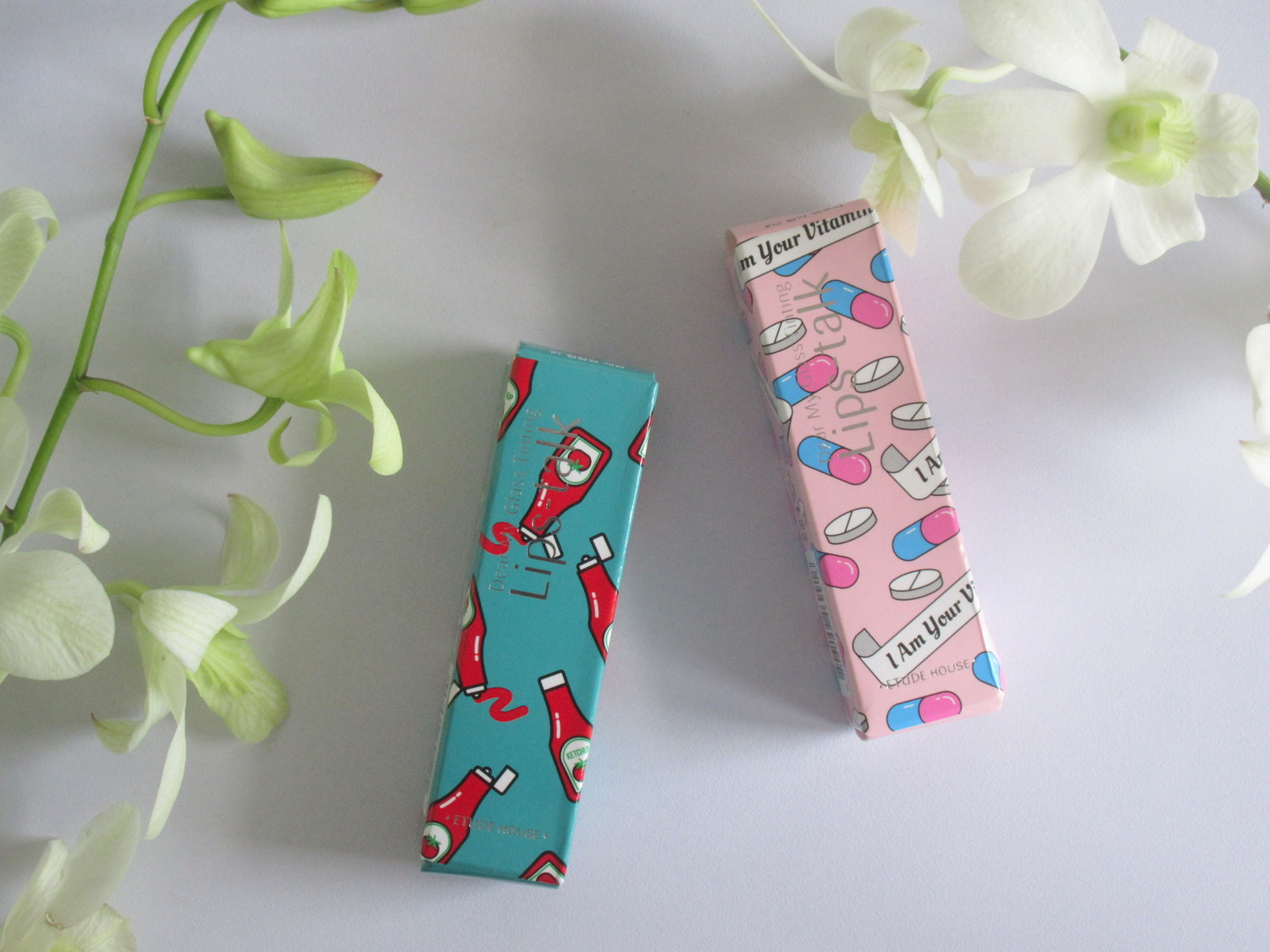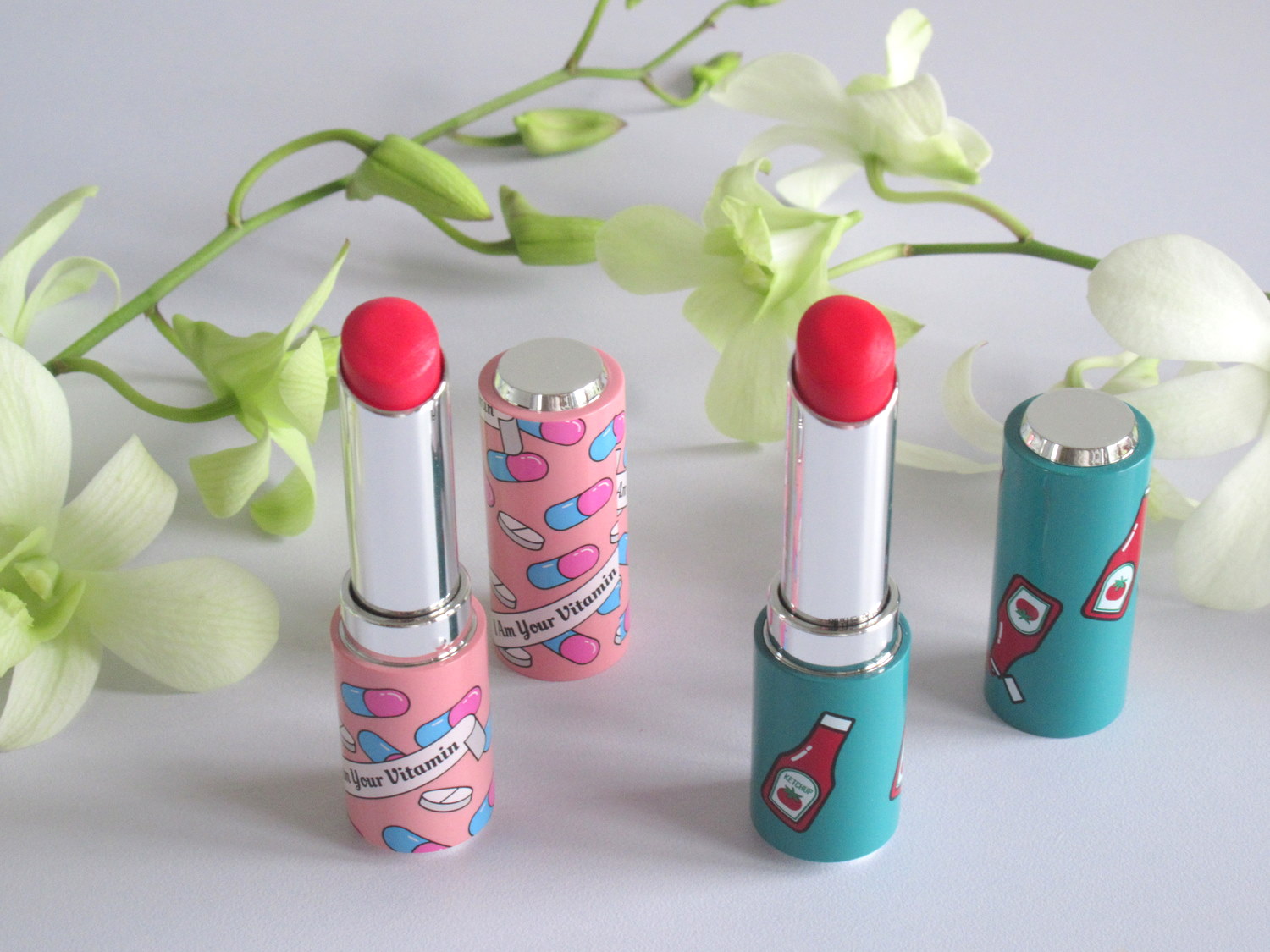 PRICE AND QUANTITY: You get 3 grams of product. The lipstick refill usually retails for $6 – $8 and the case for $3 – $4. Combined, you'd probably fork out $9 – $12.
AVAILABILITY:
Cases: cosmetic-love, testerkorea, roseroseshop, ibuybeauti etc
Lipstick Refills: cosmetic-love, testerkorea, roseroseshop, ibuybeauti etc
♥ Overall, I do think these are great sheer lipsticks. Do I recommend them? Well, if you're on the market for a comfortable, glossy, sheer lipstick – sure!
Review: Etude House Dear My Glass Tinting Lips Talk
Pros
If you like sheer lispticks, you'll like these. I personally love sheer lipsticks.
It's hydrating. There's no discomfort when you have it on the lips.
You can easily build up the opacity of the lipsticks.
You have 20 different shades to choose from and 20 different cases to put the refills in.
They are great for when you're on the go or in a hurry. You can just put it on like a normal lip-balm and do your tasks.
Cons
These don't last very long on the lips. You'll need to re-apply frequently.
The lipstick case is... a little flimsy.
Availability is an issue.