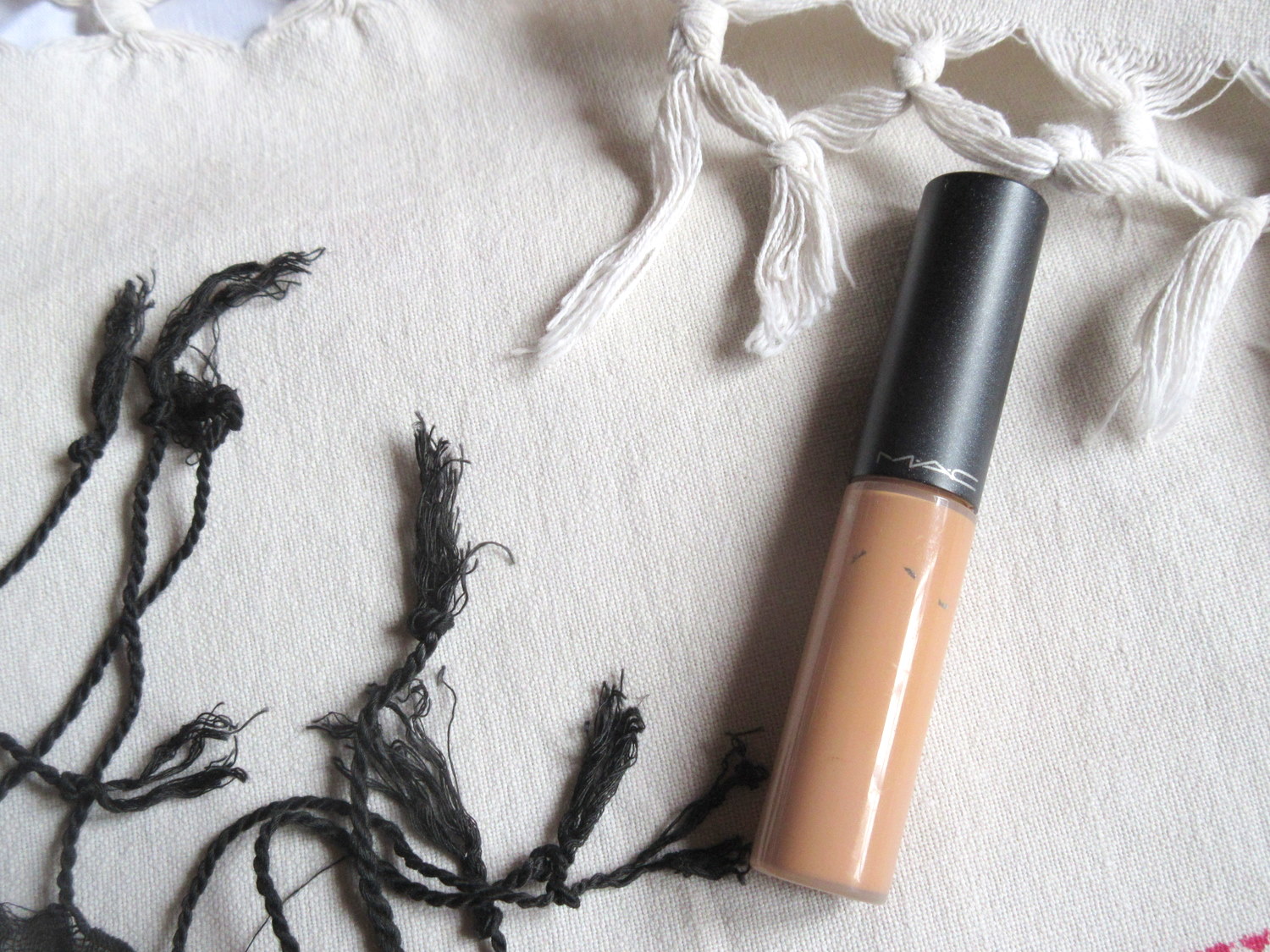 Hi, everyone. While everybody talks about the MAC Pro Longwear Concealer endlessly, I've seen that this particular concealer doesn't get mentioned as much by anyone. I've tested it for a good six months now and I've finally decided how I feel about it.
THE BACKSTORY: My luck with the people working at MAC has been fairly good. I'd say I have always gotten the friendlier cut of the workers, skipping a couple of unfortunate times when the store was a bit too full for any of them to pay attention to me. I bought this concealer in Mumbai. When I sauntered into the store I saw that there was a really, really tall guy working there. He was friendly and nice, of course. When he asked if I wanted anything in particular, I decided to beat around the bush and asked him to fetch a particular shade of blush for me (it was 'Breath of Plum'). I eventually asked him to match me to a shade of concealer. He raised his brow, gave me a "Are You Kidding Me?" look and told me that I didn't need any concealer. I was flattered, of course, but I asked him to match me the same. I was half-expecting him to work with the more well-known concealer ranges but after examining my skin type, he chose this concealer for me. Who was I to doubt him?
DESCRIPTION ON THE MAC SITE: "A luxuriously hydrating and creamy liquid concealer that delivers a natural finish with medium buildable coverage. Goes on smoothly and layers easily for added coverage. Line-softening and skin-perfecting; it's ideal for under the eyes and delicate skin. Wide shade range enables soft, natural camouflage."
THE PRODUCT: The shade 'NW25' may look quite orange-y but it works just fine on the face. If you are to look at a colour wheel, you'll notice that orange and blue stand on the opposite sides. This is why, the orange tinge cancels out the blue on the face. One of the primary reasons I decided to get a concealer was to cover up the little blue events around my lip area. Coming with a generic doe-foot applicator, this concealer has a super creamy consistency. It doesn't seem to cake up and holds itself in place even in humid weather (it's safer to top up with a powder, nonetheless). I'd say this concealer has medium coverage and can be built up.  It looks extremely natural, provided you don't keep on layering endlessly. Even without a primer to cling on to, it goes on smoothly and can be blended with ease. Apart from blue areas on your face, this concealer also covers other blemishes just as well.
PRICE: $19 (approx. 1207 INR, but I paid 1300 INR for it) for 5 ml of product.
AVAILABILITY: MAC Counters, maccosmetics.com
MAC Select Moisturecover Concealer in 'NW25'.
₹1300
Pros
It is creamy, goes on smoothly and blends easily.
The shade range is extensive.
It is hydrating and doesn't tug on dry patches.
It perfectly cancels out blue/purple areas on the face and also effectively covers other blemishes.
Cons
It doesn't last too long without powder on top.