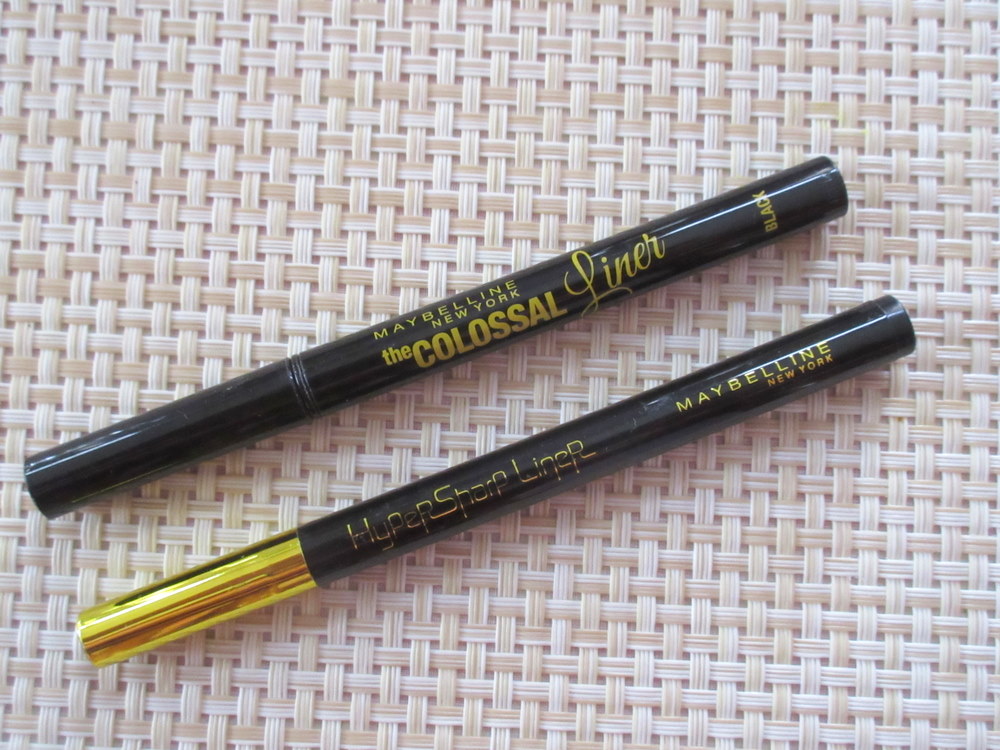 Hi, everyone. This is the second post under the Battle tag. Funny how even the second Battle post is on eyeliners. The whole process of choosing a winner, like I mentioned in the last Battle outing, is similar to a Pokemon battle. One may possess qualities the other doesn't and vice versa.
THE BACKSTORY: I honestly did not know I would fall for my Dolly Wink liner the way that I did. That liner can withstand the great Assamese humidity. That's enough to make my heart beat faster. I ran out of the liner a couple of months back and I was on a mission to find something similar, locally.
Maybelline Hyper Sharp Eyeliner: This liner is the closest I've come to the Dolly Wink liquid liner. That's a good opening, isn't it? As you can probably tell by the photo, the pigmentation isn't as dark or as opaque as its rival. It's a rich black, nonetheless. Since it comes with a brush tip, you get a lot more wiggle-room. I personally find brush tips easier to work with. The best part is its ability to withstand water. It performed fairly well during the water test, staying put despite the water, losing a little pigment. It doesn't flake and can be used for tightlining too.
Tip: 0.05mm
Opacity: 7.5/10
Longevity: 8.5/10
Water resistance: 8.5/10
Other shades: N/A
Price: 425 INR
Maybelline The Colossal Liner: This one has a longer felt tip. Felt tips are good for beginners but they aren't nearly as flexible as brush tips. The pigments in this are more opaque and richer. However, you'll notice some feathering even in the most basic straight liner. It also dries quicker. It is smudge-free and all that if/when you live in a fairly dry environment. Humid weather and this liner isn't going to make a good pair. As you can tell, this didn't perform at all during the water test. It nearly came off, leaving behind a little pigment residue.
Tip: 0.4mm
Opacity: 8.5/10
Longevity: 8/10
Water resistance: 4/10
Other shades: N/A
Price: 425 INR
WINNER: The Maybelline Hyper Sharp  eyeliner.
♥ ♥ ♥ ♥ ♥ ♥ ♥ ♥ ♥ ♥ 
NON- BEAUTY TITBIT: I typed this whole post listening to the first ending theme of Free! called 'Splash Free'. Brings back good memories. I cannot wait for the movie, scheduled for release in December. For those who haven't watched Free!, you're missing out. It may be a swimming anime but the protagonist is reason enough to watch it. Oh, if the protagonist doesn't suit your taste, don't worry – it's got enough gorgeous boys to keep you hooked, wanting more. Trust me, I know. I cannot and will not ever get enough of Haruka Nanase. That boy and I connect on a spiritual level ahahahaha. Water-san, notice me already.