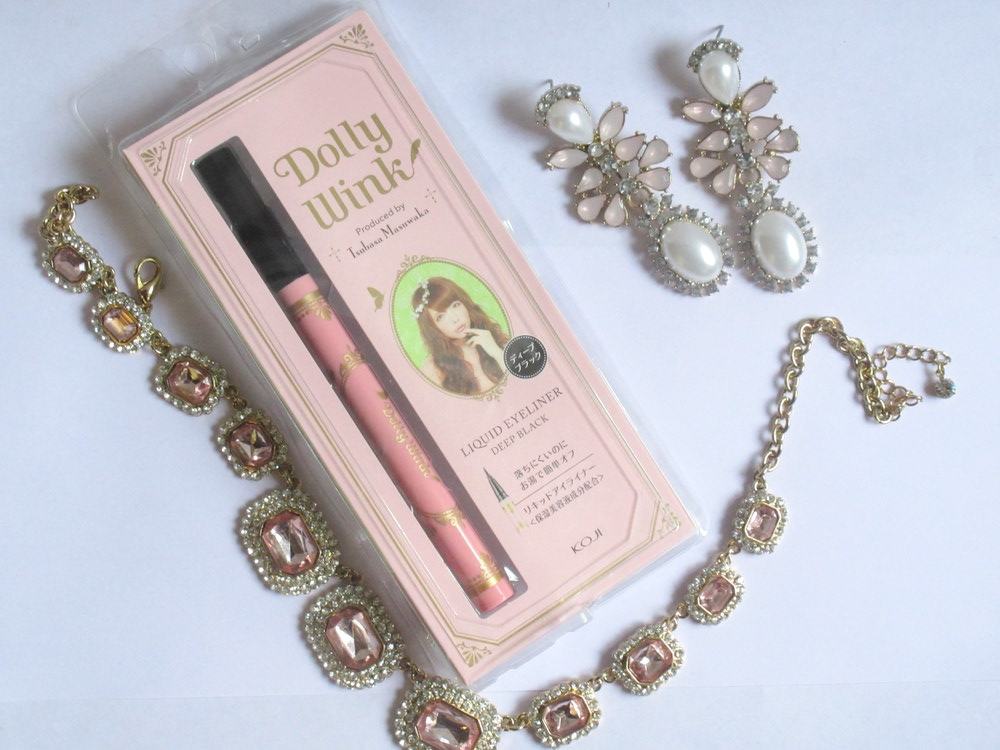 Kon'nichiwa, everybody! Let's start off this post on a high note, with a product that everybody loves to love. May not make any sense right now, but read on and find out just why this eyeliner is one of the most popular ones in Asia and just why it is creeping into everybody's Wish List as we speak.
THE BACKSTORY: If you're into Japanese culture and trends, you've probably heard of the term 'gyaru'. If you aren't familiar with it, basically, it is the Japanese transliteration of the word gal. For further information on the vast term and what it actually means, click here. With gyaru fashion, the type of makeup that follows suit is dark eyeliner and false lashes, used to make the eyes appear larger. The thing is, if you are into Japanese beauty, you cannot possibly ignore the two herculean cosmetic brands by the name of Candy Doll and Dolly Wink, both produced and endorsed by gyaru icon, Tsubasa Masuwaka. Not only have these been marketed brilliantly, to insane success, they also actually live up to the hype. Candy Doll has base products along with lip and cheek products, most of which are considered to be the best in the Japanese market. Dolly Wink, however, only has eye products – ranging from gorgeous false eyelashes to mascaras. Again, they are very, very popular and often are regarded as some of the bests in the Japanese Make-up Industry. Anyway, I decided to start my relationship with Koji's Dolly Wink line with one of their best sellers, the black liquid liner.
THE PRODUCT: This liquid liner is a brush-tip liner, as opposed to a generic felt-tip one that can be found in the market quite easily. What the brush tip does is that it gives you more flexibility and a better chance at drawing cleaner, straighter lines. It is extremely handy for drawing in barely-there, thin lines and is great for filling in spots, for touching up the inner-corners of the eyes and for sharpening wings and flicks and such. It takes a good amount of time to draw a big, flared-out wing. It is intensely pigmented and is capable of drawing gorgeous, black lines. It is smooth and is easy to use due to its good flow. It is, however, not a completely matte product – it does have a tiny bit of sheen in it but it is rarely notice-able. One not-so-great trait of this eyeliner is that while it does remain deep black for the larger chunk of the day, it fades quite a lot by the end. It isn't as long-wearing as a gel liner but it doesn't smudge the way a pencil liner does – it meekly stands in the middle. One thing to keep in mind about this liner (and most other liquid liners in general) is that while they are waterproof, they aren't water resistant. That means, while it can withstand humid weather and some amount of waterworks, it won't remain intact if you rub your eyes after the said waterworks incident. The packaging, of course, is extremely adorable.
Overall, it is a pretty decent liquid liner – it is great for precise application, thanks to its fine tip; it is richly pigmented and lasts for a good amount of time. Since working with liquid liners can be finicky, this kind of liner is great for beginners as well. You can create a lot of looks – quickly, may I add – with this liner and it is also great to carry around.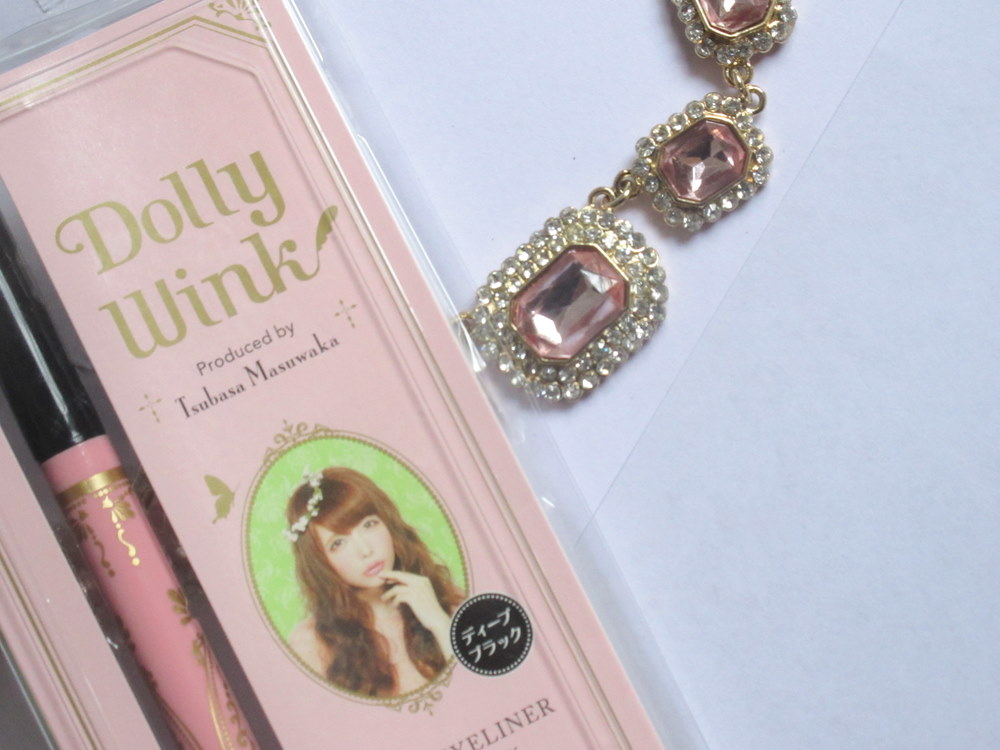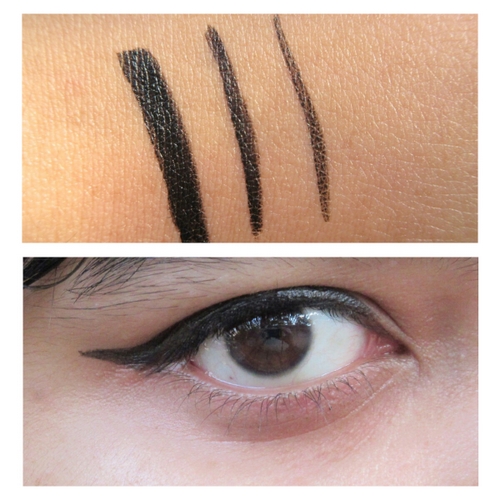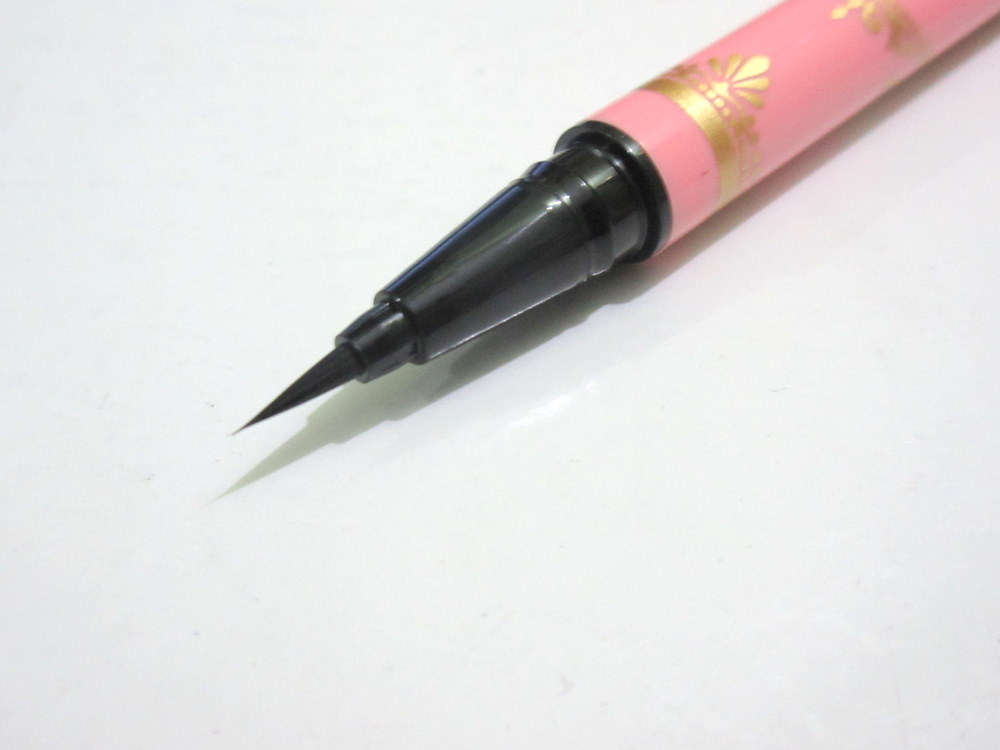 DUPE: I find Maybelline's Hyper Sharp Eyeliner almost similar to this. It is good as this eyeliner, if not better. What's more, it costs half of what the Dolly Wink one does. Another one of Maybelline's latest releases – The Colossal Liner may be similar (post on it soon).
PRICE: 2000 JPY over at Ichibankao, retails for a lot cheaper (approximately 1041 INR/17 USD)
AVAILABILTY: Across Japan and most major Asian cities, Asian Speciality stores, Sasa, Ichibankao, Amazon, Ebay etc
Dolly Wink Liquid Eyeliner in 'Deep Black'.
Pros
It is decently pigmented.
It is smooth and easy to use.
It is great for creating tiny flicks and for drawing thin, barely-there lines.
It dries quickly and doesn't smudge.
It is waterproof.
Cons
Availability is a huge issue.
It is fairly expensive.
It fades a little by the end of the day.