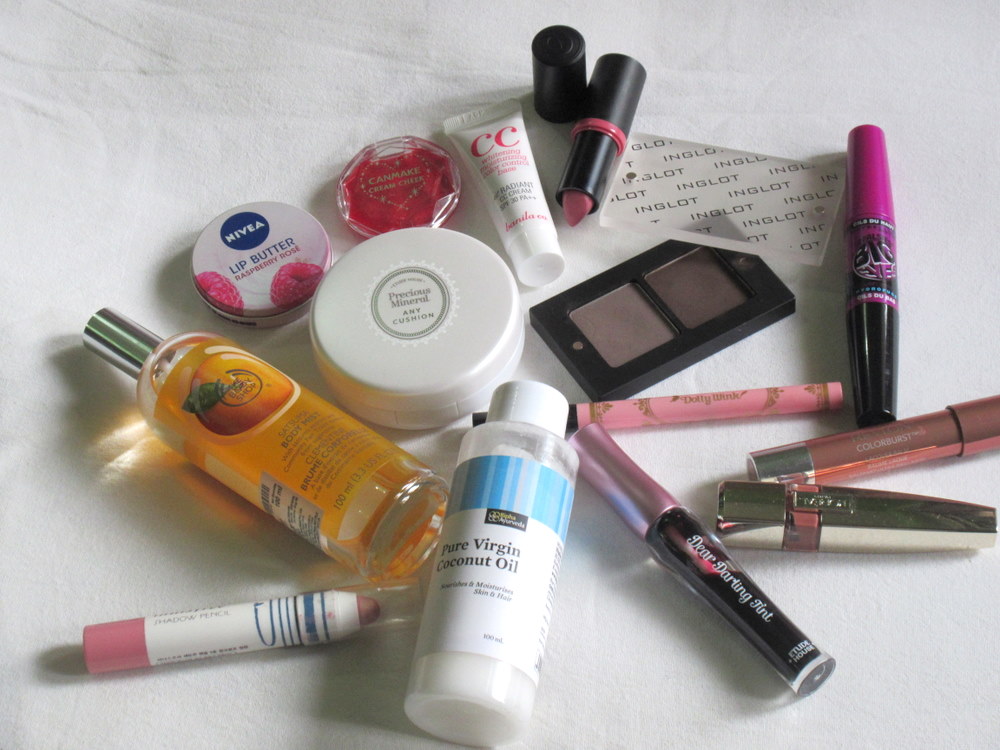 Hi, everyone. This is the official debut of a new series of posts that covers my current favourites and products that I cannot do without. I use a fair amount of products but once I sincerely and wholeheartedly like a product, I never stray away from it. But, for the sake of this blog and to keep things exciting, I end up switching between products even if I already have particular favourites. You can already see all the products in the photo above, but there's a small explanation of why I like the products and why they work for me down below.
Note: The title of this series is 'You So Fly', as a nod to Cube Entertainment's talented boy group, BTOB. Check out this song here. They're a pretty awesome group, I feel, and all the boys have their own charms. My favourite is Yook Sungjae, the maknae.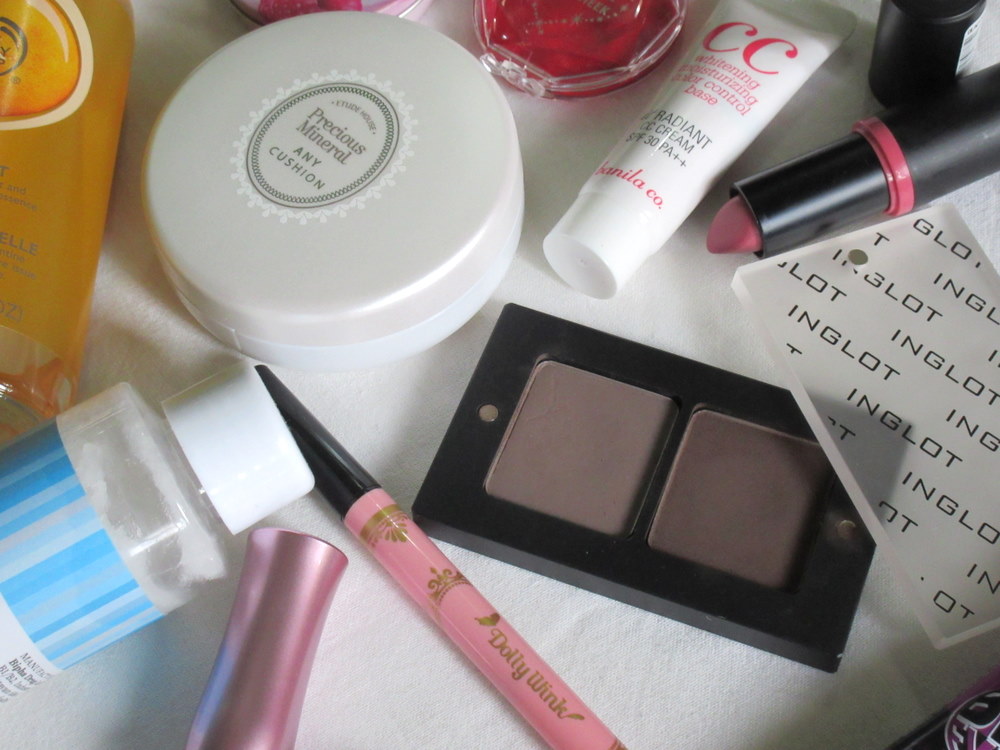 Let's start off with the base – My entire stance on base products has changed thanks to one product. The Etude House Precious Mineral Any Cushion in '#W24 Honey Beige' has become my most used base product till date (a feat previously held by The Body Shop's Vitamin E BB Cream). I like it because it is extremely lightweight and has light to medium coverage. It transfers a little when it is wet, but it doesn't come off completely, unlike some other BB Creams do in humid weather. The air puff that comes with it is easy to work with. The entire concept of a BB Cream/CC Cream/Foundation in a cushion compact is extremely appealing to me now that I've tried this. I would definitely like to try more brands and see how I like them. For now, this is my go-to base product for the daytime. Also, it is packed with both UVA and UVB protection, making it an absolute star product in my books. Another base product I have been relying on is a CC Cream called the It Radiant CC Cream by Banila Co. It has SPF 30 and PA++, which is very handy. Korean CC Creams are extremely different from what we have in our market and you'll know the difference once you try them. This CC Cream is Colour correcting and it balances/evens out the complexion and makes it easier for you to layer other base products on top. It is extremely brightening and a little bit goes a long way. The one I am using is merely a deluxe sample that I got in a set of Banila Co products and I will definitely be purchasing the full size once I run out. Canmake's Cream Cheek Blush in CL01  is an absolute favourite of  mine for a natural looking flush of colour on the cheeks. These blushes, although labelled as cream blushes, have more of a gel-like texture and are extremely heavenly to work with. The shade also closely resembles Benefit's Benetint.
For lips, I have been steering towards Nivea Lip Butters. Since the weather is extremely dry right now, the lip butters work well on my severly chapped lips because of their thick consistency and lasting power. I just slather over a good amount before going to bed every night and my lips feel a lot better in the morning. For the day, I prefer nudes with coral undertones and I have quite a few that cater to those needs. Newer among these is the Essence Cosmetics Long Lasting Lipstick in 'Natural Beauty', which is a gorgeous coral-y nude. The L'Oreal Paris Shine Caress in '900 Pretty Woman' another favouite. The formula is absolutely amazing and it lasts longer than your average lipstick, since it is a stain. I also tend to use the Revlon Colorburst Lacquer Balm in '145 Ingénue' from time to time because it is extremely moisturising. However, it is a proper nude as opposed to a coral-y nude. There are times when I get sick of nudes, which is when I switch to my beloved Etude House Dear Darling Tint in '#4 Vampire Red'. This tint is long-lasting and easy to work with albeit a little drying, without any sort of lip balm underneath.
For eyes, I have been religiously using the Innisfree Shadow Pencil in '05 Soft Milk Tea'. It is a gorgeous peach shade with underlying gold shimmers. It is absolutely stunning when used as a highlighter for the eyes; it opens up and freshens the entire look. Since it was a product I bought merely because the name caught my fancy (I tend to buy things that have names I like or find interesting), I never thought I'd like it that much. But I definitely want to pick up more from the line because they're easy to use and are long-lasting. I constantly feel thankful for being somewhat blessed in the brow department, but I use the Inglot Eyeshadows in '329'  and 'Matte Sqaure 362' to give them a more polished look. I use the lighter shade (Matte Square 362) with a fluffy angled brush to fill in the front of my brows and the darker shade (329) with a stiff angled brush to fill in the rest of my brows. I don't use eyeliner that frequently but whenever I do decide to line my eyes, I opt for the Dolly Wink Liquid Liner in 'Deep Black'. I enjoy using the eyeliner as it is fuss-free, easy to maneuver and pigmented. The mascara I've been using is Maybelline's The Falsies Big Eyes Volume Express Waterproof Mascara that has dual wands – a standard one for the upper lashes and a smaller one for the lower lashes. I find it to hold the curl of the lashes throughout the days. It is quite thick and dries quickly, so you have to layer it at a faster pace. While I do really like the mascara and what it does to my non-existent lashes, I cannot get over how big of a pain it is to remove.
Other things I've been enjoying using include a hair product and a fragrance. The hair product is Bipha Ayurveda's Pure Virgin Coconut Oil, a brand native to the state of Kerala. The oil is versatile and can be used on other parts of the body as well. It is nourishing and smells wonderful. Products from this line can only be found in stores in Kerala but they are also available online here. Be warned, the products are pretty amazing and sell out relatively quickly. The fragrance I use on a regular basis is The Body Shop's Satsuma Mist, that not only smells like citrus but also smells sweet. It is a fine mist that last long but is extremely great as a pick-me-up or after a shower.
That's it for the first favourites post. I look forward to writing more such posts and trying out newer things. Happy Lunar New Year, everyone and have a great day! ♥