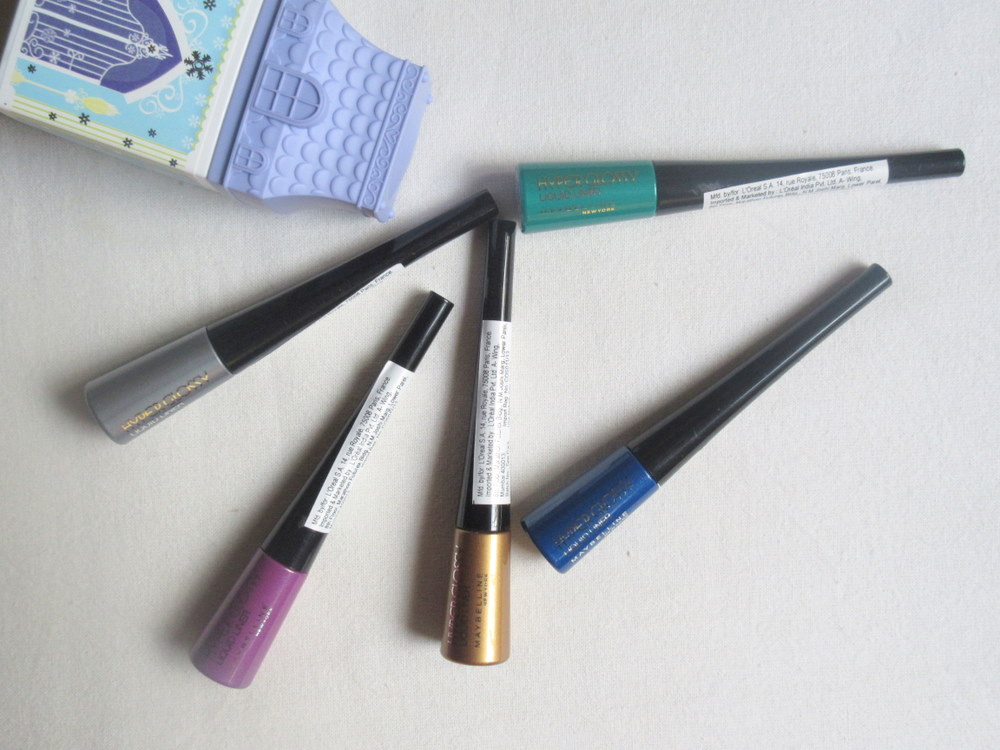 Hi, everybody. These Maybelline eyeliners came out a while ago, perhaps back in Autumn, 2014. Somehow, they got lost in the pile of other product reviews that are scheduled to be posted sometime soon. Anyway, let's get on with it.
THE BACKSTORY: When you are fully aware that you have no use for bright eyeliners and you still buy them anyway, you know your wallet's a goner. I, personally, avoid wearing bright eyeliner as much as possible because I prefer blacks and browns. Something I often indulge in, however, is highlighting – especially my '애교살'/aegyo sal/fat underneath the eye – and I actually went to check out the silver shade, which I thought would meet my needs for a good highlighting colour. How I came home with all five liners is a sad, sad story, though. I do like what the blue one does on dark eyes and the gold one is super gorgeous too. But, I can actually survive without them.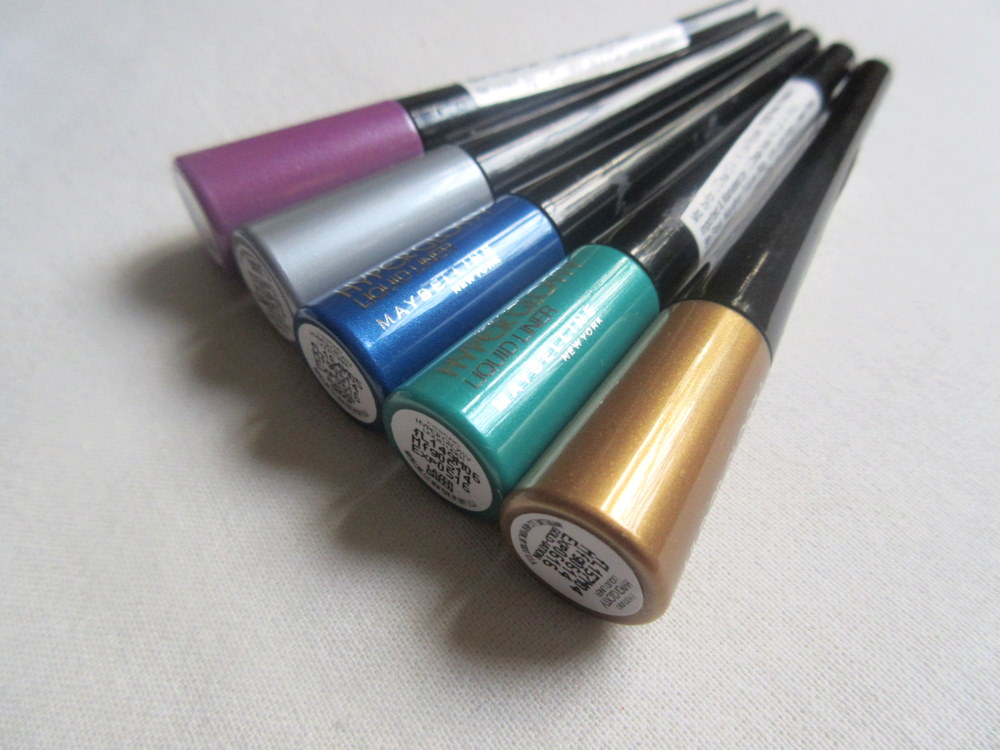 THE PRODUCT: The liners are like the regular ones in the Hyper Glossy line from Maybelline. Compared to other, cheaper liquid liners, these do tend to last longer. On oily or creasy eyelids, a good base will boost its longevity. The shades are gorgeous, albeit standard and nothing spectacular. The pigmentation is great and they are very opaque. Most of them are shimmery but the shimmer isn't as notice-able in some compared to others – some merely have a little sheen. One issue that's prevalent is that these liquid liners do flake off quite a lot, which is extremely annoying. Again, a base can prevent that. While they are waterproof, they aren't water-resistant. Overall, these are pretty decent liners and a great purchase if you're into bright, electric colours and can work with liquid liners well. Another thing you could do with these is a dark smokey eye and then use these for a pop of colour. The shades available are:
Violet Volt – A pretty medium reddish-purple colour with pink shimmer (The most disappointing one amaongst the lot because I expected it to resemble the colour of it's bottle.)
Lazer Green – A gorgeous electric green with very fine green shimmer.
Gold-Iation – A brighter and richer gold with very fine gold shimmer.
Electro Shock – A vibrant, rich electric blue with gorgeous cobalt shimmer (Extremely beautiful for darker eye shades).
Silver Trance – A gorgeous silver-foil shade with beautiful silver shimmer (My personal favourite).
PRICE: 275 INR for 3 grams of product each.
AVAILABILITY: Across Maybelline Counters, Nykaa.com, Flipkart, Jabong, Amazon etc.
Maybelline Hyper Glossy Electrics Eyeliner
Pros
They are richly pigmented and shimmery.
They are available in 5 different colours that are quite beautiful.
They last for a decent amount of time and are waterproof. With a base, they tend to last longer.
Cons
They flake off.
They don't last long without a base.