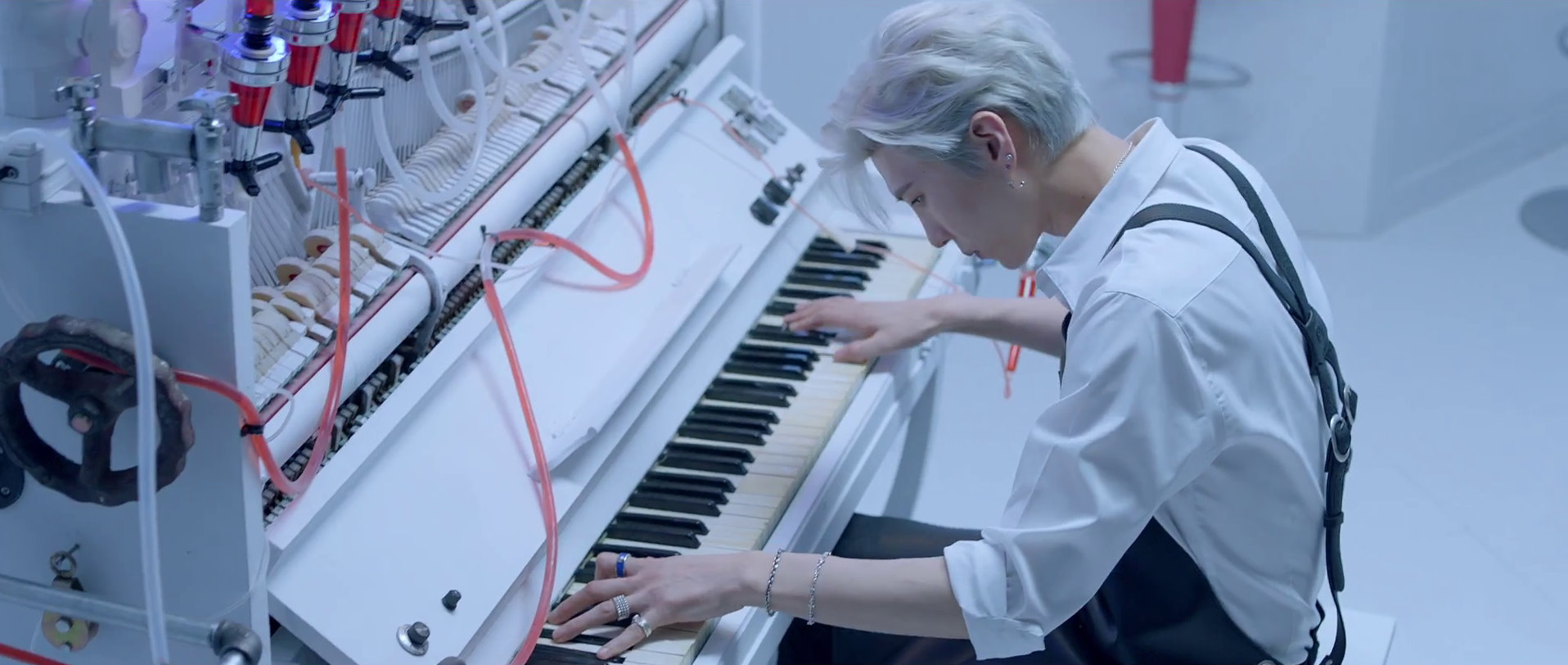 The last time I talked about K-Pop on the blog was in my yearly round-up post back in December. I want to do better, I really do. I had so many posts envisioned from different music videos that I never got around to composing. Again, like I said, I want to do a better job.
I'm going to try my best to limit myself to one stand-out look/scene from each music video.
VIXX – "Scentist"
God, I love VIXX. I love their new sound but I must admit, it does take me a few listens to fully appreciate their songs. 'Scentist' ('향' in Korean, meaning scent – I kept thinking the title track was called 'Scientist' until I read the Korean title) is similar to last year's 'Shangri La' – beautiful music video, great choreography and a delicious treat overall.
NCT 127 – "Touch"
This song just puts me in a good mood. Among the newer crop of idol-groups, NCT 127 ( all other sub-units as well) is among my favourites. They surprisingly suit the fresh and upbeat track that 'Touch' is just fine. The music video was just so bright and cheery too.
EXO-CBX – "Blooming Day"
I think I'm going to have a difficult time choosing one scene/look from this music video. There's just too many!! The song is alright – not my favourite on this list but pretty enjoyable.
Monsta X – "Jealousy"
As much as I like Monsta X as a group, I find that I rarely listen to their songs. I catch their variety-show appearances every now and then. I tend to watch their live stages or music show appearances, though. I really believe they are at their best onstage. That being said, I really enjoy "Jealousy". Both the song and the music video.
TWICE – "What Is Love?"
I'm so glad they're back with a formulaic, pleasant pop song this time around. The song is very upbeat, fun and catchy. What I love more, however, is the ridiculously amazing music video. The girls pay tribute to some popular movies and movie scenes (if you're a fan of Korean variety-shows, these movies get mentioned time and again). You have scenes from La Boum, The Princess Diaries, Pulp Fiction, Ghost, La La Land, Léon The Professional and others. As you can imagine, it was the toughest thing to pick one look/scene. So… I didn't. I cheated.
Heize feat. Gaeko – "Jenga"
Another beautiful music video. Chill song, too. I love playing this on repeat when I'm working on blog posts or editing. It's just an easy song to listen to, you know? Heize's sports many beautiful makeup looks in this video. From burgundy eyeliner to green eyeshadow. But I'll stick to the rules (again) and pick my favourite.
Super Junior feat. Leslie Grace – "Lo Siento"
I really like the song. I've been listening to it a lot these days. I think Leslie's vocals are great with the SuJu members. The music video is so bright and colourful. Mismatched prints everywhere, gaudy accessories, lots of different colours and silhouettes – good ol' SuJu style. Despite all that, the boys still manage to look as handsome as ever.
And as gorgeous and stunning Leslie is, I'm just going to include a shot of my Ultimate Bias, Kim Heechul.
That's a lie. I'm going to cheat again. Sorry.
WINNER – "Everyday"
The auto-tune from Hell eventually grew on me. That's how much I love WINNER. It sounds like a song from 2009. And I don't say that fondly. Just… no. But it grew on me big time.
By the way, the best lyrics in this entire list can be found in this song. All thanks to Seunghoon.
"피자 파즈타는 so so (yum, yum) 네가 원함 난 ㄱㄱ (고고씽)" which can be translated to "pizza pasta are so so yum yum but I want you".
The song's fun, though. I'll give them that. And the music video is full of gorgeous girls in picturesque locations. The boys seem to be really enjoying themselves in the dance sequences too.
URGH. ALRIGHT, FINE. I ADMIT IT – I LIKE THE SONG.
Probably only because it's WINNER.
EXID – "Lady"
I'd like to think I saved the best for last. EXID is an amazing girl group and is definitely among my favourites. "Lady" doesn't feature my favourite EXID member, Solji. She's currently taking a break from group and individual activities after being diagnosed with hyperthyroidism. But the rest of the girls did complete justice to this funky song. The music video reminds me of something we'd see on MTV in the early 2000s. OH, YEAH. It's that good.
Okay, so that wraps up my K-Pop post. I'll be back soon. Hopefully doing individual posts so that I can include more than one scene/look.
Any music videos you like in this list?