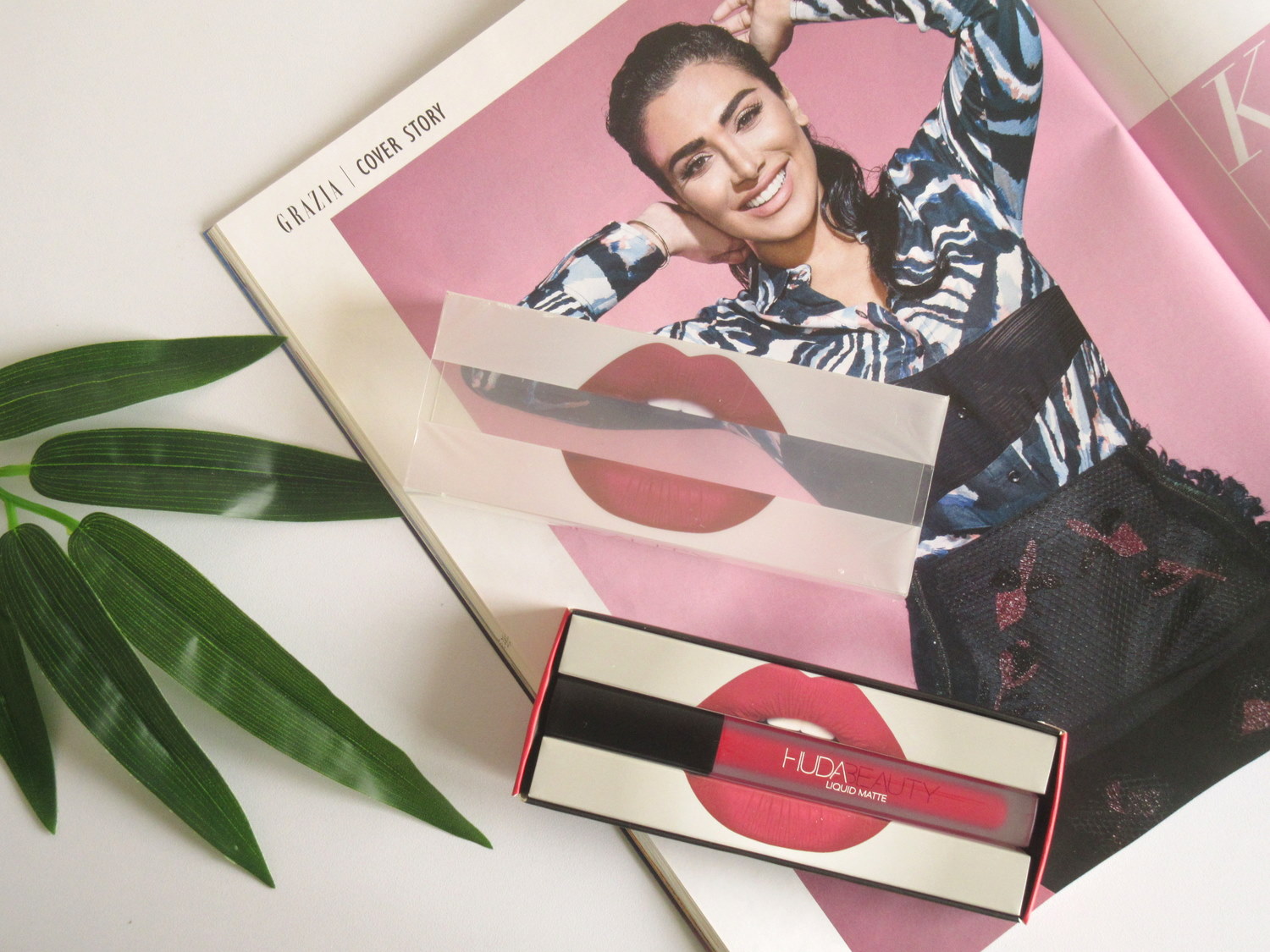 I wasn't even drunk when I bought this. Wait, that sounds awful. Scratch that. You know what this is? A serious case of "It's not you, it's me".
THE BACKSTORY: So, Huda Beauty launched on Nykaa back in January. I bought this on the day of the launch itself. See, now, there are a few things you need to know before this review begins. Most of the time, the backstory doesn't matter. This time around, it still doesn't and you don't have to read it it does.
#1 I have absolutely no interest in Huda Beauty. I just don't. It's not like I dislike the brand or the image. I'm just indifferent.
#2 I'm a poor student. I have to think twice, text everybody and really assess how the product would benefit me or my blog before I pull the trigger.
#3 I don't like matte liquid lipsticks for the most part. Even if I find a formula that's alright (spoiler: like this one) I will rarely use it and thus just increase the chances of the product going to waste.
#4 I don't think I would have regretted spending my money on her eyeshadows. Those mini Obsessions Eye Palettes look good. Thing is, those weren't (still aren't) available to purchase on Nykaa back then.
Anyway, let's start with the product review already. It might be a little longer than others.
INGREDIENTS: Isododecane, Cyclopentasiloxane, Cera Alba [Beeswax], Trimethylsiloxysilicate, Polypropylsilsesquioxane, Octyldodecanol, Disteardimonium Hectorite, Mica, Alcohol, Ethyl Vanillin, Phenoxyethanol, Fragrance, Propylene Carbonate, Water, Phospholipids, Coffea Arabica Seed Extract [Coffea Arabica (Coffee) Seed Extract], Olea Europaea Fruit Oil [Olea Europaea (Olive) Fruit Oil], Ascorbyl Palmitate, Linoleic Acid, Retinyl Palmitate, Tocopheryl Acetate, Lycopene. +/- May Contain: Ci 77891 [Titanium Dioxide], Ci 77491 [Iron Oxides], Ci 15850 [Red 6], Ci 45410 [Red 27], Ci 77499 [Iron Oxides], Ci 19140 [Yellow 5], Ci 16035 [Red 40], Ci 77492 [Iron Oxides], Ci 42090 [Blue 1].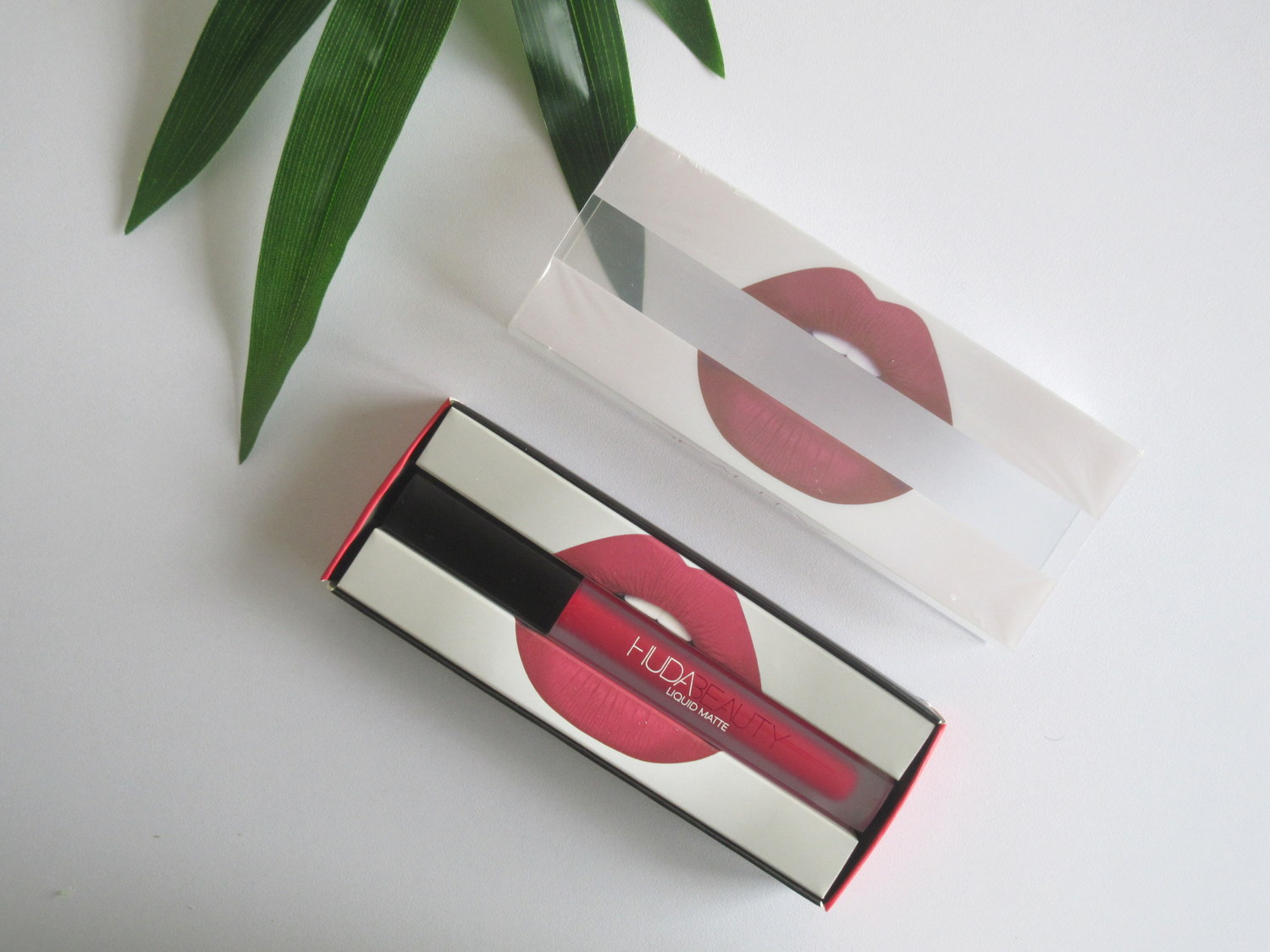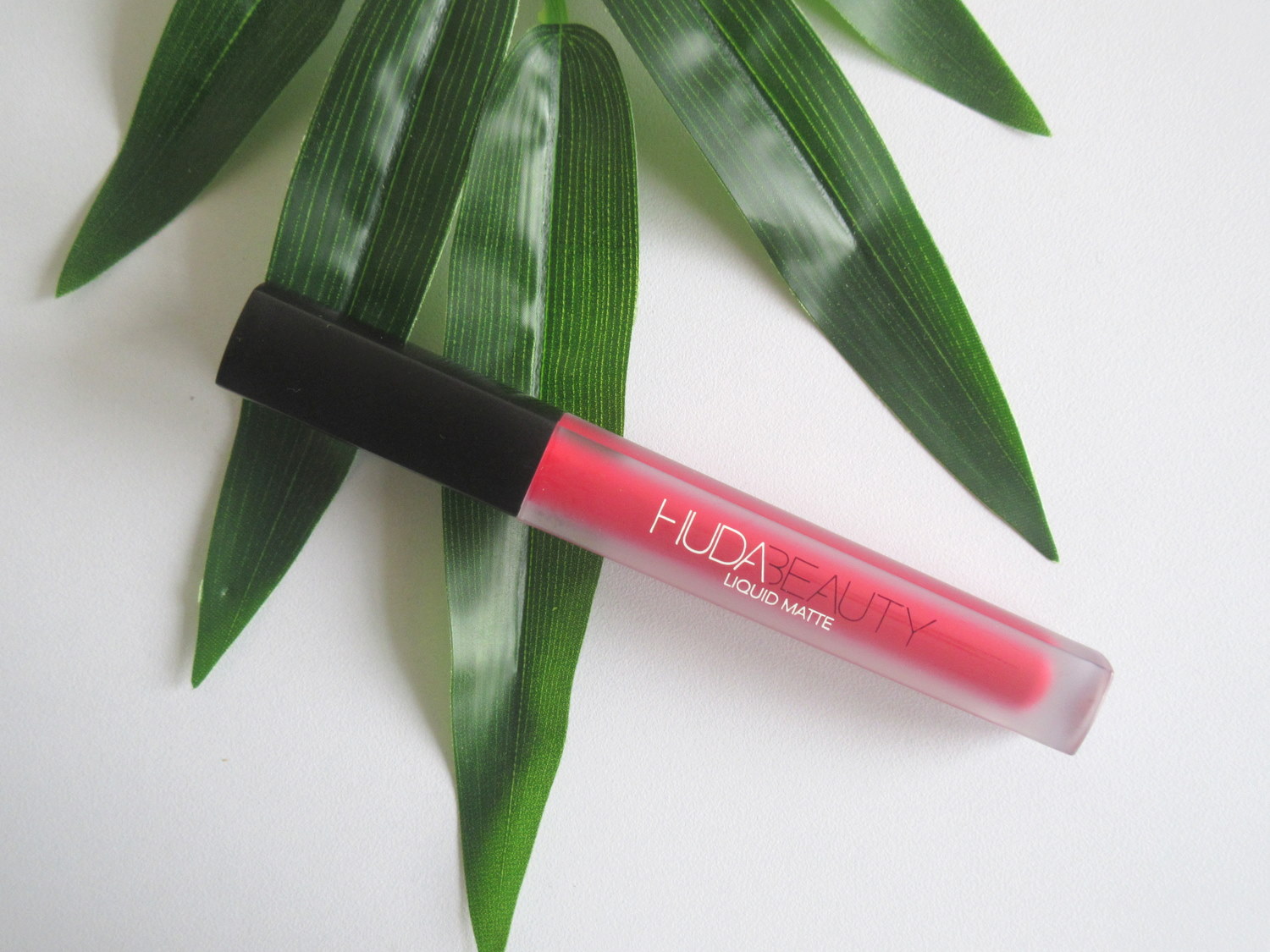 THE BACKSTORY: I don't think I really need to explain the packaging. The lip print and the sliding cardboard box are rather infamous. The liquid lipstick comes housed in a frosted glass component.
I'll be honest – I don't like the applicator. It's a traditional doe-foot applicator and it's much longer than the ones I'm used to and I just get nervous when I see it. I never get the application right. I find it quite fiddly, frankly.
The formula is thin and surprisingly easy to work with. You do have some wiggle room before it sets. That allows you to perfect your application before it's too late.
That being said, I find that the formula does feel a little tacky even after it dries down. Which, obviously, means that it doesn't completely dry down. That also means that it isn't completely transfer-proof. You do get an imprint if you press your lips against something but it thankfully doesn't disturb the overall look of the lip-colour. I also think that this formula emphasises lip-lines and general dryness you might have on your lips.
As one would expect, the liquid lipstick is pigmented and fully opaque in one swipe. It goes on smoothly and doesn't tug or pull on your lips.
I find that the colour in the component looks much brighter than what eventually appears on your lips. What I'm saying is, you needn't be surprised if you find that the lip-colour looks much darker than what you had anticipated.
For the most part, it's comfortable on the lips. It definitely is one of the more forgiving and easier matte liquid lipstick formulas I've tried. However, I find that if I apply it on unprepared lips (lip balm, blot, even some lip scrub if you really want to go there), it tends to crumble and flake off much easier.
Yes, it does crumble and flake. But that's only if you're smooshing your lips together too much; like me. That's just an old habit, sorry.
As far as longevity goes, it does outlast most average lip products. That's mainly because of what it is – a matte liquid lipstick. It can't help but be long-wearing.
However, does it mean it's comfortable on the lips while being matte and all high-maintenance? Well, yes. It's a light-weight formula and it won't bother you much.
It even has a nice scent to it. Most people say it reminds them of coconut. I just think it smells like pastries. Or a confectionery shop. Maybe a coconut pastry in a confectionery shop. Who even cares.
So, the question is, why was I complaining so much in the beginning of the post when this product is seemingly alright? It's because I bought it knowing I wouldn't get much use out of it. If I have a matte lip-colour I like, I will, most definitely, turn it into something more comfortable by dabbing some lip-balm on top. Bottom line, I like smooth, glossy, sheer lipsticks à la Yves Saint Laurent Volupté Sheer Candy. So, technically, I wasted a wad of cash on something I would never reach for.
Just… Let me just throw this out there… Like I do, whenever I write about matte lip products on this blog… Prep your lips first. Just do it.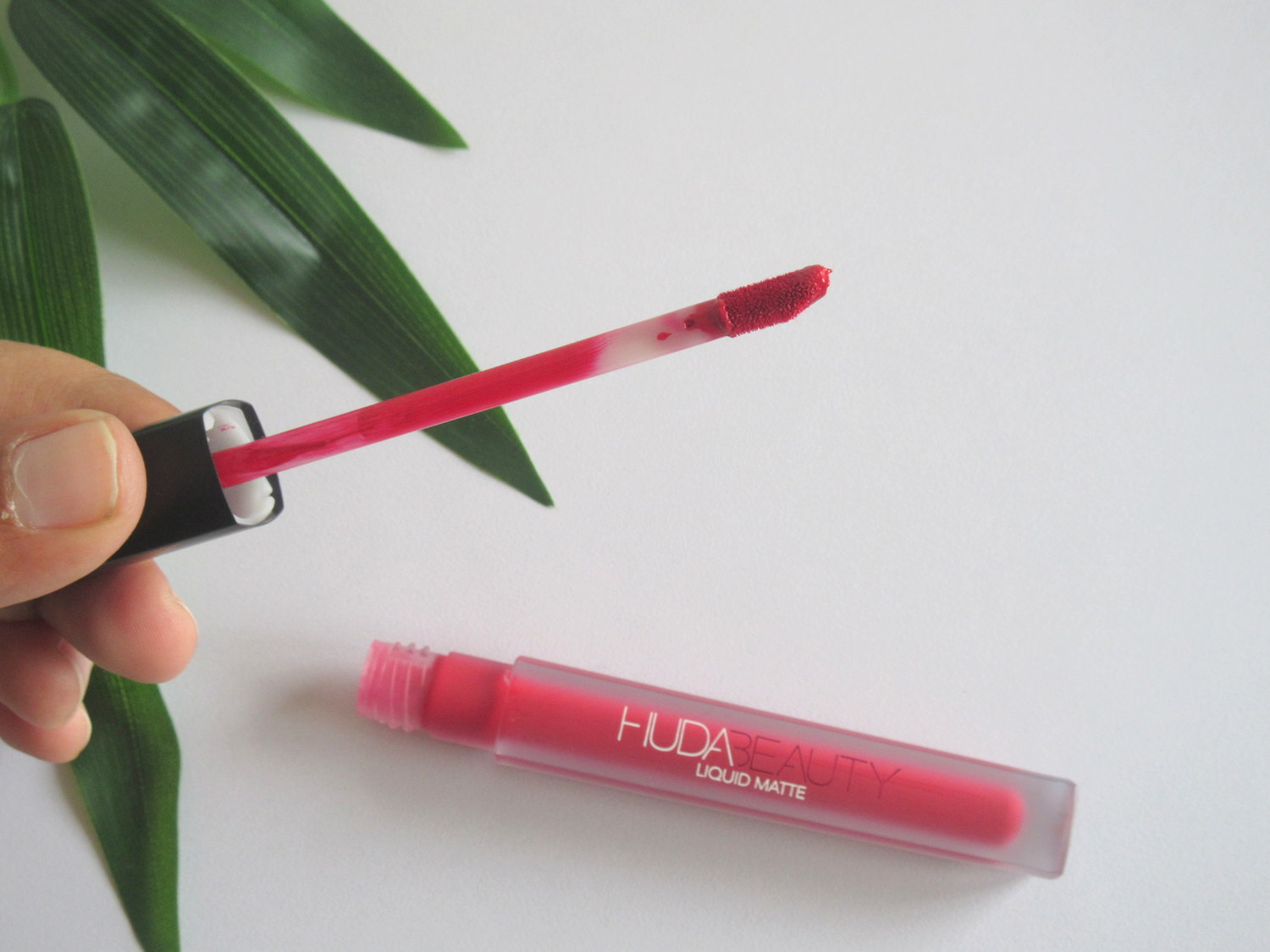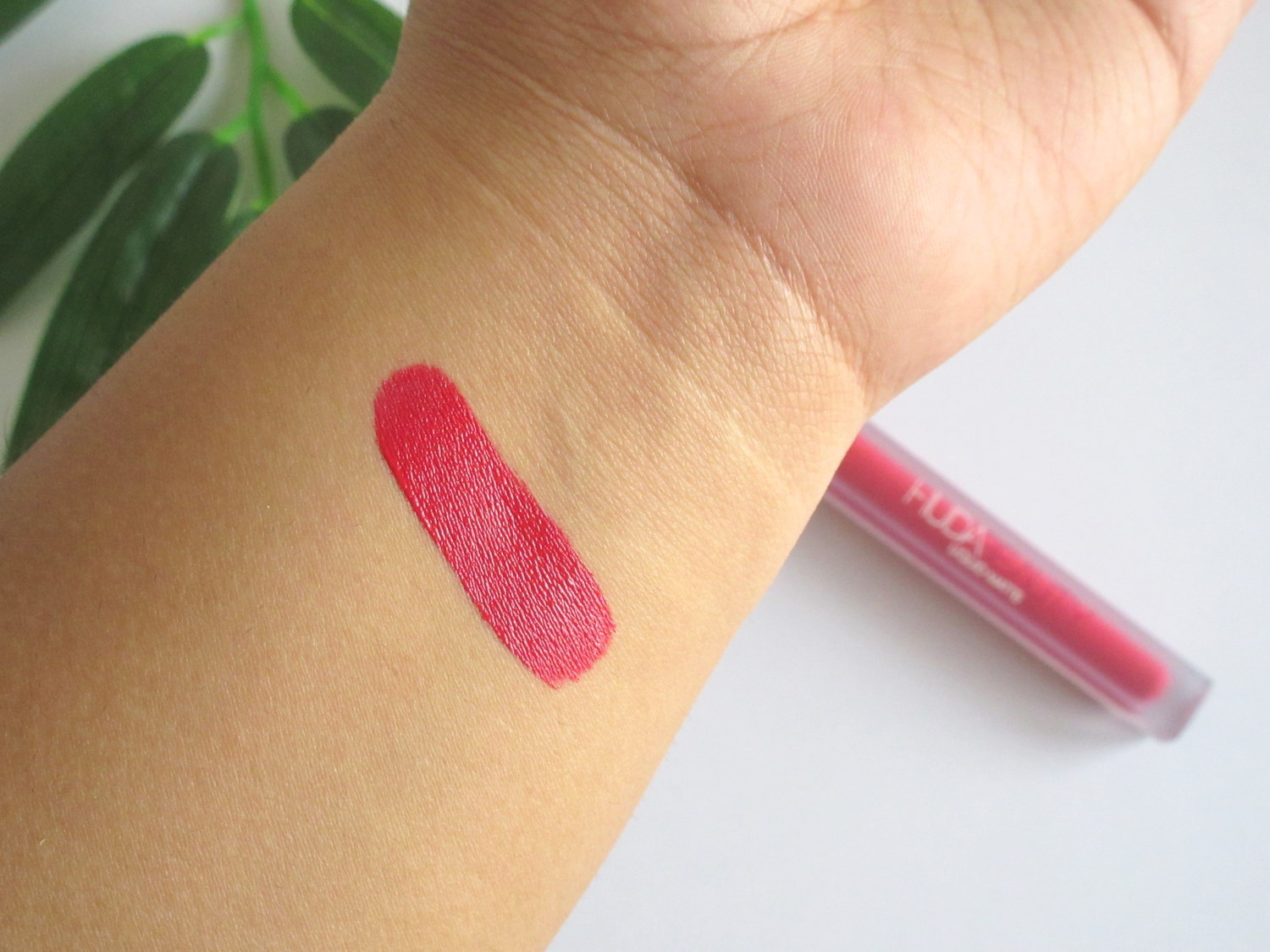 SWATCHES AND SHADES AVAILABLE: There are, currently, 27 shades for you to choose from. There were so many interesting shades to choose from. I chose the safest option because I just couldn't gauge how the other colours would look on me.
Heartbreaker – Heartbreaker is a bluish pink-red. After it dries down, it morphs into something a little deeper and redder.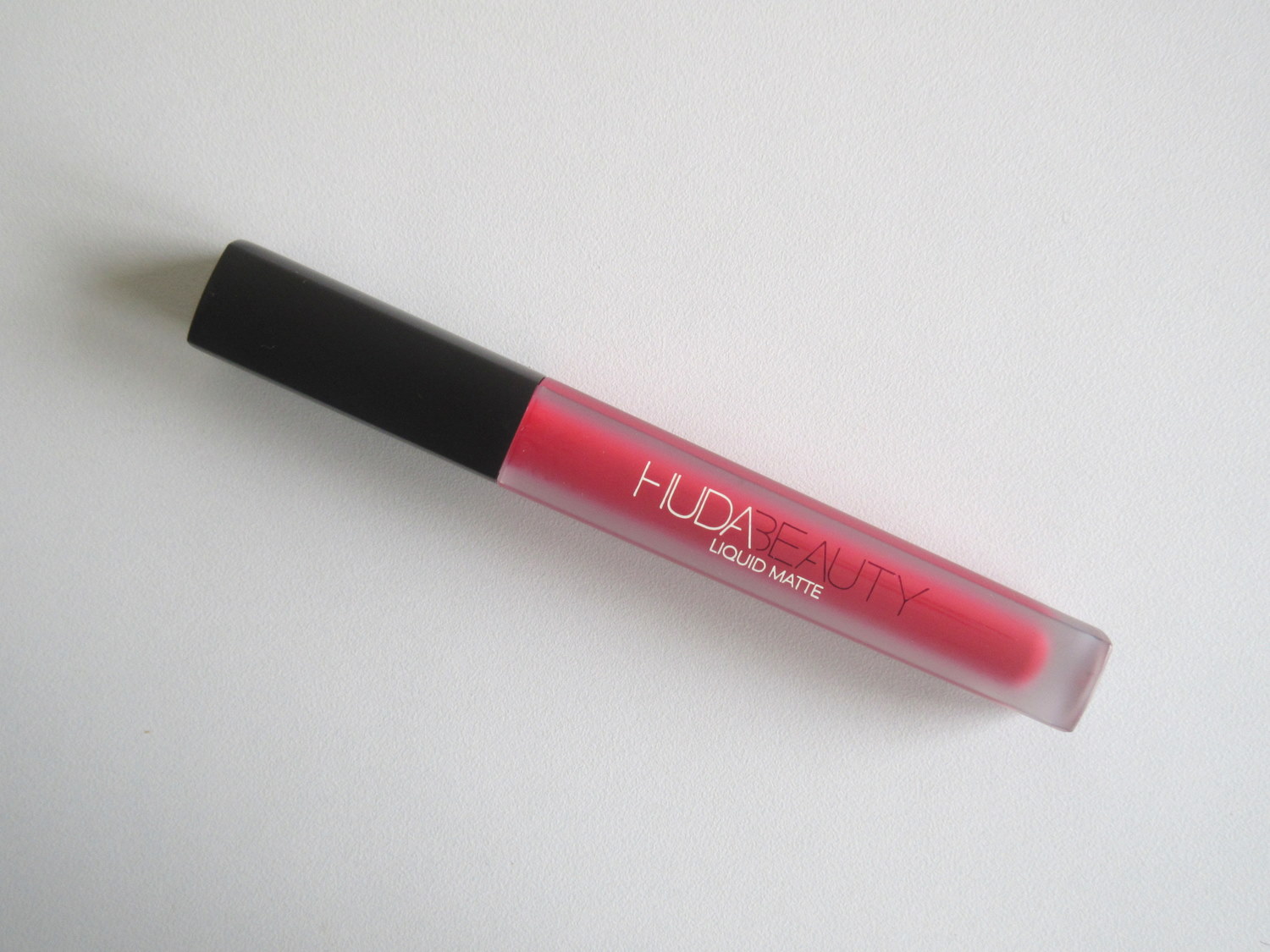 PRICE AND QUANTITY: Retails for 27 USD for 5 grams of product. Here, it retails for 1650 INR.
AVAILABILITY: Huda Beauty (27 USD), Sephora (surprisingly, 20 USD), Cult Beauty (18 GBP), Nykaa (1650 INR, for those of you who live in the same country as me) etc.
♥ OVERALL: I think you'll like this formula if you are a fan of matte lip products. If not, it's still a wearable formula and you may find yourself warming up to it.
Huda Beauty Liquid Matte Lipstick in 'Heartbreaker'.
Pros
It is very pigmented and opaque.
It's a comfortable formula.
There are 27 interesting colours for you to choose from.
It's very long-wearing.
It smells good (?).
Cons
You need to make sure your lips are in a good enough condition for a liquid lipcolour or else this will crumble.
The price is a little steep.
I find the wand fiddly.