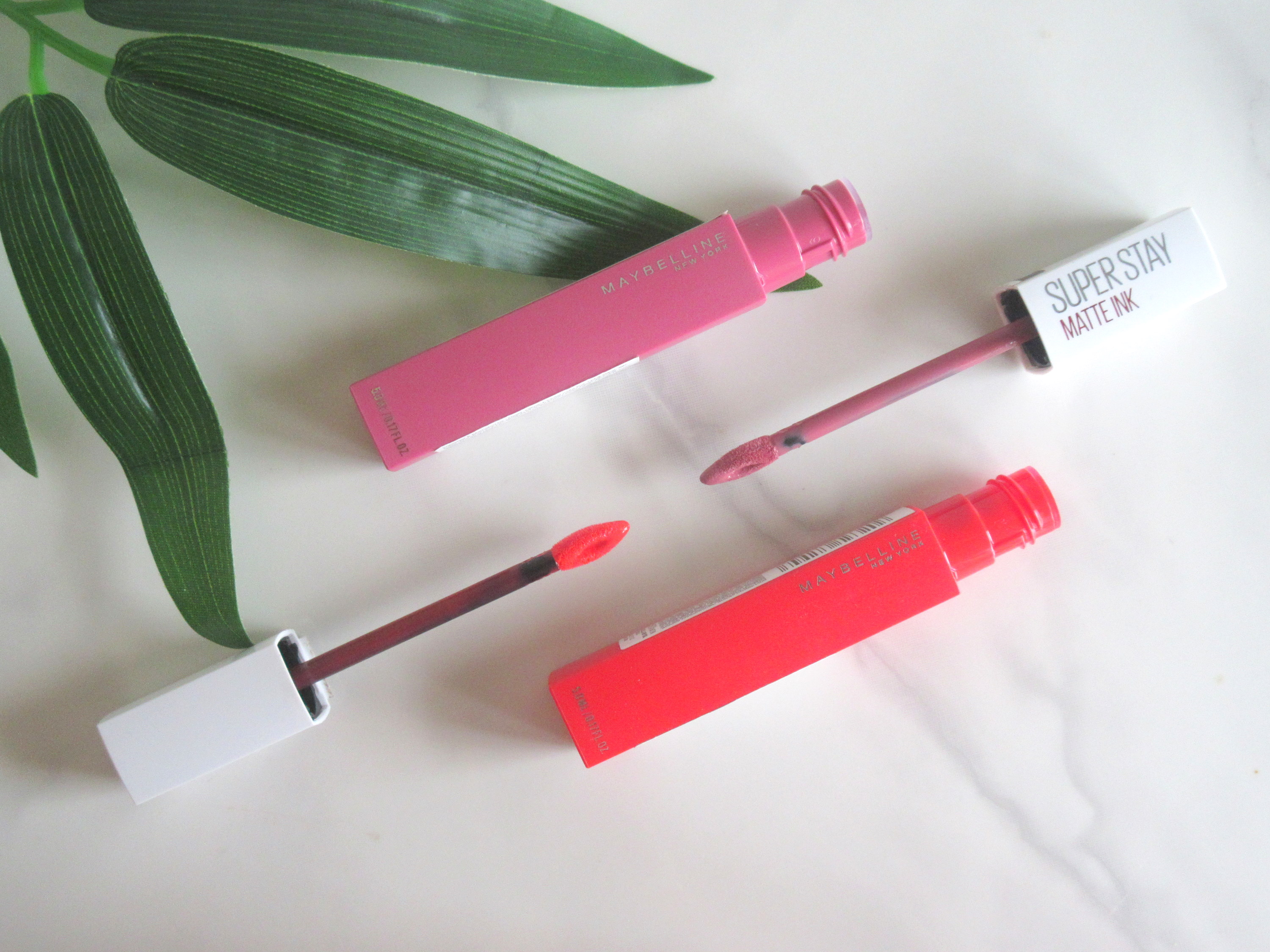 Hello, hello. It's been a while, yes. I know. I was busy with exams for a good chunk of March and then fell ill for the rest. But, fret not, I'm back and I have a few reviews in tow. Starting with these Liquid Lipsticks from Maybelline.
THE BACKSTORY: Here I go again, buying matte liquid lipsticks when I absolutely couldn't care less for them… It's almost a disease at this point. The thing is, depending on my mood or the occasion, I enjoy a good matte lipstick. I suppose that is why I keep giving them so many chances.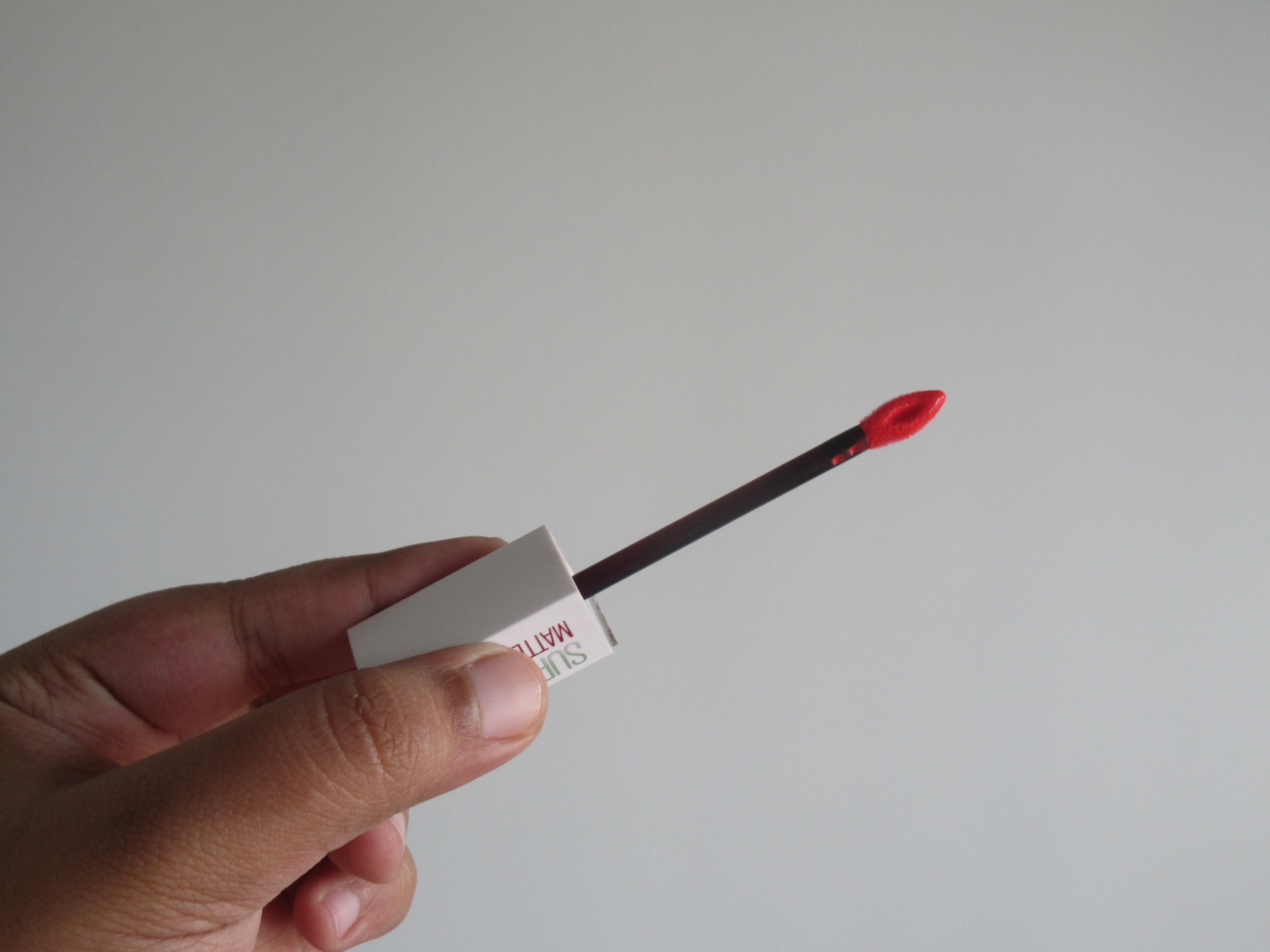 THE PRODUCT: Okay, I do like how these are packaged. The unit is colour-coded, which makes it very easy to store. The rectangular packaging also ensures you always find it in your purse whenever you dig around, looking for it. The applicator is also nice – a pointed, tear-drop applicator that makes it easier for you to apply it evenly.
Now, on to the formula – it's got a full set of pros and cons.
Right off the bat, it's pigmented. Some colours are fully opaque with just one layer while others (the darker, redder ones) require some layering. I also find that some shades apply very evenly and without any issues as such while others are splotchy and require layering.
It applies very smoothly, too. There's no tugging whatsoever. If you prep your lips (which I always recommend before a Liquid Lipstick), application will be easy-peasy.
However, I think it's the dry-down and the finish that is off-putting. It dries down to this very sticky and tacky finish. It's also hardly matte. The finish, ultimately, is a tacky satin and at the most, a tacky semi-matte.
The formula also accentuates lip-lines and dry patches.
It has a scent that is similar to those of the Huda Beauty Liquid Lipsticks, like that of a coconut cream pie.
I'll say one thing, though. If you're looking for something that lasts for a very long time, without budging, without smudging, this formula will be your guy. It's extremely long-wearing. It even outlasts meals and drinks. I don't say this lightly, it truly is one of the most long-wearing liquid matte formulas I've come across. So if you reckon you can get used to the stickiness, this is it. When it does wear off, it's similar to other liquid lipstick formula in that it wears off from the centre of the lip.
It's also transfer-proof, if you're wondering.
A little tip, you can always blot off the excess with a tissue to get rid of the stickiness. You could also apply some Lip Balm on top to save your lips from the trouble.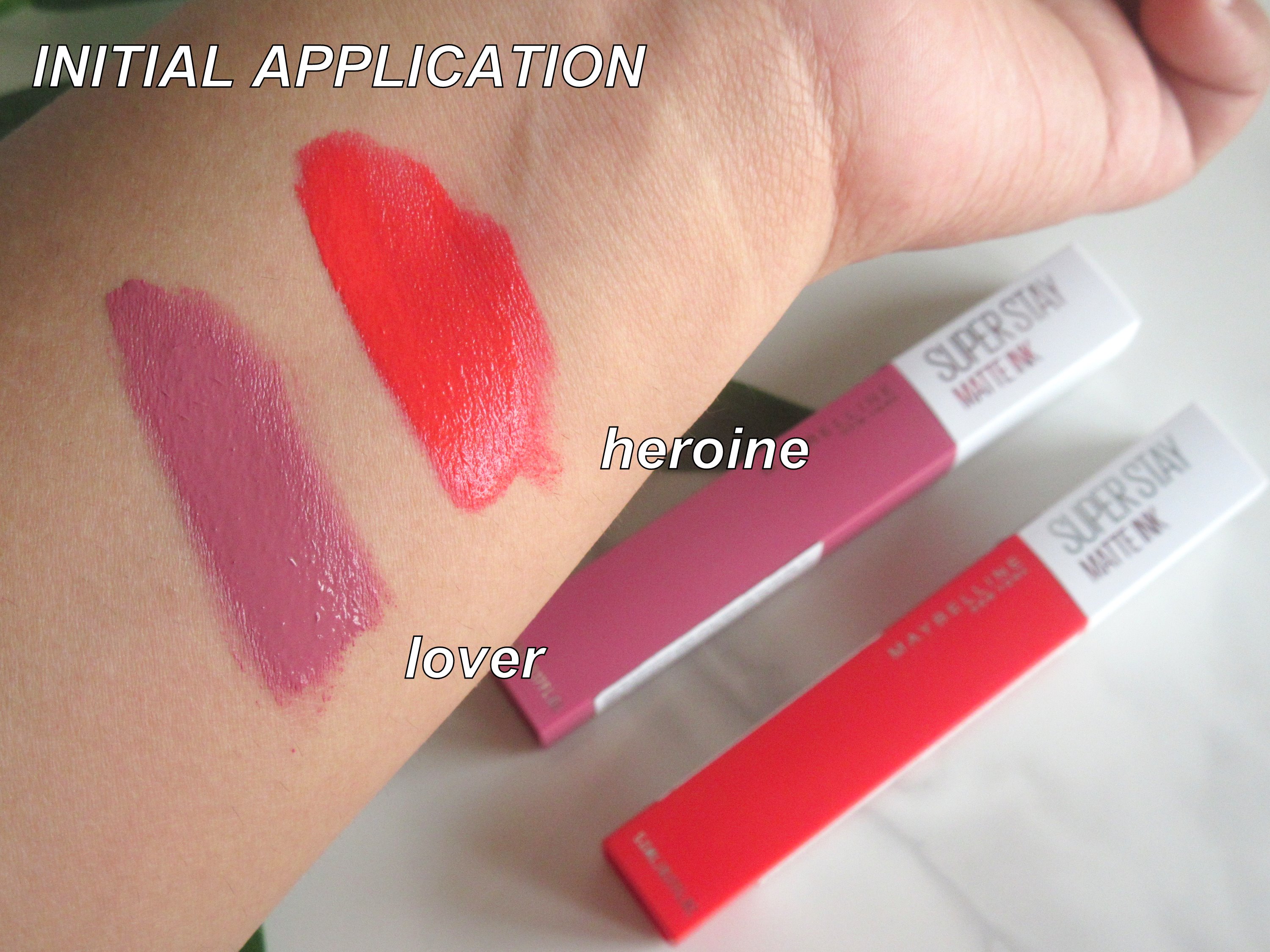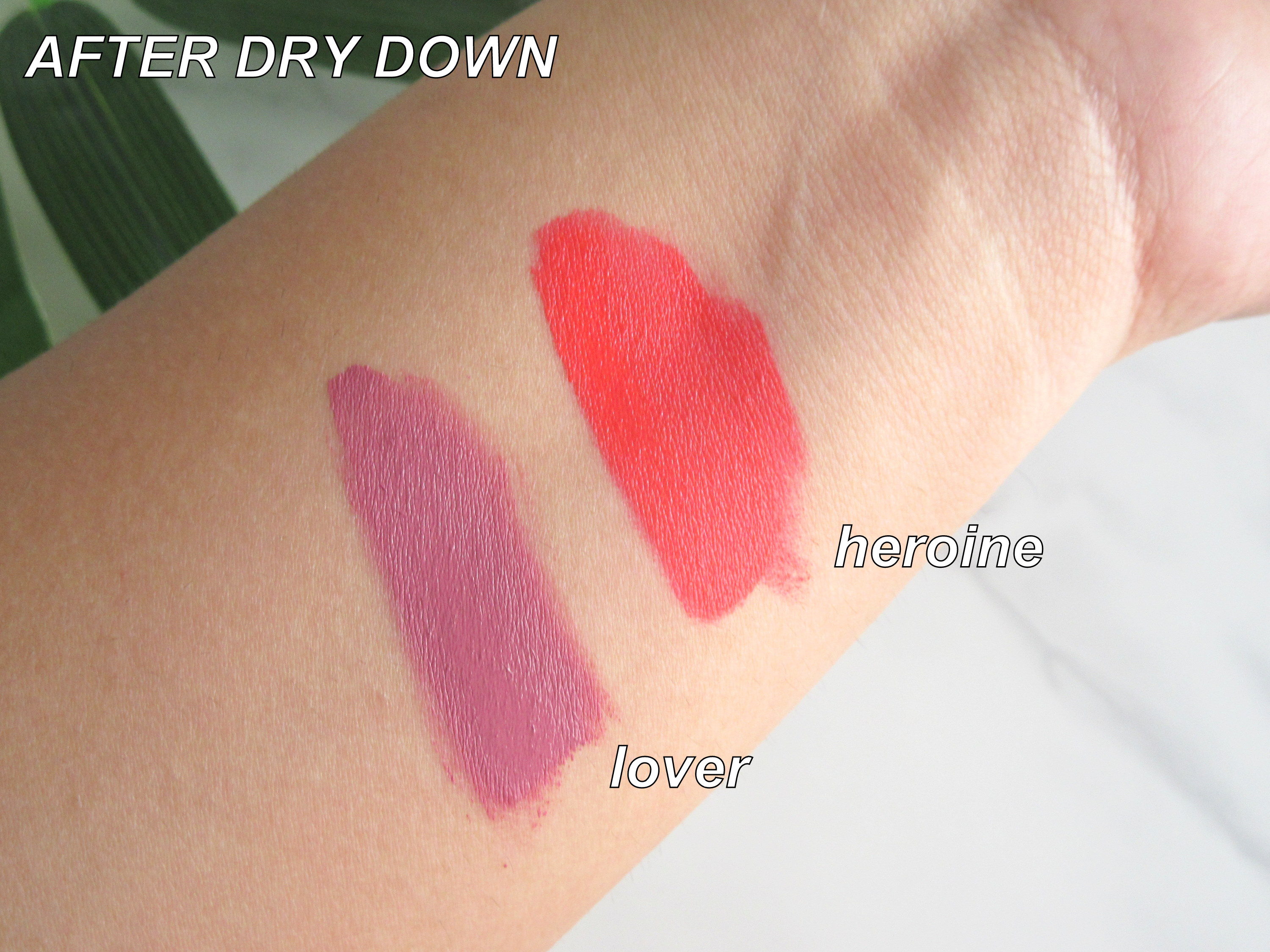 SWATCHES AND SHADES AVAILABLE: I believe there are a whopping 33 shades available at the time of writing.
Heroine – A neon orange. It's definitely a statement-maker but as you can tell from the Lip Swatch, it's a little patchy.
Lover – A cool-toned mauve pink in its full glory. As much as I personally dislike the formula, I can't deny how much this colour appeals to me. I usually blot off the excess and layer some Lip Balm on top when I wear this.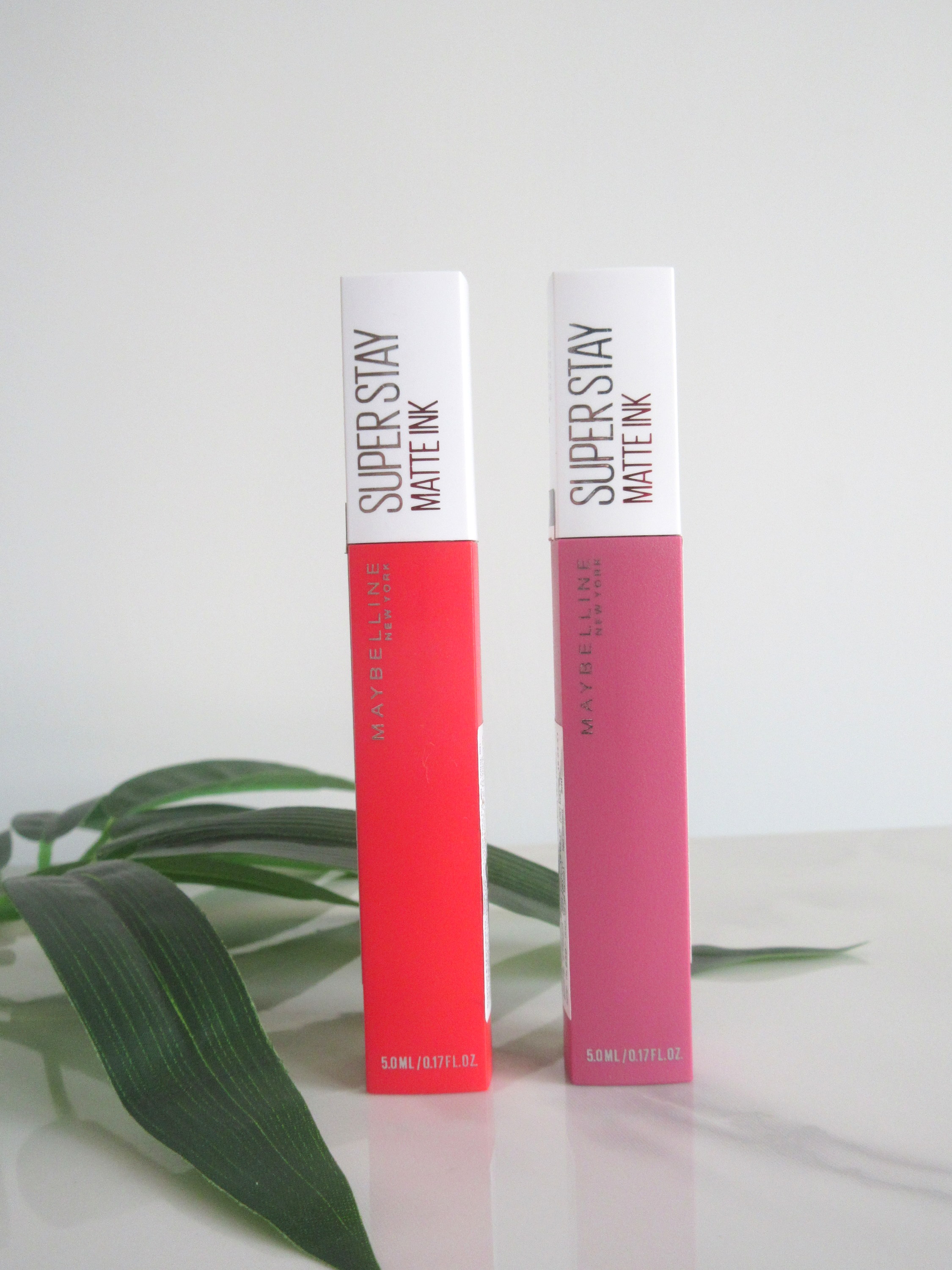 PRICE AND QUANTITY: 650 INR for 5 ml of product.
AVAILABILITY: Maybelline counters, Nykaa, Amazon etc.
♥ OVERALL: I won't really ask you to go out of your way and try these out. But if there's a colour you like and you're fine with sticky liquid lipstick formulas… I can't really help you, can I?
Maybelline Super Stay Matte Ink Liquid Lipstick.
Pros
These come in 33 different shades, you're bound to find something you like.
The packaging is nice and sturdy. It's also colour-coded.
It's pigmented. Some colours are fully opaque with one layer, others require more layers.
These are EXTREMELY long-wearing.
Cons
They accentuate dry patches and lip-lines.
They can be uncomfortable over time. But that's how matte liquid lipsticks usually are.
They can be very sticky.