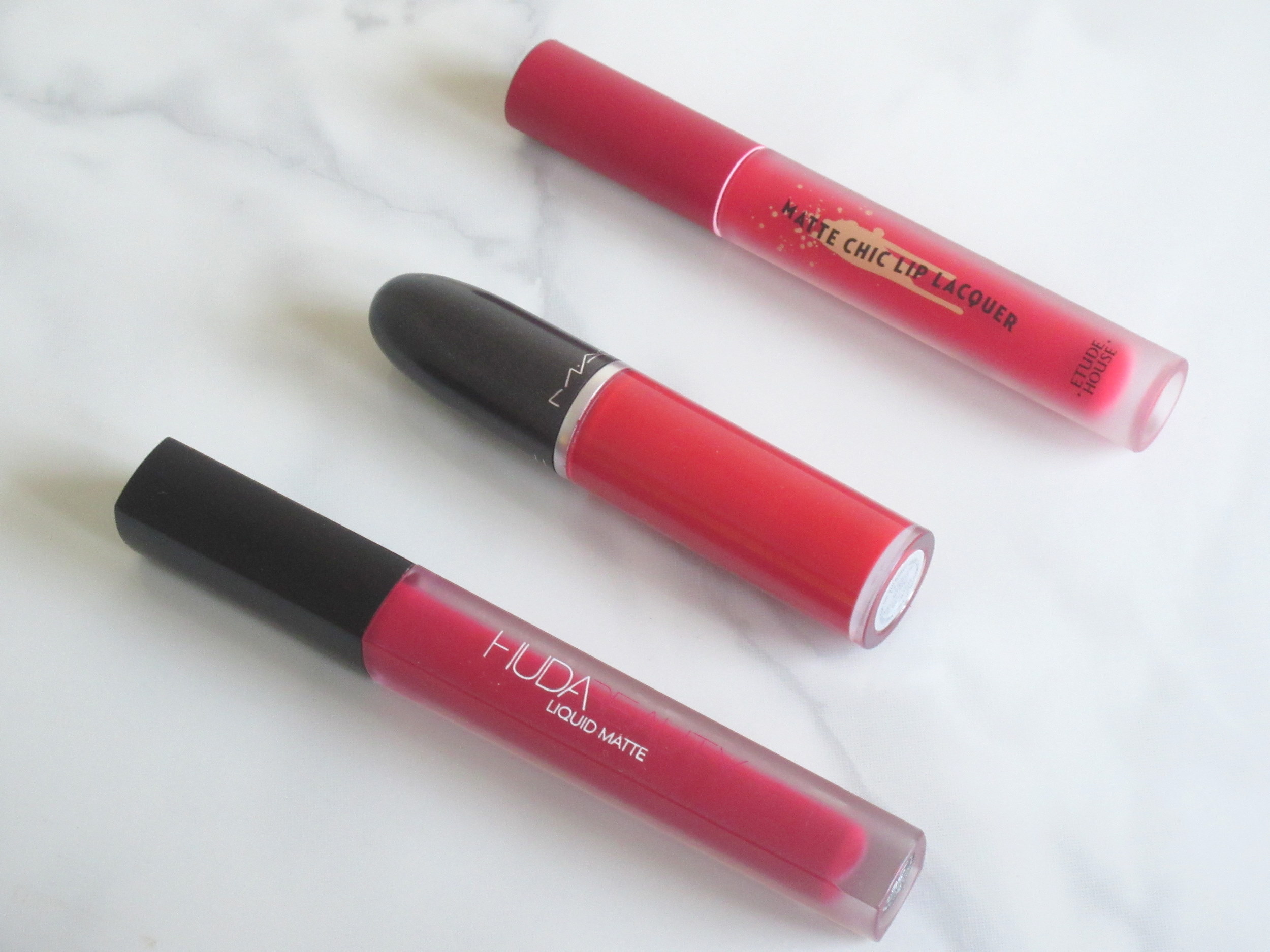 'Tis the season for red lips – but there's a catch. We all know how high maintenance they can be. Which, exactly, is the reason why you should opt for a good liquid lipstick and just rid yourself of the worries.
'Double Trouble' posts are often meant to provide dupes in terms of formula, colour or performance. This time around, I'll be showing you both formula dupes and colour dupes. Also, since there are three products in the line-up today let's just call this post 'Triple Trouble', shall we?
I already have individual reviews on these 3 Liquid Lipsticks. And judging by the rating they got on said reviews, my preferences are already out in the open. I'll still break things down for this post, though. Anyway, you can check out the individual reviews here:
MAC Retro Matte Liquid Lipcolour in 'Fashion Legacy' (8.7/10)
Huda Beauty Liquid Matte Lipstick in 'Heartbreaker' (8.5/10)
Etude House Matte Chic Lip Lacquer in 'RD303 Irene Red' (8.1/10)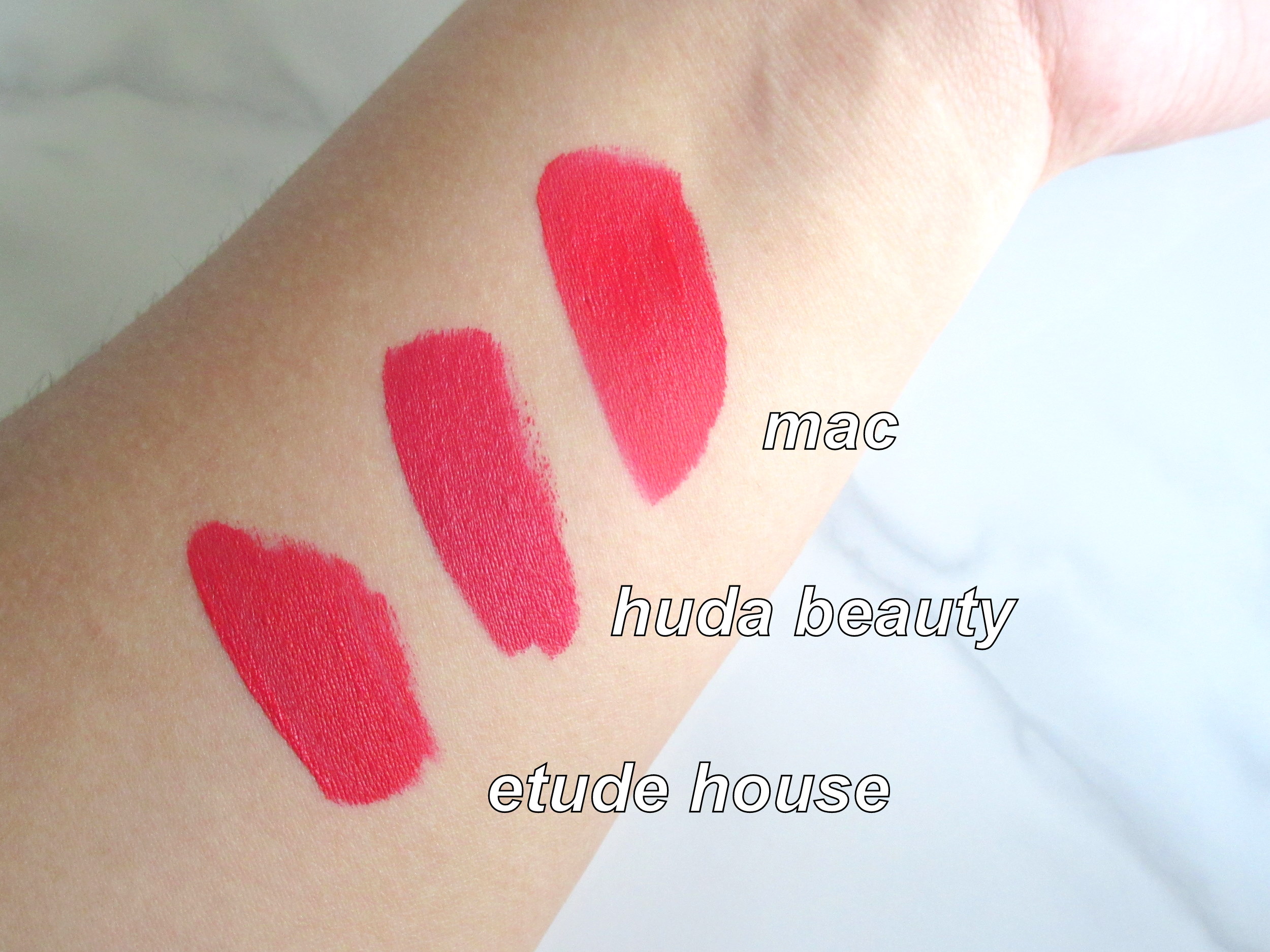 The MAC Liquid Lipstick and the Etude House one are, surprisingly, colour dupes. They're both bold, poppy fire-engine reds that brighten up the complexion. If you don't wish to drop a ton of money on a liquid lipstick, the Etude House Matte Chic Lip Lacquer would be your answer. The MAC one has a more mousse-y formula whereas the Etude House one is more on the watery end of the spectrum – which immediately means the former takes longer to dry and lasts longer while the latter dries almost instantaneously and isn't as long-wearing. They also feel eerily similar on the lips once they've dried down.
On the other hand, the Huda Beauty Liquid Matte is a stickier formula that also boasts good longevity. It's bluer and deeper than the MAC and Etude House ones and is a little trickier to pull off. Like the Etude House one, it's more watery and thinner in consistency as well.
They all have different wands – the Huda Beauty one has your average doe-foot applicator, the MAC one has a tear-drop applicator while the Etude House one has a curved doe-foot that hugs the lips.
Also, please prep your lips first before you apply any matte lip products. Don't ask questions, just do it.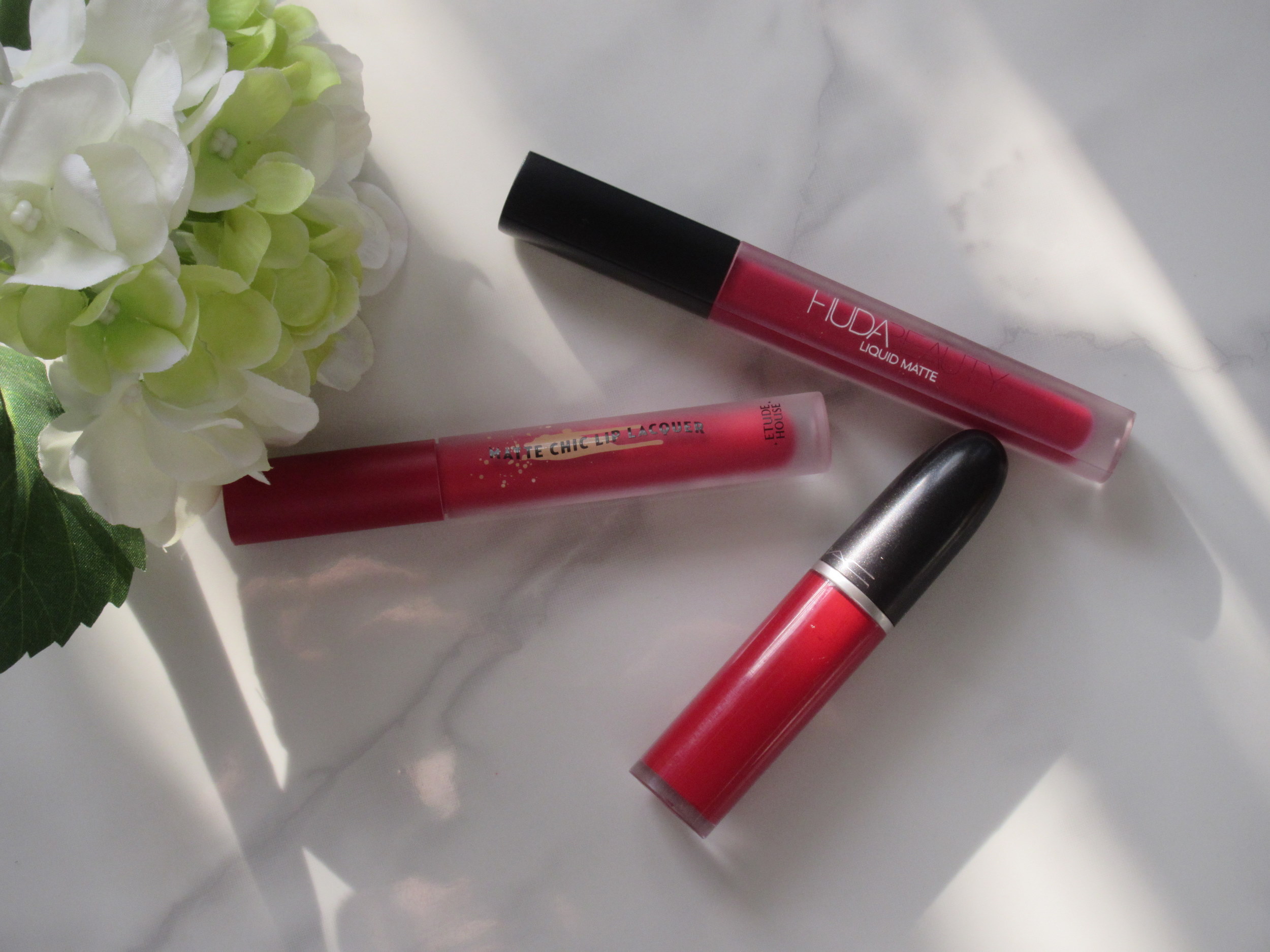 So, to summarise things: if you're looking for an affordable option, the Etude House Matte Chic Lip Lacquer is great. If you want an overall outstanding Liquid Lipstick and are willing to spend your hard-earned money, MAC is where it's at. Huda Beauty lies somewhere in the middle. The formula's nice but the price is steep. If you're willing to splurge at all, just opt for MAC. Unless you find a colour you absolutely love in Huda's range. Nothing can stop you then.
LINKS FOR MAC ($21/1850 INR for 5 ml): MAC Cosmetics Website, Nykaa, LookFantastic etc.
LINKS FOR HUDA ($27/1650 INR for 5 g): Huda Beauty, Sephora, Cult Beauty, Nykaa etc.
LINKS FOR ETUDE HOUSE (₩12,000/763 INR for 4 g): Etude House Global, Cosmetic-Love, Jolse, RoseRoseShop etc.