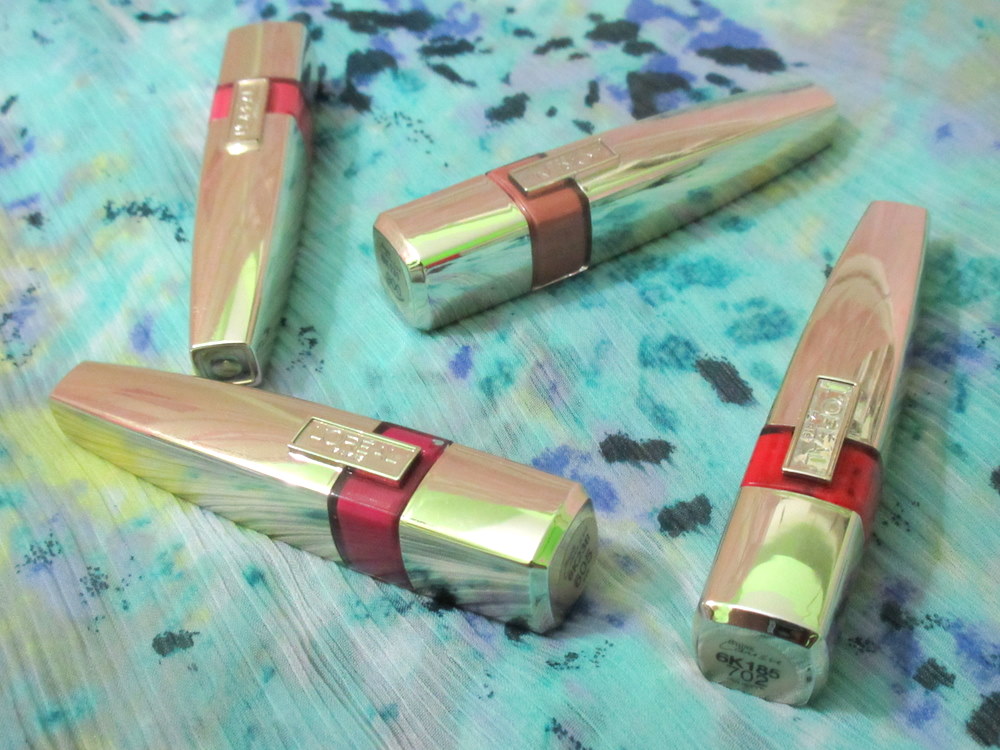 Hello, everybody. This post is on one of the best offerings by L'Oreal; their Shine Caress line. It's one of those products that you try once and then you keep going back for more.
THE BACKSTORY: The first shade was purchased when I was sick of spending a good amount of money over Revlon lip products (the only brand that was making great lip products at the time) and I wanted to save some money for future purchases. While I was apprehensive about purchasing a L'Oreal product (most of their products were disappointed me before), I took a gamble and bought the shade 'Bella'. The rest is history. Oh, and yes, L'Oreal and I rekindled our relationship and now, it is one high street brand I look forward to trying the most.
THE PACKAGING: The packaging is quite elegant with its gold lacquer surface and pointy end, along with a little strip of transparent glass that shows the hue of the product. The applicator is a leaf-shaped one which is great for precision, even if it doesn't look like it.
THE PRODUCT: The formula is what might just win you over. While it appears to be gloss-like, the product itself is a very watery stain. One coat of it is quite sheer but the great thing about these is that they are very build-able. You can build up the colour to appear more opaque. And the best part about these is that they are quite runny and watery which means they won't settle onto your lip lines and will look smooth all over, unlike most other lip products. There's a glitch, though. If you feel that you're unable to handle the consistency of these products, you're going to miss out. The product lasts a decent amount of time. While the vibrancy may fade, a subtle stain will still remain. The formula is weightless and extremely nourishing.
VARIANTS: Available in 14 shades. Check them out here.
PRICE: 499 INR for 6 ml of product.
AVAILABILITY: L'Oreal counters, Amazon, Flipkart, Nykaa, most online shopping sites etc
L'OREAL Shine Caress Lip Glosses.
Pros
It feels almost weightless.
It's extremely hydrating and doesn't settle onto lip lines.
The colour is build-able.
The packaging is sleek and sturdy. The applicator is get for precision.
The shade selection is quite extensive.
Cons
The fragrance might be a little too strong for people with sensitive noses. But it does fade soon after.
The watery consistency might take longer for some people to get a hang of.