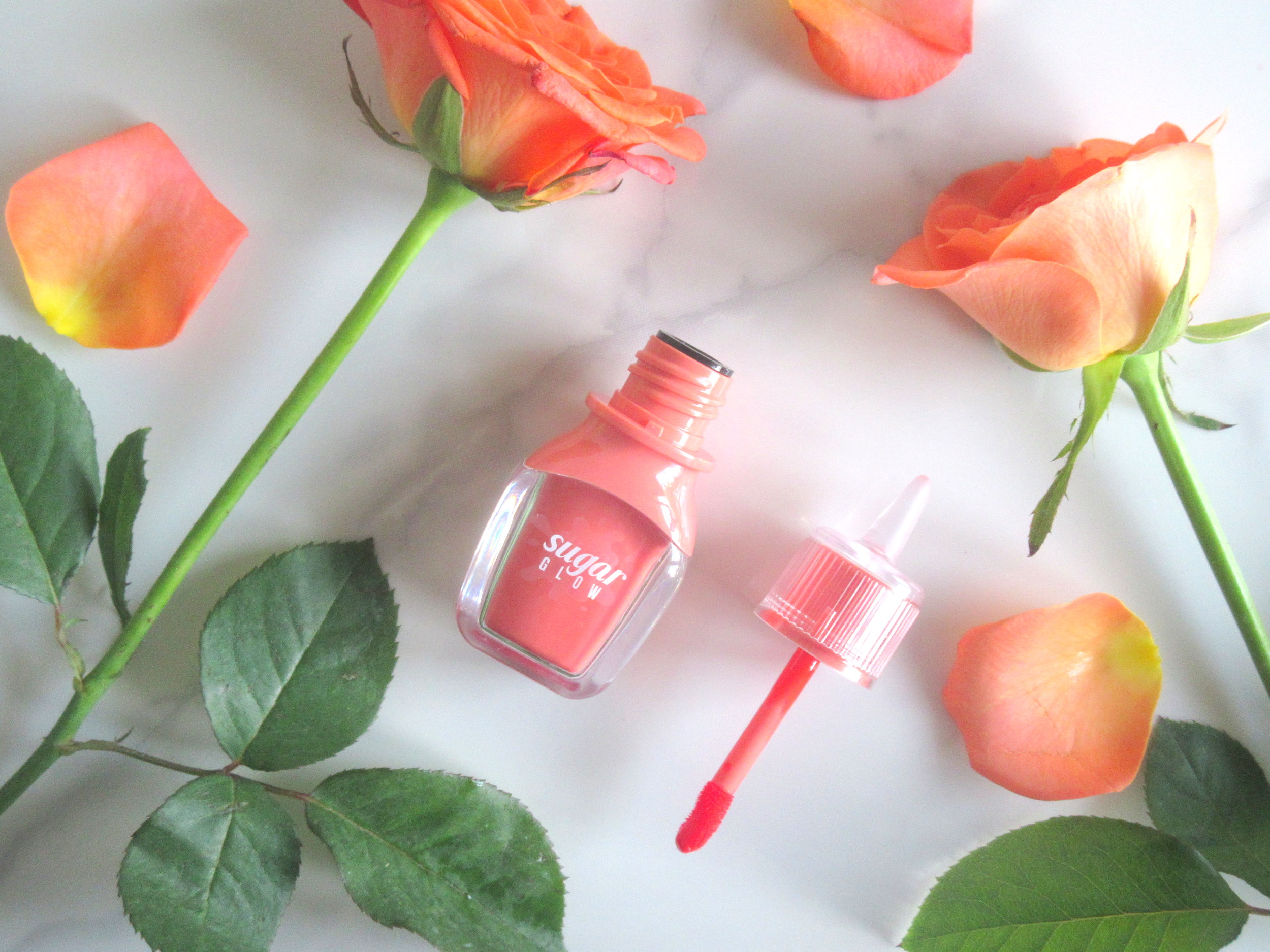 Here's another Peripera tint. The brand has me looking forward to their new products and formulations, without fail.
THE BACKSTORY: As far as Korean Lip Tints go, Peripera has become synonymous with the lip category for beauty lovers and newbies alike. They have an extensive range of formulas so even the pickiest consumer is bound to find something they like or enjoy.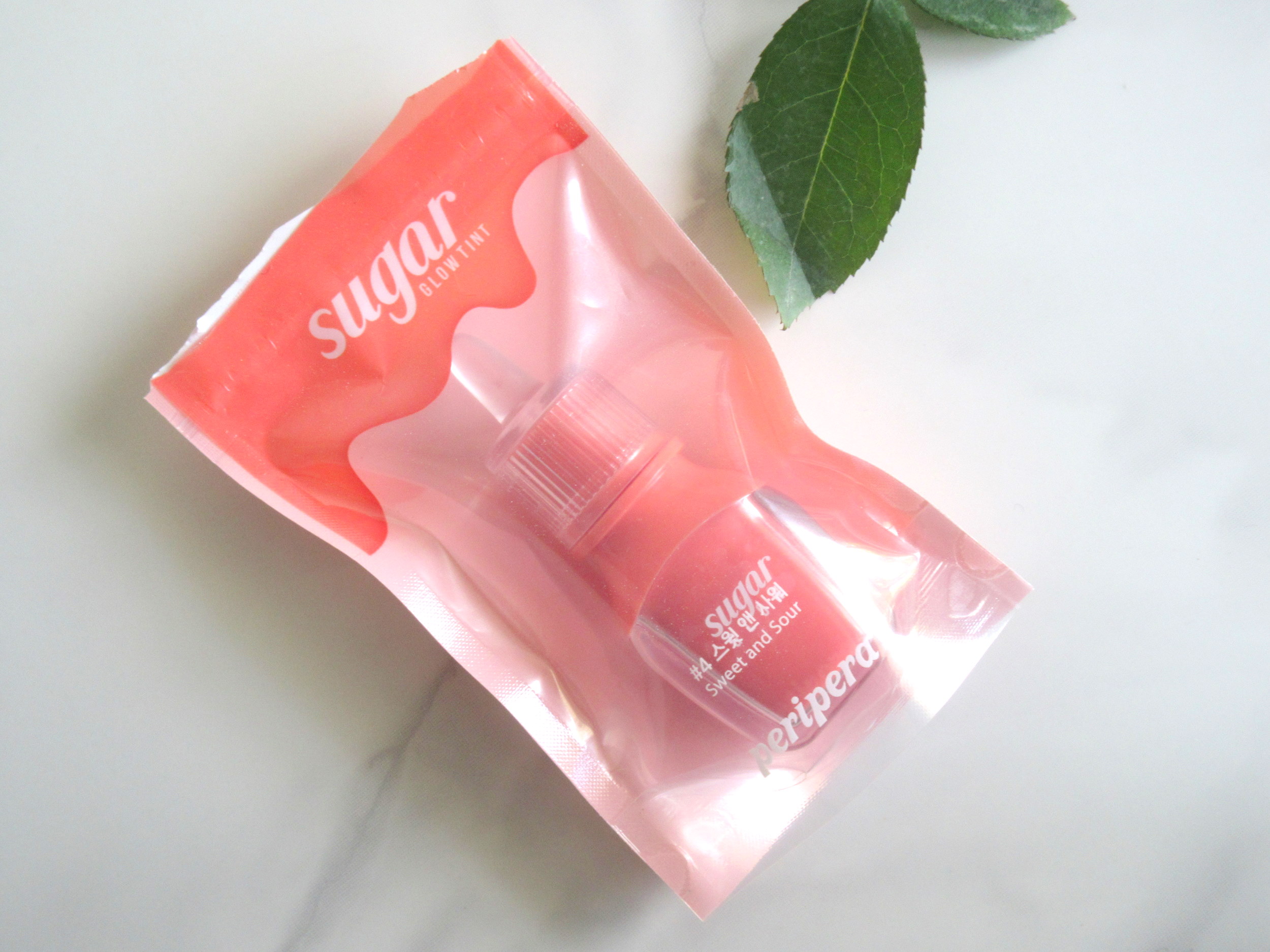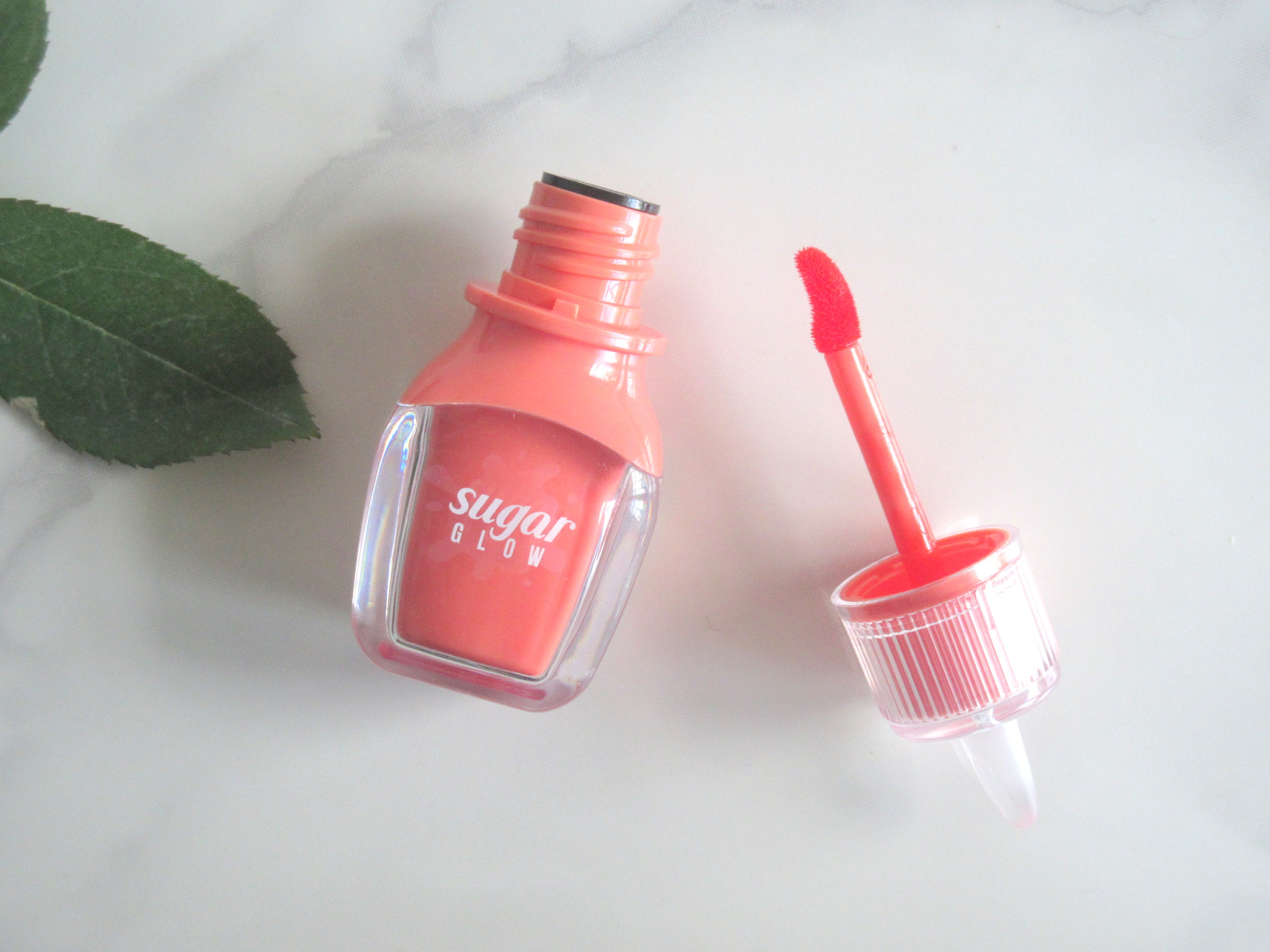 THE PRODUCT: The product comes packaged in cute little plastic bottles that are colour-coded, to match the lip colour inside. They also somewhat look like little bottles of syrup. You know, the kind you put on ice-cream or pancakes. The applicator is curved so it hugs the contours of your bottom lip.
This product line from Peripera is very different from what we're used to seeing from them – fully opaque, velvety-smooth formulas. This line is not your average Lip Tint that packs a lot of colour and vibrancy. Instead, it's sheer and soft.
This formula reminds me of the Lancôme Juicy Tint Shakers.
In a similar vein, these feel like pigmented Lip Oils. Super smooth and hydrating on the lips. But not even remotely long-wearing or transfer-proof.
Like I mentioned, these won't be fully opaque in one swipe. They do layer well, however, so you can build up the intensity to suit your preference. I will say this, though – even if you layer the product multiple times, it won't ever be completely opaque. It's pigmented enough to hide your natural lip colour but it won't ever mimic the look of, say, a Liquid Lipstick.
These also apparently contain Maple Syrup, Manuka Honey Extract and Muscovaco sugar. These have a light sweet floral scent that dissipates after application.
These will be great if you dislike how drying matte lipsticks or Liquid Lipsticks are. These are dewy and non-sticky. What's more, they make your lips look plumper and juicier.
It wears well throughout the day and disappears from the lips evenly. If you eat or drink, you're going to have to touch up because they won't last through them.
As a perpetual lip-smoosher, I don't like that I can feel the weight of the product against my lips but it's only a personal gripe. I would even go as far as to say I've grown accustomed to it. I enjoy how glossy it makes my lips look and they never feel dry.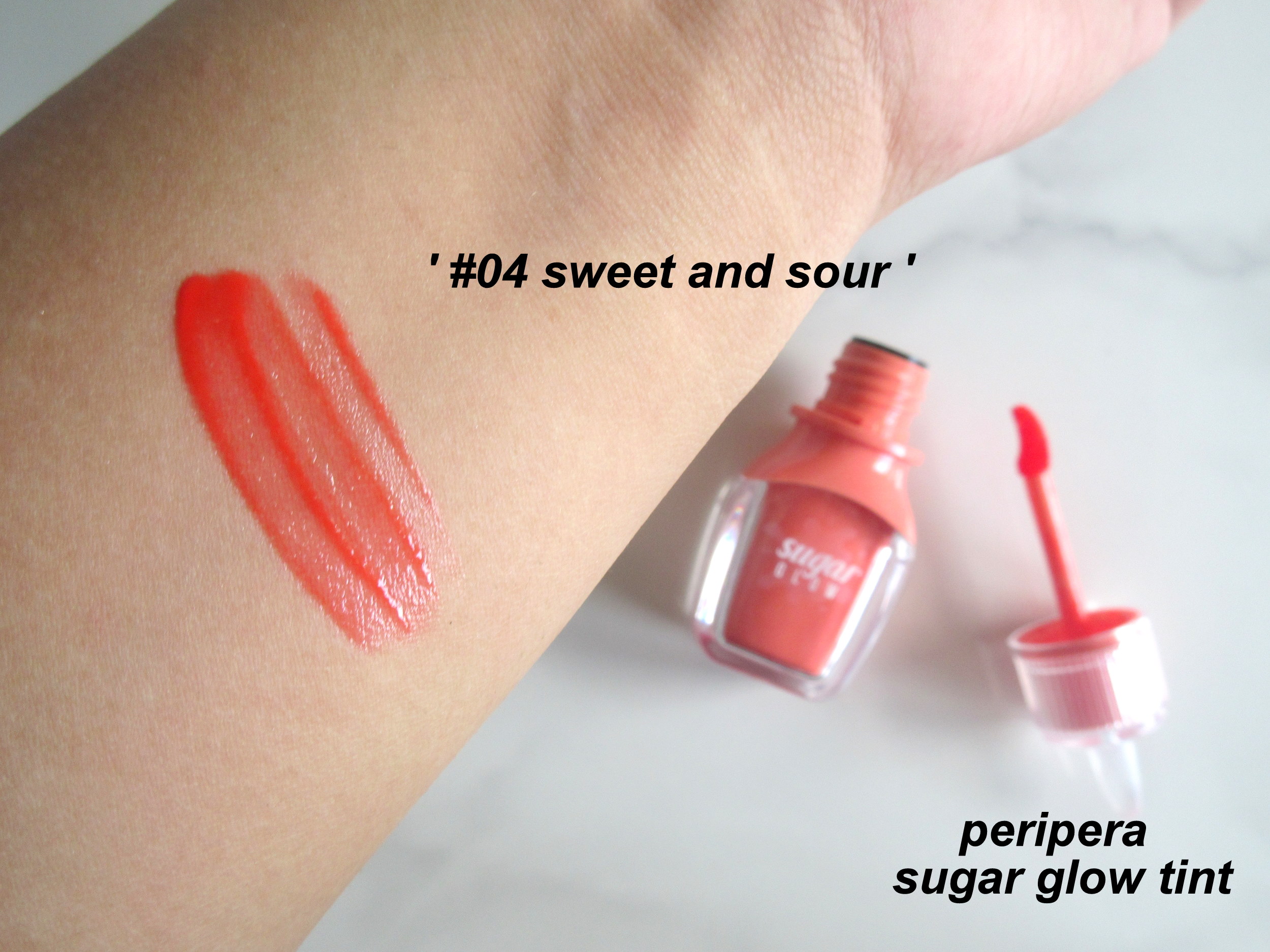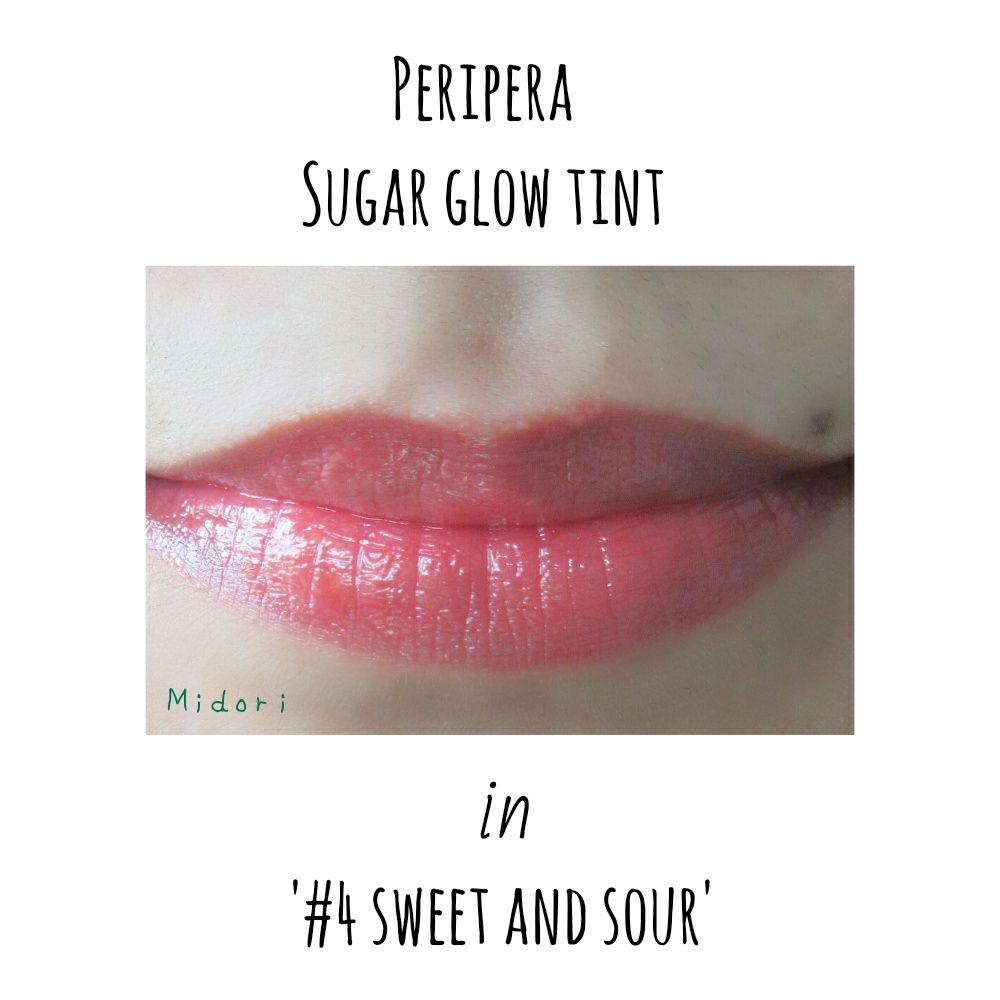 SWATCHES AND SHADES AVAILABLE: There are currently 5 shades available in this range and I really do hope and pray for a shade extension. I believe I bought 2 among the 5 shades but I can't find the other shade I bought for the life of me. If I do find it (fingers crossed), I'll post some swatches in a Quickie.
'#4 Sweet and Sour' – A vibrant peachy coral, very summery and fun.
*These look very similar to the Peripera Sugar Jelly Tints (of which I also have 2) but are a completely different formula. I'll review those soon too.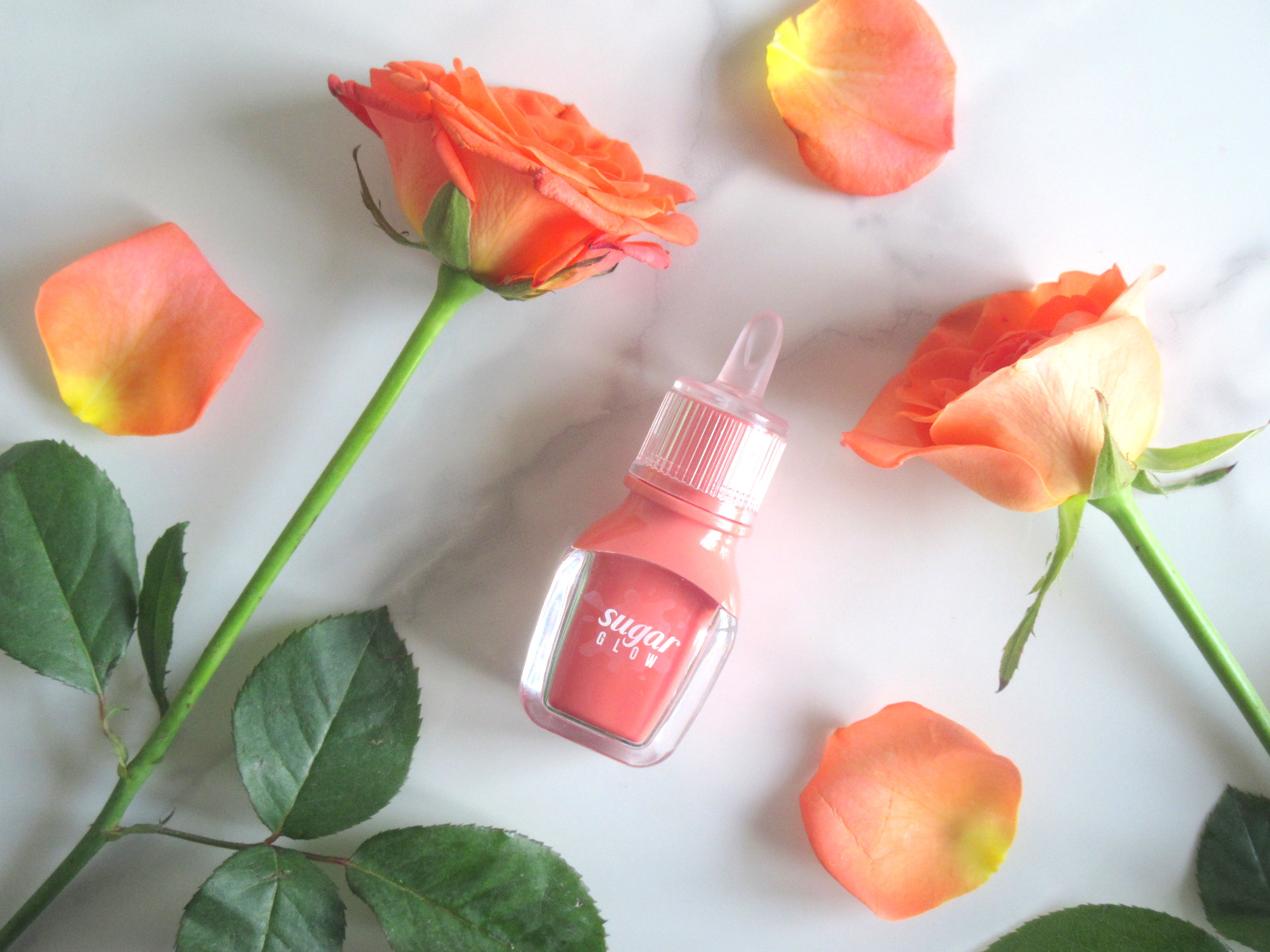 PRICE AND QUANTITY: $8 USD for 3 grams of product.
AVAILABILITY: StyleKorean, YesStyle, Cosmetic-Love, RoseRoseShop, BeautyBarn (local) etc.
♥ OVERALL: I think these are a great alternative to your tired old matte formulas. Non-sticky, glossy, non-drying and super pretty. I do wish there were more shades, though.
Peripera Sugar Glow Tint in '04 Sweet and Sour'.
Pros
Great alternative to matte lip colours.
Not opaque right off the bat but can be built up in layers.
Non-sticky and non-drying formula.
Makes lips look juicy and plump.
Evens out the overall look of the lips.
Cons
Not long-wearing. Doesn't leave much of a stain behind either (which can be both good and bad).
Transfers.