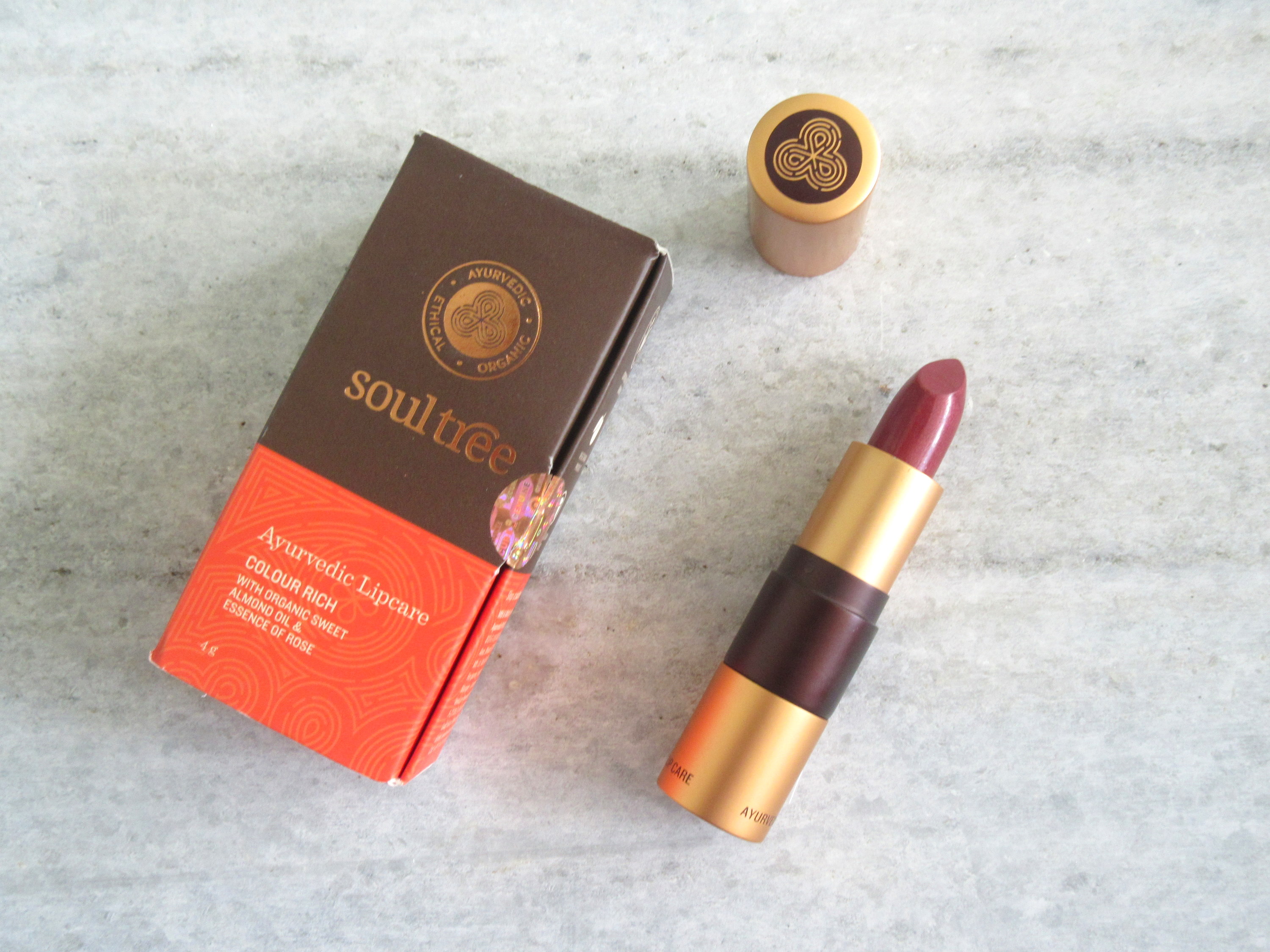 The next SoulTree product up for evaluation is their lipstick!
THE BACKSTORY: Like I mentioned in the last post, SoulTree is one of my favourite local brands at the moment. Not only that, I love their stance on sustainability and how their products follow Ayurvedic recipes and norms, utilise safe and organic ingredients while still making them look appealing as far as their packaging is concerned.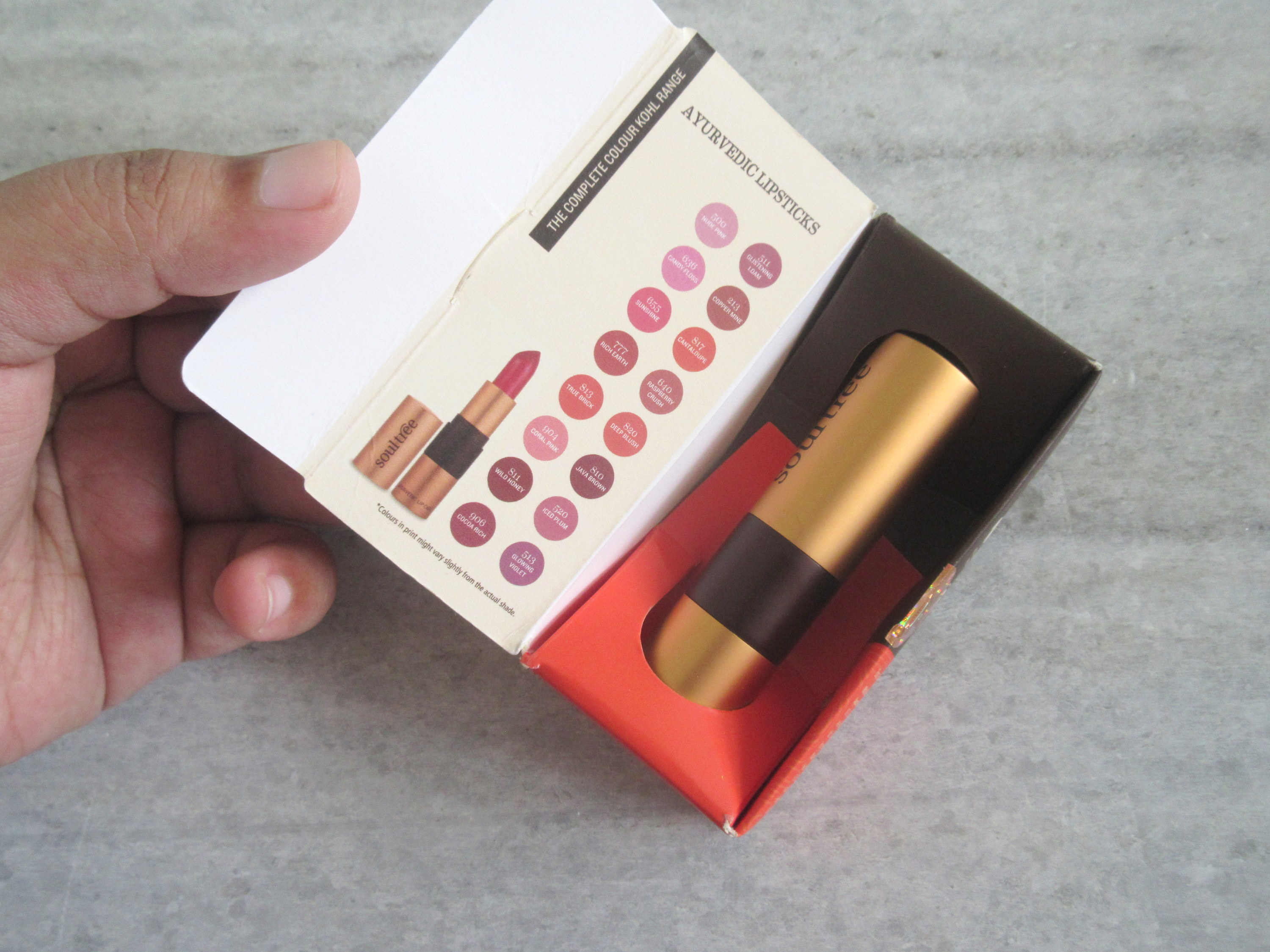 THE PRODUCT: So, the lipstick comes packaged in a nice little box. The component is gold with a purplish-brown band in the middle. The lid also boasts of the company's logo on top. Very well packaged and hefty.
Like their kajals, these are also formulated with Organic Ghee and Almond Oil. Their lipsticks also contain Rose Oil.
Perhaps that is why this lipstick is smooth and creamy. It goes on without tugs and skips and doesn't feel drying or heavy on the lips. It dries down to a satin finish. Very comfortable on the lips and an easy pick, formula-wise, for a full day of work/classes.
It's pigmented and opaque enough to cover the natural colour of the lips in a single swipe. However, it does look best with a couple of layers on.
What I've found with most of their lipsticks, however, is how they have a metallic sheen (or shimmer, if you will) to them. The brand says that they "use natural pearl in some shades of Kajal and Lipstick to give them (a) little shine" and also that the pearl is "safe to use". Okay. Sure. Whatever. Unless you're maniacal about your lipsticks not having a frosty metallic finish – like I am – you should be good to go.
The longevity is alright, as far as satin lipsticks are concerned, and it is easy to touch up.
It has a slight botanical scent to it but it's not too bothersome.
SWATCHES AND SHADES AVAILABLE: They have 20-ish shades available for purchase at the moment, having recently added 6 new variants. I'll publish some other shades of this lipstick formula in the next post.
 '811 Wild Honey' – A brown-wine shade with golden shimmer running through it.
PRICE AND QUANTITY: 650 INR for 4 grams of product (again, the price seems to have shot up; I remember buying mine for no more than 550).
AVAILABILITY: SoulTree, Amazon, Nykaa etc.
♥ OVERALL: I think the lipstick is nice but it's an easy skip for me, personally, because of its metallic finish. The only shade I truly love from this line is 'Cantaloupe' (you'll see it swatched in the next post!).
SoulTree Ayurvedic Lipstick in '811 Wild Honey'.
650 INR
Pros
Pigmented and opaque enough.
Layers and builds well.
Comfortable satin finish, albeit a little shimmery and metallic in some instances.
Decent longevity.
Cons
I wish the metallic finish wasn't so rampant among the shades that are available.