Hi, guys. On this rather dreary Tuesday, I'm here to share my experiments with an old purchase of mine – the Black Dahlia Lip Tar from Obsessive Compulsive Cosmetics.
I bought this Lip Tar a while ago, back when they were still being sold in their tube packaging. Now, they have been repackaged into a more user-friendly version with a doe-foot applicator to boot. They've been renamed too, I believe. They are now called 'Lip Tar RTW' (the full form of RTW is Ready To Wear). I did order one of their RTW versions but the package got lost in the mail and never reached me. I was given a refund. So, I'm not particularly bitter about it.
Lip Tars are easily the bestsellers from Obsessive Compulsive Cosmetics and they come in a variety of shades and finishes. Think metallic blue, metallic blackened red, neon pink, bright chartreuse and so on.While some shades are marketed as mattes, they have the slightest amount of sheen to them. Despite that, they tend to be as long-wearing as your average matte lip product.
The older tube versions of the Lip Tars came with a tiny lip brush, which, I must say, is one of the most decent lip brushes I've used.
I have tried other shades of the Lip Tars (courtesy of my fabulous sisters) but the only one I ever purchased was Black Dahlia. I was going through a Dark-Lip-Only phase last year and this Lip Tar was purchased during its peak.
Black Dahlia is often described as a 'blackened red' but I rarely ever see the red in it. With help from the Sun God, you may be able to see some plum. It's the same when you squirt some out on the back of your hand or a palette, it's a black blob. But once you work your brush into said blob, you'll see how gorgeous the shade really is. Again, it's not much of a blackened red. If you use it well, it will turn out to be a really dark shade of wine.
The Lip Tars, in consistency, are thick and gooey. They are densely pigmented and the tiniest amount goes a long way. You need about the size of this dot ( ⚈ ) on the back of your hand. (If you're unable to see the size of the dot, look at the letter 'O' on your laptop's keyboard!)
All the Lip Tars I've tried have had a minty scent which lingers for a while even after application. Despite Black Dahlia being labelled as a matte shade, it has a little sheen to it which makes it more hydrating and comfortable to wear. They are long-wearing and easily last for 5 hours or more – provided you don't eat a 4-course meal.
I've had episodes where I've found a particular Lip Tar drying… It's wiser to exfoliate your lips and nourish them with a good lip balm before you apply it. Having said that, that's something I skipped today. That's the reason why you see the emphasised lip lines in the photos.
Black Dahlia, as beautiful as it is, is a really difficult shade to work with. I used MAC's Soba Eyeshadow to add warmth to my eyes and topped it off with Bobbi Brown's sparkle eyeshadow in 'Sunlight'. To tone down how black the Lip Tar is, I had a layer of Sugar's Poison Ivy Lip Crayon as a base on my lips. I used the tiniest amount of it and a very light hand, which is the rule of thumb with all the Lip Tars. It paired well with the lip crayon and the black in it was visibly toned down. Black Dahlia is a little patchy and doesn't apply as evenly as you'd like. It takes more time and practice than one has patience for.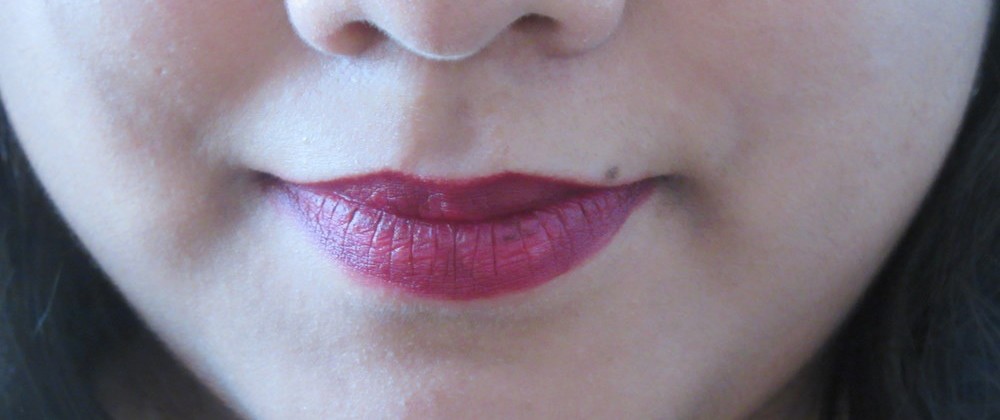 Lip Tars, in their old tube packaging at least, I think, aren't meant for everyday use. Yes, they are great products and some makeup professionals absolutely adore them. I've read some posts on how upset people were that the old tube packaging was being retired… But your average college student (like me) won't like fiddling with a lip brush and application techniques early in the morning. I think the new packaging makes a lot more sense and they will now appeal to a larger market.
Also, next time, I'll try to take photos of my whole face. I don't enjoy taking photos of my face. At all. But I'll make an attempt, I promise!
Check out Lip Tars here: OCC's site, Beautylish etc
Have a great day! ♥