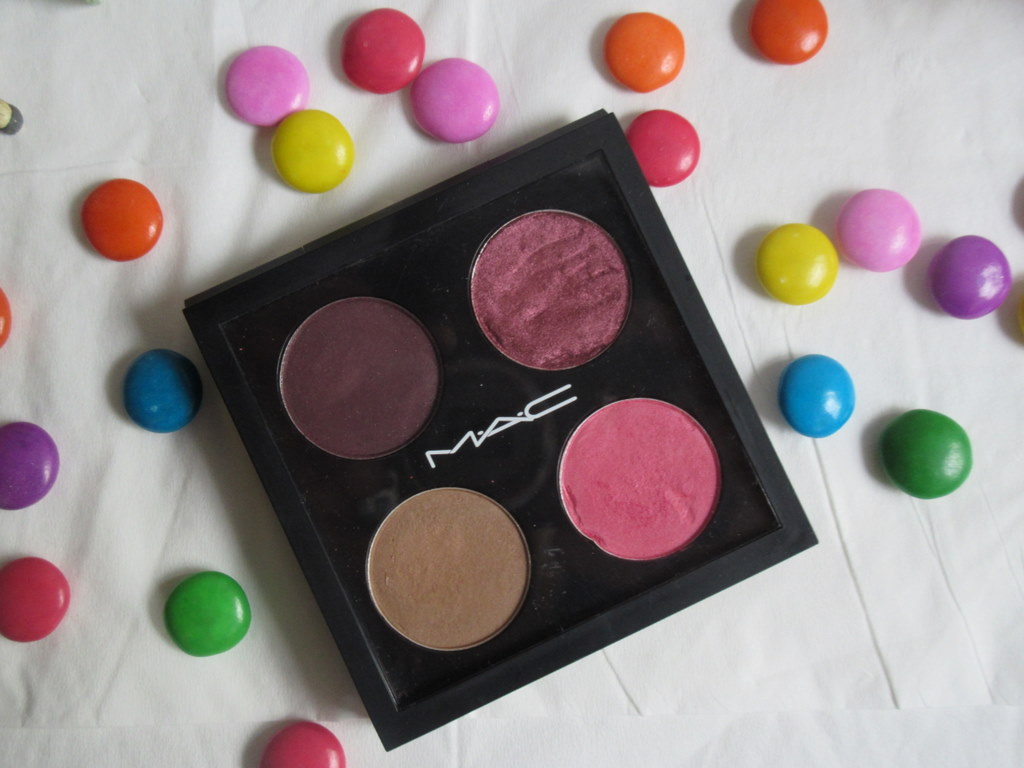 Hello, everyone. MAC eyeshadows are, hands down, some of the most popular eyeshadows in the world. And it's understandable. They are good quality and come in thousands of colours. Are they the best? More on that issue in upcoming posts (read more here and here). But, for now, let's get on with just how good these little guys are.
THE BACKSTORY: Before I assembled this quad, I only owned one MAC eyeshadow, namely their intense little number called 'Carbon'. Since I liked it so much, I decided to give them a try. Now, I had heard and read a million good reviews on these eyeshadows in my makeup lifetime. And I was more than curious to give them a go myself. Now, I didn't assemble the whole quad in one go. Let's be realistic. I'm a student. I barely have enough money for my daily expenses. But I persevered through and eventually assembled this whole quad. Personally, I feel these aren't the best eyeshadows out there (read more here and here). But they are pretty darn good.
P.S. Pardon the condition my Cranberry is in. It is my most used/abused/loved shade. Sushi Flower's undoing is a close second.
P.P.S. I realized much later that I mostly bought red/pink shades. Truth to be told, the only neutral colour in the quad is Soba and it is a shade I bought primarily for its name. Since the noodles are so delicious, I figured the eyeshadow must be too. I wasn't wrong.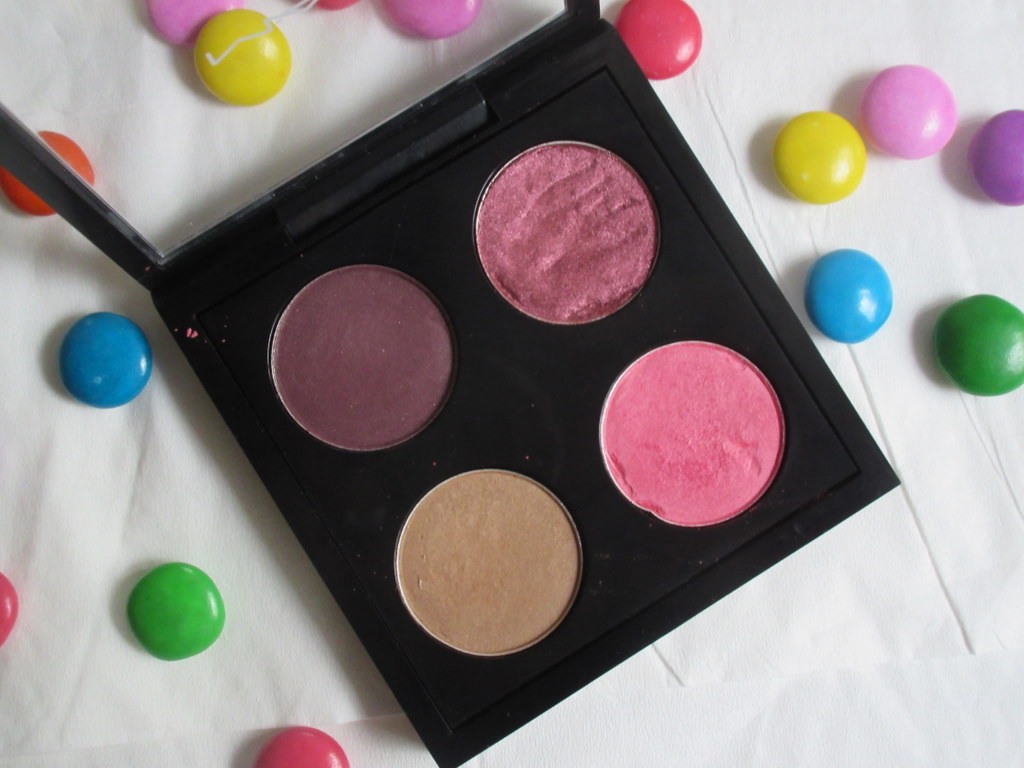 THE ASSEMBLY & PACKAGING: The empty quad cost around 550 INR, which isn't all that cheap. Then again, it isn't all that bad. As for the eyeshadow refills, they contain the same amount of product as a standard MAC eyeshadow with the full packaging and glory. However, they are a lot cheaper. They cost about 720 INR each. Even if you don't own an empty palette by MAC, grabbing eyeshadows in the refill/pan form gives you more room to try more shades and save a little along the way, while you're at it. You may purchase a palette without any grids or compartments that are easily available online to store these refills.
As for the packaging, the quad itself is sleek and elegant. While it is plastic, it is sturdy enough to become a good companion for your travels. It also has a magnetic closure.
THE PRODUCT: The eyeshadows are decently pigmented and easy to work with. However, the finish of the eyeshadows are different and that is what most of the 'blend-able' factor is dependant on. These work best with a primer or a base underneath, preferably the Paint Pots. They are also fairly long-lasting with a base underneath. The shades in the quad are (finishes are noted within the brackets):
Sketch (Velvet) – Burgundy with red shimmer. This is a gorgeous colour for Autumn/Winter or any season. It's also great for adding intensity.
Cranberry (Frost) – Red plum with pink shimmer. Another great Autumn/Winter shade. Amazing brightness and pigmentation.
Sushi Flower (Satin) – Pinky Coral with pink shimmer. While it looks intimidating, a light wash of it on the lids not only looks good but also tends to be more wearable than it seems.
Soba (Satin) – Gold Brown with gold shimmer. It's a great everyday lid colour as well as a great transitional colour. It's overall a gorgeous colour.
PRICE: 550 INR ($8 approx) for the palette; 720 INR ($11 approx) for the refills containing 1.5 g of product; 1250 INR ($20 approx.) for the full eyeshadow containing 1.5 g of product.
AVAILABILITY: MAC Counters, www.maccosmetics.com
MAC Eyeshadows (Soba, Sushi Flower, Cranberry & Sketch).
Pros
They are decently pigmented.
They come in a wide variety of colours and finishes. That means there's something for everyone.
They are easy to work with and are blend-able.
Cons
The price difference between the ones in pan form and the ones in full packaging is kind of ridiculous since the amount of product is the same.
Better eyeshadows are available at a lower price.
Some eyeshadows may not be the easiest to work with.