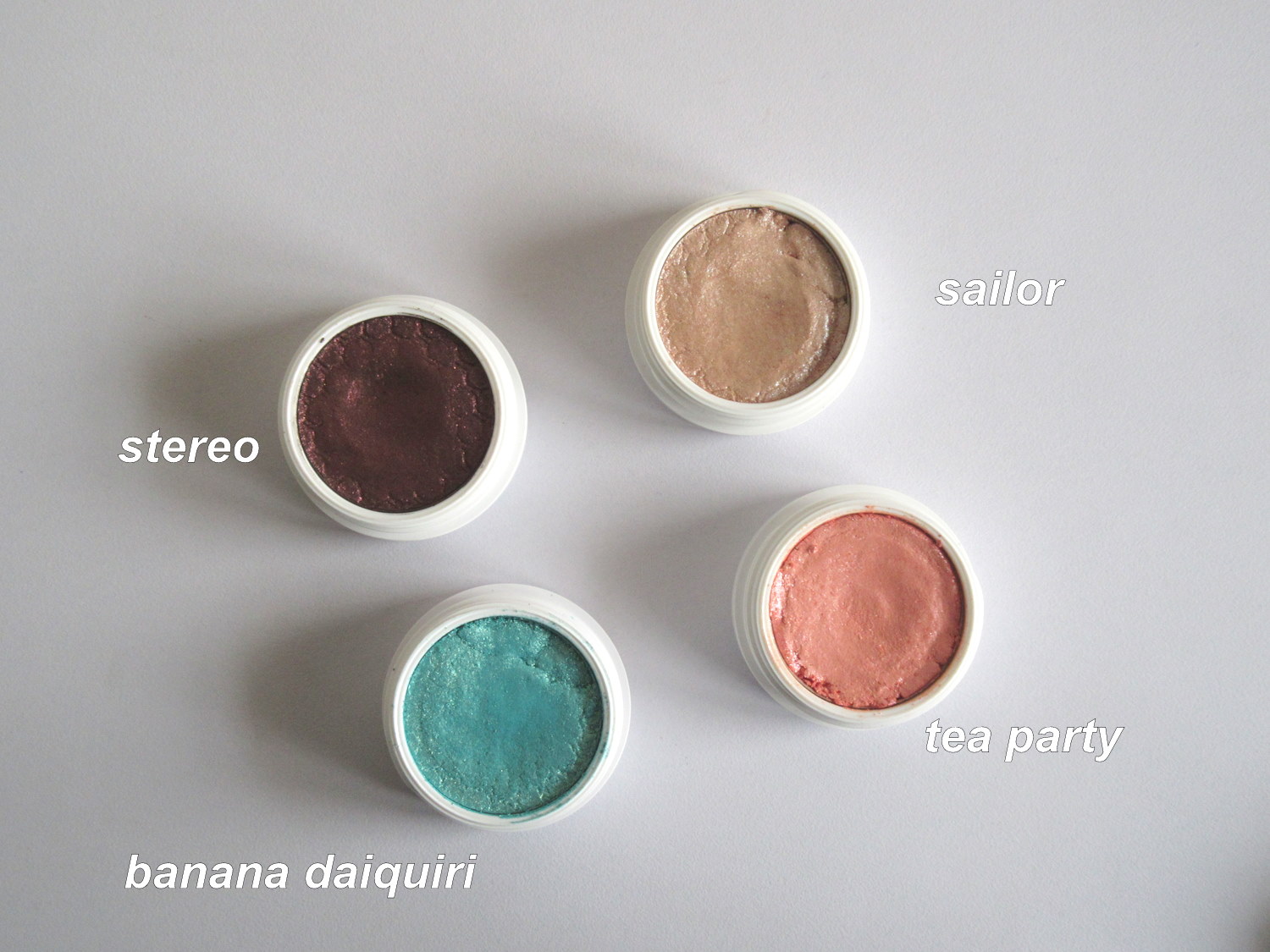 I bought these eyeshadows a long, long time ago and am only getting around to talking about them.
THE BACKSTORY: Colourpop is a pocket-friendly, cruelty-free makeup and beauty brand based in the U.S. of A. Their products are of great quality and they also ship worldwide. Since I'm a sucker for cream eyeshadows, I decided to pick up 4 of their Super Shock Shadows.
*P.S. I seem to have taken some of these photos on a very gloomy, dreary day. I apologise in advance.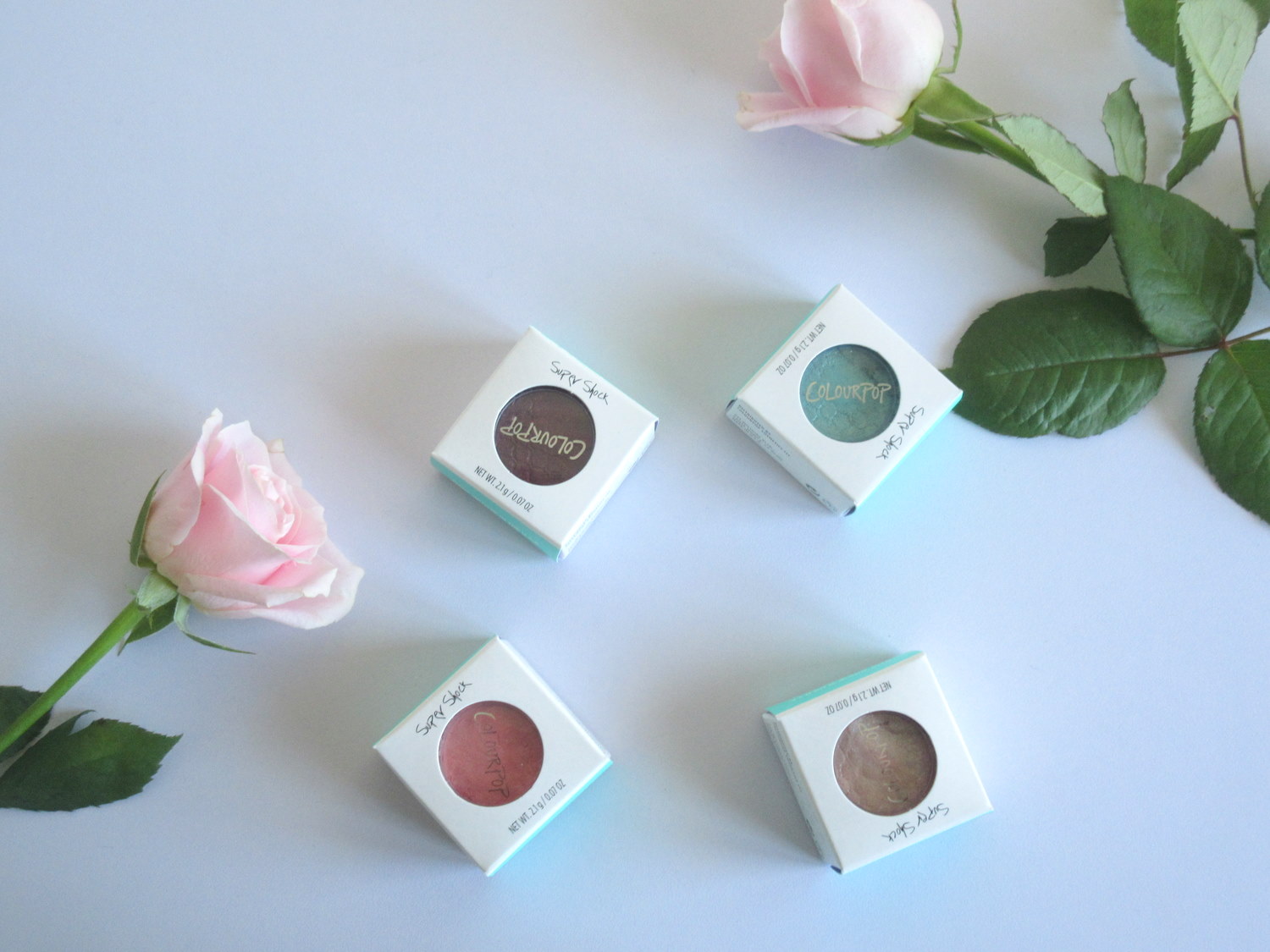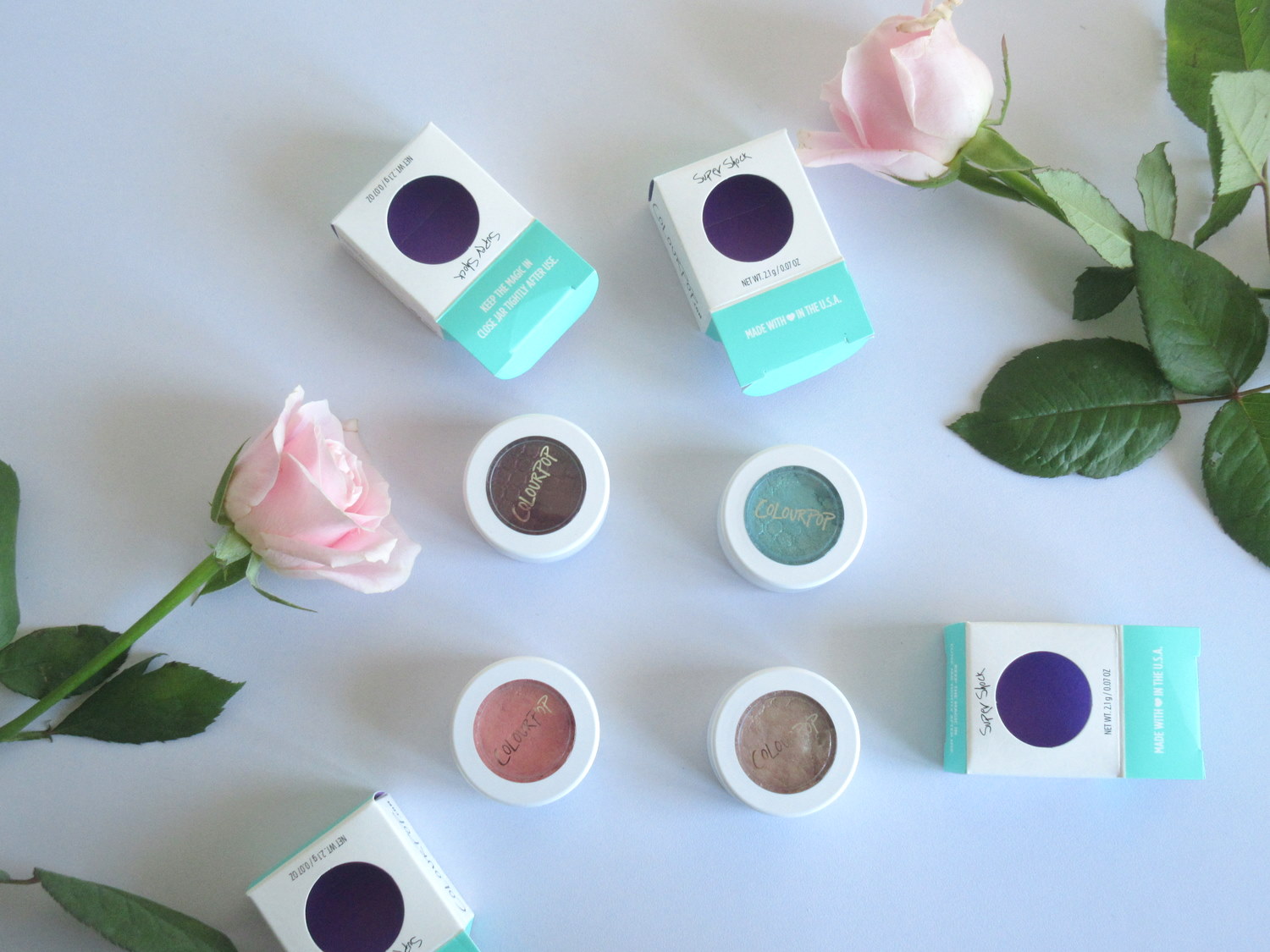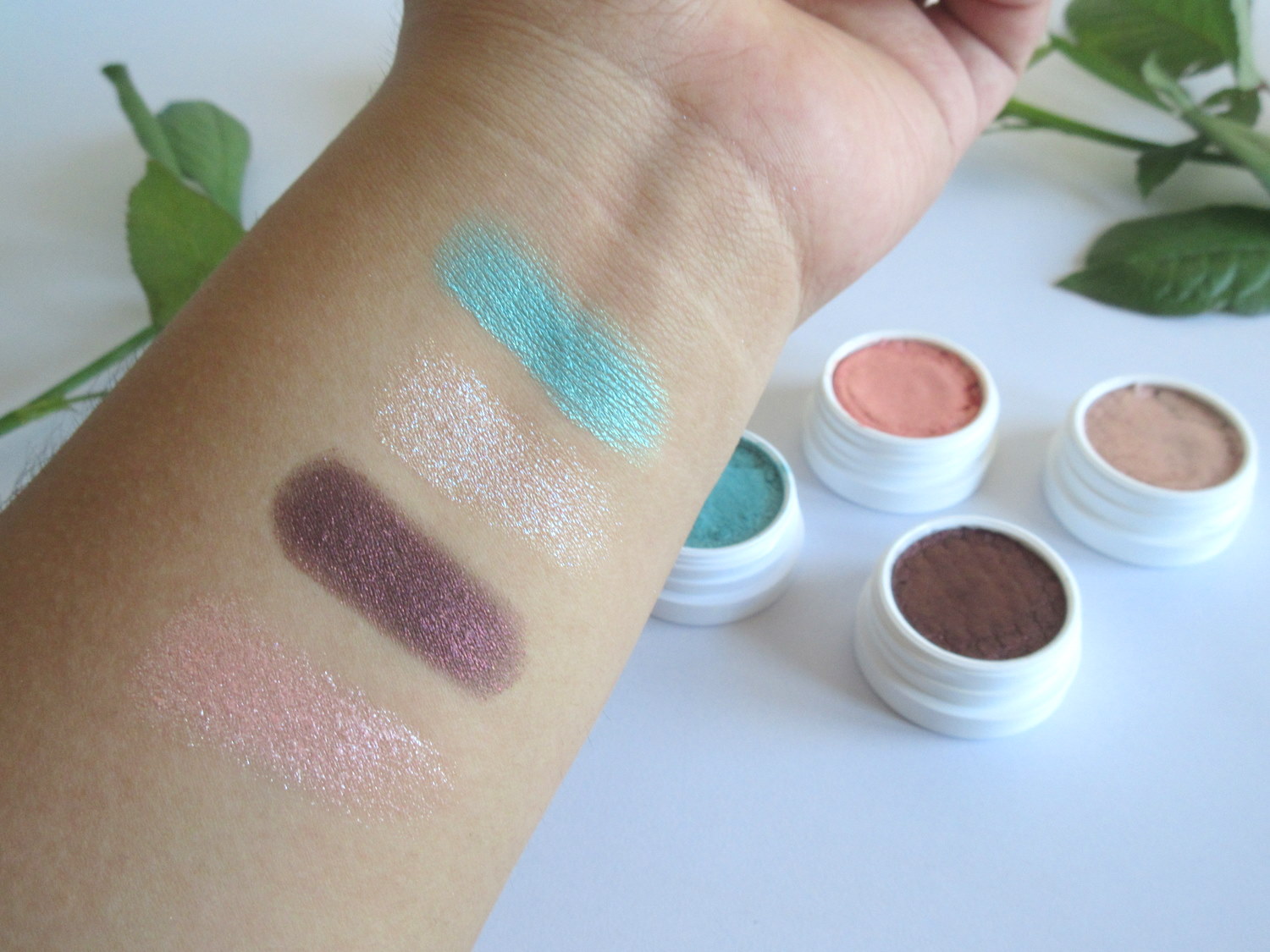 THE PRODUCTS: These have been in my makeup collection for a while now and I've played with them enough to jot down what I feel about them.
Let me address this first. The photos you see were taken when I first got them, which actually was many moons ago. Also, 3 of the 4 shades I had ordered arrived broken. You needn't fret, though. I'll tell you how you can put them back in a bit.
These are cream-to-powder shadows. They work best with fingers but you can most definitely use brushes as well. Just make sure you use synthetic brushes with them. I find that I need a brush to diffuse the colour and to blend out edges but I typically use my clean fingers to pack on the product on my lids.
These are vibrant, pigmented, opaque and long-wearing. They do crease a little throughout the day but they never feel stiff or tight on the eyes (like some inferior cream eyeshadows tend to). I will say this, though – these are not uniformly pigmented, from what I've seen and learnt. Some are more opaque and creamier while others need more layers and effort.
They also tend to be quite soft. So if you drop one or if one arrives broken, you need not freak out. You can use a tissue to press the shadow back in. You can find more info on the same on their site, under the FAQ section. Some are also soft to the point of being crumbly (*cough* Tea Party *cough*). For those, you need to use as little pressure as possible during application.
I like the compact jar packaging. It's sturdy and travel-friendly. They do need to be closed tightly after each use to prevent the shadow from drying out, though.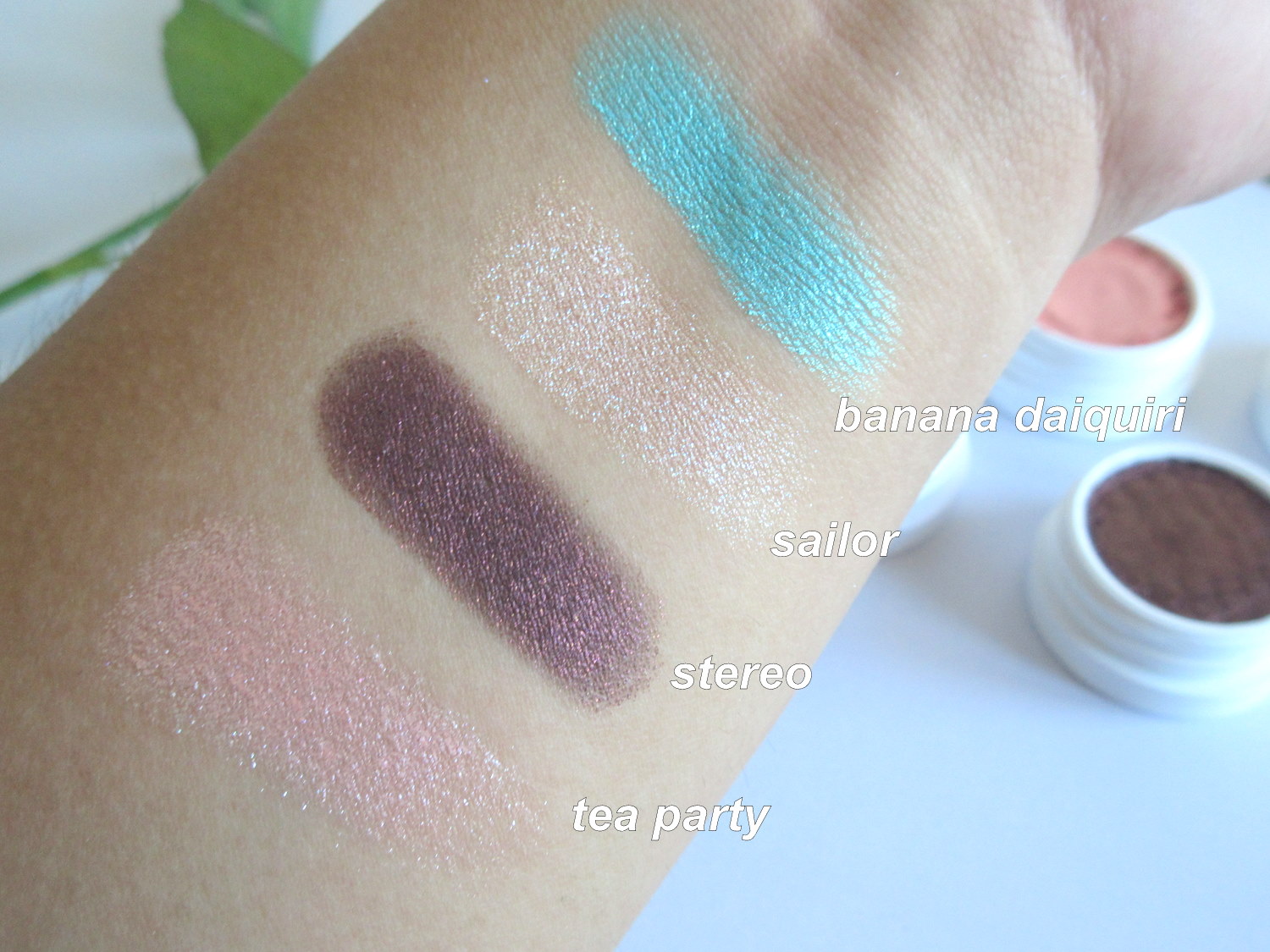 SWATCHES AND SHADES AVAILABLE: Their Super Shock Shadows are available in 7 different finishes (Matte, Satin, Pearlized, Ultra Glitter, Metallic, Ultra Metallic, Duochrome) and you have many, many, MANY colours to choose from.
Stereo – A blackened plum with red, gold and pink glitter (Ultra Glitter). My favourite out of the bunch. Works well as base for other red eyeshadows. Like MAC's Cranberry. Those two together look stunning.
Sailor – Beige with iridescent glitter leaning more on the cooler/bluer side (Ultra Glitter). Looks lovely when used as a glitter top-coat on the middle of the lids.
Tea Party – A peach with silver sparkle (Ultra Glitter). Looks super fresh on the lids but is quite crumbly and soft.
Banana Daiquiri – A warm turquoise-teal with gold glitter (Ultra Metallic). Extremely creamy, smooth and pigmented. A pleasure to work with, honestly. Moreover, it always looks great.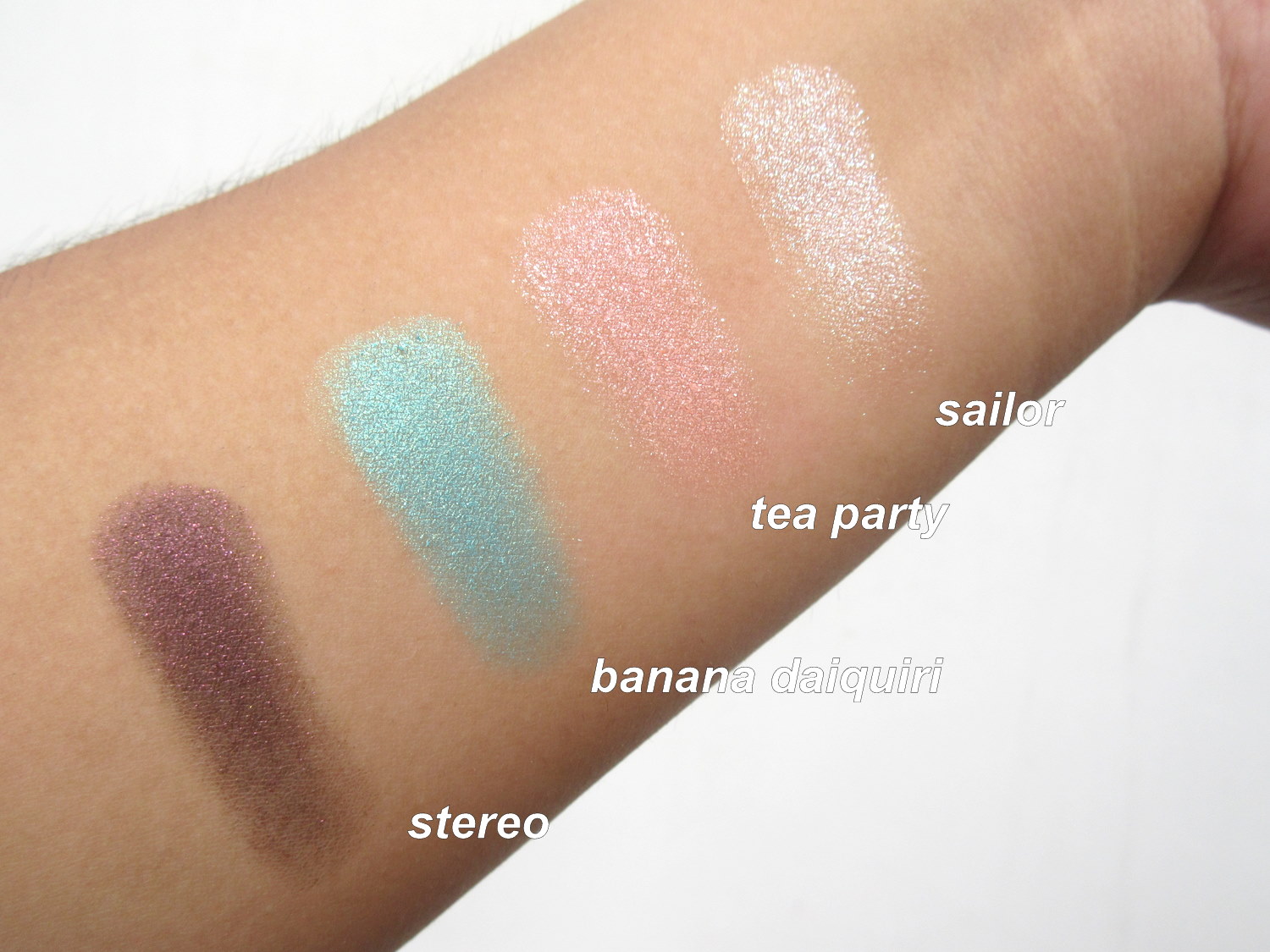 QUANTITY AND PRICE: $5 for 0.07 grams of product each (352 INR approx.).
AVAILABILITY: colourpop.com, Ulta etc.
♥ OVERALL: I really like these. I see myself owning many, many more colours in the future once I'm done with these. Also, at this price-point, you can't really ignore them.
Pros
Super pigmented and opaque.
Easy to work with. Requires no brushes or skills.
Fun colours to choose from, fun finishes to choose from.
Affordable.
Good longevity.
Cons
Availability is a huge issue.
They will break if you drop them. But it's an easy fix.