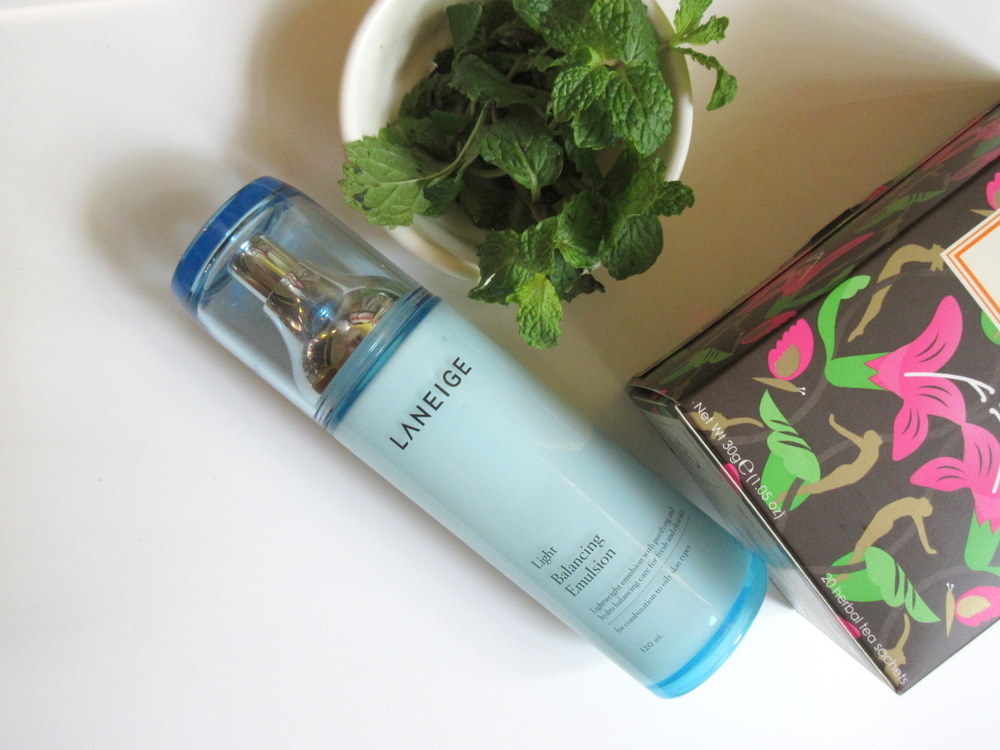 Annyeong, everyone. If you have oily/combination skin and you're sick of all the moisturisers that make your face even more greasy and worse, even break out, I've got just the thing for you.
THE BACKSTORY: I've been observing how people are getting serious about their skincare recently. For the longest time, skincare, to me, was just washing my face at night and in the morning. No moisturiser, no serum, no sunblock. Just the good old Himalaya Neem Face Wash. I still swear by it. I may get a little fancy-schmancy with my other skincare products but I don't see myself veering away from this face wash anytime soon.  I have always been aware of just how important it is to take good care of your skin and since I am not getting any younger, I thought I'd ease in a couple of added steps to my daily 'routine'. Now, I cannot live without sunblock and this particular emulsion; the Laneige Light Balancing Emulsion. I love this little life-saver so much that I even asked my mother to give it a go. She fell in love with it too and now we both share this bottle, which, by the way, is almost empty. Ah, the love.
WHAT IS AN EMULSION? An emulsion is normally used before using a moisturiser. Simply put, an emulsion is a light moisturiser. It has a lighter texture and sinks into your skin faster than your generic moisturiser, mostly because they tend to be water based. It works the best for people with oily/combination skin because of the light consistency.
THE PRODUCT: This emulsion has a almost has a milky-gel-like consistency that is extremely lightweight and non-sticky. It sinks into the skin moments after application and leaves the face feeling moisturised, supple and non-greasy. For people with oily/combination skin, living in humid places, this emulsion is a blessing. You needn't necessarily follow up with another moisturiser since it is hydrating enough on its own. However, if you have drier skin, it might be better for you to add another lotion or so. It has a light, refreshing scent. It's not annoyingly strong or anything, it's just a simple, clean scent that is somewhat similar to a seaweed based face wash that I used earlier. I also find that it mattifies the face really well and controls excess sebum. The bottle is elegant and sturdy even if it is made out of glass. Another great thing about this emulsion is that it comes with a pump dispenser which you can use to dispense the product on your palm and smooth over your face as opposed to dipping your fingers into a tub and smooth it on. It is just extremely hygienic and convenient.
VARIANTS: It is available in three variants – Light (for oily/combination skin + humid weather), Moisture (for dry skin) and Sensitive (for, you're right, sensitive skin).
PRICE: $30 – $35 for 120 ml of product. I got mine for $34.
AVAILABILITY: cosmetic-love.com, w2beauty.com etc
OFF-TOPIC DELIGHT: This is completely off-topic but a friend of mine has been digging Red Velvet's songs, even going to the extent of picking Seulgi as her favourite member. I have been trying to convince her that Joy is where it's at, but she refuses to switch favourites. She's not someone who listens to K-Pop, so, it's been fun breaking everything down for her. While she's sticking to Red Velvet for now, I am excited to introduce other K-Pop acts to her. Oh, her favourite Red Velvet song is 'Happiness'.
Laneige Balancing Emulsion Light
Pros
It contains 120 ml of product, which, in itself, justifies the price point.
It comes with a pump which ensures hygiene.
It is extremely light-weight and leaves the skin hydrated.
It controls excess sebum secretion.
It is great for those with oily/combination skin.
Cons
The bottle is made of glass, so, you need to be a little careful.