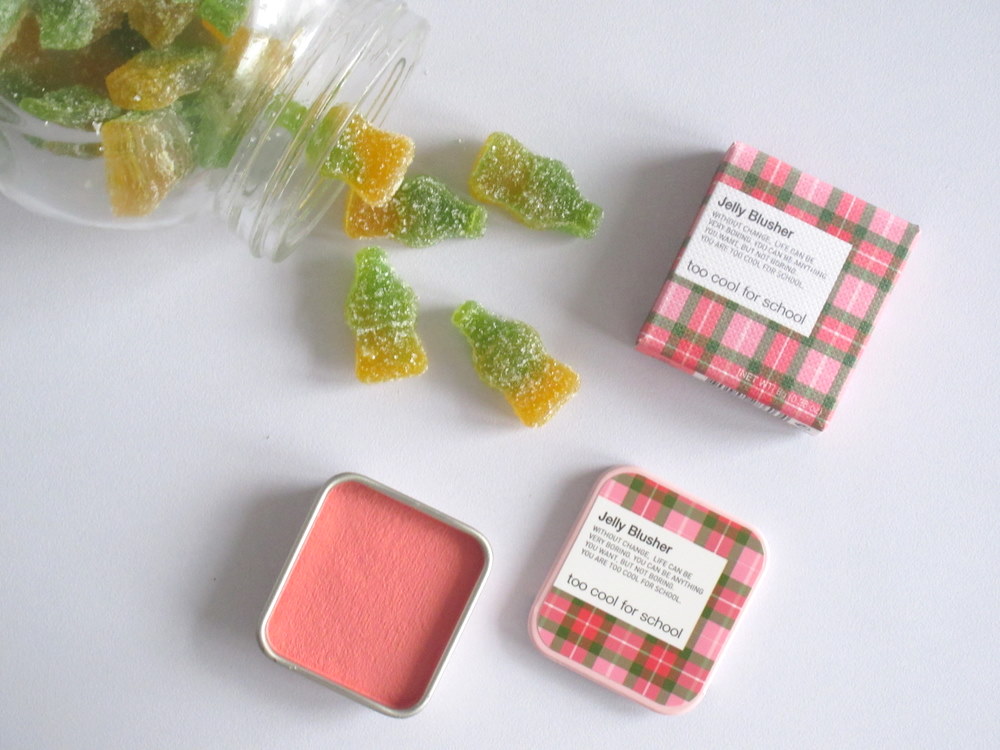 Oh, no, that's not a typo. This little guy is, indeed, called the Check Jelly Blusher. Most likely because of the check/plaid packaging design. Anyway, let's get on with this post.
THE BACKSTORY: You guys, so many brands have been coming out with new blushes lately. There's Mamonde, there's Apieu, there's PeriPera, there's Aritaum… There's just not enough money.
You wait and you watch. Wait 2 more years. I'll be done studying by then. PLEASE. ENOUGH. And then I'll have a decent job. And then I won't have to go on every site and then sort products from low to high price-points. And then I'll be able to buy multiple shades within one line. YOU WAIT. JUST YOU WAIT. *flips table*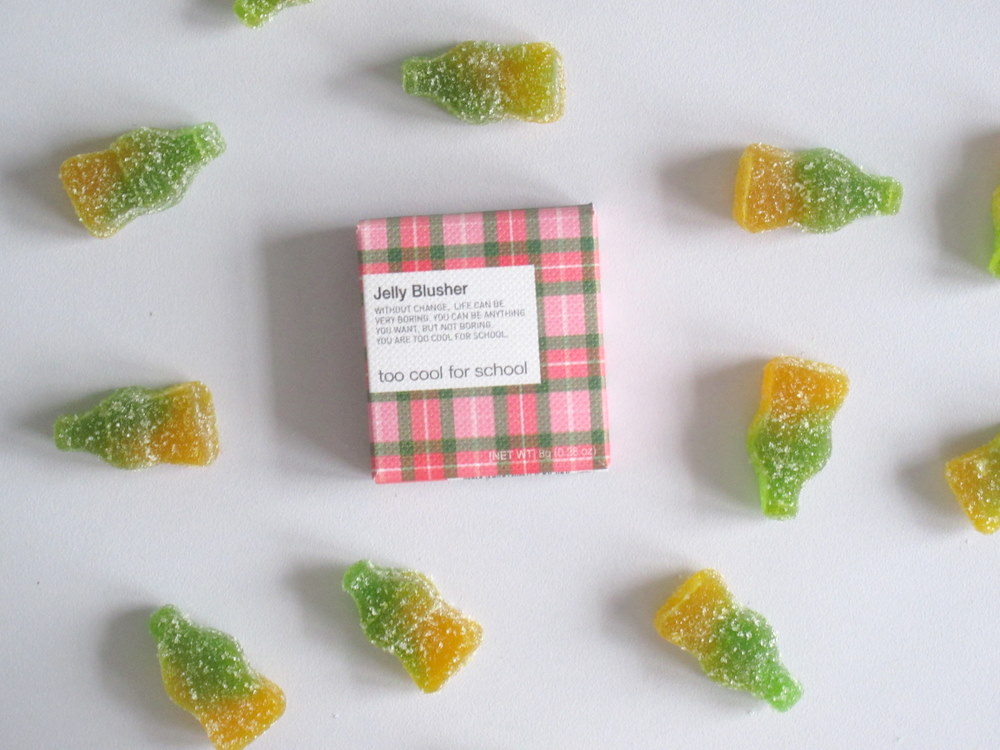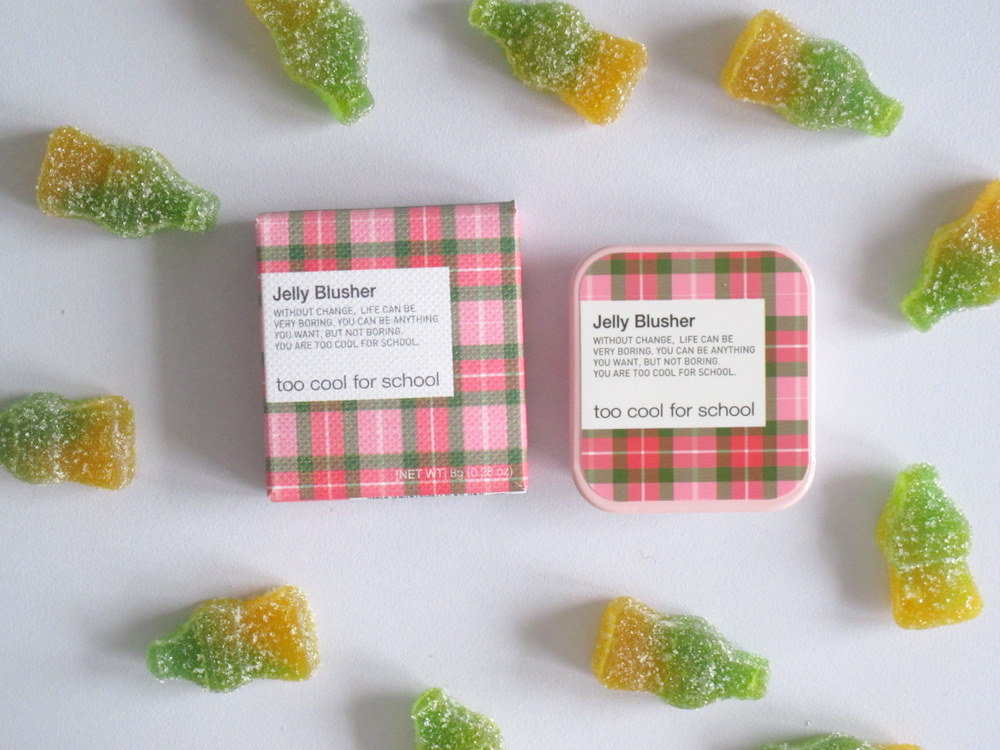 THE PRODUCT: Jelly blush… Jill Stuart has been there, done that. Holika Holika has been there, done that. I cannot seem to recall any other brands at the moment but let's just say that it isn't a particularly novel idea. That being said, I love Too Cool For School products to a fault. The moment I saw it online, I immediately added it to my cart.
Anyway, this is quite unlike all the other jelly blushers I've tried. Most other formulations typically have a gel-like consistency that remains wet and comes across as dewy and luminous on the cheeks.
This blusher has a cream to powder formulation. Jelly to powder, if you will. It has a fun, squishy consistency in the pan where you'll leave behind your finger-prints or brush strokes (be sure to use clean fingers and brushes with this).
It goes on very smoothly and settles into a velvet-powder finish, which, by the way, looks lovely. You needn't set it with a powder blush after application. It has some micro-shimmer in it, which translates into a sheen on the cheeks.
I'll be honest with you. As usual. It's not the most functional blush. Nor is it the longest-wearing. It lasts for a maximum of 2 hours or so before fading. But I won't deny how pretty and fresh it looks on the cheeks. It's just a nice little product for you to whip out when you're feeling extra cute.
It has a very subtle scented-eraser, floral fragrance to it. Not overwhelming in the least.
While it is tinier than I had anticipated, can I just… Can I just say something? A sure-fire way to win my heart is by giving me products in tin packaging. This tiny blush comes packaged in an adorable tin container. You slip the lid right off to reveal the product. It's ¼th the size of my palm but… tin packaging… I cannot. You guys. I cannot. *melts into a puddle*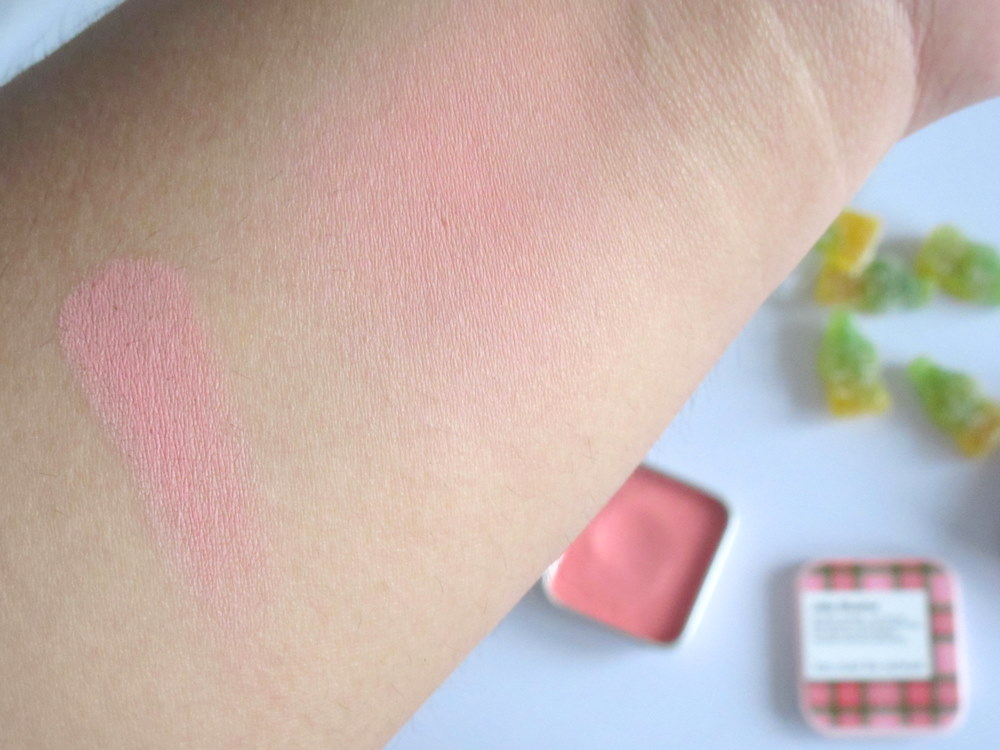 SWATCH AND SHADES AVAILABLE: It is currently available in 5 milky, pastel hues. All the shades seem Spring-Summer appropriate to me.
01 Strawberry Choux
02 Apricot Sherbet
03 Peach Nectar – A soft, white-based peach shade with subtle shimmer (that's barely notice-able on the cheeks).
04 Cherry Squeeze
05 Apple Red
PRICE AND QUANTITY: $10 – $15 for 8 grams of product (depending on where you purchase them).
AVAILABILITY: TesterKorea, RoseRoseShop, BeautyBoxKorea etc.
♥ Overall, would I recommend it? Yes, the formula is fun and interesting. It may not be particularly long-wearing but it's a cute product to have in your collection nevertheless.
Too Cool For School Check Jelly Blusher in '#03 Peach Nectar'.
Pros
It's a nice jelly-to-powder formula.
It has a velvet-smooth finish.
The shade-range is not too shabby. It's got some nice colours.
While it's tiny, it contains 8 grams of product.
It's cute, okay?!?
Cons
Availability is an issue.
It's not particularly long-wearing.