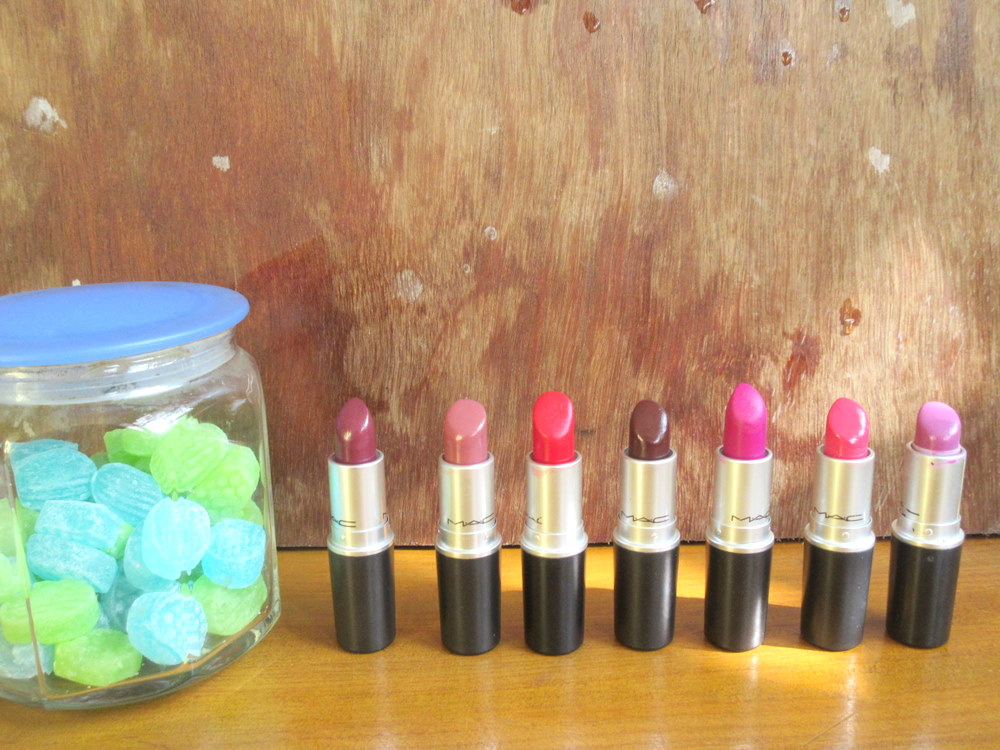 Hello, everybody. Do you like how I addressed myself in the third person in the title of this post? This is going to be a quick post on the MAC lipsticks I've acquired till date. I'll be honest with you. For a broke student who's always complaining about her dry wallet, I feel like I have far too many MAC lipsticks. Then again, as a beauty enthusiast, I don't have nearly as much as I'd like to own.
THE BACKSTORY: MAC does make some of the best lipsticks. It's a win-win situation, definitely. You've got a huge shade selection, along with nine different finishes and the price is okay for their superior quality. While they don't have outlandish shades in their permanent collection yet, their Limited Edition collaborations have a few here and there. I bought my first MAC lipstick in 2012 and I've never looked back. I've collected a few over the years and if my wallet permits, I'll continue to add on to the collection.
MY COLLECTION: Currently, I own seven MAC lipsticks. They range from a few different finishes but by now, I've locked in on the different finishes that I actually like and I tend to prefer some over others. The shade range isn't very expansive, but it's got shades that I truly like and wear. Let's get on with it:
Dark Side –

Amplified Crème finish.

It is a deep burgundy that I absolutely adore. Amplified creme finishes are hydrating and glossy, which means they do not last too long on the lips. It also has a tendency to feather, so lining your lips is always the safer route. It is pigmented and comfortable on the lips; its only con is that it won't last too long. (This happens to be one of my mother's favourites.)
Crème In Your Coffee –

Cremesheen finish.

It is a pinkish-brown-nude. It is incredibly comfortable to wear. Again, this does not last too long and you'll have to re-apply it ever so often but it is as comfortable as a lipbalm. It is extremely creamy and smooth and you'll have no issues with application/re-application. (Another one of my mother's favourites. She likes it so much that I only see it at regular intervals.)
Ruby Woo –

Retro Matte finish.

It is a bright blue-toned red. It's super matte. Hence, it tends to be super drying. Unless you've exfoliated your lips and nourished them with a good lipbalm, this lipstick will not be displayed to its full glory. It's difficult to apply and you need a steady hand and precision. Sounds troublesome, huh? Think again. Its longevity is incredible and the pigmentation is brilliant. Not to mention, it is simply a gorgeous shade of red. (It was my first MAC lipstick!)
Media –

Satin finish.

It is a lovely reddish-purple; the purple and blue tones easily overpowering the red tones. Satin finishes are not as drying as the matte formula but they're quite similar. The wear time is also strong with this one. Since this is a darker shade, it will outlast most of the lighter shades. However, the finish also plays an important part in its longevity. It has a sheen to it and is fairly comfortable to wear. (This lipstick is stunningly evil, mwahaha!)
Flat Out Fabulous –

Retro Matte finish

. It is a vivid shade of pink with bluish-purple undertones. It almost looks like a pinkish purple sometimes. Again, with this lipstick, exfoliation and hydration with some lipbalm is crucial. It is gorgeous, gorgeous colour and it lasts for a long time. (If I had to pick a signature shade of lipstick, it'd probably be blue-based pinks like these.)
Lustering –

Lustre finish

. It is softer pink with tinges of red. Lustre finishes are, by far, my favourite. It is sheer and gives a glossy and voluptuous look to the lips. It doesn't last too long and it definitely doesn't ever survive a coffee break but reapplication is a just a breeze. It is hydrating and sheer and perfect for times when you want to look fresh effortlessly. (This is my secret pick-me-up lipstick.)
Up The Amp –

Amplified Creme finish

. It is another blue-based shade; it is a beautiful shade of violet with a slight tinge of lavender. It is a really fun and bright shade and it looks different under different lights. It is dynamic, comfortable to wear albeit not very long-wearing. (This is much-loved by my mother, again.)
PRICE: $16 for 3 grams (1450 INR approx.)
AVAILABILITY: MAC Counters, www.maccosmetics.com
♥ ♥ ♥ ♥ ♥ ♥ ♥ ♥ ♥ ♥

NON-BEAUTY TITBIT: Girls' Generation just released their pre-released single, Party! It is indeed time to party!! The music video is gorgeous. The girls are super gorgeous. And the song itself is fun. It did take time to grow on me but I'll admit it is a refreshing sound from the girls. Just another biased S♥NE here. (Update: It reached 4M+ views in one day, woohoo!) Also, have you seen Super Junior's new teaser for their special album? It is hilarious!