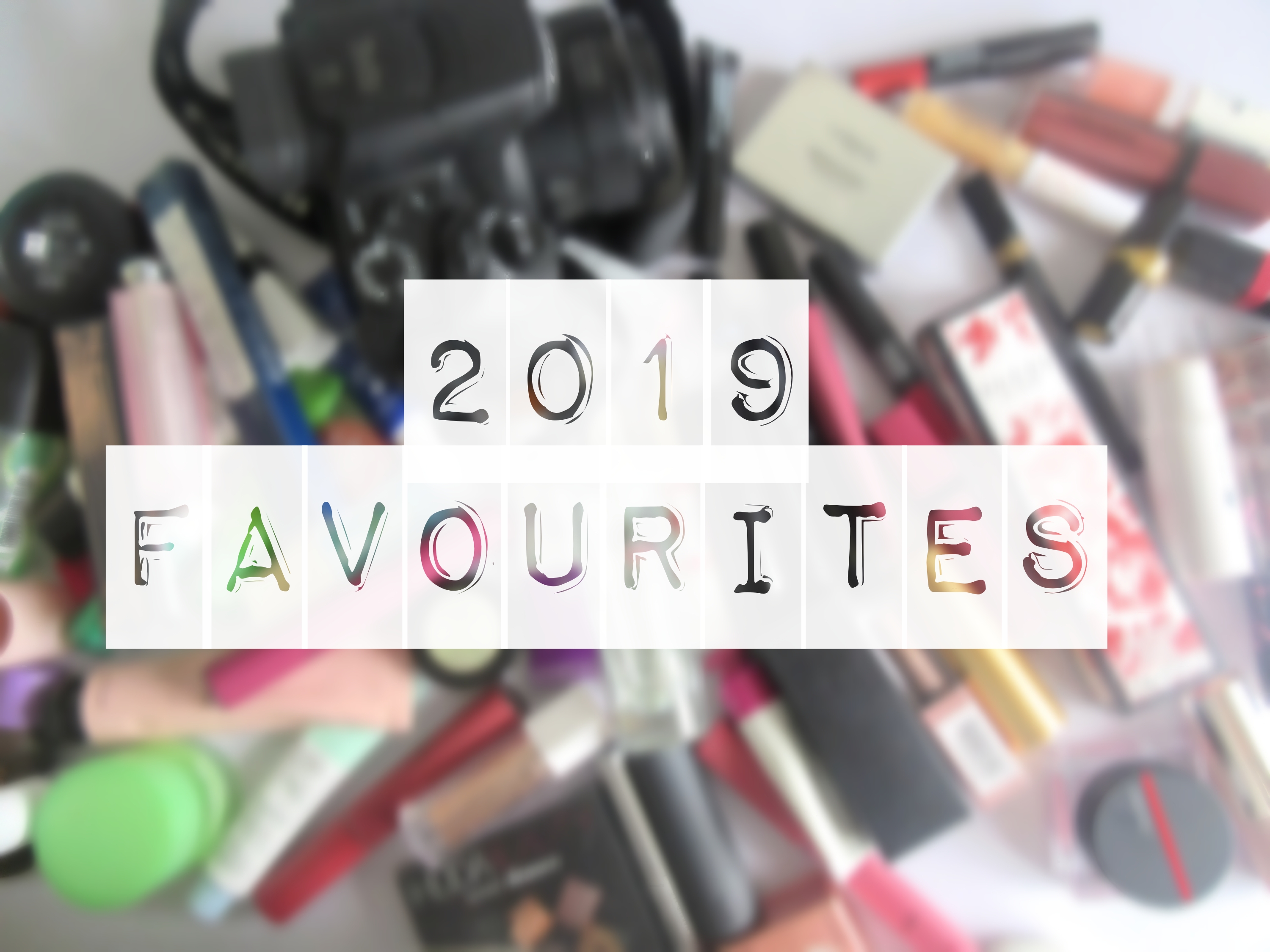 It's that time of the year again. Time to compile my favourite little products into one single post. I'm not going to lie, 2019 was, by far, the worst year I've had to withstand in my whole life. But I'm glad that it's behind me now. I'm happy to bid it farewell and to look onto brighter skies as the new decade begins. 2020, please be nice to us all.
I've tried my best to not repeat things from my previous Yearly Favourites. Barring a few exceptional products that I just can't seem to put down, there's mostly new stuff (or new to me, at least) in this post.
I also included things that I've at least used for more than two months. You know, things I've given a fair chance and I know are great. I did have some new, exciting products that I seem to love too but I didn't feel it was fair for me to include them too.
Also, there's no foundation, concealer or complexion products because I've gone completely Foundation-free and just don't like the feeling of such products on my skin. I do enjoy primers, though, which is weird, and you'll find a few of those in this list.
Products that have been reviewed will be underlined and linked.
3CE Back to Baby Glow Beam (Pink) – It's a creamy primer/base that gives you that lit-from-within glow. It's got a peachy pink tinge to it and I find that it works well on a variety of different skin tones (I'm saying so because I've used it on a bunch of people). It doesn't feel heavy either, which I always enjoy.
Bobbi Brown Vitamin Enriched Face Base – Super thick and rich. Perfect for days when your skin's feeling dry and parched. Best reserved for colder days/climates.
Etude House Glow On Hydra Base – Gel-like consistency that smooths over smaller imperfections on the face, while making the skin look fresh and hydrated. The silver bubbles burst as you spread them to give your skin a stunning sheen.
COSRX Aloe Soothing Sun Cream – A rich, moisturising sunscreen. Has a pleasant scent. Feels more like a moisturiser and doesn't have the typical sunscreen-y feeling to it, which is why it's my favourite sunscreen by far. Can get greasy-looking, though.
MAKE UP FOR EVER Ultra HD Microfinishing Pressed Powder – I used to use this in tandem with the sunscreen mentioned above. It was a nice combo, this finely milled powder set the slightly greasy-looking sunscreen perfectly. It's a smoothing translucent powder so there isn't much of an obvious white cast as long as you know what you are doing.
MAC Prep + Prime Fix+ Setting Spray (Cucumber) – MAC came out with a handful of newer scents of their Fix+ Setting Spray and after trying the others, I settled on the cucumber one. It's got a refreshing scent and locks in and perfects whatever makeup you put on. I've even bought myself a full-sized bottle to replace this little guy.
L'Oreal Brow Artist Genius Kit (Medium to Dark) – So, I had a bit of a mishap earlier this year where I accidentally shaved off the front of my right eyebrow. Thanks to this little guy, nobody was any wiser. I love the deep brown eyebrow powder in and of itself but I also enjoy using the brow wax. The dual-ended spoolie and angled brush is also very handy-dandy for whenever you're in a pinch. The compact has a decent mirror too.
Milk Makeup Kush Mascara – I used it for the larger part of the year. That is, whenever I would use mascara at all. I just used this because I do not have a significant interest in mascara. Anything will do. But this does give quite an obvious lift to the lashes. It leaves the lashes looking clunky, spidery and very, very obvious.
MAC In Extreme Dimension 3D Black Lash – I quite enjoyed this mascara, which was a free sample. Still do. That is, again, whenever it is that I actually wear mascara. It's a lengthening mascara and makes the lashes look very fluttery and doll-like.
Jillian Dempsey Lid Tint (Peach) – Glossy eyes in a compact. Looks divine. And chic. And lived-in. But has an awful scent. Still reached for it a ton.
Etude House Bling Bling Eye Stick (17 Morning Star) – Stunning eyeshadow crayon. Gorgeous pink shade with gold pearls. Lasts fairly long. Affordable, too. I really wanted to buy more shades of this but I bought more of the next Eyeshadow Crayon instead. You ought to smack me.
Sugar Eyes and Shine Shadow Crayons – I don't like the way these are. Period. But I did use them a whole lot this year (no other choice since a handful of my favourite eyeshadow sticks have dried up). Very generic colours and terrible packaging aside, these are okay-ish. Do read my review on them.
Nudestix Magnetic Luminous Eye Colour (Queen Olive) – I bought it because it was a unique colour. It's like a golden-olive shade. Fantastic formulation. Absolutely budge-proof. It's also crease-proof to a certain degree.
Swiss Beauty Metallic Liquid Eyeshadow – All the shades in this line are stunning. The product gives you statement-making eyes with just one swipe. The glitters pack a punch yet aren't too chunky. They can easily give Stila a run for its money.
Huda Beauty Smokey Obsessions Palette – Jeez, this palette was an absolute life-saver. Perhaps I'll delve into the why's and how's in a future post. But it's just an amazing palette to own. Practical and useful colours, creamy shimmery shades and gorgeous glitter shades… What's not to love? The shadows are of great quality and for someone who's so used to Korean and Japanese eyeshadows, these do come with a learning curve. Because of their pigment and pay-off. The shimmers are almost as beautiful and as good as high-end Japanese eyeshadows. Almost.
Glossier Haloscope (Quartz) – This gives the most luminous and dewy look to the skin without looking obvious. Best used with fingers, this balmy highlighter just allows you to pretend that your life is perfectly fine. With a ribbon on top.
Benefit Dandelion Twinkle – Smooth, finely milled powder highlighter, with a pink undertone. Looks great, doesn't highlight imperfections. Looks even better with some Setting Spray on top.
Suqqu Shimmer Liquid Blush (01 Usumomokurumi) – Gorgeous liquid blush. Skin-like finish despite the milky-pink hue of this shade. Leaves a sheen behind, too.
Milk Makeup Mini Lip + Cheek (Werk) – Quite a waxy blush. But blends out beautifully and looks great. This particular shade also flatters a ton of different looks.
Bite Beauty Multistick (Biscotti) – Second time for this product to be featured in my Yearly Favourites. Yep. It's that good. Can be used on the eyes, cheeks and lips. Cream formula that sets to a smooth powdery finish. I still love using this on the eyes as a one-and-done wash of colour.
Glossier Cloud Paint (Haze) – Another repeat product, second year in a row. Gel-cream formula, leaves behind a dewy finish. Long-lasting and multi-purpose.
Bobbi Brown Crushed Liquid Lip (In a Jam) – Glossy lip-product with the colour pay-off of a liquid lipstick and comfort of a balm. I was sold in a flash.
NARS Velvet Matte Lip Pencil (Dolce Vita) – God, I love these pencils and this shade in particular. No wonder it's a cult-favourite. Wonderful formula and colour. Second time in my Favourites list for this one too.
3CE Velvet Tints (Twin Rose, Persistence, Taupe, Know Better) – Wow, where would I be without these tints. These kind of redefined Lip Tints for me. Velvet-matte formula, stunning and unique shades, long-wearing, comfortable… They're wonderful. I love the aforementioned shades the most from the large collection I've amassed.
Ruby's Organics Lipsticks (Mauve) – Satin lipstick. Flattering shades. Long-wearing. You can mindlessly put them on and go about your day without having to fret over if you look good or not. You do. You look great.
NYX Powder Puff Lippie (Moody) – Powdery cream to semi-matte finish. Comfortable, pigmented and just plain pretty.
Pat McGrath Labs MatteTrance Lipstick (Omi) – I loved this particular shade to bits, so much so that I've used it up. The powder-matte formula feels nice and lasts well too.
Wet n Wild Perfect Pout Jelly Balm (Tint of Corruption) – Thin, gel-like consistency. The berry-pink hue it develops as per your skin's warmth also gets deeper every time you re-apply it. Stains the lips and outlasts other tints.
Flower Beauty Petal Pout Lip Colour (Berry-more) – This was a freebie and I didn't think much of it until I tried it on. While the formula is your average long-wearing bullet lipstick with a satin finish, the colour is too flattering to overlook.
Clio Veil Tint Dewy (08 Taro Rose) – Jelly tint, makes lips look juicy and plump. Stains. Pretty shade.
Canmake Stay-On Balm Rouge (T04 Chocolate Lily) – Sheer chocolate-hued lip balm that you can whip out and put on anytime, anywhere. Comfortable, moisturising formula.
Gucci Bloom Eau de Parfum (Fragrance Pen) – Started using this after I finished my other go-to scent, Giorgio Armani's Sì. It's an elegant floral scent. Slightly mature too, I think. It's not the brash, punchy floral type nor is it dulled down to feel more suitable for older women. It's just right.
And… We're done! Do you spot any of your favourites here? Or perhaps something you'd like to try? What was your favourite this year? Do let me know! ♥